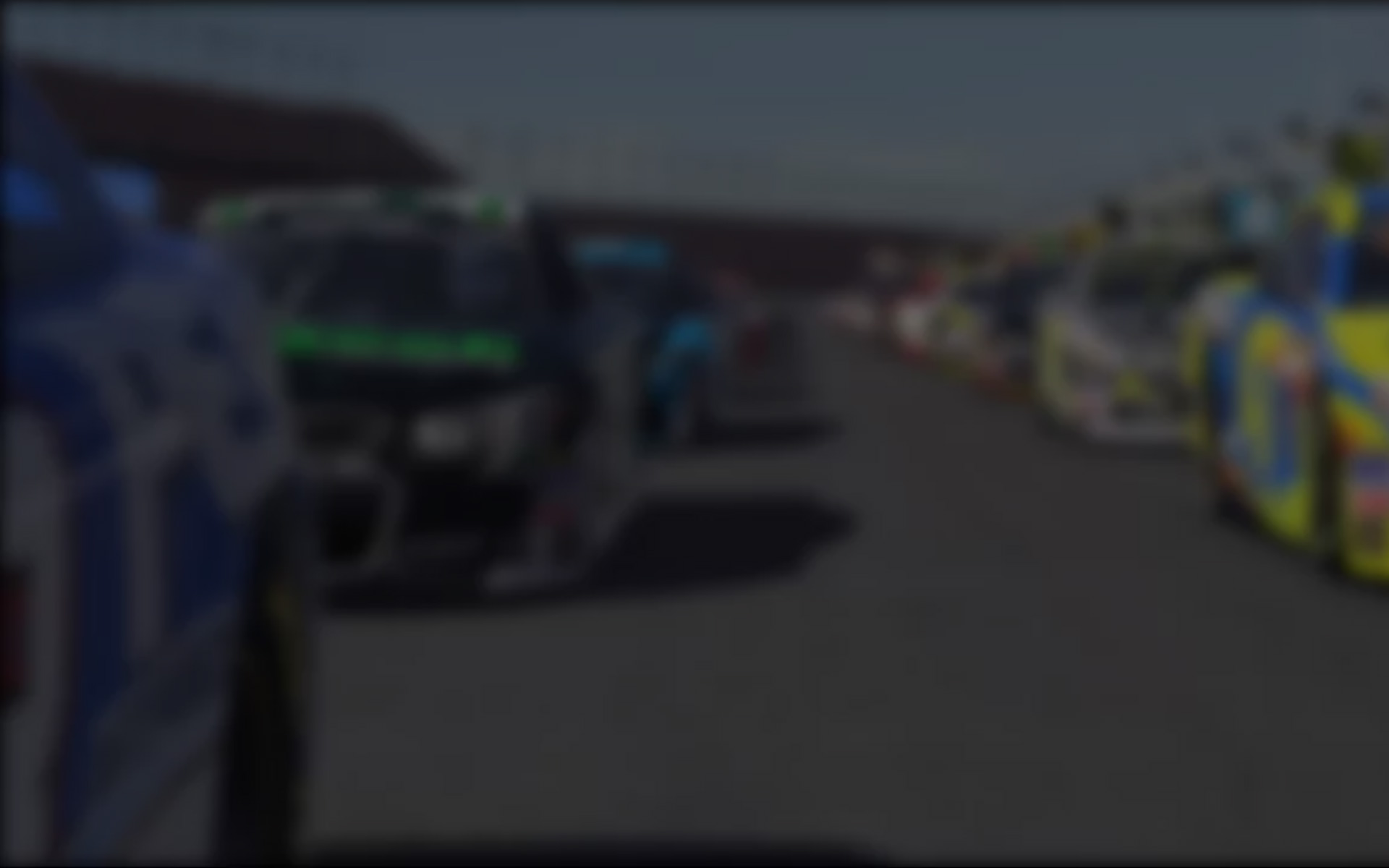 April 25th, 2017 by Richard J. Clarkson
Trey Eidson won Saturday night's 8:15 p.m. top-split virtual Camping World Truck Series race at Bristol Motor Speedway.
The win at the .533-mile digital speedway is Eidson's fourth oval victory of the year, notching his career tally at the quasquicentennial mark – one hundred and twenty-five.
Eidson and his Credit One/Cessna Silverado started the evening from the fifth position.  He spent the majority of the first half of the race riding around in fourth spot.  After Nate Lakomy made contact with Justin Martz on lap 36, bouncing off the frontstretch's inside SAFER Barrier and eventually collecting Michael Guidry and Mitchell Mumma down in Turn One, the yellow flag waved and the leaders hit pit lane when it opened.
Eidson's computer controlled crew chief rolled the dice and made the call for a two-tire stop: the winning move.  Although Eidson felt pressure from Donald Etcher down the stretch, he was able to keep his virtual race truck out front and cross the stripe first, collecting the checkers for Aftermath Motorsports, en route to leading a race-high 38 laps.
Pole sitter, Etcher, lead the race's first 37 laps.  After Eidson blitzed the competition off pit road with his two-tire stop, Etcher rejoined in second.  On lap 67, while only a truck length off leader, Eidson, Etcher's Mountain Dew Chevy slipped off Four and slapped the outside retaining wall, sliding sideways through Turn One.  With nowhere to go, third placed JR Smith made heavy front end contact with the driver's side of Etcher's machine, ending his race and leading to a 13th place finish.
Etcher finished third, behind the Californian, Kim Short.
Ryan Ghormley's Chevrolet suffered some wrinkled CGI sheet metal in Etcher's mishap but still soldiered on to a fourth place finish, followed by Floridian, Robby Lyons and his Sunwest Construction sponsored virtual race truck rounding out the top-five.
The 75-lap affair was slowed by five cautions for a total of 25 laps.
From A Dig Motorsports's driver, Scott Smith6, was awarded the Hawk HPS Big Bad Brake of the Race winner.
"That's Bristol, baby!" Smith6 said.  "Hell… what else is there to say about this joint."
A third of the way into the race, while running eighth, Smith6 and The Black Dahlia Murder/Snap-on Chevy got loose entering One.
"Damn thing just jumped sideways with me," Smith6 said, "no warning what so ever.  Like running up against a patch of black ice or something."
Lakomy wasn't able to check up in time and plowed into the back of Smith6.
"Hell, when I saw that white blob in my rearview closing, closing, closing faster than a Chick-fil-A on a Sunday, I knew things was gonna get messy.  I did my best."
Smith6's best was light contact with the inside wall, pointing the truck straight again, and blending back onto the digital 26 degrees of banking.
In a strange twist of irony, while running 16th, less than two seconds from going a lap down, Smith6 was saved by the yellow flag brought out for Lakomy and Martz's contact.
"That yella was just what the doctor ordered," Smith6 said.  "Talk about a big break.  Shoot, after them androids got me fixed up on pit road, the ole hot rod was good as new."
Smith6 rebounded to give From A Dig Motorsports a sixth place finish.
Canada's Jared Berman finished seventh, followed by the Hoosier, Mark Truxal, in eighth.
Tyson Braun was the Ingersoll Rand Biggest Mover of the Race.  Braun started 21st and by lap six had cracked the top-15.  But a rash of cautions and keeping pace with the competitors' pit stop strategies kept Braun mired mid-pack.  And although Braun suffered slight cosmetic damage to the front of his bowtie in Etcher's incident on lap 67, he remained steadfast and finally penetrated the top-ten with five to go.  Braun picked up one more spot late in the race and finished ninth, climbing twelve spots from where he started.
Ryan Sampsell, the yinzer from Greencastle, Pennsylvania, finished tenth.
"Short track racin' is slipperier than noodlin' in the Potomac covered in Vaseline," Smith6 said.  "And, shoot, just when ya think the slipperiness is over, it begins again.  Richmond.  Hell, that place is just as tough.  Trying to keep the rear tires under ya off Two is like drivin' a NOS-fed Zamboni at the Garden!
"But, hell, we iRacers.  This is what we do.  We dream about hitting the big time, walking out onto that stage and waving at the folks in the stands, nodding in acceptance at their cheers, smirking rebelliously at their boos.  We want to win.  We love the competition.  And we cherish the moments of racin' them slippery little short tracks back-to-back."
iRacing Camping World Truck Series Results – SOF: 2833. 
Saturday, April 22, 2017 8:15 p.m. race from the virtual Bristol Motor Speedway (starting position in parenthesis):
(5) Trey Eidson, Chevrolet, 75 laps, 172 points.
(2) Kim Short, Chevrolet, 75, 163.
(1) Donald Etcher, Chevrolet, 75, 154.
(3) Ryan E. Ghormley, Chevrolet, 75, 146.
(15) Robby Lyons, Chevrolet, 75, 137.
(9) Scott Smith6, Chevrolet, 75, 129.
(17) Jared Berman, Chevrolet, 75, 120.
(18) Mark Truxal, Chevrolet, 75, 111.
(21) Tyson Braun, Chevrolet, 75, 103.
(8) Ryan Sampsell, Toyota, 75, 94.
(19) Eric Papineau, Chevrolet, 75, 86.
(12) Rex Nelson, Chevrolet, 74, 77.
(4) JR Smith, Chevrolet, 68, 68.
(16) Chad Caldwell, Chevrolet, 55, 60.
(7) Justin Martz, Toyota, 48, 51.
(10) Mitchell Mumma, Toyota, 37, 43.
(20) Nate Lakomy, Chevrolet, 35, 34.
(13) Michael Guidry, Chevrolet, 35, 25.
(16) Cody Marshall, Toyota, 16, 17.
(11) Tyler Chadwick, Chevrolet, 2, 8.
(14) Anthony Burroughs, Chevrolet, 1, 4.
---
You may also like...
---