LIST OF EVENTS
| Series | Date | Where to Watch | Time | Track |
| --- | --- | --- | --- | --- |
| Bringing Back Wilkesboro | May 7th | Twitch.tv/daleearnhardtjr88 | 9:00pm ET | North Wilkesboro |
| Subaru iRX All-Star Invitational | May 8th | Twitch.tv/live | 6:00pm ET | |
| eNASCAR Friday Night Thunder | May 8th | eNASCAR.com/live | 8:00pm ET | Martinsville |
| Porsche Tag Heuer Esports Supercup | May 9th | Twitch.tv/iRacing | 10:00am ET | |
| eNASCAR iRacing Pro Invitational Series | May 9th | FOX/FS1 | 3:00pm ET | North Wilkesboro |
---
eNASCAR Pro Invitational Series
NASCAR and iRacing announced the formation of the eNASCAR iRacing Pro Invitational Series, an exhibition esports series featuring many ofthe sports most talented and popular drivers. The simulation-style showcase will include a cross-section of competitors from the NASCAR Cup Series, NASCAR Xfinity Series, NASCAR Gander RV & Outdoors Truck Series and a group of NASCAR dignitaries. Some of these drivers include Dale Jr., Bobby Labonte, Kyle Busch, William Byron, Denny Hamlin, and many more!
---
IndyCar iRacing Challenge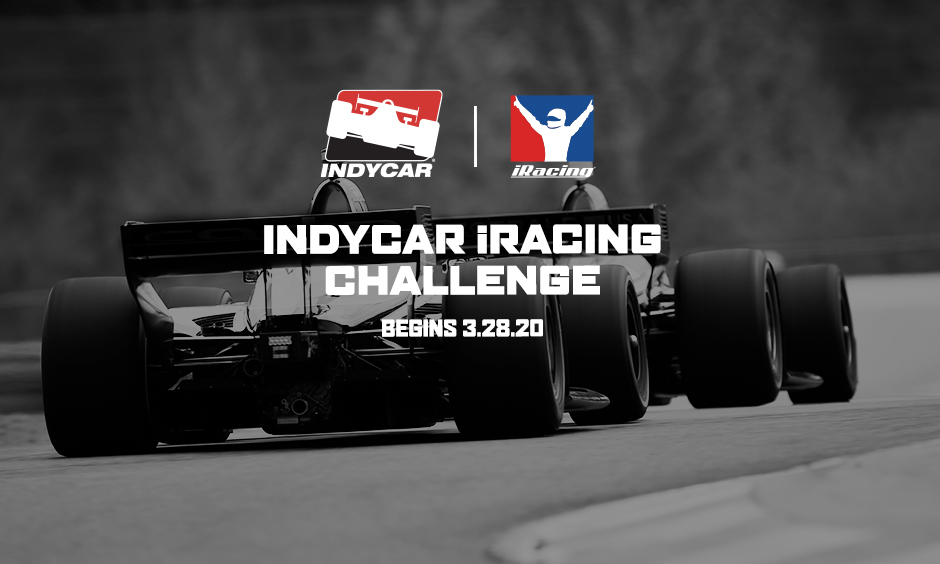 INDYCAR and iRacing, the world's premier motorsports racing simulation, are partnering to currently stage six virtual race events featuring a stellar lineup of current NTT INDYCAR SERIES drivers and possibly some special guests beginning Saturday, March 28.
Each race will be streamed live on indycar.com for the enjoyment of racing fans while the current 2020 NTT INDYCAR SERIES season is suspended through April as a result of the coronavirus situation. While indycar.com will serve as the primary live streaming source, there also will be secondary platforms to watch the virtual race events each week – INDYCAR's YouTube and Facebook Live as well as iRacing's Twitch.
---
eNASCAR Coca-Cola iRacing Series
The eNASCAR Coca-Cola iRacing Series is the premier sim racing series. Enter its 11th season, it is also one of the longest running esports series. 40 of the best sim racers from all over the world will compete across a 20 race schedule for their share of over $300,000, and whoever sits atop the points in the end will walk away with an impressive $100,000. Live broadcasts of the races are available for viewing on iRacing's Twitch, Youtube, and Facebook channels.
---
Porsche Tag Heuer Esports Supercup
Porsche and iRacing will join forces with TAG Heuer serving as the title sponsor of the "Porsche TAG Heuer Esports Supercup" for the 2020 season. The single-make esports racing championship was initiated by the sportscar manufacturer and iRacing, the leading provider of realistic online racing simulations in 2019. As part of the new sponsorship, the championship is now renamed and the series prize pool will increase to US$200,000 for the upcoming season.

---
World of Outlaws NOS Energy World Championship
The iRacing World of Outlaws NOS Energy Sprint Car World Championship returns on Monday for its third season, with an incredibly talented lineup of 35 drivers set to go for the start of the championship. Led by defending series champion Alex Bergeron, the 2020 campaign kicks off on Monday at Volusia Speedway Park and runs through Memorial Day with a championship round at The Dirt Track at Charlotte.
---
Reigning Cup champion Kyle Busch, three-time Daytona 500 winner Denny Hamlin and NASCAR on NBC analyst Dale Earnhardt Jr. are among the headliners in the NASCAR America presents the NBC eSports Short Track Challenge.
The week-long event begins at 7 p.m. ET on Monday on NBCSN.
From Monday-Wednesday, six different drivers will compete in two timed races in Cup Series cars at an iconic track at 7 p.m. ET on NBCSN. The top two finishers from each night will advance to the championship race at the virtual Martinsville Speedway on NBCSN.
---
IMSA SuperSaturday
IMSA fans, this Saturday, March 21, many of your favorite drivers are going virtual racing with IMSA Sebring SuperSaturday on iRacing 90-minute online event. The field will be comprised of IMSA WeatherTech SportsCar Championship and IMSA Michelin Pilot Challenge drivers, who will choose from one of four recent WeatherTech Championship GT Le Mans (GTLM) class race cars: the BMW M8 GTE, Ferrari 488 GTE, Porsche 911 RSR and Ford GT. Some of the starts competing on the event will be Joao Barbosa, Robby Foley, and Roman De Angelis!
Stay Tuned for More Events!
---
Completed
eNASCAR Coca-Cola Series
March 17th
eNASCAR.com/Live
HERE
Watch
eTruck Night in America
March 19th
Twitch.tv/iRacing
HERE
Watch
IMSA SuperSaturday
March 21st
iRacing eSports Network
HERE
NASCAR Pro Invitational Round 1
March 22nd
FS1
HERE
World of Outlaws Invitational
March 25th
DirtVision
IndyCar iRacing Challenge
March 28th
indycar.com
HERE
NASCAR Pro Invitational Round 2
March 29th
FOX
HERE
World of Outlaws iRacing Series
March 30th
Twitch.tv/iRacing
HERE
eNASCAR Coca-Cola Series Round 4
March 31st
eNASCAR.com/Live
9:00 pm ET
HERE
World of Outlaws All Stars
April 1st
FS1
8:00 pm ET
HERE
IndyCar iRacing Challenge
April 4th
NBCSN
2:30 pm ET
HERE
NASCAR Pro Invitational Round 3
April 5th
FS1
1:00 pm ET
HERE
NBC Short Track Challenge Round 1
April 6th
NBCSN
7:00 pm ET
HERE
World of Outlaws iRacing Series Round 3
April 6th
Twitch.tv/iRacing
9:00 pm ET
HERE
NBC Short Track Challenge Round 2
April 7th
NBCSN
7:00 pm ET
HERE
NBC Short Track Challenge Round 3
April 8th
NBCSN
7:00 pm ET
HERE
World of Outlaws Invitational Round 2
April 8th
FS1
9:00 pm ET
NBC Short Track Challenge Finale
April 9th
NBCSN
7:00 pm ET
HERE
iRacing Rallycross All Star Round 1
April 10th
Twitch.tv/iRacing
6:00 pm ET
HERE
IndyCar iRacing Challenge Round 3
April 11th
NBCSN
2:30 pm ET
HERE
eShort Course World Cup
April 11th
Facebook
6:00 pm ET
HERE
World of Outlaws iRacing Championship
April 13th
Twitch.tv/iRacing
9:00 pm ET
HERE
eNASCAR Coca-Cola Series Round 5
April 14th
eNASCAR.com/Live
9:00 pm ET
HERE
Race of Champions
April 15th
FS1
7:00 pm ET
HERE
IMSA Pro Race
April 16th
Twitch.tv/iRacing
6:00 pm ET
USAC iRacing
April 16th
FloRacing
9:00 pm ET
iRacing Rallycross All Star Round 2
April 17th
Twitch.tv/iRacing
6:00 pm ET
Daytona
IndyCar iRacing Challenge Round 4
April 18th
NBCSN
2:30 pm ET
Motegi
NASCAR Pro Invitational Round 4
April 19th
FOX & FS1
1:00 pm ET
Richmond
World of Outlaws iRacing Invitational
April 21st
DirtVision
7:00 pm ET
Replacements Series
April 21st
Twitch.tv/iRacing
9:00 pm ET
Talladega
Race of Champions
April 22nd
FS1
7:00 pm ET
Multiple
IndyCar iRacing Challenge Round 5
April 25th
NBCSN
2:30 pm ET
COTA
eNASCAR Saturday Night Thunder
April 25th
eNASCAR.com
8:00 pm ET
NASCAR Pro Invitational Round 4
April 26th
FOX & FS1
1:00 pm ET
Talladega
World of Outlaws iRacing Championship Round 6
April 27th
Twitch.tv/iRacing
9:00 pm ET
Lernerville
eNASCAR Coca-Cola Series Round 6
April 28th
eNASCAR.com/Live
9:00 pm ET
Dover
Wednesday IROC on iRacing
April 29th
FS1
7:00 pm ET
multiple
IMSA iRacing Pro Series
April 30th
Twitch.tv/iRacing
6:00 pm ET
Subaru iRX All-Star Invitational
May 1st
Twitch.tv/iRacing
6:00 pm ET
Porsche TAG Heuer Esports Supercup
May 2nd
Twitch.tv/iRacing
10:00 am ET
stay tuned
IndyCar iRacing Challenge
May 2nd
NBCSN
2:30 pm ET
Indianapolis
NASCAR Saturday Night Thunder
May 2nd
eNASCAR.com/live
8:00 pm ET
Dover
eNASCAR iRacing Pro Invitational
May 3rd
FOX/FS1
1:00 pm ET
Dover
Wednesday Night iRacing
May 6th
FS1
7:00pm ET
Chili Bowl