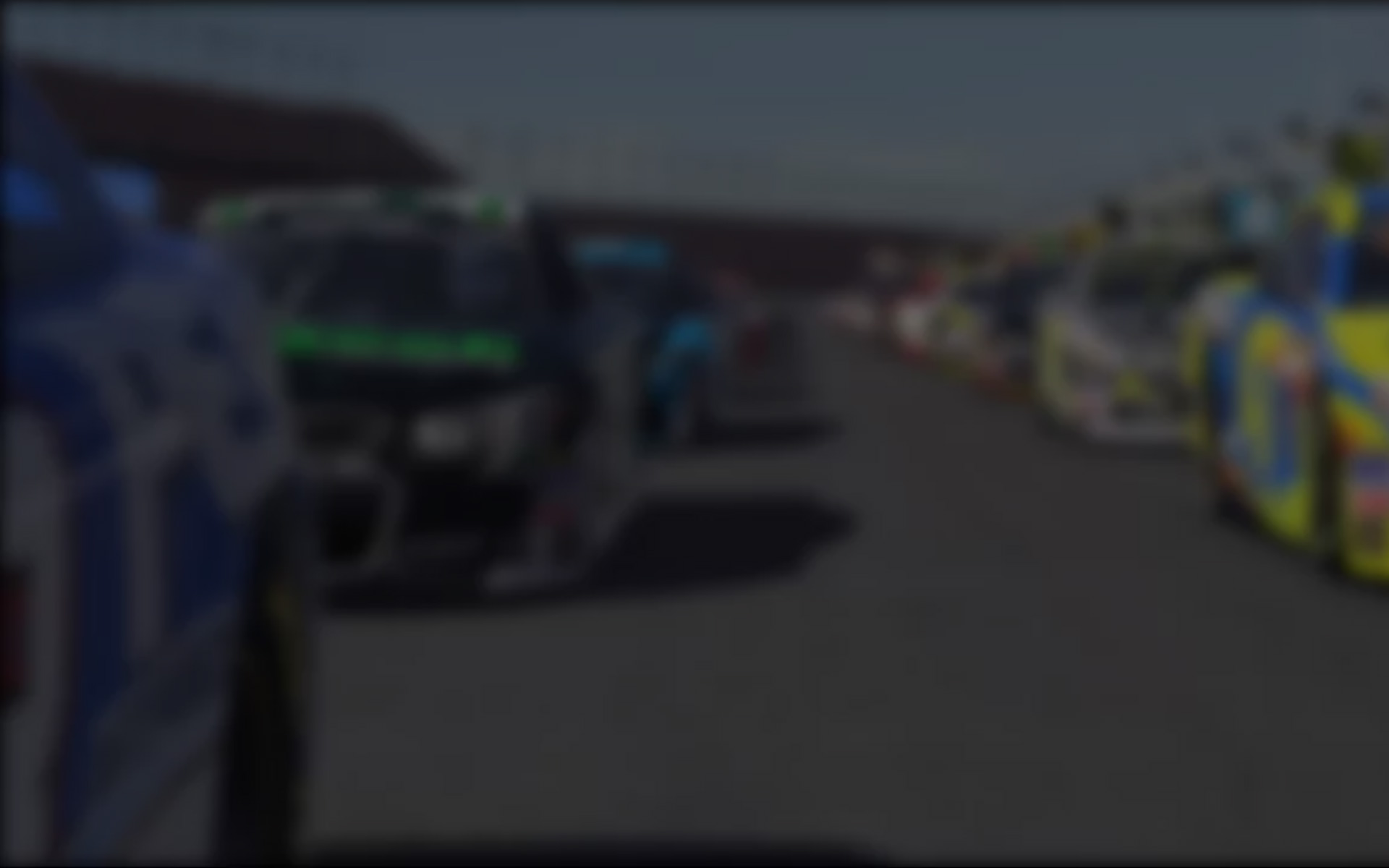 One would be well-advised not to attempt to pigeon-hole Austin Ogonoski.  When it comes to his sim-racing preferences for ovals or road courses, it's no contest.  The Edmonton resident has nearly six times as many oval (581) as road racing (97) starts on his iRacing resume.  It only follows then that his favorite iRacing track is . . . The Mid-Ohio Sports Car Course.
A hard-core racing fan who couldn't be bothered with the IndyCar race in his home town, Ogonoski currently occupies fourth spot in the IZOD IndyCar oval series behind Aaron Likens, Dave Judson and Eric Vanek with two wins and six top five finishes in eight starts to his credit.   He's enjoying similar success in the NASCAR iRacing.com National Series, witness the fact that his four wins and six top fives in eight races places him right behind Brandon Buchberger, Todd Laribee and Matthew Wright2 in the standings . . .
Oh and did we mention Ogonoski's true racing passion?  Drag racing.
Q:     How long have you been sim racing?
A:    Honestly, since the original NASCAR Racing days… Maybe N2… So I'd say 1997? First wheel was a Thrustmaster T2 (the one with the paddle shifters configured to be used as gas & brake), and my first two games were Monster Truck Madness and NASCAR Racing. My parents were never too strict with what I did on the computer, even back in 1998 when viruses were a legit problem, and I can remember hours spent after school downloading every demo I could find after my dad showed me how to browse Gamespot. I've literally been playing racing games, especially sims, since I was five.
Q:     What attracted you to iRacing?
A:    I've always known about iRacing but never really thought it would be worth my time as long as console gaming was keeping me entertained. I told myself when Call of Duty games got stale, and every single racing game on the 360 was populated by wreckers, that would be the day I would subscribe to iRacing. I actually remember playing F1 2011 online with one of my buddies last December, getting wrecked out by some idiot in Turn One, Lap One, at Valencia, and yelled over the mic "**** it, I'm getting iRacing, this is retarded!" and signing off. The organization and centralized community full of diehard race fans is what drew me in. On the 360, when you're gridded against seven other cars in DiRT 3, you're lucky if one other driver in the session knows what an apex is. On iRacing, you have a 30 page forum thread discussing the physics behind a certain kind of save.
Q:     What are favorite iRacing cars/tracks?
A:    For cars, it's a toss-up between the Dallara Indy Car and Impala B 2009 Stock Car. I never even liked IndyCars in real life, I'd always hate on them whenever the Indy would come to town because the event was constantly losing money, and the races were often boring. However, after I started running them on iRacing, I grew to like them so much that it's become my most raced car on here. As for the 2009 Impala B Stock Car, I love running the National Series because it reminds me of playing NASCAR 3, when Papyrus included the Busch Series drivers in game, as well a TON of short tracks.
As for tracks, it's easily Mid-Ohio. I don't even road race a whole lot, but I've known the layout of it since that old Bethesda game X-Car Experimental Racing. God I'd love to play that again.
Q:     What do you like most about iRacing?
A:    You are in a community full of die-hard race fans, not just people buying into the latest video game trend. Everyone genuinely cares about having a good race, and the ones that mistakenly clicked "RACE NOW" instead of "DestructionDerby2.exe" are promptly removed. Sure, some people make boneheaded decisions and can end a lot of people's races quickly, but it still takes talent to get around the track on here. You're among the best of the best, and everyone WANTS to be there. No one is tagging along just cause they saw the game for $19.99 used at Wal-Mart.
Q:     What would you change about iRacing?
A:    Thinking realistically, an offline client for running practice laps would be nice. Although we live in a time where it's possible to be connected to the internet 24/7 without hassle, it would still be nice to have for those times when your ISP is working on servers and you're stuck browsing through program files trying to find something you haven't played in a while to occupy your time.
"On the 360 . . . you're lucky if one other driver in the session knows what an apex is. On iRacing, you have a 30 page forum thread discussing the physics behind a certain kind of save."
Q:     How many hours a week do you spend on iRacing?
A:    There's no way I'd be able to measure that. Sometimes it's "oh boy, did I really spend all day on here? Did it really only take me two caution periods to finish that bag of chips?" and other times it's "holy cow, I just got back from spending the night with this chick at her house, and the Indy Race is in ten minutes, but I'll hang with my buddy instead cause I already did an SOF race a few days ago." It's eaten up a lot of my time, no question, but I've also turned down my fair share of races as well.
Q:     Tell us about the paint schemes on your helmet/car(s).
A:    My current helmet is based off one of Eddie Van Halen's guitar patterns from their A Different Kind of Truth tour. Someone on the art team must be a huge VH fan, there's no way that helmet design wasn't influenced by EVH.
I tend to go for the unorthodox approach when painting my cars. I get so sick of all the Tracker/Bass Pro Shops/Jeff Gordon/Earnhardt/Wheldon cars, so I started really thinking outside the box. A main fixture of all my cars until recently (for obvious reasons) was a somewhat provocative picture of a girl I'd been seeing for a while, and I just kinda went from there. I didn't really plan on her to be on there for long until people were legitimately crashing out of races just trying to get a better look. I'm not kidding, I owe at least ten truck wins to a picture of my now ex-girlfriend.
The whole "I Heart Scene Girls" stems from that epic tale, and that logo is what I use to identify myself everywhere on iRacing. My Cup and National cars are identical, featuring a giant hood logo on a black car with a pink stripe & Leopard print pattern underneath. The eyes on the back (once again, until recently) completed the "scene/animal" vibe of that design. The eyes did present a problem though: people wouldn't draft with me at plate tracks if I ran that scheme. My Nationwide car is a bit more tame… lots of bright blue and pink, & features my favorite YouTube vlogger/scene model Leda Muir.
I do have a set of serious schemes though. My current truck scheme is a throwback Travis Kvapil IWX paint scheme, stemming from how much time I spent playing the original PWF 2003 CTS mod for NR2003. And the Scott Sharp '04 Indy Scheme isn't because I'm a Scott Sharp fan… That just happened to be the first car I picked in the OWR 2003 mod when it first came out. And it stuck.
Q:     What other sim racing activities (Forza, Gran Turismo, etc.) do you do?
A:    I try my best to keep my Richard Burns Rally updated with all the latest RSRBR2012 patches, car packs, and add-on tracks. Other than that, my PC is full of mostly older titles that I'll mess around with because I can just use my 360 controller. A guy from an old league I used to run in on here, Josh Guiher, sent me a bunch of old Papyrus titles a few months ago that I still play for a quick race. People think Indycars at Atlanta on here is a conga line? Try trucks at dega in NR1999! I still enjoy playing other racing games, no matter how realistic or unrealistic they are… Forza, Lego Racers, pCars, Shift2, Underground 2, Most Wanted when it comes out…etc….  but there's clearly a reason I'm a 100% content owner on here and I'm nearing a 5000 oval iRating.
Q:     What are your favorite video games?
A:    Why would you do this to me?  In no order: Need for Speed Pro Street, the DiRT series, Project Gotham Racing 3 & 4, Lego Racers, iRacing, rFactor, Richard Burns Rally, and NHRA Countdown to the Championship 2007.
Q:     Do you do any real world racing? Has iRacing been of any benefit?
A:    We have this semi-organized karting place called Speeders up here in Edmonton that my buddies and I frequent. After a few sessions I'd managed to hit the third fastest lap ever out of about 60,000 people, and iRacing probably had something to do with it. I don't road race a whole lot, but there isn't much difference between making a car go fast in real life, and making a car go fast on the sim. The only thing you don't get in a sim is the physicality of driving at speed. In iRacing, you don't hold your breath through tight turns, and your shoulders don't hurt from the negative G-Forces pressing you into the seatbelts on braking. But as far as reference points and throttle/brake/steering input, absolutely it helps, as long as you calibrate everything to be exactly as it feels in your real car.
Q:     What is your most memorable iRacing moment?
A:    During split 2 of the Mid-Ohio 100, I took the lead by drifting past the leader on the inside going uphill in Turn Nine. It was my first legit attempt at a road race in two months, and I ended up holding on for the win.
Q:     What is the iRacing moment you'd love to forget?
A:    About two weeks after I first subscribed, I was in an Indy race at Indianapolis. I got tight in One, nudged Bill Martin into the wall, he came back across the track and hit me.  I blew over, slid on my roof, got t-boned, and flew into the catchfence. Both myself and Josh Chin posted a video of that wreck, and every few days that video gets comments such as "omg . . ." Not a hard video to find either. Search-up "Worst iRacing Indy Car Crash Ever." That's me when I was a n00b. I am much better now.
Q:     What car/track would you like to see iRacing add to the service?
A:    Give us Drag Racing. We already have an entire oval career path available on the oval side, and on the road side, we're about to get a bunch of new stuff to play with that'll flesh out that spectrum a bit more. Drag Racing is the next logical step. Not only would it give us an entirely new discipline to play with, it would also usher in engine degradation and dynamic weather/track temp, both of which are major obstacles when setting up any drag car. If iRacing was to add Drag Racing, those two features would be implemented for everybody just because they are a necessary factor to consider in Drag Racing. And besides, us drag racing fans (and racers looking for practice) have been left out in the cold. We haven't had a proper PC drag racing sim since 2003.
Q:     What person, living or dead do you most admire?
A:    Former NHRA Driver and current ESPN TV Analyst Mike Dunn. Isn't afraid to speak his mind and tell it like it is. I have the same attitude towards everything in life.
Q:     What's your favorite real world racing series?
A:    I follow the NHRA as much as I can. I have a bunch of family all over the Drag Racing world. My grandpa welds and makes clutch parts for a lot of different NHRA teams, and my cousin campaigns a Nostalgia Funny Car in Western Canada and a few events down south. My uncles used to race Alcohol Dragsters for a few decades… It would be pretty hard for me to NOT be a fan. Some people call me crazy for watching races that last less than four seconds… I compare it to baseball. You learn to appreciate the live atmosphere, the history, and obsessing over statistics.
Q:     Name the title of the most recent book you read.
A:    Finding Kansas, written by fellow iRacer (and a guy who constantly kicks my butt at all but Milwaukee in IndyCars) Aaron Likens.
Q:     Name of your favorite movie/TV show?
A:    Favorite TV show has gotta be Pardon The Interruption with Tony Kornheiser and Michael Wilbon. So funny to watch those guys argue back and forth, reminds me a lot of the sports discussions my buddies and I have during car rides or at the bar.
"You can go out and try to win every race and have the highest iRating… But it's a lot more fun to enjoy the ride."
Q:     How many of your close friends are iRacing members?
A:    Out of all my real-life close friends, nobody. They're too computer-illiterate to get involved in anything that isn't plug and play console gaming, although they run laps all the time on my setup whenever they come over. But on the contrary, I did turn a few guys I've become good friends with online from other sims onto iRacing and they really enjoyed it. Only thing that keeps them from racing frequently is their commitment to modding other racing titles, such as Rigs of Rods.
Q:     Has competing with iRacers all around the world influenced your opinions/outlook on life/world events? How?
A:    iRacing has made me appreciate how advanced technology in 2012 is. Sure, you can go out and try to win every race and have the highest iRating  and smash six cars off the road when doing it… But it's a lot more fun to enjoy the ride. It's fun to make friends in the forums, to offer racing advice, to crack jokes under yellow or spout 4chan memes over the mic with two laps to go. It's fun to add a few guys you regularly run with on facebook to see how much different their life is compared to yours, yet they still share the same passion for auto racing. It's cool to see someone you race with a lot drive super aggressive one race, and then read on facebook that they'd broken up with their girlfriend earlier in the day.
After a while, you're doing more than just drafting off of the guy in the purple & turquoise #1 car. You're talking about cars with him on teamspeak, along with the guy in the #7 car who wrecked out early, while the guy who finished third talks about awesome concerts he saw while he worked at a music venue.
You end up making a bunch of friends and having a lot of laughs when driving virtual race cars on the TV.
---
You may also like...
---