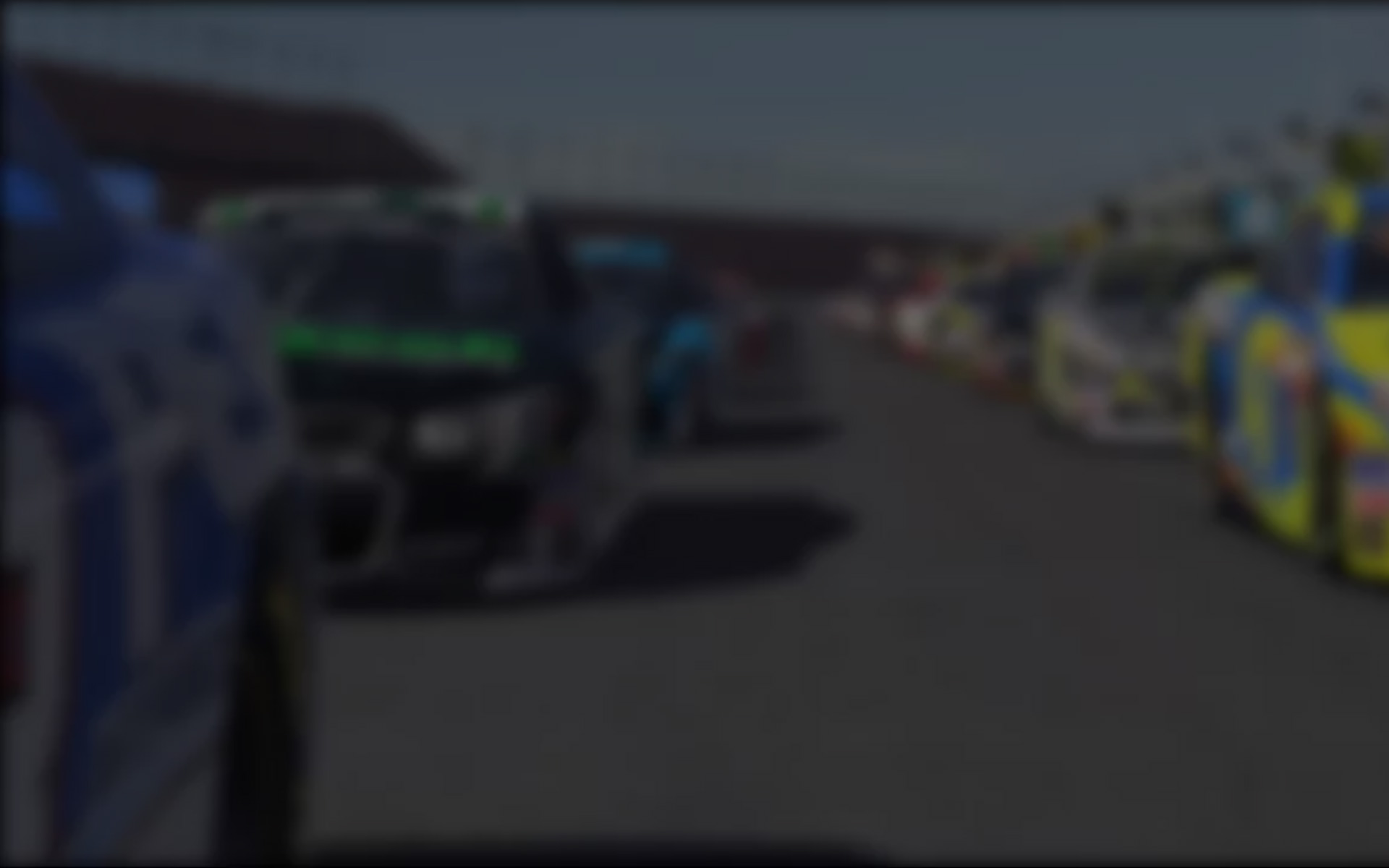 Two weeks ago, after a short break, Brazilian leagues started their new season of races for this year. Two of them are iRacing Brasil and Brasil Lemans Series, which I have been covering for iRacing News since the first season of this year. Both leagues follow the official iRacing calendar for their series and, this time, they decided to join forces and do a partnership. The product of this was a promo for iRacers, with a subscription fee discount so they could be more motivated to race two similar championships (one for each league) simultaneously, based on iRacing GT3 Challenge. The idea was a success and more than 100 sim-racers joined up to race on both leagues. Because of that, iRacing Brasil had to create a rookie series for the less experienced.
With that, I decided to follow a different strategy to write about Brazilian league races, covering the most important facts of the GT3 series, happening on iRacing Brasil and Brasil Lemans, on the same story. Unfortunately, I will not cover GT3 Rookies nor the oval races of iRacing Brasil this season.
First, let's talk about Brasil Lemans Series – which is doing something a bit different this time. Being a biweekly series, Guto Colvara (BLMS admin) decided to do his "Super GT" with six stages, having two races on each one. The first race has a grid formation based on qualifying times and the second race starts with a fully inverted grid. The finishing places of Race One are inverted for the Race Two, so the bottom sim-racer will start on the pole on the next time, with both races happening on the same night. This spices-up the competition and the championship, giving participants and spectators unpredictable results.
The first stage took place on May 7, at Watkins Glen, "Classic" configuration. They had a total of 32 participants, with 26 of them running the newest iRacing car, BMW Z4, with four RUFs and two lonely Mclarens filling the rest of the grid. But, unlike iRacing GT3 Challenge series, BLMS league does not allow the iRacer to change their cars after the first stage.
But even with so many changes to the sim-racing, one thing remained the same: Renato Silva. The season 1 Super GT champion started on the pole position, again, showing his skills now on the BMW Z4 number 12. Renato won the last championship on the RUF and now he will try to prove himself on a different car. Tiago Silveira shared the first row of the new season with Renato, starting in second place.
Tiago Silveira battled with Renato for the whole race, but he had the upperhand and led for 25 laps out of 27 total, leaving Renato behind on the finish line. For the second race, longer than the first, Ricardo Margarida started on pole. Ricardo had a 16th place in qualifying for the first race and didn't managed to complete any lap, being involved in a incident right after Turn One with Petter Roberto. Being on the last place of Race One, he got himself a chance to redeem himself with a good result in Race Two.  He did, winning the second race.
The top five results for BLMS Race 1:
1- Tiago Silveira
2- Renato Silva
3- Wendel Parra
4- Pablo Pohlmann
5- Andre Cozza
The top 5 results for BLMS Race 2:
1- Ricardo Margarida
2- William Trajano
3- Pablo Pohlmann
4- Fernando Santii
5- Wendel Parra
On the other side, iRacing Brasil holds a weekly GT3 series, following a traditional format: One race following a qualifying session. As I write this story, two races have already taken place, the first at Watkins Glen and the second at Canadian Tire Motorsports Park (Mosport).
At Watkins Glen, Bruno do Carmo, last season's champion, had the pole, starting this new challenge just as he ened the last challenge a few weeks ago. Bruno Barbugli, a newcomer for this series, shared  the first row with Do Carmo. But as happened with Renato Silva on BLMS, Bruno do Carmo found himself finishing on second place at Watkins Glen while Andrew Lauret, who started eighth, climbed his way to the victory.
One week after, at Canadian Tire Motorsports Park, Bruno do Carmo would start again on the pole position, having achieved his second one this season, followed again by Bruno Barbugli, repeating the first row of Watkins Glen. But this time, Do Carmo managed to win the race, with Felipe Mafra coming in second.
The top five results for iRacing Brasil at Watkins Glen:
1- Andrew Lauret
2- Bruno do Carmo
3- Heitor Luiz
4- Rodrigo Baronio
5- Kaique Piropo
The top five results for iRacing Brasil at Canadian Tire:
1- Bruno do Carmo
2- Felipe Mafra
3- Bruno Barbugli
4- Rodrigo Baronio
5- Daniel Lotfi
This wraps up the first two weeks of these Brazilian leagues races.
Uma nova temporada começa
Há duas semanas atrás, após um pequeno intervalo, as ligas Brasileiras começaram uma nova temporada neste ano. Duas delas são o iRacing Brasil e a Brasil Lemans Series, as quais eu estive cobrindo para o iRacing News desde a primeira temporada de 2014. Ambas seguem o calendário oficial do iRacing em seus campeonatos e desta vez, decidiram juntar forças e fazer uma parceria. O resultado disso foi uma promoção para os iRacers, com um desconto de inscrição para quem quisesse correr em dois campeonatos similares (um de cada liga) simultaneamente, baseados na GT3 Challenge do iRacing. A idéia foi um sucesso e mais de 100 pilotos virtuais se juntaram às duas ligas. Por causa disto, o iRacing Brasil teve de criar uma série para novatos, visando os menos experientes.
Com isso, decidi seguir uma estratégia diferente para escrever sobre estas corridas de ligas, cobrindo os fatos mais importantes da GT3 tanto do iRacing Brasil, quanto da Brasil Lemans, em uma mesma matéria. Infelizmente, não cobrirei a série de novatos nem as corridas de ovais do iRacing Brasil esta temporada.
Primeiro, falarei da Brasil Lemans Series – que está fazendo um campeonato um pouco diferente desta vez. Sendo uma competição quinzenal, Guto Colvara (admin da BLMS) decidiu aumentar a Super GT para 6 etapas, com duas corridas cada uma. A primeira corrida tem uma formação de grid baseada em tempos classificatórios e a segunda corrida começa com um grid inteiramente invertido. O resultado da primeira corrida são invertidos para formar o grid da corrida seguinte, fazendo com que o último lugar seja o pole da próxima, e as duas corridas acontecem na mesma noite. Isso acaba por apimentar a competição e o campeonato, dando aos participantes e espectadores resultados imprevisíveis.
A primeira etapa aconteceu no dia 7 de maio, em Watkins Glen, configuração "Classic". Um total de 32 participantes, com 26 utilizando do carro mais novo do iRacing, a BMW Z4. Entre eles, 4 RUFs e duas solitárias Mclarens preencheram o restante do grid. Mas, ao contrário do iRacing GT3 Challenge Series, a BLMS não permite que se mude de carro após a primeira etapa.
Mas mesmo com tantas mudanças, algo permaneceu igual: Renato Silva. O campeão da 1ª temporada da Super GT começou na pole position, mostrando novamente suas habilidades agora na BMW Z4 de número 12. Renato venceu o último campeonato com um RUF e agora ele tentará mostrar sua capacidade mais uma vez em um carro diferente. Tiago Silveira dividiu a 1ª fileira da nova temporada com Renato, largando em 2º.
Tiago Silveira disputou com Renato por toda a corrida, mas teve a vantagem e liderou por 25 voltas de 27 no total, fazendo Renato cruzar a linha de chegada atrás. Para a 2ª corrida, que é mais longa do que a 1ª, Ricardo Margarida largou em 1º. Ricardo havia largado em 16º na 1ª corrida e não conseguiu completar nenhuma volta, após se envolver em um incidente logo após a curva 1, com Petter Roberto. Ficando com  o último lugar desta primeira corrida, ele conseguiu a chance de achar um bom resultado – e ele conseguiu, vencendo esta 2ª corrida.
O top 5 da corrida 1 na BLMS:
1- Tiago Silveira
2- Renato Silva
3- Wendel Parra
4- Pablo Pohlmann
5- Andre Cozza
O top 5 da corrida 2 na BLMS:
1- Ricardo Margarida
2- William Trajano
3- Pablo Pohlmann
4- Fernando Santii
5- Wendel Parra
Do outro lado, o iRacing Brasil faz sua série GT3 de forma semanal, de uma forma mais tradicional: Uma corrida após a qualificação. No momento em que escrevo esta matéria, duas corridas já ocorreram, sendo a primeira em Watkins Glen e a segunda em Canadian Tire Motorsports Park.
Em Watkins Glen, Bruno do Carmo, campeão da última temporada, ficou com a pole, começando este novo desafio da mesma forma que terminou o anterior, semanas atrás. Bruno Barbugli, recém-chegado nesta série, dividiu com Do Carmo a 1ª fila. Mas da mesma forma que aconteceu com Renato Silva na BLMS, Bruno do Carmo se viu terminando em 2º lugar em Watkins Glen. Andrew Lauret, que havia largado em 8º, escalou o grid alcançando a vitória.
Uma semana depois, em Canadian Tire Motorsports Park, Bruno do Carmo novamente largou da pole position, conquistando sua 2ª nesta temporada, seguido novamente por Bruno Barbugli e repetindo a 1ª fila de Watkins Glen. Mas desta vez, Do Carmo conseguiu vencer a corrida, com Felipe Mafra vindo em 2º.
O top 5 do iRacing Brasil em Watkins Glen:
1- Andrew Lauret
2- Bruno do Carmo
3- Heitor Luiz
4- Rodrigo Baronio
5- Kaique Piropo
O top 5 do iRacing Brasil em Canadian Tire:
1- Bruno do Carmo
2- Felipe Mafra
3- Bruno Barbugli
4- Rodrigo Baronio
5- Daniel Lotfi
Estes foram os acontecimentos das duas primeiras semanas dessas ligas.
---
You may also like...
---