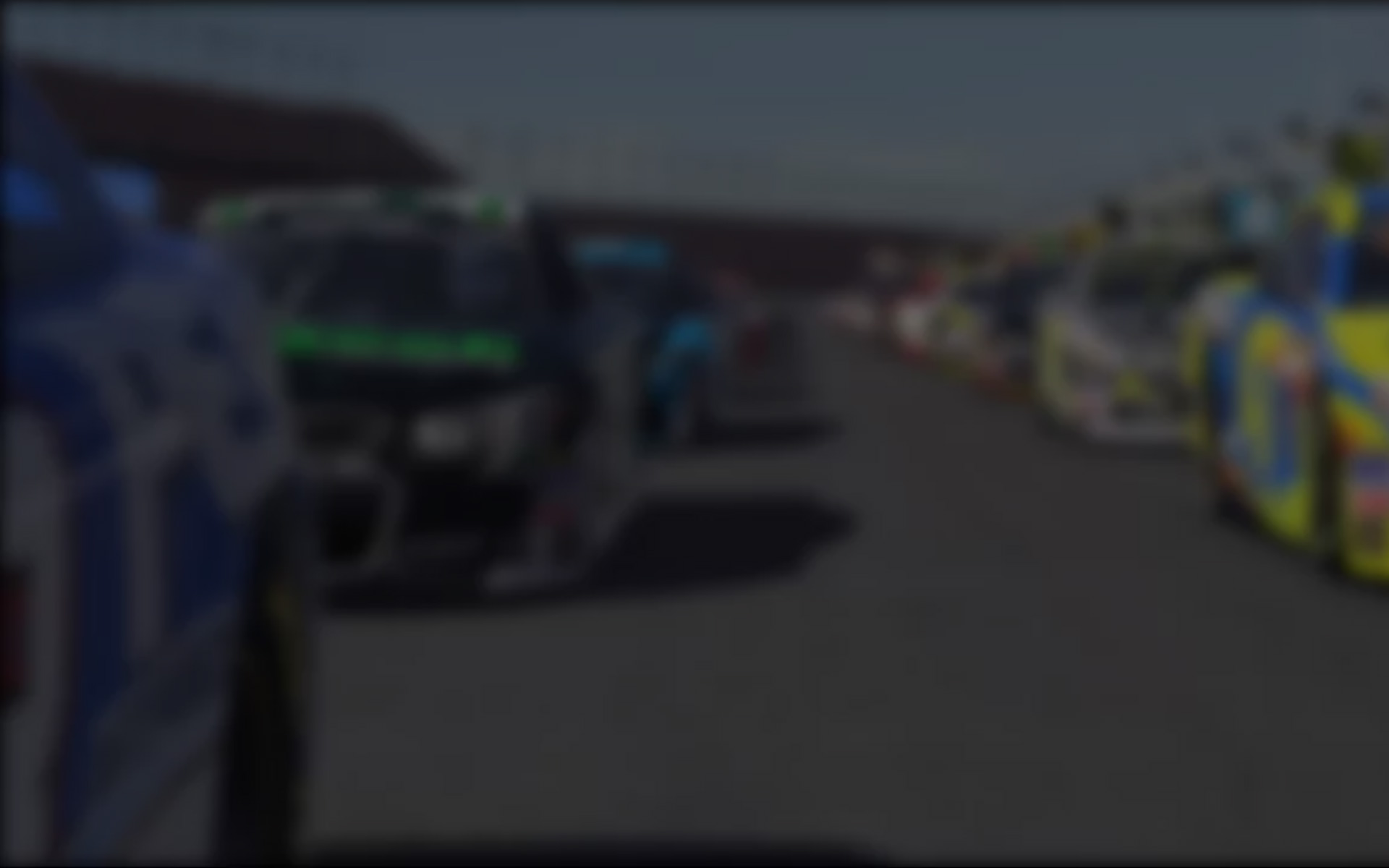 After missing race six of the 2010 iRacing World Tour (the Indianapolis 500) due to me actually attending the real thing for work I managed to make Race Seven (aka the iRacing.com Road America 200) having had enough practice to where I felt I could at least handle myself around Road America in a Class B Impala SS. I knew this was going to be a race of attrition and figured it best to stay within my limits as much as possible.
Before the event I had run two practices and one qualifying, setting a best lap of 2:18.411. After the server hiccup forced the race to be postponed for an hour I found myself able to improve in a second qualifying, setting a 2:17.232. It seemed obvious that because I was still gaining such huge amounts, I was leaving a lot of time on the table. Richard Towler (probably one of the best sim racers of all-time) happened to be in the same second qualifying and set a 2:09! Still, not too disappointed to be that far behind someone like him on a track this long and with a car and setup that felt so tough to turn.
Our race start was very clean and I made a good one from tenth, holding position into Turn One. Over the course of the lap people slid off ahead of me and I crossed the line to begin lap two in sixth-place. I grabbed fifth-place from Ian Seely on lap two when he ran off-track in Turn Eight.
After lapping consistently for a few laps I ran wide in turn one. I suffered no damage but dropped down to sixth, a position I would shortly gain back when Brian Harford left the track, gifting me fifth-place once again.
On lap seven I ran wide in Turn One once again and lost control when trying to rejoin the race track. I hit the wall with the left-front and severly damaged the handling of the car on right-hand turns. At a clockwise track like Road America I really was not happy I'd put myself in this situation with 43 laps remaining.
By lap 16 I had settled in and dropped back to 13th-place. My cars handling was very difficult to predict and I decided to pit, dropping down to 16th.
Attrition of those ahead of me had allowed me to climb to tenth by lap 33 and really at this stage I was delighted to still be within sight of a top-ten. Entering Turn Eight I was inspecting my fuel usage and completely missed my braking point… I slid into the turn and slammed the barrier, damaging the right-front and getting stuck in the barrier. I had to get a tow back to the pit lane and lost a whole lap on the leader, eventually rejoining the track in 12th.
After a few laps I discovered that the second contact had almost balanced out the handling of my car. I began to push hard and found myself quickly catching cars ahead of me. I unlapped fourth-place on lap 34 and on lap 35 moved into 11th-place when Jacques Richard pitted ahead of me.
After a small mistake on lap 38 which cost me a bit of time, I noticed fifth-place Riku Roiha coming up to lap me. I pulled off-track to let him by but immediately noticed I was capable of lapping the same pace as him so basically used him to try to improve my consistency. Later that lap I gained tenth-place when Michael Yoda retired.
On lap 48 I still had Riku right ahead of me and although I had given him plenty of room he reacted in a big way to a spin ahead of him. This produced a scary moment for me where I had to avoid smashing into Riku under braking. The next lap Greg Dukowitz, who was trying to cope with a damaged car, ran off-track in the final turn, allowing me to pass him and move into ninth, which is where I would finish.
The race took me two hours and almost four minutes. I had a whopping 18 incidents, most of them while trying to lap with my ill-handling car. However, because it was such a long race I only lost a minuscule 0.02 safety rating. My fastest lap came on lap three and was a 2:16.973. Before this race, I had never enjoyed the stock cars on the road courses, when the late model goes to Lime Rock I instantly balk at the prospect of racing it… This has probably changed my mind as by the end of the race I felt pretty comfortable out there and felt competitive. But, as always, too little – too late. I should probably try doing some testing, lots of it, before the next race.
---
You may also like...
---