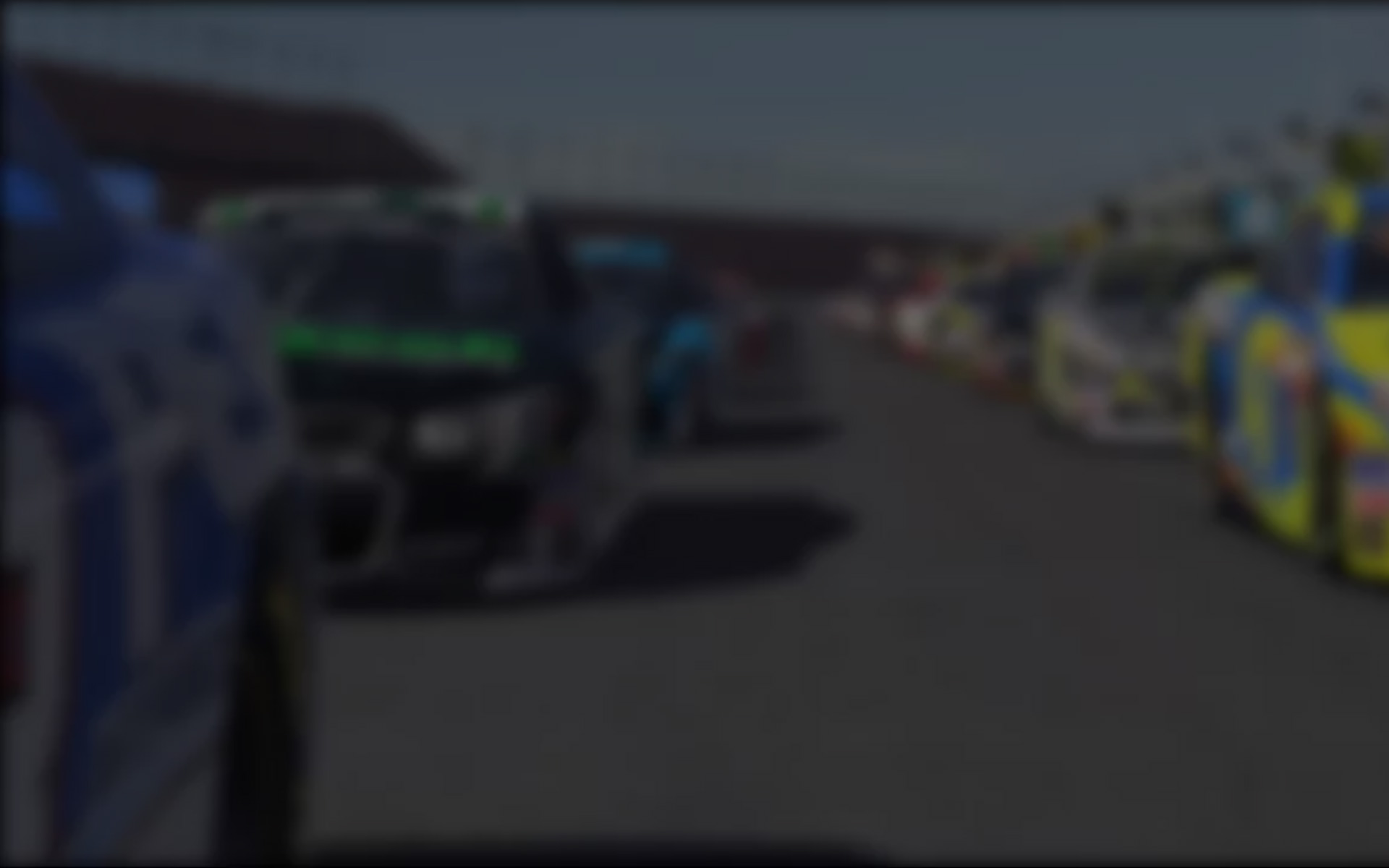 September 19th, 2012 by DavidP
Fifth Win Sets-up Exciting Season Finale
With the 2012 NASCAR iRacing.com Series World Championship title in the balance, Ray Alfalla came up big at Chicagoland Speedway, passing Jason Karlavige on the final green flag run to take his series-leading fifth victory.   Alfalla's win, coupled with a third place finish by rival Michael Conti, puts him in great position to win his second straight NiSWC championship.
The win did not come easily for Alfalla due to a series of slow pit stops. "The pit crew was once again slower than snails on molasses," he said, "so I had to make my way to the front after every pit stop. Luckily, we went green for a while to end the race, and I had enough time to get to the lead.  Jason put lots of pressure on me, and made me work hard for the W."
"Jason put lots of pressure on me, and made me work hard for the W." — Ray Alfalla
With 43 laps remaining, Alfalla found himself third behind Karlavige and Patrick Baldwin after a bad pit stop. He quickly moved around Baldwin for second and slowly started to reel-in Karlavige for the lead.  Over the next nine laps, Alfalla closed from half a second to less than a car length behind the leader, and Karlavige offered little resistance when Alfalla looked to the inside.
However, there was no quit in Karlavige. He stuck right to Alfalla's bumper with Conti hot on his heels in third.  The pressure on Alfalla was relentless but he never put a wheel wrong over the final 34 laps, showing why he is closing in on his second straight NiSWC crown.
Karlavige nearly had his second victory of the season, but came-up some three tenths of a second short.  "Gave it all I had," said the NASCAR iRacing.com Pro Series driver. "Ray didn't make a mistake though… Car was stout on the long runs, and fast overall."
Kevin King started from the pole and looked to have a very strong car early on, but found himself back in traffic after some drivers took two tires during the first yellow flag pit stops. King subsequently bounced his car off the wall twice, damaging his car's aerodynamics, but still managed to bring home a solid seventh place finish.
Alfalla's win moves him 31 points ahead of Conti with the "drop week" factored into the standings, and leaves both drivers with clear objectives if they are to claim the 2012 series title (and the accompanying $10,500 prize) in the season finale at Homestead-Miami Speedway in two weeks.  Conti needs to score the maximum points available (48) by winning and leading the most laps, while Alfalla clinches his second championship with a 27th place finish.  So while the defending champion can afford to play it safe, Conti must go for broke.
Meanwhile, King sits 25 points back of Conti and 40 ahead of Baldwin, and is likely to stay in third barring the unexpected.  Not so the battle for fourth through sixth. Baldwin sits fourth, 17 points up on Brian Schoenburg, while Nick Ottinger is a single one point behind Schoenburg.   With $1,000 up for grabs for fourth and $500 for fifth, these three drivers will be ones to watch.
Also on the line at Homestead are the final spots in the top 25 and guaranteed berths in the 2013 NiSWC.  Thomas Hazard is only six points ahead of Josh Connors for the final transfer spot. Despite making just nine starts, Karlavige is within striking distance as well and would be the first NiPS driver to make it into the NiSWC without running the Pro Series.
With battles up and down the point standings, there will be hard online racing throughout the pack at Homestead.  Be sure to tune into iRacing Live to catch the exciting conclusion to the 2012 NiSWC and the crowning of the series champion!
---
You may also like...
---