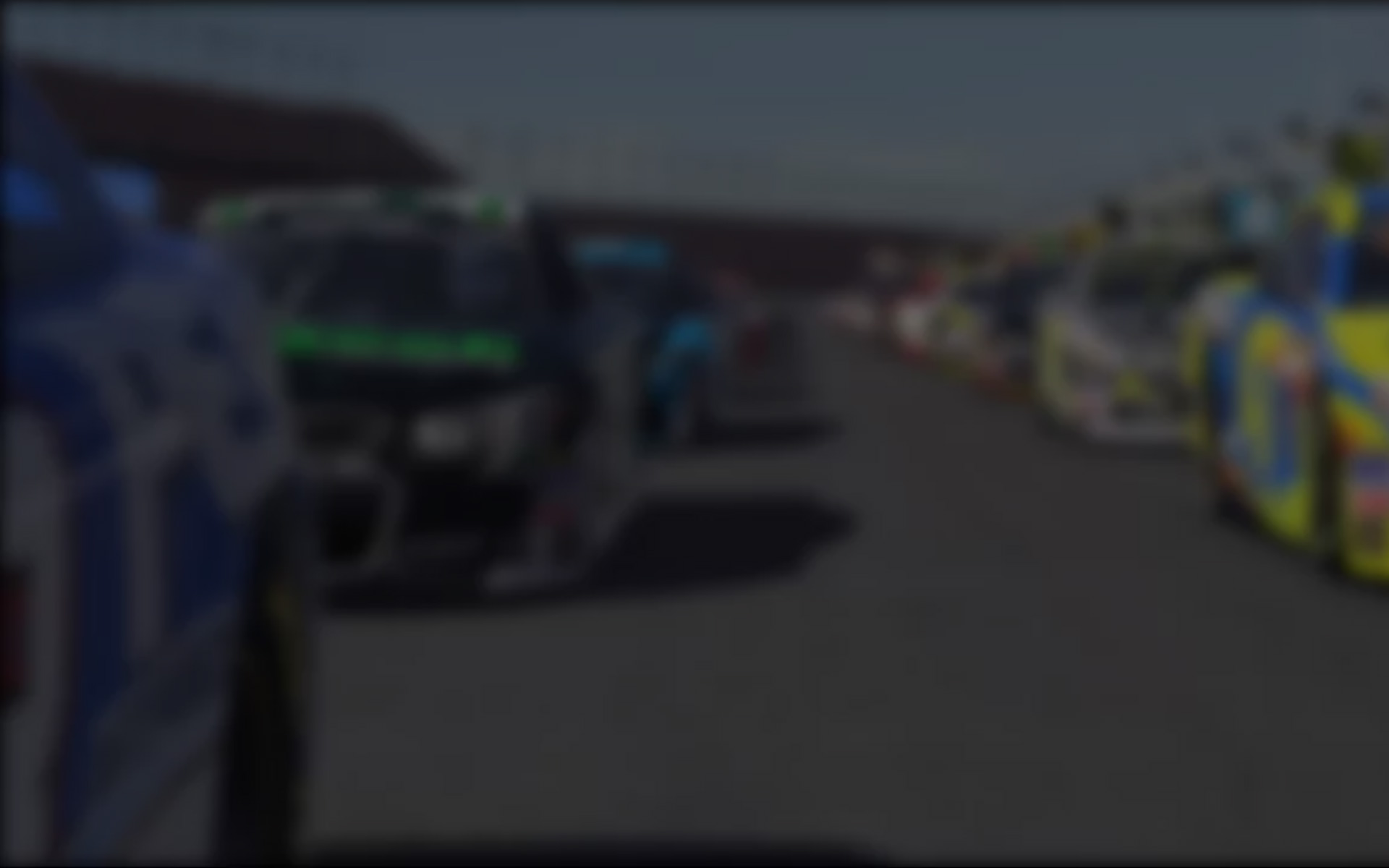 In one of most dominating performances in NASCAR iRacing.com Series World Championship history, Ray Alfalla started from the pole and led all but one lap en route to his fourth victory of the season at the Indianapolis Motor Speedway. The win, combined with technical problems that relegated an unfortunate Michael Conti to a 31st place finish, further bolstered Alfalla's chances at repeating as NiSWC champion.
"Driver/crew chief Lewandowski came up with something great, and I knew the car was stellar, so it was up to me to not screw it up," Alfalla said.  "Got a good qualifying lap in, and fortunately the race went smooth. Nothing awkward happened, which was amazing."
"I knew the car was stellar, so it was up to me to not screw it up." – Ray Alfalla
Kevin King had to settle for second while teammate Robert Hall finished behind him in third. Brad Davies finished fourth after starting a distant thirtieth and Nick Ottinger rounded-out the top five.
"The car was loose during the first run, and how it felt the second run which was so much easier to drive," King explained.  "I'm really happy for second, leading a lap, and finishing well on a track I'm typically not real good at."
After narrowly winning the pole over King, Alfalla built a huge lead over the Californian over the first run of the online race. After the round of green flag pit stops, it was clear that no one was able to touch Alfalla's speed as he continued to pace the field one to two tenths a second faster than anyone else.
The first and only yellow of the race flew on Lap 48 of 80, giving the field a chance to pass Alfalla on pit road. No such luck though, as Alfalla's crew gave him a pit stop which allowed him to easily keep the lead. This time, Alfalla was not able to get such a massive lead, but still easily held off King for the victory.
Even though Alfalla ran away with the race, Indianapolis provided some of the best door-to-door action seen so far in the 2012 NiSWC. The last 30 laps featured great racing for top five and top ten spots, with the positions constantly shuffling over the run.
"One of the best races of the NiSWC, that's for sure,"said longtime sim racer and NiSWC competitor Chris Main. "The aero was pretty bad, but it really didn't hurt the racing that much, as abusing your tires was still going to hurt you. "
As far as the championship battle is concerned, Alfalla now holds a 50 point lead over Ottinger, moving ahead of Conti who now sits 55 points behind. After another strong run, King is only six points behind Conti and 61 back of Alfalla. Patrick Baldwin holds fifth place in the standings, continuing his strong and consistent season.
With only five races remaining, Ottinger will have to gain 10 points a race to have a shot at the title, which is a tall task with how strong Alfalla has run all season. It will likely take multiple mistakes or a stretch of terrible luck for Alfalla to bring Ottinger back into the championship hunt, but do not count him out as anything can happen.
Drivers battling for the Top 25 in points (and a guaranteed spot in the 2013 NiSWC) are also running out of time to make their move. Brandon Buchberger, Josh Connors, Chris Overland and Jake Stergios are all within 10 points of the Top 25, putting the pressure on them to stay out of trouble the next few races. Likewise, strong drivers including Thomas Hazard and John Gorlinsky have to deliver some strong results in the coming weeks to ensure they remain in the Top 25.
Week 13 takes the NiSWC to New Hampshire Motor Speedway, a favorite track of many drivers. The flat one mile oval features short track style racing with plenty of bumping and banging, making it important to maintain good track position throughout the race.
Drivers like Ottinger and Conti cannot afford any more bad luck, so watch for them to be cautious if they find themselves back in traffic. As for Alfalla, all he needs are solid top five finishes, so look for him to be slightly conservative instead of going all-out for the win at the Magic Mile. Catch all the NiSWC action on iRacing TV in two weeks!
---
You may also like...
---