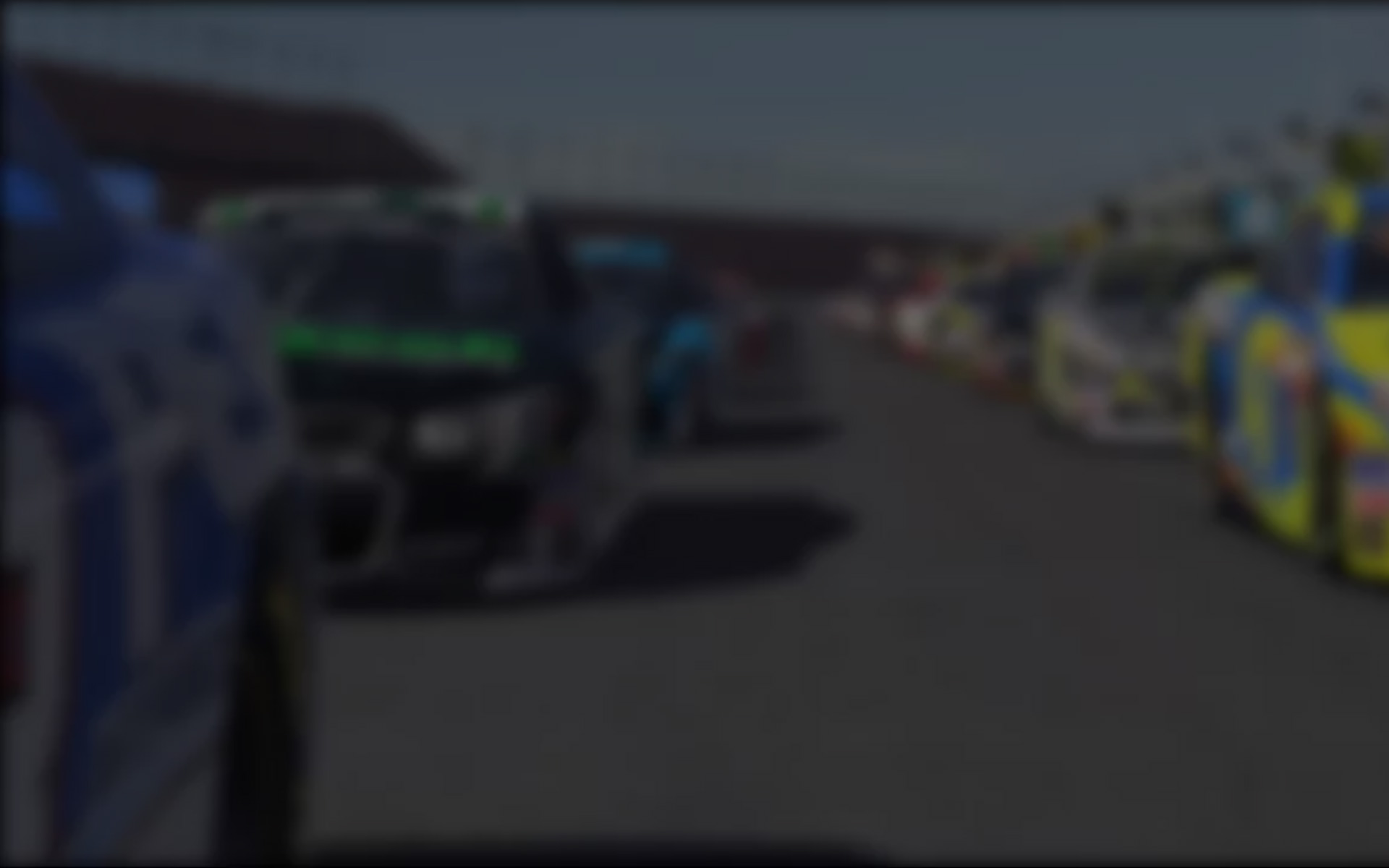 August 24th, 2016 by Jason Lofing
Ray Alfalla (Slip Angle Motorsports) captured his second victory of the 2016 NASCAR PEAK Antifreeze Series by passing Brad Davies off Turn Four on the final lap at Michigan International Speedway. The finished marked the second straight race that has been decided by a last-lap pass for the lead, though unlike Watkins Glen, there was no contact or controversy after the Michigan thriller.
Davies played a good strategy to take the lead during the last round of pit stops and held the top spot for 20 laps due to repeated crashes and yellow flags. Alfalla clearly had the better car and was on fresher tires, but never got a long enough run to challenge for the lead. His chance finally came on the final restart with two laps to the flag.
When the green flew Davies got a good jump on Alfalla but the two-time series champion had closed right up to the leader's bumper as the pair took the white flag. Alfalla was not close enough entering Turn One so instead of charging in over his head he was patient, backed up the corner, and got a great run on exit.
Alfalla closed quickly down the backstretch and dove to the bottom entering Turn Three as Davies protected the top. His fresh tires were too much for Davies as Alfalla passed uncontested off Turn Four and took the checkered flag .05 of a second in the clear.
Logan Clampitt (High Performance Motorsports) came home third, combining a solid pit strategy with a fast car and steady driving. Justin Bolton (The TEAM) was fourth ahead of Andrew Fayash in his first top-five result in 2016.
Alfalla started on pole and had the fastest car for much of the race but only led 46 of 125 laps, largely due to pit strategy. Instead of changing two tires and losing position on a subsequent long run, Alfalla opted for four fresh tires each time down pit road. This decision meant he had to fight through traffic on several occasions but Alfalla used his experience to cleanly and effectively move through the field.
During the middle segment of the race the field strung out and allowed some differing strategies to develop. Some sim racers chose a three-stop strategy in hopes fresh tires would make up for the extra trip down pit road compared to those opting for a two-stop strategy.
Alfalla chose the two-stop strategy and was helped out by a timely yellow flag on Lap 81 just before he was going to make his final pit stop. All but one car on the three-stop strategy also chose to pit, allowing Alfalla to keep nearly all of his track position which put himself in prime position to win the race.
From there the race turned into a series of short sprints broken up by frequent caution flags. Seven of the nine cautions flew in the last 45 laps, making track position more important than a typical Michigan race.
The win vaulted Alfalla back into the championship lead with three races remaining in the season. He now enjoys a 15 point advantage over PJ Stergios (ineX Racing Team) after Stergios struggled to a fourteenth place finish at MIS. PJ's brother Jake is still hanging onto third, but his margin over Chris Overland shrunk to just four points after a last night's disappointing thirty-first place result. Dylan Duval is fifth but is only seven points clear of Kenny Humpe after finishing thirty-fifth at Michigan.
Only three weeks remain in the 2016 NASCAR PEAK Antifreeze season and Darlington Raceway looms large as the next race on the schedule. Widely considered to be the toughest oval on the circuit, Darlington requires impeccable car control and patience in order to succeed. For Alfalla and Stergios, the goal is simple: get out front and stay there, away from potential carnage that can be common further back in the field.
Can Stergios close the gap on Alfalla, or is Alfalla primed to edge closer to his third world championship? Tune-in to iRacing Live in three weeks to catch the sim racing action from The Track Too Tough to Tame!
Alfalla en tête du championnat grâce à un dépassement dans le dernier tour
traduction par Renaud LACROIX
Ray Alfalla (Slip Angle Motorsports) a décroché sa deuxième victoire de la saison 2016 en NASCAR PEAK Antifreeze Series en dépassant Brad Davies à la sortie du virage 4, dans le dernier tour sur le Michigan International Speedway. Il s'agissait de la deuxième course consécutive où la victoire était décidée dans le dernier tour, bien que contrairement à Watkins Glen, il n'y a pas eu de contact ou de controverse au Michigan.
Davies prenait la tête lors de la dernière salve de ravitaillement grâce à une bonne stratégie et conservait la première place pendant vingt tours grâce à une série d'accidents et de drapeaux jaunes. Alfalla avait clairement la meilleure voiture, en plus de disposer de pneus plus frais, mais les runs sous drapeau vert ne duraient pas suffisamment longtemps pour lui permettre de prendre la tête. Il en avait finalement l'occasion sur le dernier restart, à deux tours de l'arrivée.
A l'abaissée du drapeau vert, Davies prenait nettement l'avantage sur Alfalla, mais le double champion revenait dans son pare-chocs arrière sous le drapeau blanc. Trop loin pour porter une attaque dans le virage 1, il se montrait patient plutôt que de foncer tête baissée, soignait sa trajectoire et ressortait plus fort.
Alfalla se rapprochait rapidement dans la ligne droite arrière et plongeait à l'intérieur du virage 3 tandis que Davies protégeait l'extérieur. Les pneus frais d'Alfalla faisaient la différence et il passait à la sortie du virage 4, arrachant le drapeau à damier pour 0,05 seconde.
Logan Clampitt (High Performance Motorsports) terminait troisième grâce à sa régularité et une stratégie solide. Justin Bolton (The TEAM) finissait 4è, devant Andrew Fayash qui enregistrait son premier top 5 de 2016.
Alfalla partait de la pole et se montrait le plus rapide durant la grande majorité de la course, mais il ne menait que 46 des 125 tours, principalement à cause de sa stratégie de ravitaillement. Au lieu de changer deux pneus et perdre des positions sur les longs relais, Alfalla choisissait quatre pneus à chaque passage dans les stands. Cette décision le forçait à se débattre dans le trafic à plusieurs occasions, mais Alfalla faisait parler son expérience pour progresser proprement et efficacement dans le peloton.
A la mi-course, le peloton s'étirait et différentes stratégies apparaissaient. Certains pilotes optaient pour trois arrêts, espérant que les pneus frais compenseraient le temps perdu dans les stands, en comparaison de ceux qui ne s'arrêtaient que deux fois.
Alfalla choisissait une stratégie à deux arrêts et se voyait bien aidé par un drapeau jaune au 81è tour, juste avant qu'il effectue son dernier ravitaillement. Toutes les voitures engagées sur une stratégie à trois arrêts (sauf une) rentraient aussi, permettant à Alfalla de garder sa position en piste et de se placer aux premières loges pour jouer la gagne.
A partir de là, la course se transformait en une série de relais très courts, interrompus par des neutralisations. Sept des neuf drapeaux jaunes sortaient dans les 45 derniers tours, rendant la position en piste encore plus importante que d'habitude au Michigan.
Cette victoire propulsait Alfalla à nouveau en tête du championnat, à trois courses de la fin de saison. Il dispose maintenant de 15 points d'avance sur PJ Stergios (ineX Racing Team) qui a péniblement décroché une 14è place au Michigan. Jake, le frère de PJ, est toujours 3è, mais son avance sur Chris Overland s'est réduite à quatre points après une décevante 31è place à l'arrivée. Dylan Duval est cinquième, seulement sept points devant Kenny Humpe, après avoir fini 35è au Michigan.
Il ne reste que trois semaines dans la saison de NASCAR PEAK Antifreeze Series. Darlington sera la prochaine étape. Considéré comme l'un des ovales les plus difficiles à aborder, Darlington demande de la patience et une maitrise parfaite de sa voiture pour s'imposer. Pour Alfalla et Stergios, l'objectif est simple : prendre la tête et y rester, loin des carnages potentiels qui se produisent souvent à l'arrière.
Stergios peut-il réduire l'écart sur Alfalla ? Ou Alfalla se rapprochera-t-il d'un troisième titre mondial ? Branchez-vous sur iRacing Live dans trois semaines pour ne rien manquer de l'action virtuelle sur The Track Too Tough to Tame !
---
You may also like...
---