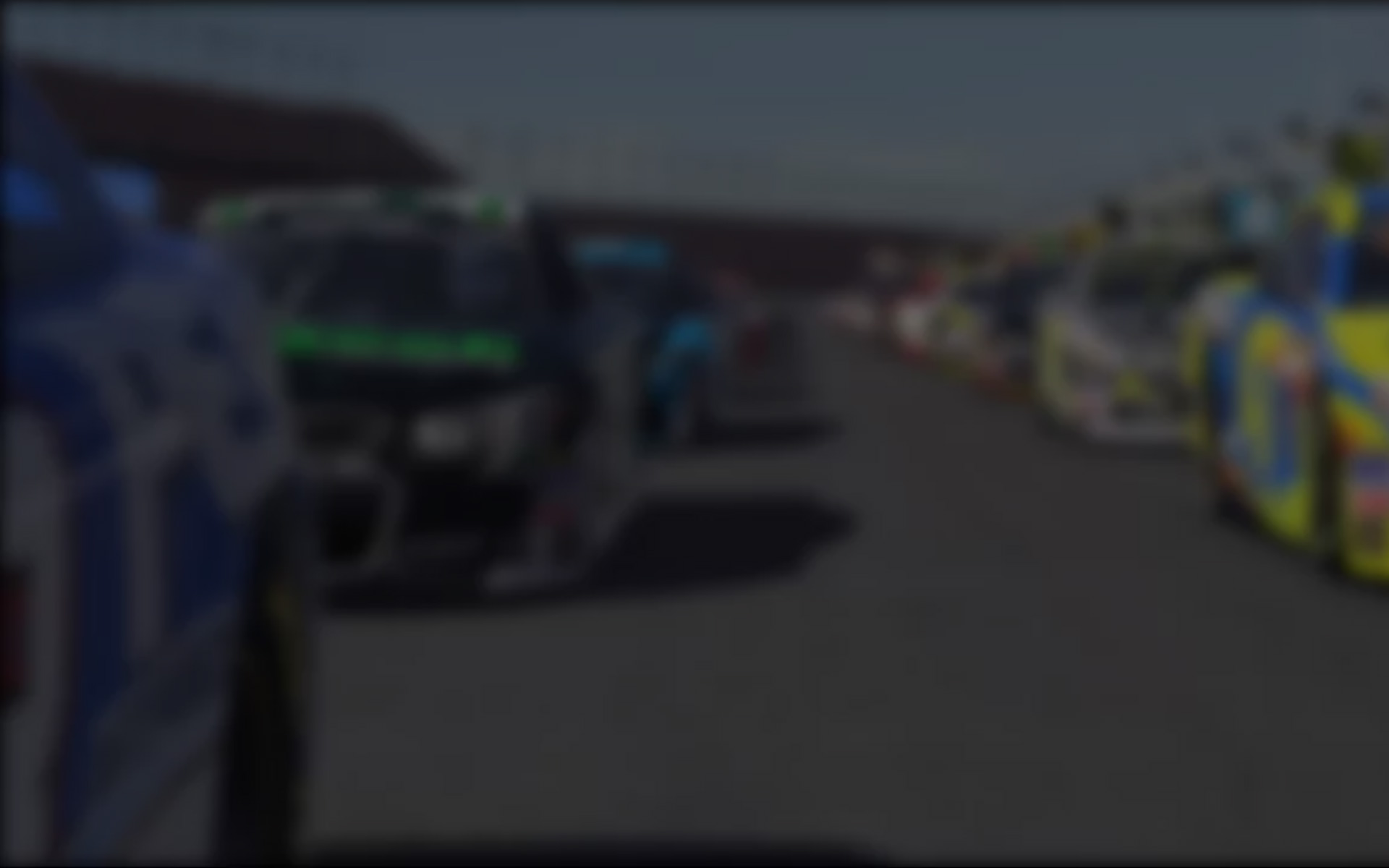 One of the cool things about hosted racing is that it enables the "host" to think outside the box.  Why limit yourself to racing COTs at Daytona, IndyCars at Indianapolis, Lotus 79s at Brands Hatch, SK Modifieds at Stafford and Skip Barber F2000s at Lime Rock?  Why not, for example, race Riley MK XXs at Lanier,  Legends at Zandvoort, Silver Crowns at Road America . . . or Mustang FR500s at Thompson?
Why not indeed.  Thus the Rennsport League convened at Thompson International Speedway last night for 70 laps of pony car racing at its best . . . or maybe its worst.  The event attracted a modest entry of seven cars.  Not a big number but, given the level of talent (and testosterone) involved, more than enough to get in each others' way on the five-eighth mile bull ring.
Qualifying produced a minor surprise when David Phillips (aka yours truly) put his inRacingNews entry on pole with a lap of 22.860s . . . at least until Brandon Davis put-in a flyer with five minutes left in qualifying to take the top spot at 22.824s, bumping Phillips to second.  Kevin Bobbitt, a close third at 22.969s, grabbed the inside of the second row from Clive Whittaker, with Gary Miller and Gregory Deems next up and Sean Siff in a row of his own after posting a best lap of 23.287s.
Given that Phillips normally languishes at the rear of the Rennsport road course grids, it was curious to see him on the front row at Thompson.  Either he is a born oval-meister or something was fishy.  Indeed, it turned-out he had qualified under the watchful eye of iRacing vehicle dynamicist (and designer of the iRacing.com Mustang FR500s) Eric Hudec.  While the competition tentatively experimented with adjusting tire pressures by a pound or two, Hudec (who came to iRacing from Richard Petty Enterprises) threw a full-on short track oval set-up on Phillips' car . . . and it obviously worked.
Qualifying is one thing, racing another.  Davis and Bobbitt got the jump at the green lights demoting Phillips to third while Miller made short work of Whittaker to commandeer fourth.  Contrary to the expected crash-fest promised by running road racing born and bred cars on a short oval, the race proved rather uneventful . . . until Phillips ran out of talent while trying to hold-off Miller and grazed the wall on Lap 16.  Ten laps later he did a proper job of things and crashed coming-off Turn Two, bringing-out the night's first – and only – caution.
The caution was good news for Bobbitt, who had lost touch with Davis after the opening laps while the yellow lights also enabled Miller to close-down on the leaders.  The rest were just holding on . . . or not.
Davis duly jumped back in the lead on the restart and motored away to a clear victory.  Miller and Bobbitt raced hard for a spell before Bobbitt's tires went away – perhaps as the result of his overly-enthusiastic efforts to stay in touch with Davis in the early going.  In fact, by the end of the race just about everyone was dealing with severely-abused tires as Davis, Miller and Bobbitt were the only ones to complete the full distance while Siff finished a lap down, one better than Whittaker with Phillips and Deems both four laps in arrears.
What will Rennsport Czar Bobbitt think of next?  Check back next week for the full story.
---
You may also like...
---