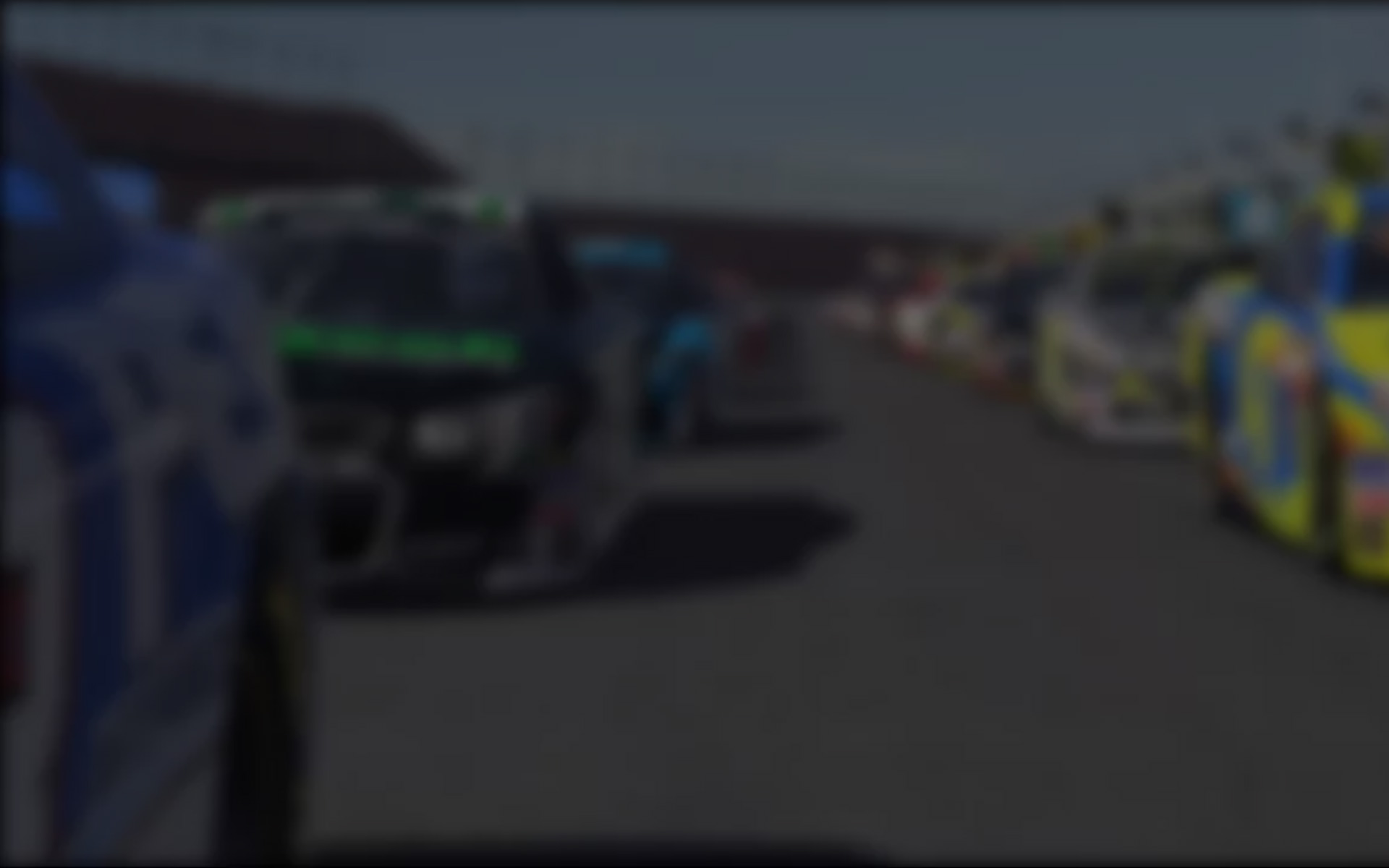 Williamson takes top split, Downs wins week.
Racing, like many other sports can have luck run in streaks. Just ask Brandon Williamson. After two horrendous starts during Week Five of the NASCAR iRacing Class C Series (NiCCS) at Chicagoland, Williamson (known in racing circles as "B-Dub") got up on the wheel and took the top rated race of the week on Monday.
The Georgia sim racer led just nine of the 90 laps in the 3724 sof race at Chicagoland but finished the seven yellow flag affair ahead of G Allen Lewis and Carson Downs to take the win. Dustin Lengert and NASCAR iRacing.com Series World Championship (NiSWC) driver Chad Coleman were credited with top five finishes in the 20 truck field. Lewis led the most laps of the race, while Downs' 208 point total helped propel the California sim racer take the top spot for the week. Downs started four races with his best finish being a second place run to Richard Beasley in a 3497 sof race on September 5th. Downs finished the week with 207 points, just two points ahead of Lewis, who went on to record two wins in a total of six starts.
Former Online 500 champion Bob Bryant took home a big win in Week Five to give the Mid-South Club driver 204 points for the week, good enough for third overall amongst 1,679 other sim racers who journeyed to the virtual Windy City. Bryant's win also came on Monday in front of a 20 truck, 3268 sof grid of Silverados. Bryant led 42 laps, including the most important one as he topped Ricky Small, Alan Jones, David Krikorian and Aliaksei Smolski at the finish. The race featured five cautions and three lead changes in as exciting race as Chicagoland Speedway witnessed last week.
NiSWC driver Jason Burstein racked-up seven victories over nine starts during Week Five at Chicagoland to be credited with fourth for the week. The biggest of his seven wins came on September Sunday as he bested Dylan Duval in a 3328 sof race. Twelve lead changes set the tone for the competitive event which also featured seven caution periods. Justin Fuller was third at the end with Alex Chapin and Xander Clements not too far behind in the top five. Burstein led 42 laps en route to the win, which brought him 208 points. When all his top finishes were factored in though, it was Burstein leaving the Windy City area track with 203 points.
Rounding-out the top five for the week was another NiSWC driver, Jeremy R Allen. Allen scored one win in four starts and completed the week with 202 points. Ironically, that win did not factor into his point total, as two runner-up finishes (one to Burstein and one to Lewis) decided his total. In total, Allen completed 274 laps in his four starts, leading 149 of those circuits.
Jason Wallen started the most races of the week as the Division Eight driver saw 36 green flags. He also saw the most checkered flags first as Wallen won in nine of those starts, leading 1,003 laps in the making. Ashley Miller was the fastest of 712 qualifiers on the week with a time of 32.105 seconds. Jason Karlavige, Randy Hockaday, Fuller and Lewis also recorded top five times. Miller was also the one to beat in the Time Trial competition, topping Marty Sponsler, Mark Russell, Thomas D Smith and Michael Smith in that discipline of iRacing.
Miller sits atop the standings after five of 12 weeks on the NiCCS. Miller's point total of 932 is just eleven more than that of Thomas D Smith's. Michael Guest (21) and Jesse James (26) are within striking distance of the leader while Chris Overland completes the top five overall after Round Five. Christopher Arndt, Dusty Routh, Tommy Lark, Jonathan Mohon, Ben Atcher, Brian Manchester, Cory Van Driessche, Devin Chapman and David Cirilli also lead their respective divisions after a week of racing at Chicagoland.
Up next for the NiCCS is the "Magic Mile" of New Hampshire Motor Speedway. Who will make the big move to take the win and who will lead at the halfway point of the 2011 Season 3 campaign for the NiCCS? Find out here, next week at inRacingNews.
Until then, keep the hammer down and we'll see you at the track!
---
You may also like...
---