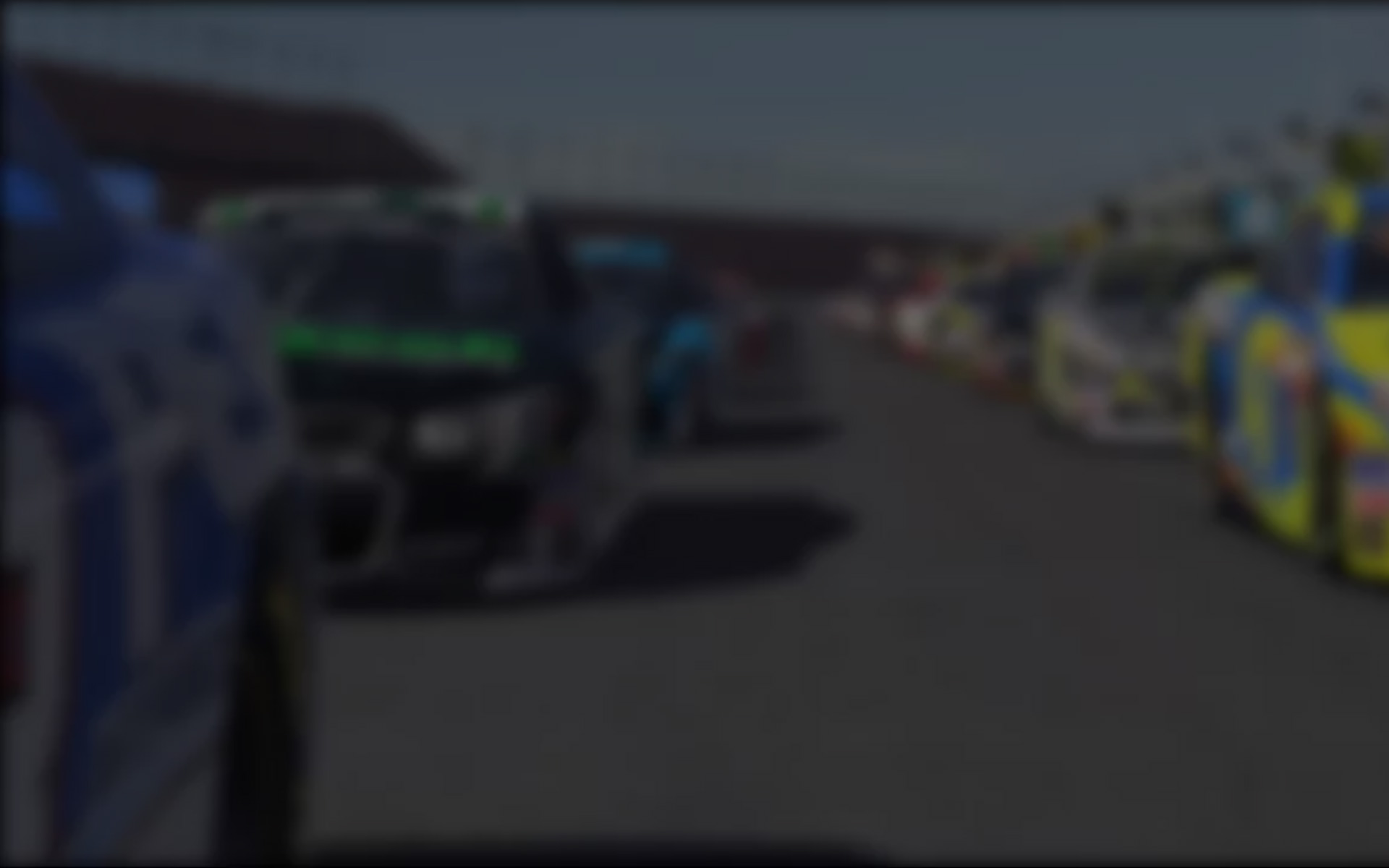 ISRA – O'Neil PC Systems Grand Touring Championship Season Two – Race Three
Road Atlanta in Braselton, Georgia has been the scene of many epic races through the years.  How could anyone forget Allan McNish's charge to victory in the 2008 Petit Le Mans having started the race one lap down after wrecking on the warm-up lap?  Or any number of the fantastic SCCA Runoffs races that were held there for 24 years?  Round Three of the O'Neil PC Systems Grand Touring Championship (GTC), while taking place on a virtual representation of the real track, certainly rivaled any past race for real drama and excitement!
Qualifying took place over three hot laps on an empty track.  By this, the third online race of the season, most sim racers have worked out a solid qualifying strategy of bagging one safe lap and then pushing hard on the second and third laps to try and pick up a few tenths and a few vital positions on the grid.  In the GT class, the V8 Supercar of Kevin Savoie clinched pole just ahead of  the Ford Falcon of arch rival David Sirois.  Fellow Canadian Andre Michaud rounded-out the top three.  In the GS class, the Mustang of Mike Young laid down a dominating lap well ahead of those of Randy Wolfgram and Jaymz Mynes.  In ST, no strangers to the real Road Atlanta, Eric Foss and Colin MacLean claimed the first two spots on the Mazda MX-5 class grid hotly pursued by Daniel Graulty.
34 drivers sweeping through Turn 12 nose-to-tail is always a glorious sight: This was no exception.  The green flag waved early and they were off!  The story of the night was in the GT class.  Savoie and Sirois waged an absolute war on the track that lasted from the first lap to the checker.  The V8 Supercar is a real handful at Road Atlanta and these two drivers were the class of the field as they ran a hard, clean race with no mistakes.  At the green flag Savoie took point with Sirois hot on his heels.  Sirois tucked into the draft and ran a close one-two and pulled away from the rest of the pack.  Sirois had a great opportunity to study Savoie's race line and his study would pay off on Lap Eight when Savoie ran wide exiting 10A and got a slow run out of 10B.  Sirois showed the nose into Turn One and a slightly distracted Savoie slid wide, almost losing it on the grass.  Gathering it up he slotted in behind Sirois and worked hard to return the favor.  Savoie was really on his game tonight and was back on his tail within half a lap.
Road Atlanta can be a tough multi-class track as there are sections of the track, primarily the Esses, where a V8 can lose huge chunks of time snared behind battling Mustangs and MX-5s.  Running such close times it was always going to be traffic that created passing opportunities.  Unable to make the pass on track Savoie elected to dive into the pits lap 21.  The strategy was to pit early and turn hot laps to leapfrog Sirois in the pits.  Savoie may have left it too late though as he lost time on the in-lap to slower traffic.  Reacting to his pit-stop Sirois brought his racing car in Lap 22 for his stop.  As Sirois rejoined it was nose to tail again with Sirois still in front!
With three laps to go it was time for Savoie to make his play.  He was on Sirois' bumper and would not let him get away.  As they weaved their way through traffic Savoie knew he had to jump on any opportunity that presented itself.  On the penultimate lap, Sirois caught Jim Mcleish's Mustang right at the apex of Turn Five.  Savoie, eager for the opportunity, powered through the turn giving him enough momentum to swoop round the outside into Turn Six taking the lead!  Through Turn Seven, Savoie got a little loose and allowed Sirois to make a run down the back straight.  Braking into 10A, Sirois on the outside, Savoie defending to the inside, inches separating them, Sirois laid down a masterful move and took the position back round the outside.  Great driving from both!
Onto the final lap where Savoie likely thought his moment had passed.  Yet as they exited Turn Five, the two combatants faced an absolute swarm of MX-5 and Mustangs fighting for position in Turn Six.  As Sirois entered the turn he was balked by a Mustang and Savoie swept under him and into the lead.  So there they went again, side-by-side down the back straight on the last lap with it all to play for!  Ahead the MX-5s of Daniel Graulty and Alex Ulleri argued over a section of road sending both careening into the wall right in front of the leaders!  Sirois, avoiding the MX-5 carnage, defended to the inside, kept his nose ahead and took the checkered flag inches ahead of Savoie.
What a memorable battle and a fantastic fighting performance from both drivers.
Sirois was reflective after the race.  "This time, I won but it could have gone one way or the other," he said.  "I think I should have pushed a bit more and kept a bigger gap with Kevin.  But it is easy to say afterward and anyway, it would have been another story."
Waiting in the wings for any mistake from the two leaders Chris Damron rounded out the podium in third place less than ten seconds behind.
In the ST class Foss took a flag to flag victory closely followed by MacLean and Graulty.  The GS class victory went to Young ahead of Chuck Chambliss and Jaymz Mynes.
The next outing for the GTC is to historic Watkins Glen for a one hour and thirty minute Enduro fature race.  The virtual racers will need to be on their toes to keep out of trouble for so long!  Multiple pit stops, hundreds of passes and a high level of competition will be on display.  Log on to inRacingNews for the full story next week!
Visit http://www.israleague.com to get involved and to get in line for a highly sought after race seat.  There are always one or two slots open at each race so sign up to the waiting list and 15 minutes before the race starts you will receive a "fill the grid" notification.  You can then join in what is rapidly becoming the premier iRacing hosted multi-class racing series.  See you on track!
---
You may also like...
---