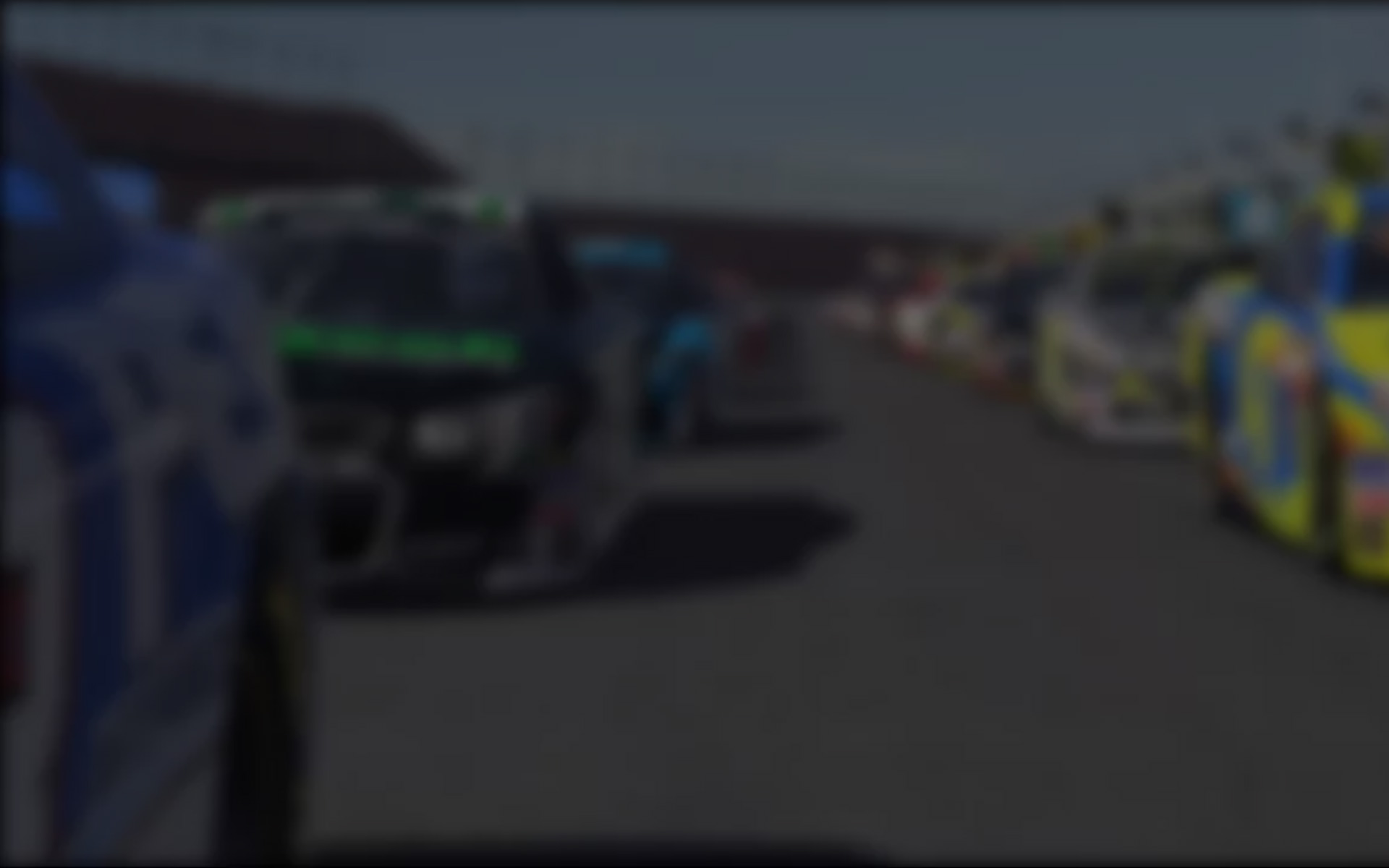 The Mighty Monster
We see it all too often in motorsports:  A team spends countless hours preparing a car, makes sure every single detail is perfect, executes the best race strategy possible and still comes up short despite their best efforts.  We see it almost weekly in the Sprint Cup Series with Kevin Harvick, and it managed to keep us out of victory lane last week in the NASCAR PEAK Antifreeze Series race at Dover.  With the Summer Shootout starting tonight at Charlotte Motor Speedway, I have to turn race strategy duties over to our trusty spotter, Peter Fisher.  This is the first time I'll head into my "summer break" without a win, which is a little frustrating, but I can't say I didn't try, right?
All three of us (Nick, Peter, and myself) remember last year's Dover race.  The car was dominant, to say the least, and Nick handily walked away with a win.  It was so good, in fact, that we stopped trying to "strategize" mid-way through the race and just pitted whenever we thought it would provide entertaining sim racing.  This year's race was about 400 times more complex than last year's, and we were all scrambling to keep up with what was going on.  We couldn't use last year's setup, it just wasn't going to work with the new suspension/aero/tires, but we still struggled for the majority of the week finding a good feel in the car.  We were still working on the car on Monday, during which I discovered something from our previous setups that was locking the car's suspension and preventing it from working properly.  It was way too late to take that out of the Dover car, but luckily that wasn't in the car because we didn't have time to remove it.
The initial part of the race went very smoothly, not much to write home about.  Just the typical message from Nick every few laps, "Snug in the center," but I've essentially become immune to that after three years working with him.  Mike Conti had run away off of the start, putting the #05 at nearly a half-lap deficit at the first run's mid-point.  It was around lap 30, when I was starting to think of how to salvage what was becoming a disaster, that Peter spoke up and said, "Heads up, Ray [Alfalla] is on his way back to you."  I looked out at the track and saw the blue #2 on the outside of a train of cars, dropping like a rock.  I use Marcel Weimer's "FIA Timing Monitor" during these races, and Ray's laps were mid-23-second laps, while everyone else was mid-to-upper 22-second laps.  Anyone who has followed the NASCAR PEAK Antifreeze Series for more than 47 minutes will know that's an issue, so I started going back through Ray's laps.  I noticed immediately that his car had "fallen off the cliff" and was losing time in bunches.  It wasn't long before other cars started to follow suit, and over the next 10 laps the entire field started shuffling around.  Eventually, Conti's rocket ship came back to Earth and we started making up ground.  Initially, our strategy was to pit every 40-45 laps for new tires, but when Nick had reduced the half-lap gap to just a straightaway, I decided to leave Nick on track and see how far we could really go before our car lost its giddy-up as well.  A caution on Lap 50 was a welcome relief, trapping some cars laps down and allowing us to get some new tires.
"His car had 'fallen off the cliff' and was losing time in bunches."
The rest of the race was a moving target.  After the first run, I kept my eyes on two cars, the only ones that I saw as a threat:  Mike Conti and Joey Brown.  Ironically, two drivers who have worked with Gale Force Racing in the past!  After the first run, I had to keep reminding Nick to baby the tires, which is exactly what Conti and Brown appeared to be doing.  I gave Nick simple instructions:  "Do what Mike does."  It was actually  really fun to watch, with all three cars employing a different strategy to get the most out of the tires over the longest time.  It was almost like a game of chicken, with each driver sitting back and waiting for another one to take off, and it seemed to me like everyone involved was really having fun with it.
Whenever we run these NASCAR PEAK Antifreeze races, it's crucial to have the next section of the race planned out before you ever get to it.  Whenever Nick is coming down pit road, I'm already looking at when the next pit stop will be, what adjustments could be needed, and what drivers I need to pay attention to during the next run.  Most of the time, things play out the way we expect. However, both Nick and I were caught completely off-guard by Conti's strategy for the final green-flag run.  In the previous run, he had laid back early and jumped around mid-run, making his charge to the lead.  When the final run started, he took off immediately.  By the time I realized what was happening, it was far too late for Nick (and Joey Brown, who was running with us) to make a full-scale charge to run him down.  Mike had gotten too far out and if they took off to catch him, it could wreck their tires early and they'd eventually stall out and never catch him.  Instead, they both steadily ran a fast, but not blistering, pace and eventually caught and passed Mike.  With the fall of Goliath, it was left for Nick and Joey to battle it out to see who would win this one.  As I was packing up the notebook and jotting down the "final" notes for the race, Nick came across the radio with "Oh [crap]" and I looked up to see both he and Joey out of shape in Turn 4, with Joey spearing the pit wall and ending his race.  This brought out a final caution, and set up a late-race shootout with only one chance at a green flag finish.
"Embrace the future!  It's here — and it's incredibly realistic."
We pitted, since there were almost 50 laps on the tires at that point and they were right on the end of their useful life.  Unsurprisingly, two cars stayed out to try and spoil the show, and spoil it they did.  As has become customary in this series, the leader of a late-race restart did not take off when the green was shown, but instead both cars on the front row decided not to go.  Nick got hit from behind by fellow GFR driver Matt Bussa and kicked up to the middle lane, while Conti jumped up to the high lane and passed the front row and took the lead.  Nick got stuck behind what was the front row, and contact between two cars triggered a big crash behind him, bringing out a caution and ending the race.  We finished the race in fourth.  Nothing to hang our heads about by any means, but enough to leave a sour taste after another instance of "games" on a late-race restart.
In defiance of my common sense, I actually do surf through the iRacing forums fairly regularly; sometimes I'll leave a post and then disappear with no interest in the response that it produces.  I see a lot of complaining about this new tire and how it doesn't "fall off" over a run. This is true, to a point.  No, the tires often do not gradually lose speed over a run; however the version 4 tire could be made to do the same thing.  If you get a chance to talk to Nick sometime, ask him about when I ran Indianapolis in the Class B car and the car never lost any speed over a tire run.  That was on the v4 tire, by the way.  However, this new v5 tire has a performance "cliff," which is seen in racing all over the world, from Formula 1 to NASCAR to Le Mans.  Every tire will, eventually, reach a point where it cannot provide the necessary forces to keep the car at speed and lap times will nosedive.  This race at Dover showed not only that this is a major (and realistic) feature of the new tire, but also that the tire cliff can be moved around in the tire's life cycle.  We saw some cars that dropped off early, some that dropped off late, and that shows the car's setup can be tailored for long-run endurance or a short-run sprint, whatever is necessary.  Yes, we are missing a big "feature" for this tire model, but I think this tire model is a huge step in the right direction.  It may be a step backwards, but sometimes a step backwards allows you to take two steps forwards.  Embrace the future!  It's here — and it's incredibly realistic.
---
You may also like...
---