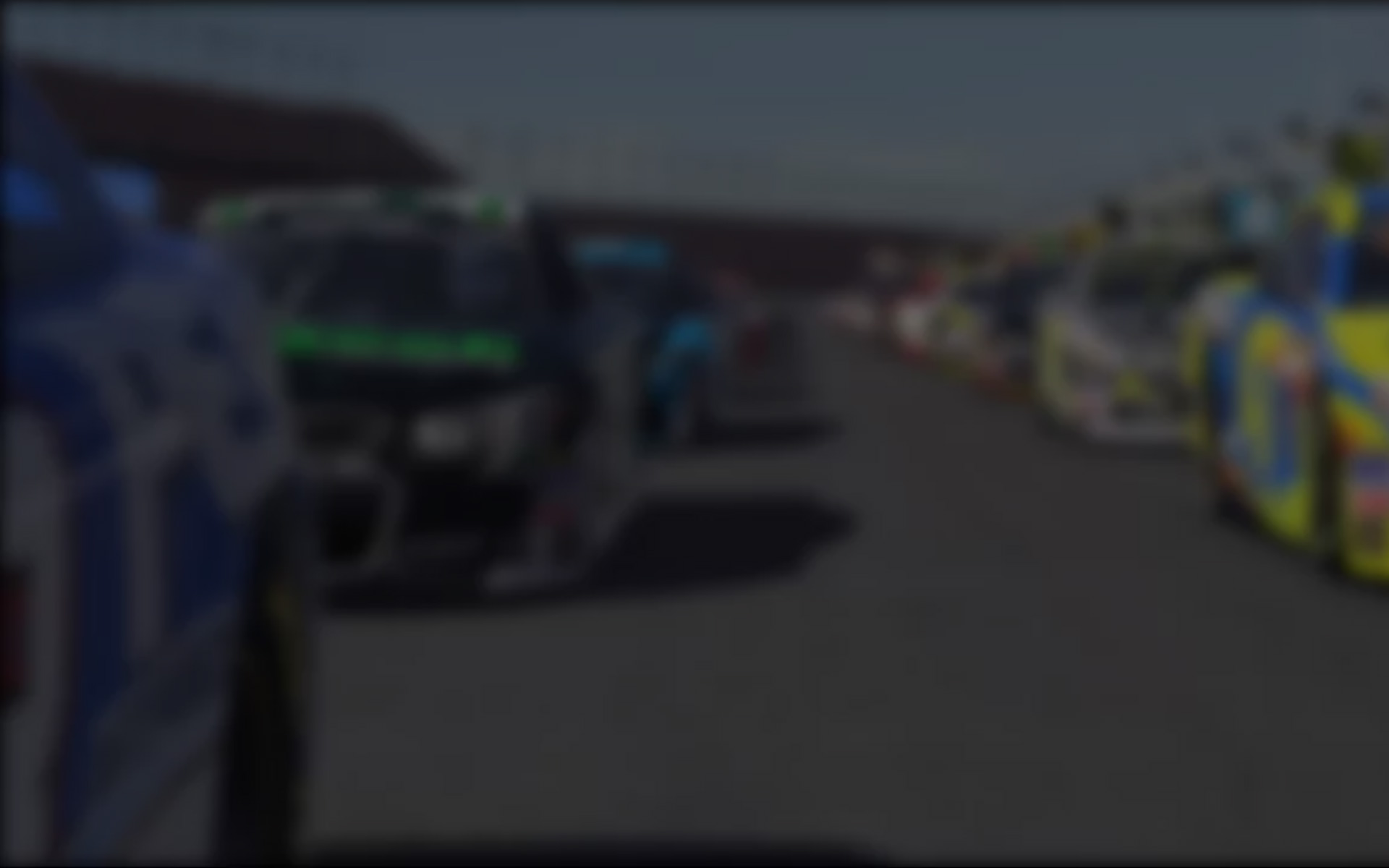 A Marathon of Madness
Typically, Nick  Ottinger and I look forward to the Charlotte race every season.  In the Pro series, it was our "home track" and we went out and laid claim to the virtual Charlotte Motor Speedway, then showed that it wasn't a fluke when we came back in the 2012 World Championship season and won at Charlotte again.  It wasn't as dominating as the Pro Series race, but any time you can stand up and say "This is OUR house!" it's pretty cool.  Since then, however, it seems we've lost the house key…  The 2013 race didn't see the #05 make it past Lap 10, and this year's race was the typical roller coaster up-and-down that has plagued our team all year.
The Charlotte race is unique:  it's the longest of all the races we run.  Typically, sim-races in the NASCAR PEAK Antifreeze Series are half the distance of the companion Sprint Cup Series race.  Since the companion race is 600 miles, our race is 300 miles.  A big deal?  Not exactly, but it does make you look at things a little bit differently with the extra pit stop thrown in.  Not to mention it seems a whole lot longer than the other races.  Throw in the new build that nobody really has a good handle on, a new tire model which doesn't react well to punishment (a good thing!!!), and we all knew this race would be yet another wild card.  So wild, in fact, that as I'm writing this column one week after the race, I had to look up who won the race just so I knew.  Congrats to Danny Hansen, by the way.
From my point of view, this race had a laundry list of issues that began one week before the race, at the NASCAR PEAK Antifreeze Series All-Star race.  Hey, Nick won that, I think.  The setup for the All-Star was purpose-built to go fast for the exact length of the segments, and that's exactly what it did.  The setup for the All-Star was only good for 25 laps, no more.  After that, it became a sled, more at home on the Z-Max Dragway than the Charlotte Motor Speedway.  For the 200-lap race, we had to change that, or at least make an effort to do so.  The setup we ran in the race was nothing like the Pocono setup, like I had wanted, but was also nothing like the All-Star setup, which was a good thing.  We were able to extend the life of the car to 35 laps, but on a 45 lap fuel run that didn't leave much room for error at the beginning of a run.
Nick was back on old qualifying form for this race, tying Joey Brown for second place and landing third place on the grid.  He also showed up to the right track, which was nice.  Once the race began, it was immediately apparent that the Rheem Toyota Camry did not work well in traffic, with Nick yelling "Tight, tight, tight!" after only 10 laps.  We made a small pressure adjustment to fix that, and overshot the adjustment by a lot.  This was a first!  The car finally responded to adjustments as it should have.  Nick wasn't happy that his car was suddenly so loose that he couldn't stay in front of anybody, but I was overjoyed that the adjustment actually worked.  I was "hired" to help Nick win races, not make him happy, remember.
The second run was the first time all the cars got a chance to stretch their legs and get sorted out well.  The first run was only 20 laps, the second run 30 laps.  This was enough time to see how the car dealt with fuel burn-off, heat build-up in the tires, and who fell off or who stayed at a good pace.  This also showed something that I've never seen before in these races:  everybody was running the same lap times.  We see it a lot in Sprint Cup, even Nationwide, where the top 20 or 30 drivers all run within a tenth of a second, and that was happening in the Charlotte NASCAR PEAKAntifreeze Series race.  The leader would run a 27.8 second lap and 25th place would run a 27.8 as well.  So did everyone in between.  There wasn't a whole lot of variety in the lap times among the drivers, so whatever passing was going to happen needed to be done on pit road.
I promised the pit crew a dozen donuts if they had a good pit stop, and that's exactly what they did.  After a few normal pit stops, Nick finally won the race off of pit road.  This gave us an opportunity to see how the car dealt with clean air and if Nick could control the race with what he had.  As it turns out, the handling flipped in clean air, so everything we did to fix it in traffic hurt it in the lead.  Plus, there were other cars that could run quicker earlier, and Nick just couldn't hang on to the lead for long runs.  It's nothing he did wrong, the car just wasn't there.  Sometimes we miss a little bit, but we have to learn from it and move on.
Our race really started to go sour around Lap 160.  Ironically, this is about where a normal 250-mile race would end.  We had pitted on Lap 133, and by 160 realized the car was taking a nosedive quicker than we expected.  I told Nick to pit on Lap 175 and we'd avoid a second nosedive on the final set of tires.  That turned out to be a bigger disaster than the car falling off.  In Turn 2, Nick called over the driver's chat that he would be pitting that lap.  This didn't stop the two cars following him from making a pass in Turn 3, which took away the opening to get to pit road.  There was a lengthy gap between the second car and a car farther back, so Nick dove through that to get to pit road.  The third car then crashed, bringing out another caution.  When the yellow came out, Nick was around the start/finish line on pit road, so he was eligible for a pit stop.  However, when the yellow came out, we were told pit road was closed.  Peter and I both yelled to drive through, knowing that Nick would get a black flag if he pitted and there would be no arguing it with the race stewards.  He had no choice but to rejoin the track and pit under caution, moving him from the top 10 to the mid-20s.
As it turns out, rage is a better fuel than Ethanol.  In the following restarts (which were a mess in their own right), Nick made it all the way up to seventh place, right around where he was when he wanted to pit on Lap 175.  In those restarts, the nose got knocked off the car, the door got scraped off from the wall, and the back end got smashed up, all because of the leaders playing typical games just before the green flag.  But then again, there's no rule against it, so what's the big deal anyway?
On to Dover.
---
You may also like...
---