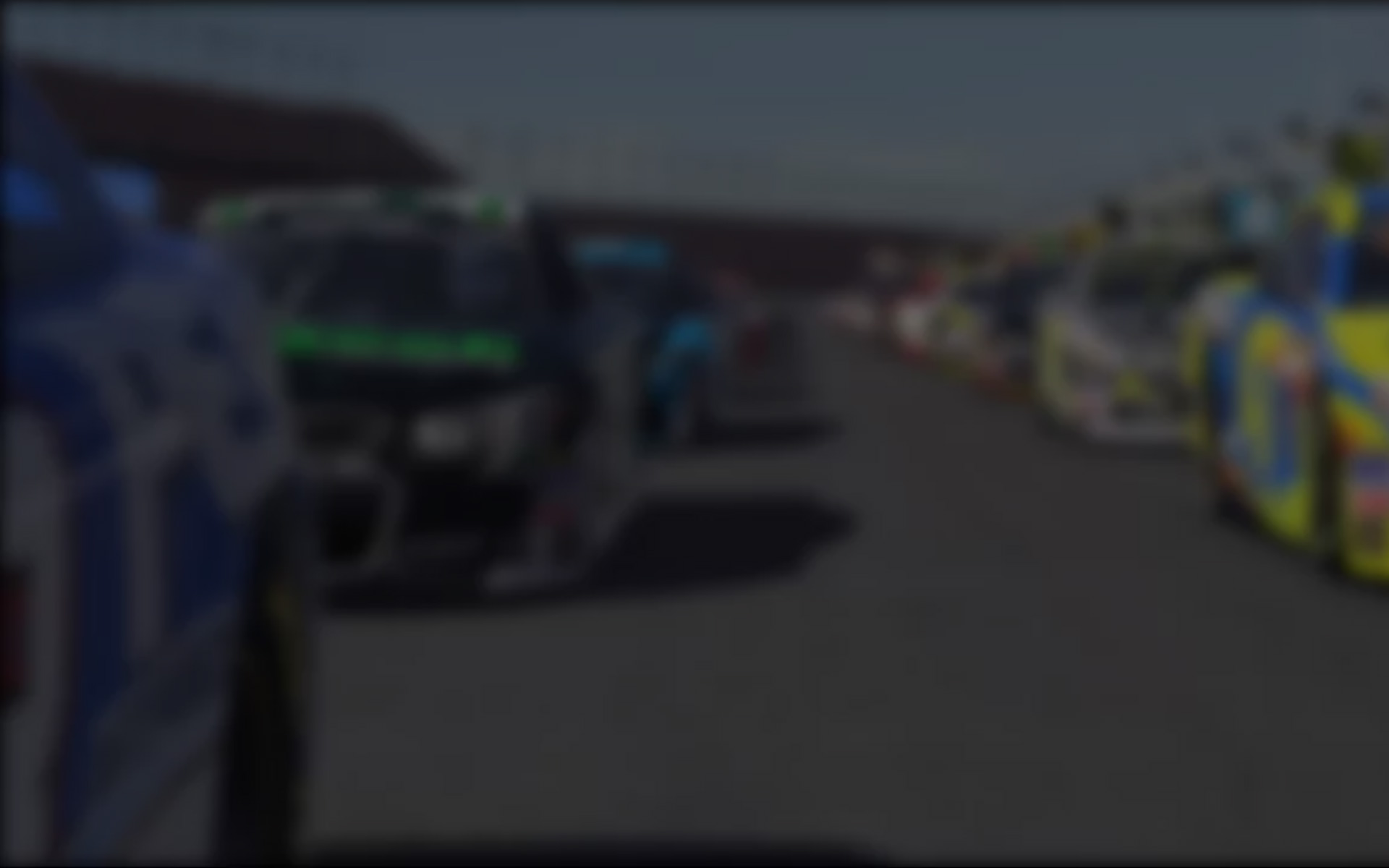 Nick Ottinger has 11 wins in the NASCAR PEAK Antifreeze Series.  From our first ever NPAS race (and win) at Phoenix in 2012 to last night at Indianapolis, I've called the shots for 10 of them, the 11th being the 2013 race at Kentucky where Peter Fisher brought it home while I was at Charlotte Motor Speedway.  Those wins came across 60 starts in the series, and of those 60 race, exactly zero of them have ever been as wild, hectic, and unpredictable as last night's 250-mile race at the Indianapolis Motor Speedway.
The first win was in our first race, like I mentioned, at Phoenix.  Nick was in 5th on a late restart when the leaders wrecked each other before the green flag ever came out.  Back then it was just the two of us, no spotter yet, and Nick simply asked, "Did we seriously just win the first race we've ever run?"  I was a little speechless, I'll admit, and I still don't know how we did it.  Later that year we scored another win at Charlotte after I told him, while we were preparing for it, "We have to win this race.  This is the home track for both of us, and I work at this place.  This has to happen."  When Brian Schoenburg's engine blew with 7 laps to go and Nick had no more challengers, just ten and a half miles to his second win, radio chatter fell silent.  It wasn't until he exited turn four and yelled "We did it!!!" did either of us exhale.  Then in 2013, one year to the day after my mother passed away, Nick won the race at Dover and said, "This one's for her, buddy" as he took the checkered.
This win, in terms of sentimentality, doesn't differ from those three at all.  Indianapolis was the track where Nick absolutely destroyed a race-winning car in 2014, something I did at the same track a year before in a Class B race.  It's been a thorn in Nick's side for four years and always seemed, to me, like somewhere that he'd never be comfortable at.  After his encounter with the wall in 2014, he highlighted this race in 2015 as one he wanted more than anything.  As for me, Indy is hallowed ground.  My mother was a huge fan of the Indy 500.  Every year on that one Sunday, I could go to the living room right around 12:00pm and my mom would be sat in front of the TV with an enormous bowl of popcorn and this gigantic mug/thermos thing full of Pepsi.  I was not allowed to change the volume on the TV, let alone the channel for the next two to four hours.  In the same way a grown man will scream like a maniac at the TV set over his team winning the Super Bowl, so did my mother when Dan Wheldon passed the stricken Dallara of J.R. Hildebrand out of turn 4 to win the 2012 Indy 500.  In contrast, she kicked her (then empty) popcorn bowl off of the coffee table when her favorite driver, Tony Kanaan, came up short of winning in 2012.  She slumped on the couch said, "I'm never going to get to see him win this race."  She would die just four months later of heart failure, 8 months shy of Kanaan finally drinking the milk in victory lane.
Indianapolis is a very special place.  Even in virtual form, you can't help but think of the history behind it and the great names who have won at that track.  From Unser to Castroneves, Gordon to Earnhardt, and Hamilton to Schumacher.  Am I saying Nick is like Schumacher?  Hardly, but it does take a good driver to win at Indy.  It's not a kind place, it's quick to punish anyone who has a lapse of concentration or puts a wheel just a few inches off line.  So much can go wrong, and often times it does.  In my opinion, it's the only track in the entire world where the race is not over until someone has passed under both checkered flags.  iRacing's digital version of the Brickyard is apparently exactly the same.
It probably looked easy from the virtual grandstands, but to say our race had minor issues would be like saying the Hindenburg had a tiny mishap upon arrival.  Even qualifying didn't go so well, where Nick blew past Turn 1 because of high winds and lost what was likely a pole-winning lap.  For most people, second place in qualifying is awesome.  It's usually like that for Nick, too, but if he got second place after making a huge mistake the frustration carries over into the race.  And then the race started…
We knew going into the race that pit stop timing was key.  I watched one of our NASCAR iRacing Series drivers race at Indy earlier in the week, and had gotten fuel values from his runs.  Nick has a lead foot though, so fuel numbers for any other driver have to be altered to compensate for that.  We were looking at just over 30 laps on a tank, which gave a minimum three stops in the race.  The problem was not with fuel, but with tires.  Nick was fairly vocal about issues the car had in the first run, mainly that it became incredibly tight after 15 or so laps and lost a ton of time as a result.  It happened with everyone, but some cars weren't quite as severe, and watching gaps increase late in the first run was disheartening to say the least.  A caution just before green-flag stops were scheduled was a welcome sight, and turned out to be an even bigger blessing later in the race as it set in motion the strategy that would eventually put Nick in a position to win the race.
We pitted first on lap 29, just before when we planned on pitting anyway.  Nothing out of the ordinary, a simple four-tire stop under caution along with a crowded restart.  Where things started going wrong was on lap 47, when my timing monitor started replacing lap times with "IN PIT".  To me, it made no sense to pit that early.  It had only been 17 laps since we all last pitted, and if pit stops continued at this cycle there would be at least two more in the race around laps 64 and 81, giving those driver four stops in total.  I wanted to stick to the one-stop strategy I had laid out initially, pitting on lap 60 and 80, giving us three stops in total.  Yes, we'd lose a lot of time to newer tires, but the difference was not enough to make up the 50-second difference in one less pit stop.  Nick and I argued for nearly two complete laps, Nick saying that he was losing too much time to newer tires, Peter and I both trying to explain that he'd get the time back, plus some, late in the race.  Despite the opposing views, we all agreed that it was going to stay green for the entire race.  I eventually lost the battle and said, "Fine, pit, we'll do it your way" on lap 50.
The rest of the race was mayhem, at best.  Cars crashed, drivers tried pushing the cars beyond the outer wall, and the entire field got black flagged at one point.  Cautions flew regularly, and we were under caution on lap 75, when I had planned on bringing Nick back for a final stop had the race gone green.  We literally debated all the way to the commitment cone, but I said "Stay out" at the last second even though, in my mind, it seemed like the wrong choice.  Cautions kept falling and I eventually realized that we could make it to the end on fuel, even if Nick went into "YOLO Mode" and turned it to 11 for the final laps.  I normally check fuel calculations twice, but this time I checked it 7 times…across three different calculators.  They all agreed that we could make it to the end, so every time a caution came out I simply said, "Don't pit, we can make it."
I normally check fuel calculations twice, but this time I checked it 7 times…across three different calculators.  They all agreed that we could make it to the end
Big deal, right?  Teams stay out all the time in the real world.  But this is NPAS, where we've seen drivers pit for tires with 5 to go after running just two laps on them and walking away with a win.  We were going to run 50 laps on the same tires, on one tank of gas.  Normally that kind of stuff is reserved for the Stergios name as Las Vegas, not our gas-guzzling Camry.  I mentioned I've watched 60 of these races?  Tonight was the first time I've seen the field, as a whole, stay out for so long despite multiple cautions.  It's just unheard of in this series.
I'm sure the final restart will be in highlight clips for the finale this year and on into next season, and it definitely deserves to be there.  We saw a power-move from Ray Alfalla on the outside through both turns 1 and 2 that probably would have vaulted him to the lead, but it got snuffed out after sliding through the late section of turn 2.  Whether it was contact or just venturing outside of the limits, I don't know, and I won't pretend to know what happened.  Like everything that happened late in that race, I don't think any of the drivers (maybe a few) were irritated.  Even Ray's "LOLblock" was perfectly acceptable in Nick's eyes, and all we saw was a bunch of guys having a lot of fun in the late stages of the race.
I saw a comment the day after the race that said something along the lines of "NASCAR needs to take the iRacing package to Indy next year".  I remember writing something about aerodynamics packages recently, but I don't really think aero-models or spoiler height had anything to do with what we saw in the NASCAR PEAK Antifreeze Series race last week.  I think we just saw a field of drivers who were very confident in what they could do with their cars, and when all was said and done, there weren't a whole lot of upset people.  That's how racing should be.
---
You may also like...
---