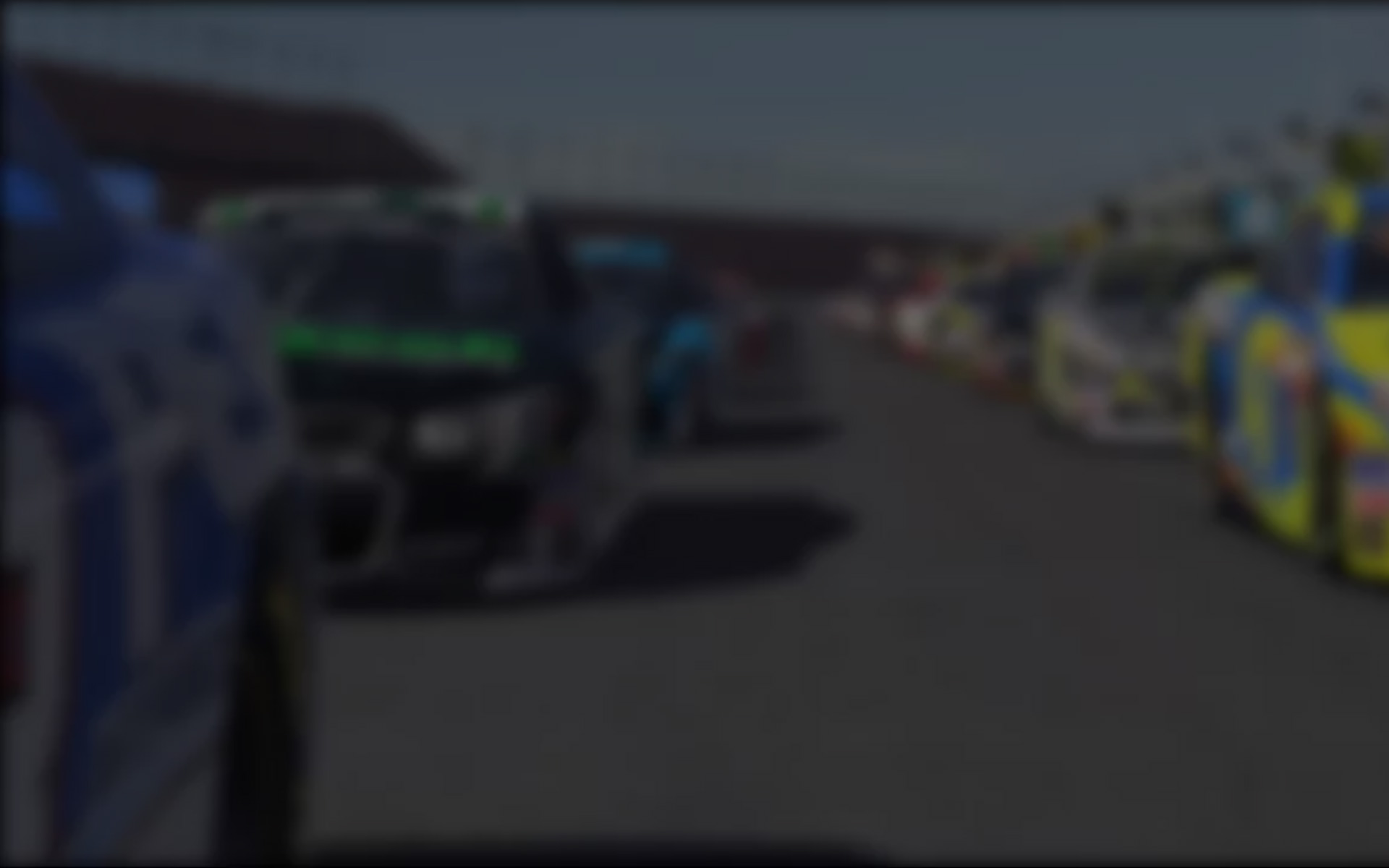 Week 10 of 2013 S4 saw the NASCAR iRacing.com Late Model Series venture to Virginia's Richmond International Raceway.  The biggest track the Late Models see this season, the .75 mile oval posed some serious challenges with handling playing a huge factor as the cars tightened-up late in the runs.  Thus consistency would be one of the biggest keys to running well and maintaining speed late in the run.
As for the shorter qualifying run, Scott Howell posted the fastest time to grab the pole position from Scott Schrader and Bill Martin, with Joel Wood completing the second row of the starting field.
As the pace car pulled-off, Howell hit the gas and quickly pulled four car lengths going into Turn One with Schrader clearing Martin as he tried to close back on Howell.  While the rest of the field jumped into single file order, the race took a wrong turn for Ricky Brinkman who got a slight bump from Wood, pushed high and dropped seven spots to P11.  For his part, Wood only held P4 for a corner before greeting the Turn Two wall and losing all momentum.  Lap Three saw Martin touch the apron on the exit of Turn Two, get loose and start a power slide.  Although he quickly gathered it up, Martin scrubbed-off a ton of speed and dropped from third to seventh.  Meanwhile, Kevin Berg took full advantage of the action to advance to sixth place from his P10 starting spot.
Turn Two would get Martin again, although with a little help this time, as Martin pinched Wood to the bottom.  Wood came-up and barely touched Martin, but that was all that was needed to send Martin into the outside wall and collect Thomas Bedgood and Brinkman with Erik Haag locking the brakes and spinning harmlessly down to the inside backstretch wall.   The action continued in Turn Two when Shemer T Tobin got into wall on Lap Eight and decided to call it a race, even as  the opportunistic Berg continued his advance, moving into P3 and setting-off in pursuit of Schrader who was rapidly losing ground to the leading Howell.
After a dozen hectic laps, the race finally settled down as the field began stringing-out with the sim-racers running in smaller packs.  Schrader would yield P2 to Berg, who now set his sights on Howell a full straightaway ahead.  Over the next 15 laps, Berg slashed Howell's lead to a couple of tenths as he bore down on the lead car's rear bumper.  Behind them, Schrader continued losing ground and soon slipped into the clutches of Jeff J Rogers.  Similarly, Kenneth Lane found himself in a dogfight for P5 as Wood began searching for places to pass, setting-up some spectacular racing for several positions.
Lap 44 saw the first attempt at a pass for the lead as Berg began backing-up his corners in an effort to get a big run on Howell.  Turn Two saw that big run develop as Berg pulled within inches of Howell's bumper.  However, Berg didn't have quite enough momentum to make the pass and fell-in behind Howell into Turn Three.  Berg backed-up his corner once again, this time coming out of Turn Four, and his momentum pulled him even down the front stretch.  Howell refused to give up the spot without a fight and battled on the outside for a complete lap before Berg finally cleared him and grabbed the lead.
Attention now shifted to third spot, as Rogers got to the inside of Schrader on Lap 47. That would not be the last of the position changes, as Lane's fifth placed car sputtered coming off Turn Four on the final lap.  Wood pounced on the stricken machine, relegating Lane to sixth as they crossed the finish line.
Although Howell valiantly tried to keep pace with Berg, he came home .672s behind the winner in second with Rogers another eight seconds back in P3 followed by Schrader and Wood, with sixth-placed Lane the last car on the lead lap.
1.    Kevin Berg                           9. Bill Martin –2L
2.    Scott Howell –0.672            10. Erik Haag –2L
3.    Jeff J Rogers –8.792            11.Ross Furr –3L
4.    Scott Schrader –9.255         12. Thomas Bedgood –3L
5.    Joel Wood –20.088              13. Anthony Dolliver –34L
6.    Kenneth Lane –21.063         14. Ricky Brinkman –34L
7.    Marlin Yoder –1L                  15. Shemer T Tobin -42
8.    Garrett Gruchalla –2L
Week 11 takes the NASCAR iRacing.com Late Model Series to Connecticut's Thompson International Speedway, a 5/8 mile oval once known as "The Indianapolis of the East."  The high side will be used as the bottom groove poses many handling issues, while the tight corner exits on the high side will no doubt lead to plenty of "Thompson 2x's" for incidents.
---
You may also like...
---