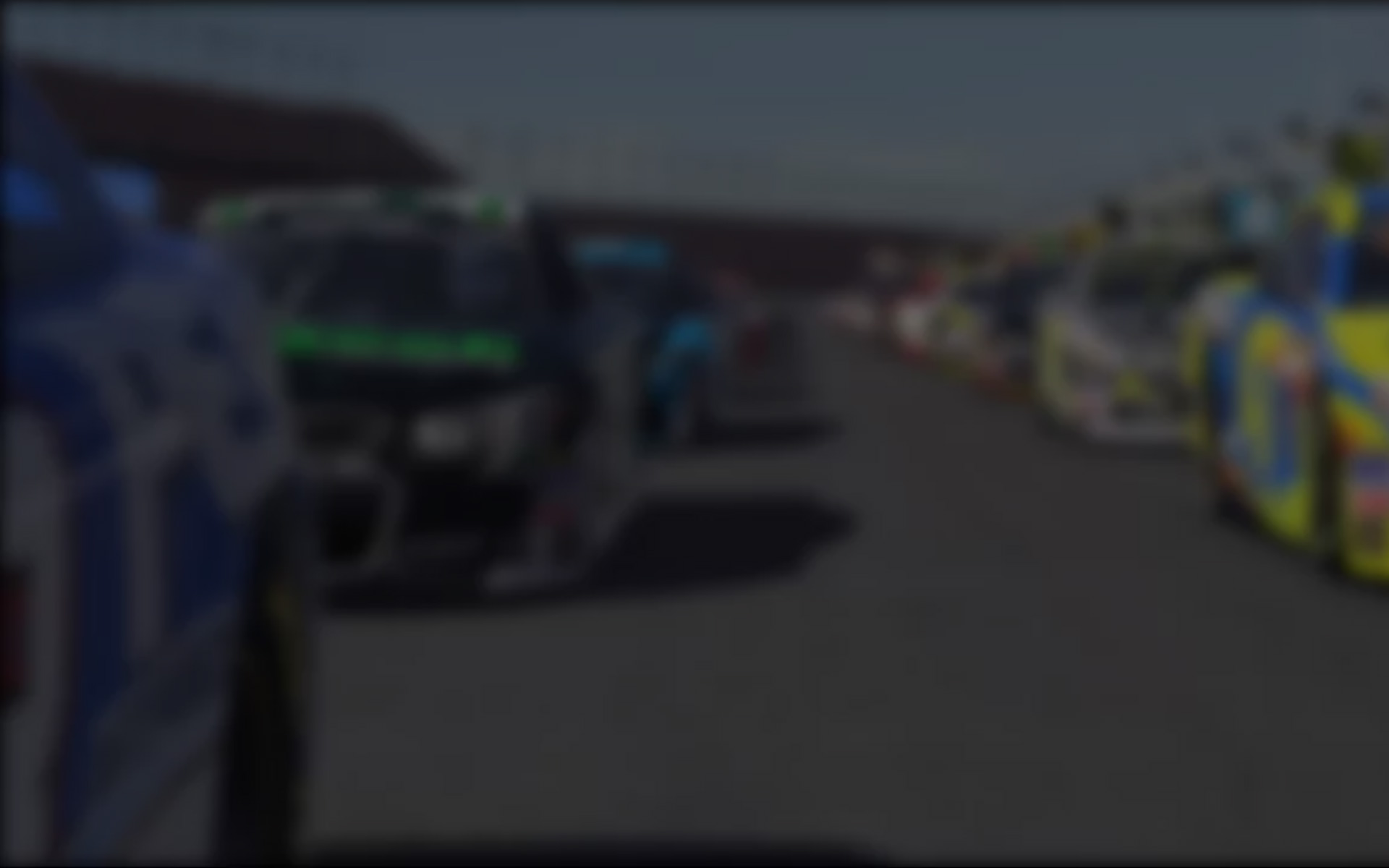 May 23rd, 2016 by Paul Slavonik
Round Two of the Blanpcain GT Series – iRacing's premiere World Championship GT3 series – took place at Silverstone Circuit on Saturday in what would become a race to remember.
As qualifying got underway on the historic circuit, many teams who were in recovery mode after the first round at Monza and in need of a strong result put their best foot down in hopes of a strong showing. Despite the differences in performance between Audi, BMW, McLaren and Mercedes-AMG , the top 35 cars in qualifying were separated by less than a second.
At the end of the qualifying session, it was Olli Pahkala of Team Redline Blue taking pole position with a time of 1:45.315 in the team's Audi R8 LMS. Missing out by a mere .006s was Joni Törmälä in the Mercedes AMG of ineX Racing Red who would start in second. The similar AMG of Team Redline Black's Greger Huttu grabbed third ahead of Alexander Voß in CORE Motorsports' Audi with the VRS Coanda Simsport #18 BMW driven by Klaus Kivekäs rounding out the top-five.
Shiny side up, rubber side down . . . not!

As the three-hour online race got underway, the 39-car field shuffled through Copse without issue. It wasn't until the field went through Maggotts and Becketts that the race claimed its first casualty.
Running the Orion Racing Team's Audi R8 a bit wide, Matthias Egger lost control of his vehicle after he slid onto the  grass. Suddenly losing grip and turning right, Egger found himself tossed back onto the racing surface, directly into the side of the Pure Racing Team Audi of Florian Woithe. The impact sent Woithe's Audi flipping through the air and into retirement, a disappointing result for the team after qualifying 15th, while the Orion Audi was ultimately classified P34.
When giants do battle
Up front, there a fierce battle quickly developed between Törmälä and Pahkala. About 30-minutes into the online race, however, Törmälä made the pass to take command of the event.
While the two leaders were going at it, there were another squabbles in progress behind them for third.  Electing to pit early to undercut the field, the Iberica Racing BenQ BMW driven by Julian Rodriguez Moreno and Aday Coba Lopez surprised the field when they exited the pits in third. The best finishing BMW team in the previous round at Monza, Iberica Racing BenQ had high hopes for a strong finish after starting in sixth.
Just behind them, Huttu was coming in for his first stop from fourth place after being passed by Kivekäs and while under attack from Voß. The Team Redline strategy paid handsome dividends as Huttu not only remained in front of Voß exiting the pits, he also undercut Jörn Jens of VRS Coanda for position.
Resisting the urge to get into a heated battle which would cost him time, Jens instead waited for the right moment to strike Team Redline's five-time world champion. He wouldn't have to wait long, however, and made the pass on Huttu a few laps later to take over fourth.
It was obvious after that point that Jens had been held-up by Huttu, as he quickly began pulling away from the Team Redline entry in pursuit of the third placed Iberica Racing BenQ BMW.
Wearing it down
Although their strategy had initially gained them track position, it was almost as if the BenQ team showed their hand too soon. Feeling the effects of stopping early about halfway through the race, the BenQ BMW quickly succumbed to Jens who succeeded in closing the large gap in his effort to take over third.
As the final pit stop window approached, Team Redline Blue's Aleksi Uusi-Jaakkola, who had previously regained the lead from ineX Racing Red, handed the car back to Pahkala for the final stint. Leaving the pits expecting to retain the lead, Pahkala was undoubtedly caught-off guard when he found the VRS Coanda BMW leading the race.
The Heist
With time ticking away, Jens continued to stay out even after it was reported his car was sputtering. After an incredibly long stint which took him to a massive lead over the rest of the field, Jens finally pitted with 40-minutes remaining. In what could only be described as a true YOLO (You Only Live Once) moment, VRS Coanda opted to take fuel only which saved the 15-20 seconds it would take to replace the tires. Exiting the pits with nearly 40 laps on his tires already, Jens still had a 15-second gap over P2 in what was later referred to as the great heist of the race.
It was a strategy so far out of left field that, evidently, the other competitors never even considered it a possibility. Ultimately, however, it gave VRS Coanda Simsport #18 a well-deserved victory as they crossed the line to win Round 2 of the Blancpain GT Series. Still maintaining a gap of over 7.5 seconds, Jens and Kivekäs truly dominated the race with their brilliant strategy which left the other teams scratching their own heads.
Top-five
Further back, ineX Racing Red continued battling with Team Redline Blue for second. As the closing laps approached, Redline Blue's Pahkala completed the overtake on ineX Red's Jack Sedgwick. On the final lap, however, Sedgwick ran out of fuel and had to make a splash 'n dash pit stop; it proved to be a costly miscalculation, as Sedgwick lost two spots in the process to finish the race in fifth.
Pahkala maintained his pace and brought home a second place finish for Team Redline Blue as their sister team, Team Redline Black, inherited third place from ineX Red to give Redline the second and third steps on the podium.
Finishing in fourth was ineX Racing Yellow's PJ Stergios and William Levesque who together mounted a monumental comeback after starting in 16th in their AMG-Mercedes.
Next up: Six hours at Spa
The Blancpain GT Series now takes a lengthy break as teams gear-up for the longest race of the season at Circuit de Spa-Francorchamps in eight weeks' time. For six-hours, teams of the world's top GT3 sim racers will battle on the legendary 4.35 mile Belgian circuit. With ample passing opportunities and plenty of time to get the job done, drivers will have to be patient if they hope to bring their car homes for a solid finish.
Round 3 of the Blancpain GT Series at Spa is scheduled for July 16th.
Missed Round 2 at Silverstone? Be sure to catch a replay of RaceSpot TV's broadcast of the sim racing action on iRacingLive.
---
You may also like...
---