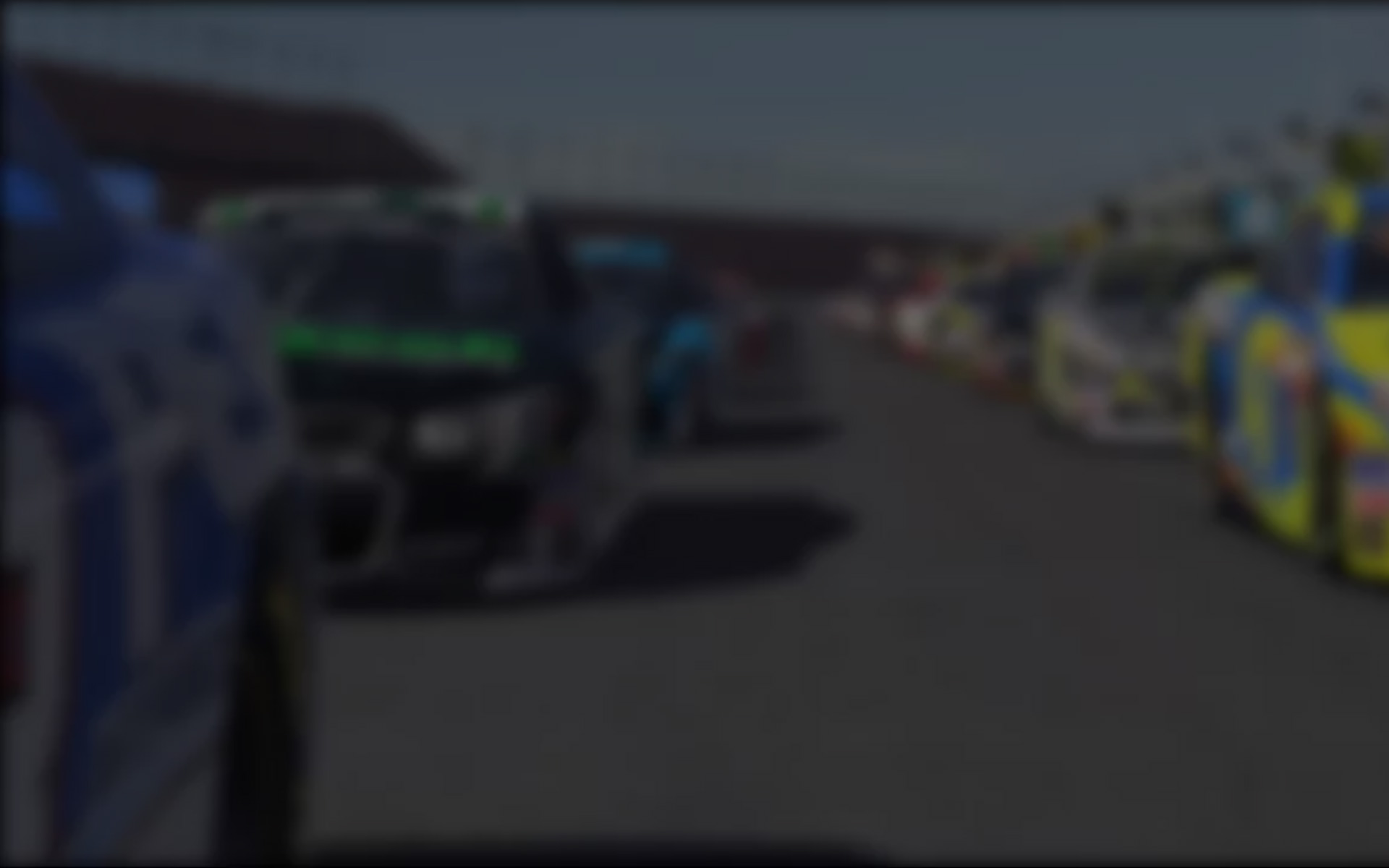 The NASCAR iRacing.com SK Modified series completed the final week of 2014 Season 4 at Thompson International Speedway. At .625 miles in length and 26 degrees of banking Thompson is one of the trickier short tracks to drive in iRacing, as sim racers are relegated to just the high groove, making passing extremely difficult.  Thus qualifying this week would be of the utmost importance. Even if with a great starting spot, however, hiccups during the race can turn a great finish into a case of wondering "what if."  Case in point: this week's feature race the drama level was high as the leader seemingly took himself out of contention only to be thrust back in the mix when lapped traffic produced mayhem.
In the 2699 SoF race, Bragg Jr shared the front row with Bill Martin. Bragg got a great start to pull ahead of Martin going into Turn 1. Behind them Kevin J Myers and Derek Kraus got themselves single file for P3 and P4 as Myers would also get a great start and cleared Kraus to pull-in behind Martin. As the laps ticked away Bragg found himself under heavy pressure from Martin with Myers just behind and pulling away from Kraus. On Lap 17 the pressure proved too much for Bragg  as he brushed the wall coming out of Turn 4 and climbing the front stretch wall. With two tires over the wall Bragg bicycled his way down the entire front stretch and, just before entry into Turn 1, cleanly dropped the right side back onto the track surface with hardly any damage.  Not surprisingly, Bragg's unconventional approach to the front straightaway cost him a couple spots, with Martin taking over the lead and Myers moving into second with Kraus moving into striking distance and trying to take third place.
At the halfway point, Martin maintained a one second lead over Myers.  But no lead is ever safe at Thompson. With just 10 laps remaining, Martin began encountering lapped traffic, enabling Myers to mount a charge for the lead.  As the traffic battled for positions the outcome of the race would be drastically changed. Timothy Barnes5 and Jeffery White dueled for P5 just a half a straightaway ahead of Martin and Myers.  Going into Turn 1 on Lap 41 White made slight contact with Barnes getting him sideways before more contact straightened-out  Barnes's car.  More contact ensued exiting the corner and this time Barnes was not so lucky and snapped into the outside wall. As Barnes came to rest just out of Turn 2, Martin was unable to avoid his stationary car and grazed the right rear.
Myers managed to avoid Barnes and looked to mount a challenge for the lead going into Turn 3.   The slight damage Martin suffered in his brush with Barnes caused him to drift up the track and touch rear tires with Myers, sending the latter into the outside wall in Turn 3 just as a resurgent Bragg screamed past on the bottom side to re-take the lead with Kraus overtaking Myers in the bargain. Bragg went on to take the victory by 1.974s over Martin with Kraus another .8s back in third place just ahead of Myers.  A fierce battle between White and an onrushing Paul Mckenzie saw the two make contact out of the final corner with Mckenzie completing the pass for fifth place, 13.937s behind the victorious Bragg.
Top Ten Official Overall Points
1. Stan Bragg Jr 779                     6. Darek Gress 569
2. Ty Majeski 685                         7. Jerald John 567
3. Kevin J Myers 638                    8. Scott Matlock 531
4. John Minotto 623                     9. Stephen Arsenault 526
5. OJ Dumpier 573                      10. Buddy Dalessandro 525
Division 1 and Overall Champion:  Stan Bragg Jr.
Division 2 Champion:     Derek Gress
Division 3 Champion:     Reggie Evans
Division 4 Champion:     Kevin Odau
Division 5 Champion:     Tracy Wirick
Division 6 Champion:     Edward Almeida
Division 7 Champion:     Joseph King4
Division 8 Champion:     Neil Smith
Division 9 Champion:     Robert Smith18
Division 10 Champion:    William Cowin
Rookie Champion:         Tyler Vokey
---
You may also like...
---