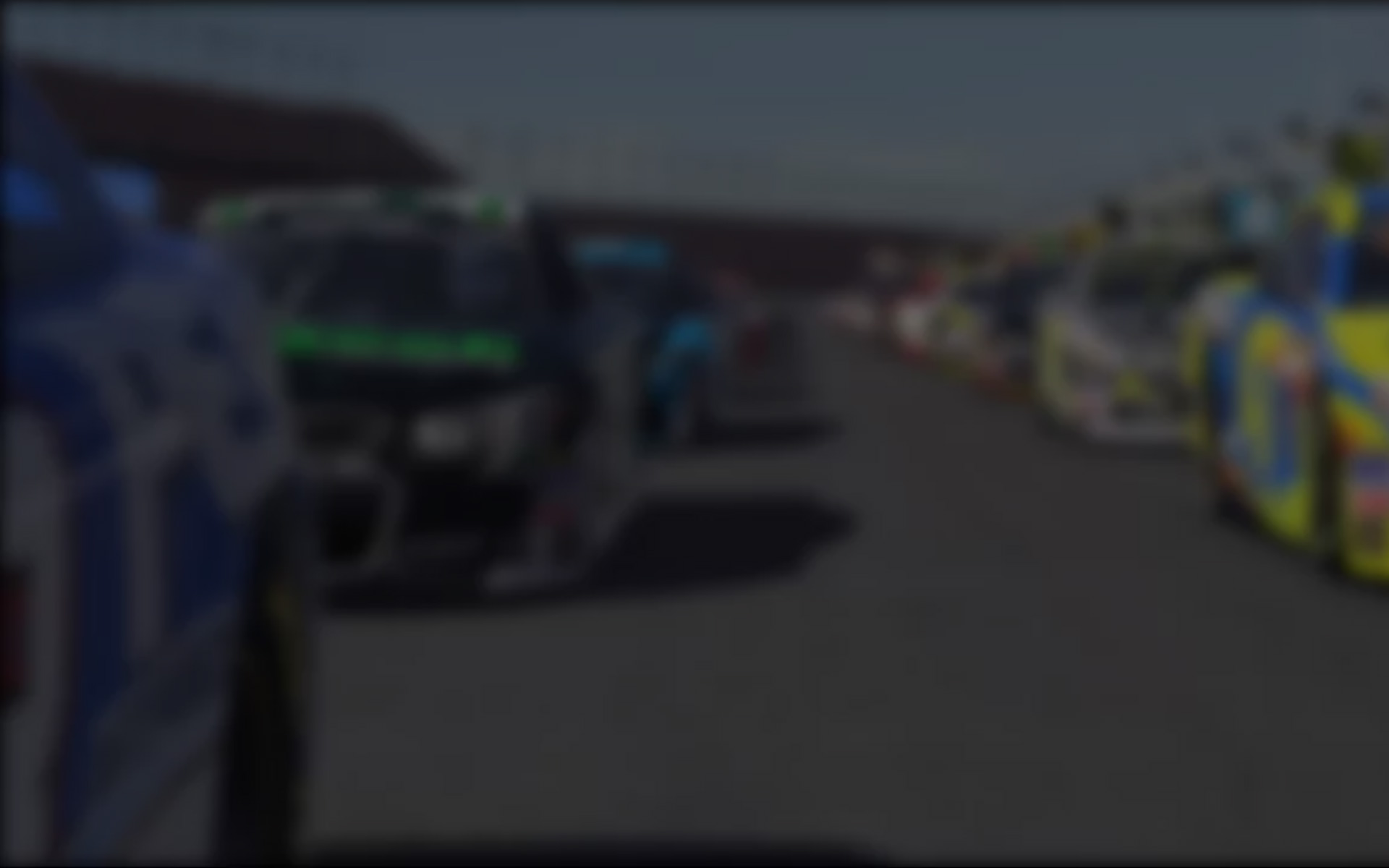 Week 2 – Atlanta
After last week's 11th place finish at Daytona, I sat down and did some projections in the budget.  With my $5 million loan from the bank, compounding at 2% interest per week, we would have to finish in the top five every week in order to stay on track with the loan repayment.  That doesn't really leave any room for paying for new cars if we need them.  And honestly, what are the chances that we will finish that well?  Not good!  So, the smart thing is to pay off at least half of that loan right now, while there is still money in the bank.  That will take the interest payments down to a manageable amount, and leave us enough money to operate for at least another three months.  After that, we'll just have to see.  I think we'll need some luck to stay in the black.  One thing is for sure, we're going to need sponsors.
That being said, we've got a new partner this week.  I was approached after Daytona by a young author named Brett Droege.  Brett writes a line of children's books called The Adventures of Kratos Danger.You can check out his facebook page at www.facebook.com/adventuresofkratos.  We worked out a deal between himself and his publisher and I for two races.  I can't say that I've ever had cartoon characters on my car, but I think it looks pretty nice, and I hope that he gets a nice boost in sales from the car these next two weeks.
The Adventures of Kratos Danger
Childrens books by Brett Droege about Kratos the boxer and his adventures
View on www.facebook.com
Preview by Yahoo
You know, I thought "Hot-lanta" would be a whole lot hotter than this.  What happened Mother Nature?  Are you drunk again?  It's about 50 degrees here, and I don't think it is going to warm up much.  I guess I should be thankful though, I can't picture this track any greasier than it already is.  I've been sitting here for the last two hours watching practice, and I've seen car after car after car take a trip through the infield cement off Turn 2  It's amazing that more of them haven't been totally destroyed.  I suspect there are going to be a lot of cautions during the race.
And that just plays into what Atlanta as a track is all about.  Here, the track surface is old; slick yet very abrasive, it's like driving on a cheese grater.  You start out slippery loose for 10 to 15 laps, and then the tire wear sets in.  After about 30 laps there is almost no tread left and the car turns into a dump truck.  Ten laps after that, and if you can still make it through the corners without making-out with the outside wall, then you're at least two seconds slower than you are with fresh tires.  So here is where the strategy plays in.  You can set up for the short run, make your car fast for about 30 laps and then pit for fresh rubber . . . or you can set up for longer full fuel runs.  For the longer runs, you've got to be able to take it easy on your tires so you can have as much speed at the end of the run as possible, and hope you can stay competitive with the guys who are short-pitting.
The team has been back and forth on these two strategies all day.  Sascha thinks the short run is better.  Brandon thinks the infield is big enough that even when cars do spin out, the chances of a yellow being thrown are small, so we might as well plan on the race being caution free.  Me personally, I want a mix of the two.  I want the setup to be such that it is set at first for the short run, but if the cautions don't fly we can adjust it for a longer, smoother run.  This is what we settle on.
I'm racing with a lot of people I recognize this week.  There's Vern Klukas, Joshua Justice, Richard Dingman, Sean Wiltshire and fellow painter James Falcon Pratt.  On the pole this week is Beau McGuire with a time of 28.506s.  Outside pole is Daniel Avery with a 28.617s.  I did pretty well in qualifying this week, scraping out a 28.764s, which is good enough to start sixth.
As we come to take the green, I hear a couple people over the radio warn to "start in third" and "don't spin the tires" . . . and what do you know, Mr. Avery on outside pole spins the tires and almost puts himself into the outside wall.  Everyone does a really good job of checking-up and giving each other room, and we spend some time three wide before making it all the way through Turn 2 safely.  Whew!  Right away though, I'm worried that the car is too loose.  I'm struggling to keep the car under me at all; it feels like the slightest bit of throttle will take the back end right out from under me.  I have to fight to stay pointed in a straight line.  All that being said though, the car is wicked fast!  I guess that line from Days of Thunder is true: Loose is fast and on the edge of out of control.  I'm able to climb one spot to fifth inside the first couple laps, but I get a little loose and have to slow down on Lap Six, and I end-up loosing a few spots to 10th.  I continue to push the car pretty hard after that, trying to get my spots back, but all this does is wear out my tires even faster.  By Lap 30 I'm tight and pushing bad, and I drop three more spots before our first caution flies.  I swear the car feels like I'm trying to drive a speed boat through cement.
Everyone pits, which isn't a surprise.  What is a surprise is the 30 seconds of body damage I picked-up somewhere.  I decide to play it safe and stay in to repair, thinking maybe this added to my tight condition toward the end of the run.  I also decide to change strategies and tweak my tire pressures to change to more of a long run set up.  It won't help my loose condition at the start of the run, but hopefully if I take care of my stuff I'll have more speed at the end.  I restart 19th after the long pit stop.  Beau McGuire still has the lead, with Joshua Justice on the outside in second place to take the green flag.
"Loose is fast and on the edge of out of control."
During this run, I relax a lot.  I'm no longer pushing for speed.  I just want to take care of my equipment and see how long I can run the car before the speeds really start to fall off so I can form a game plan for late in the race.  This turns out to be a really good idea, because even though cars are dropping out of the race, they aren't dropping fast and we aren't getting cautions.  The car starts to push again after about 35 laps, but it is manageable if I back up my corner entry and don't try to get on the gas too early.  Nevertheless, I'm able to climb to 15th before having to come in for green flag pit stops.  I've noticed that a lot of people are going with the short pit strategy as well.  We'll have to see how this works for them against my longer run strategy.
I push the car to 40 laps before coming in for four tires and fuel.  It feels great to be on new rubber again, but I've got to remember to take it easy on the car.  During this round of pit stops, I'm able to climb back into the top 10, all the way up to sixth before leveling out.  Eventually though, the car tightens back up and I start giving up spots once again.  I'm back down to 12th by Lap 110 and the next round of green flag stops.  Again, people are pitting early, but I want to stay out as long as I can and hopefully stay on good rubber all the way to the end of the race.  I'm going to try to make it to at least lap 120, which would leave 30 laps to the end of the race.  I know I can push the car hard for 30 laps before the tires go completely to mush . . . so that's the game plan.
During all the stops, I'm able to climb back up to seventh.  I do manage to make it to lap 123 before getting a fuel warning from my crew, so I pull off the track and head for pit row.  Unfortunately, I miscalculate my speed, and I'm going a bit too fast when I enter pit road.  This results in a 30 second penalty for speeding.  I'm mentally cursing myself while serving my penalty when the yellow flag comes out.  THANK YOU!!!  Saved by the yellow!  When I pull back on the track, I'm in 18th, but after a few cars pit I restart in 12th.
There's a lot of chatter on the radio about the cause of the yellow.  It seems that a lapped car lost traction on the front stretch and was weaving back and forth on the track trying to regain control.  Unfortunately, this happened right in front of the leader, Joshua Justice, and he paid the price.  I feel bad for Joshua: he and a couple of other sim racers were having a great battle for the lead.  I guess sometimes the racer's karma giveth, and sometimes the racer's karma taketh away.
Bennie Holloway and Aaron Irvine lead us to the green flag, and the rest of the race goes exactly according to my plan.  I push the car for all it's worth, and at one point push a little too hard and take a short cut through the infield.  The Kratos machine even got a little air as we jumped the legends oval!  Even with this though, I don't lose any spots before I regain control and ease the car back onto the track.  We finish the race in 11th place overall, which brings home a fat paycheck of $133,000.  I know our sponsor is going to be happy about the finish as well.
Overall, we spent a huge amount of money this week.  We started with over $4.7 million in the bank, but after determining the interest on the bank loan would bleed us dry, I decided to pay back half the loan, for a total of $2.5 million.  That leaves $2.6 million left on the loan, and after our winnings are added in, a little over $2 million left in the bank.  We've still got a long way to go to be profitable, but we're well on our way.
Now we can concentrate on our next race at Las Vegas!
---
You may also like...
---