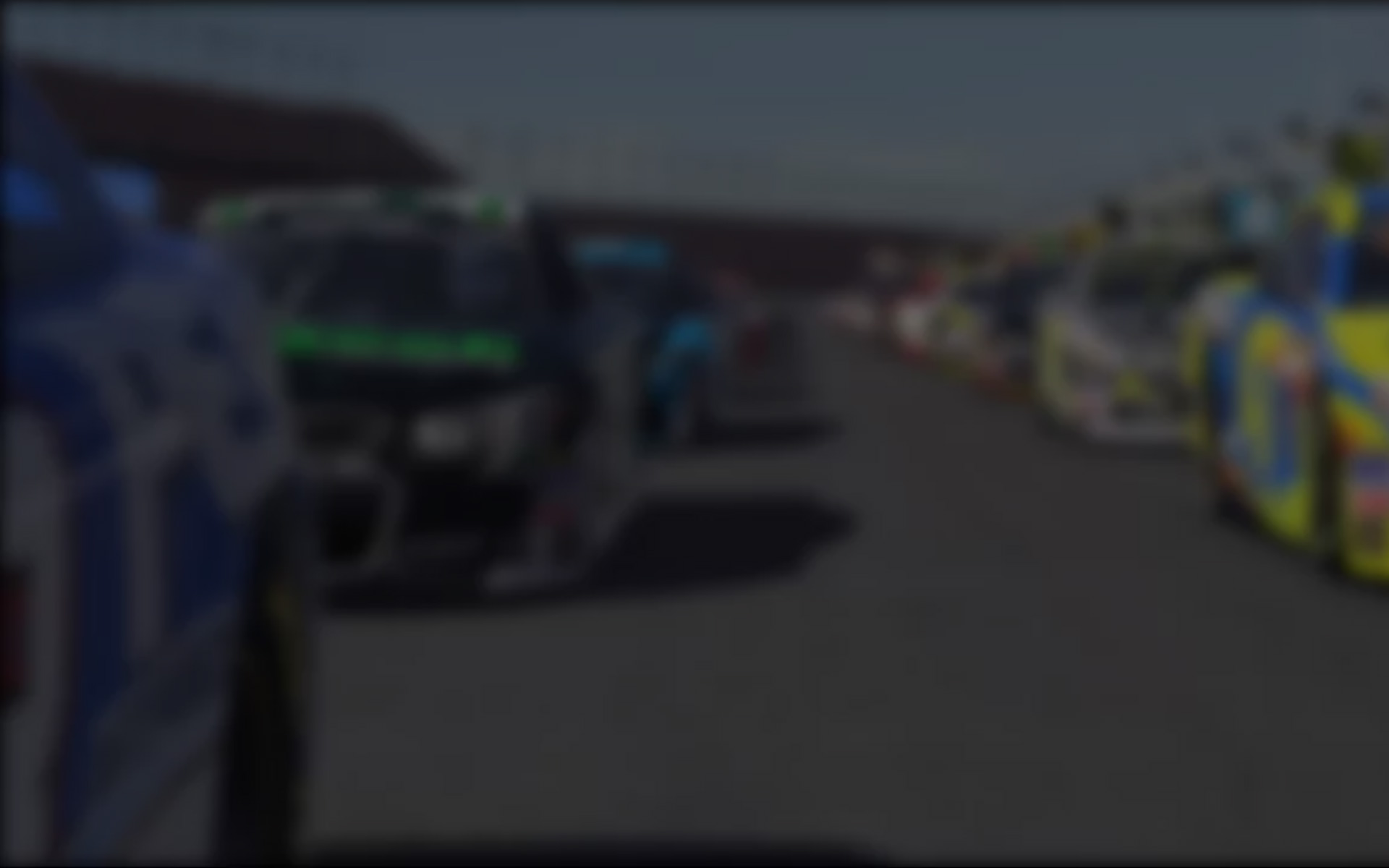 Viva Las Vegas!  I love this town.  There's always plenty to do, stuff to see, and money to make.
Last week, we left Hotlanta with a little over $2.27 million in the bank, a chassis with barely any damage, and a great engine.  We had to repair some sheet metal and most of the more friable parts, but overall we left with a great car that we barely had to tweak to get ready for this week.  Gotta love the cookie-cutters, am I right?  More good news: we picked up another major sponsor this week.  After my deal with "The Adventures of Kratos Danger" is over, I'll be partnering with DC Comics for a few weeks.  I'm very excited about working with a multi-national company, it's a fantastic opportunity.  I hope the car looks cool 🙂
Practice went great.  The track was a bit slick but there was plenty of grip in the second lane of 1 and 2, and the low line in 3 and 4 was fantastic.  I think if I can arc the car in on the first two turns and hit a late apex, I can carry a great amount of speed down the backstretch and hit the afterburners coming out of 4.  This is going to be a fun race.
The usual players have shown up for the race, along with some new faces.  Qualifying goes about as planned.  I nailed my lines pretty well but got a little loose out of 4, so I didn't get all of the speed that I thought I would.  My time turned out to be 30.366s.  Richard Dingman III got the pole with a 29.853s, and starting beside him is Joshua Justice with a 30.095s.  The start of the race goes very smoothly, and I can tell the car is very strong.  I immediately move up from P7 to fourth on the first lap, and I'm keeping-up with the leaders pretty well, although I can tell they are running a slightly different line than I am.  I wonder how that is going to affect the tires in the long run.
Joshua Justice (27) pulls out to an early lead, followed closely by Bradley Skusa (8).  By Lap Nine, Skusa takes the lead and starts pulling away.  His lead increases every lap, and it isn't any time at all before the leaders begin lapping traffic.  As we all know in racing, this can cause problems, especially when the leaders and the lappers don't communicate or stick to their respective lines.  This becomes all to clear on Lap 18, when Justice and Tanner McCollough (5) tangle in the first turn.  McCollough took a high line to let the lead lap cars by, and Justice's line was higher than expected.  The two rub fenders, sending McCollough sliding up into the wall for our first caution.  Everyone pits for tires and fuel, and we restart with Skusa and Dingman (3) in the lead, and I am right behind them in P5.
Our next caution comes only a couple laps after the restart, when Chad Dillon (18) gets under Joshua Sullivan (31) in Turn 1 and taps his bumper, sending him sideways.  Sullivan pulls out his best Jamie McMurray and almost has it saved only to get slammed by Trey Wagner (30) on the apron.  (24) Sanjin Dalulic gets the free pass, while the restart has the same leader arrangement as before, and I'm still in P5.
By Lap 63, its pretty evident that on the long run Skusa is in a class all his own.  He's put almost a half lap on Dingman in second place, lapping people left and right, and nobody can catch him.  If anyone is going to beat this guy, it will have to be on the short run, or with a lot of luck.  Maybe that will come on the green flag pit stops, which we are just starting.  I pit on Lap 77, trying to push the fuel mileage just in case this thing goes green for the rest of the race.  I come in fifth, and come out twelfth.  By Lap 87, I'm back up to seventh . . . just in time to see the next caution flag.
Carl Strange (22) can't handle his car with new tires, loses control out of Turn 4 and takes the scenic route through the infield grass.  Unfortunately, he can't regain control before his car careens back onto the track, taking-out David Avery (6).  Its a shame: Avery was doing well inside the top 15, and he had a clear shot at a top 10.  I pit from sixth, and come out fourth.  I might just have to take the pit crew out for a steak dinner if they keep this kind of action up on pit road.  Sean Wiltshire (23) is the lucky dog, and 10 other cars take the wave around.
Skusa and Dingman lead us to the green once again, and I'm still hanging around in the top 5.  11 laps later on Lap 103, Cody Goodman (12) loses control heading into Turn 1 and spins.  Brian Rainville (16) tries to thread the needle and ends up hitting Goodman and the wall, which results in Rainville losing his engine and his car.  Joey Buscemi (14) is the lucky dog on this caution.
The epickly funny part of the race comes one lap before the restart, when the lapped cars who have chosen to take the wave around are just about to pass the pace car.  Jon McBride (11) gets a little lead footed, and spins his tires, spearing his car into the outside wall.  Oops!  I wonder how disappointed he feels right now.  Honestly, I've never done that.  I hope I never do.
The restart goes well, and once again I'm in fifth and cruising, but pressured by Trey Wagner (30).  Wagner reports that I'm having connection issues, which doesn't surprise me that much since my connection does have issues every now and then.  I'm OK with it though; I just let people by when they are clearly faster than me.  Its always worked in the past, respect for respect.  Which is why I was so surprised when Wagner pushed up into me coming out of Turn 2.  I was holding my line, I knew he was there, and I respected his right to pass, but he took up the space that my car was in.  That of course, led to both of us wrecking, first into the outside wall, then into the inside.  My car is trashed, my motor is smoking, and the only consolation to my plight is that Wagner's car is more damaged than mine.  He calls for a tow, and I pit for repairs.  Thankfully, I'm not out of the race yet.  The crew do a wonderful job of getting the engine under control, and we get back on the track only a few laps down.
There is a caution on lap 124 when Dick Housey (25) and James Falcon Pratt (19) get tangled up in Turn 4.  This gives me a bit more time to fix the car, and we decide to remove a bunch of tape to help keep the oil cool.  There for a few laps I was worried that it was going to blow and that would be the end of it.
The perpetual leader (Skusa) must have had a bad pit stop or something because he is lined up in fifth behind Jesse T Kovacs (2), Jeremy Glover (1), Dingman and the guy taking the Vegas chance: Joey Buscemi (14).  Buscemi decided to see how much havoc he could cause by not pitting for tires, while everyone else behind him got new rubber.  We can see the effect when the green flag drops.  Buscemi isn't able to get going, Dingman III takes the cautious route and slows to keep from passing the leader on the restart, and Skusa shoots the middle and runs the gambit, taking the lead out of 2 and all the way to the finish.
I ended-up blowing the engine shortly after the restart, and came in 22nd.  It's a disappointing result after running in the top 10 all day.  We had such a strong car, which makes the crash with Wagner and the blown engine very, very frustrating.  The worst part is that I feel bad for the sponsors.  They put up a lot of money for a good show, and in the end all they got to show for it was a trashed car and some good highlights on sports center.  Prize money for a 22nd place finish is a little over 100 grand, and we paid 27k toward the loan.  After all that, our ending bank balance is only about 20 grand short of what we started with.  Next week, we'll have to buy a new car and an new motor, and we'll have to do better at Phoenix.
---
You may also like...
---