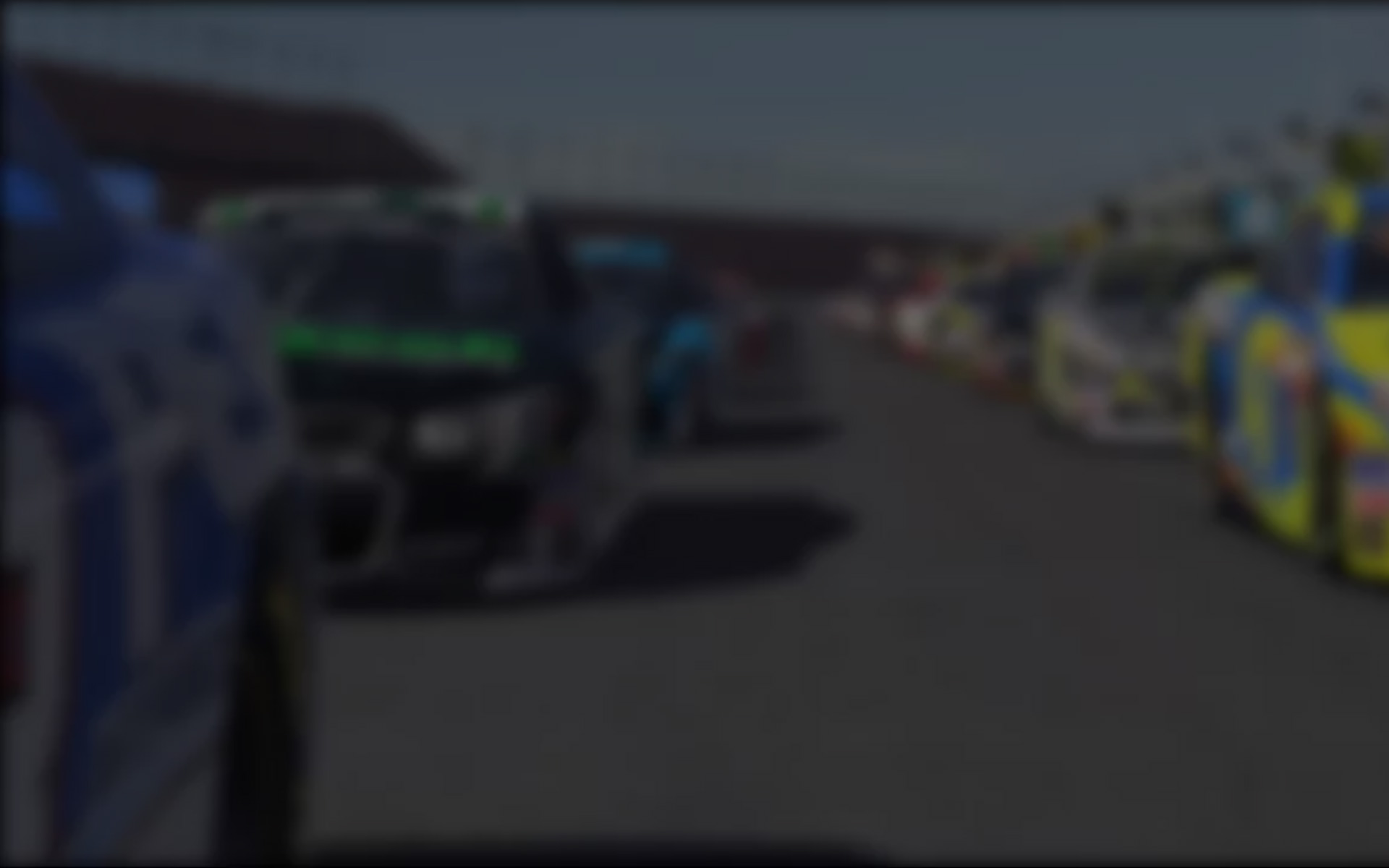 For Week Three of the season, the Nascar iRacing.com Class B Series traveled to Iowa Speedway. Iowa Speedway is a 0.875 mile track located in Newton, Iowa and designed by Rusty Wallace. Drivers looked to stop Jared Crawford's recent domination.  During the week, 577 drivers attempted a race while 170 drivers attempted one qualifying lap.
"Pretty good race, a few less cautions would have been nice." – Brad Mahar
Week Three's SoF took place at the usual time on Friday night. Last week's race had 26 drivers and an SoF of 4218. Jared Crawford (Michigan) once again dominated the weekly SoF race, leading 129 of the 130 laps. Crawford finished the race over a second ahead of second place Chad J Laughton (Carolina), who led one lap during the race. For his victory, Crawford netted 269 points while Laughton received 258 points for second. Richard Dusett (New England) finished the race in third, half a second behind Laughton. For his finish, Dusett received 247 points. David Cater (Carolina) finished in fourth while points leader Brad Mahar (New England) rounded out the Top Five. Cater received 236 points while Mahar received 225 points. The race was slowed 10 times for 47 laps and only had two lead changes.
Click here to watch broadcast.
After the race, point's leader Brad Mahar had this to say about the race. "Pretty good race, a few less cautions would have been nice. Really screwed up and got into the wall off 4 with Chad and that hurt my RF, then missed my pit box while trying to get it fixed under yellow. Fell back to almost dead last and got back up front. Gotta thank Garry Mercer Trucking Inc. and ETV for another amazing broadcast."
When all was said and done, Cater found himself at the top of the weekly standings. For the week, Cater ran two races with two Top Five finishes and 236 points. Crawford finished the week in the second position after running five races during the week. Crawford won four of his five races and left Iowa with 233 points. NiSWC driver Tyler D Hudson (Mid-South) finished the week in the third position after winning his only race of the week. Hudson finished with 229 points. Mahar finished the week in the fourth position, with 225 points, after finishing fifth in the weekly SoF race. Laughton rounded out the Top Five after netting five Top Five finishes in six races. Laughton finished the week with 210 points.
Mahar still maintains his points lead after three weeks of the season. Mahar brought his season points total to 736 races after running two races during Week Three. Cater moved up one position after finishing Week Three on top of the standings. Cater has 627 points, 109 points behind Mahar. EJ O'Rourke (Massachusetts) sits in the third position after Iowa. O'Rourke has 543 points and is 193 points out of first. Tyler Hill (Atlantic) moved up to the fourth position after three weeks, with 530 points. Zach A Hudson maintained his fifth position in the standings after Week Three. Hudson has 516 points and is 220 points out of first.
The fastest qualifying lap of the week belonged to Jared Crawford. Crawford was able to turn a 22.588 second lap. Joshua Laughton (California) turned the second fastest lap of the week after turning a 22.657 second lap. Chad Laughton finished the week with the third fastest lap after turning a 22.658 while Dusett finished fourth with a 22.670. Brian V Macklin rounded out the Top Five in qualifying for Week Three with a 22.692 second lap.
After three weeks of the season, Jared Crawford has shown that he is the driver to beat. Brad Mahar leads the points and hopes to maintain that points lead through the season. Drivers will travel to the Mecca of stock car racing, Charlotte Motor Speedway. Will anyone be able to stop Crawford's SoF domination? Will anyone be able to take the points lead from Mahar? Find out next week at InRacingNews!
---
You may also like...
---