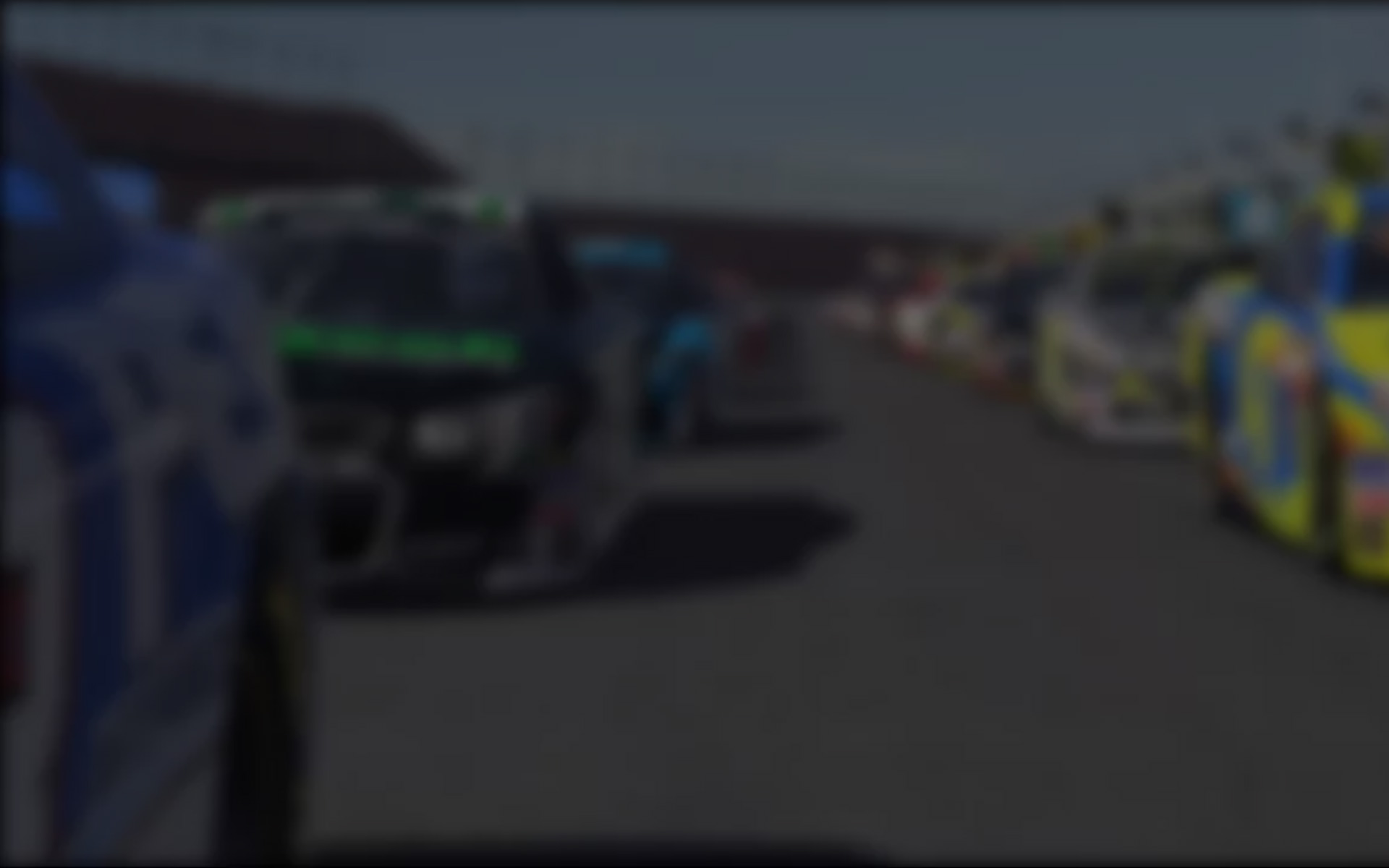 Week Four of the inaugural inRacingNews Challenge found the Pontiac Solstices and SpecRacer Fords convening at Charlotte Motor Speedway's challenging road course.  Although the 12 turn, 2.25 mile circuit may looks like a run-of-the-mill r-oval from afar, up close and personal it's anything but an antiseptic circuit, what with a tricky "thread-the-needle" entry to Turn One and a series of sweeping corners through the infield marked by dramatic elevation changes.  Coupled with the long, flat-out blast around the balance of the 1.5 mile superspeedway and you have a real test of sim racer and car; or in this case, cars as the Solstice and SRF proved rather evenly matched with drivers in each winning their share of races.  Ultimately, though, the SpecRacer Ford was a little faster, witness the fact that Gaston Taberner was fastest SRF qualifier at 1:20.610 while quick time in the Solstice went to Jose Luis at 1:21.979.
John Bodin summed-up things rather well when he noted "with a race length of 20 laps and 12 turns on the full road course, Charlotte can be a good place to build or gain SR by turning in clean races. T1 has been treacherous with the SRF in past seasons, and this season it only promises to be even more tricky with a field full of SRFs and Solstices all crowding together. The back stretch can either be boring, or a good chance to stretch, relax and catch your breath, depending on your perspective. T4 and T5 are likely places to spin in the SRF, so be careful there, and T8 can be quite treacherous and race-ending if you happen to run wide and hit the infield fence."
Douglas Lundberg topped the scorers in the Soltsice class with the 168 points he took home on Tuesday after besting Pekka Virkamaki by a convincing 19 seconds.  Marcus Jirak and Duncan Coppedge each collected 139 points at Charlotte, with Jirak taking a couple of wins in a trio of starts while Coppedge finished second to a very busy Chris Hughson on Wednesday.  How busy was Hughson?  Try 21 Solstice starts (augmenting a "paltry" seven SRF races), which produced an impressive 18 wins but a "mere"137 points when all the numbers were crunched.
One of Hughson's defeats came at the capable hands of Chris Wiggins, who collected 135 points from five wins on the week, including Wednesday's hyper-close race with Hughson that produced a .044s margin of victory.  By comparison, Keith Kimberly had a relatively easy time of things beating Adam Bodziak to the flag by all of .5s on Monday in his lone race of the week, while Mark Dahlgren, John Pickett, David Nieto and Michael Vaughn rounded-out the week's top Solstice scorers.
Overall, Hughson (Division One) enjoys a healthy lead over Division Two's Wiggins in the points race, with Gerald Di Piero heading the Division Three competitors and Darren Turner, Thomas Christian and Marshall Enloe atop Divisions Four through Six, respectively.   Jesse M Reid, Shawn Maier, Ray Fournier and John DeMento lead Divisions Seven through Ten, and Felipe Araujo is the top rookie and 21st overall.
The SpecRacer Ford competition saw Daniel López (177) collect two more points than Taberner (175) despite the fact that Taberner won their head-to-head battle on Sunday . . . by all of .083s.  The reason, of course, is that Lopez quit while he was ahead (or in this case, ever so slightly behind) while Taberner raced two more times at Charlotte, winning once but also finishing fifth to limit his points haul in North Carolina.
Nicolas Alho had a spotless record with a pole, a win and twenty laps led from his only start at Charlotte – good for 167 points – while the prolific Hughson won five of seven races to garner 153 points for a busy week of sim racing, and Jerry Buracki took a win over Brett Taft on Wednesday for 149 points.
Overall, López and Hughson are neck-and-neck for the SRF points lead from Rowald Niesweg, Taberner and Sergei Kuznestsov.  Divisionally speaking, it's Lopez and Hughson atop the premier division with Taft out front in Division Two and Emil Spindel, James Nield and Tom Sullivan 2 leading Divisions Three, Four and Five.  Divisions Six through Ten are headed by Steven van Helsdingen, Brian Heiland, Richard Plange, Colin Gorton and  Jim Karamanis, with Mark Ussher consolidating his place atop the rookies as the inRacingNews Challenge heads west to scenic Mazda Raceway Laguna Seca.
---
You may also like...
---