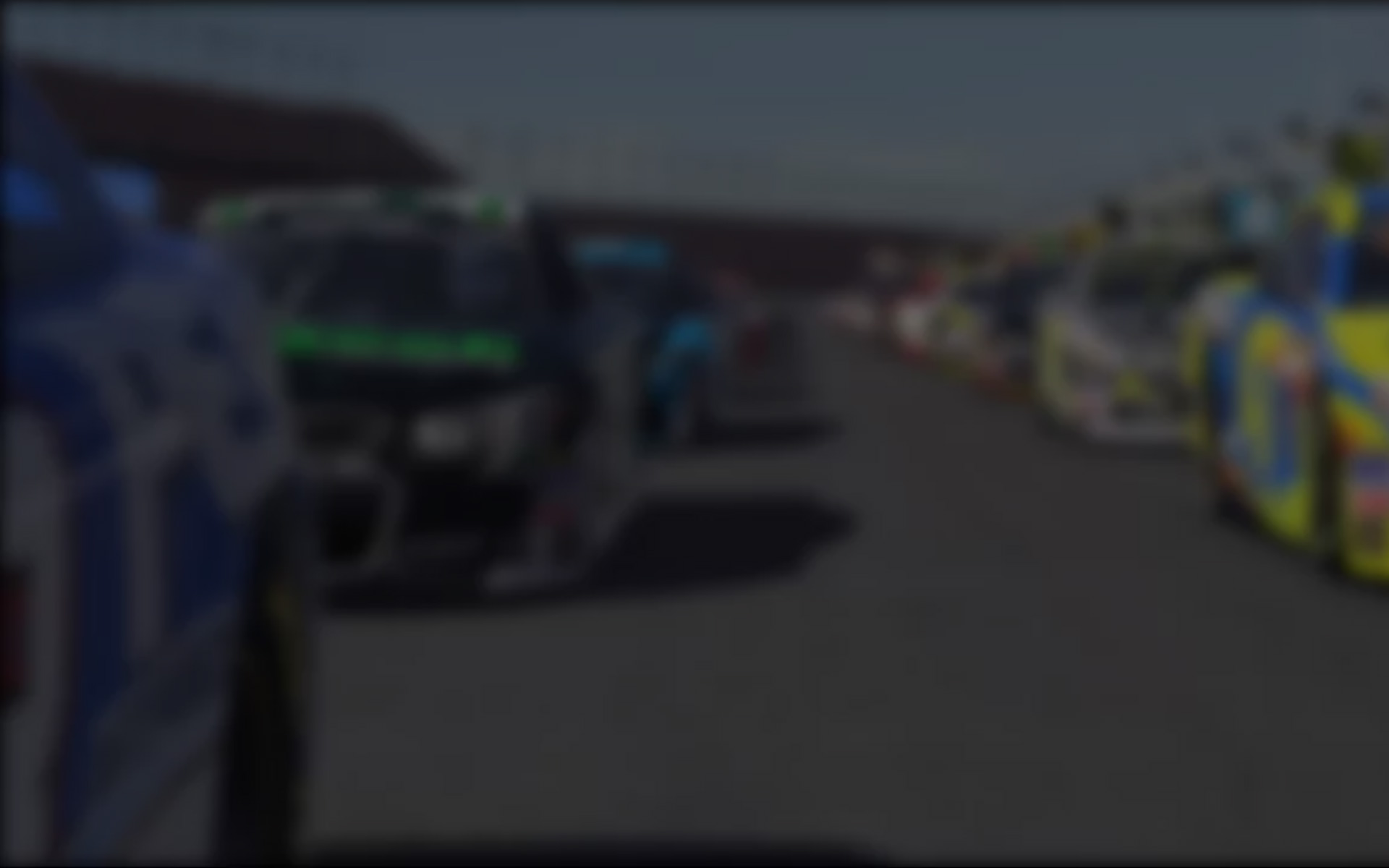 September 30th, 2015 by JaimeB
Monsters are known as tough critters – and usually the only way to tame the gnarly beasts is by knockin' their blocks clean off.
In last night's running of Round 28 of the NASCAR iRacing Class B Open Series, Jake Stergios almost had Miles The Monster's head severed and the virtual Dover International Speedway conquered, enjoying nearly a full straightaway advantage over Nikolas Shelton with only nine laps remaining. Nevertheless, late race cautions can throw a monkey wrench into the strategy of even the fastest racers. And that's exactly what happened as Jacob Herbert's spinning Chevrolet Camaro brought out the third yellow flag of the race. The leaders pitted, employing a mixed bag of both two and four tire strategies. Scored in 13th at the time, Brandon Chubirko rolled the dice and stayed on track, inheriting the lead.
The final tumultuous restart came as lap 96 flashed upon the scoring pylon. Exiting Turn Two and taking advantage of Ray Alfalla's bobble, Nick Ottinger, who had opted for only fresh right side digital Goodyears, found himself with a monster run on Chubirko. Six-car-lengths back, however, there was contact between Shelton and Logan Clampitt. Ottinger was closing fast on Chubirko and his Mustang's worn-out tires. But by the time the digital flagman presented the final yellow flag of the race (for Shelton and Clampitt's incident), Chubirko enjoyed a half-car-length advantage over Ottinger, as the pair streaked down the back stretch. The field's scoring positions were frozen and the race ended under caution – giving the North Carolina sim-racer his 64th oval win of the year, as well as earning him the #iRacingNight "Biggest Mover of the Race" honors, he started 25th. Gale Force Racing's Ottinger finished runner-up followed by Slip Angle Motorsports teammates Alfalla and Bryan Blackford; Stergios and his Last Row Motorsports-prepared virtual Chevrolet Camaro rounded out the top-five.
Chubirko was unavailable for post-race comments, but dominant car and race-high lap leader (59 laps), Stergios was. "I did not want to see that last caution come out. I basically had it in the bag there," he told iRacingLive's Tony Stevens after the race.
On the final pit stop of the race, Stergios chose to take four fresh digital Goodyear Racing Eagles. "Guess I should have stayed out," he said. "It's easy to say in retrospect, but if they had gone even one lap, I think I would have probably got the lead back there. And if it had gone green the whole way, I definitely would have got the lead there… it's just tough to predict what everyone else is going to do."
Cody Byus, pole sitter and leader of the race's first 32 laps, had an intense battle with Alfalla and Shelton with 20-to-go that dropped him back to the seventh position. He chose to only go with right side rubber on the final pit stop of the race and brought his virtual Toyota Camry home sixth. Shelton, who was banking on a green flag run to the finish, changed four tires on his final pit stop and dropped from his surefire runner-up position to finish seventh; followed by Jeremy B Davis, Joshua Williams, and Ryan Lowe completing the top-10.
The 100 lap affair was slowed four times due to on-track altercations, the first of which involved series winner and NASCAR PEAK Antifreeze series driver, Allen Boes.  It was an unfortunate incident for Boes, as he was attempting to work his way into the 12th position from his 19th starting place.  Furthermore, the instant replay of the incident was inconclusive; he may have had contact with Casey Kirwan, but the dreaded "net-code" condition looked to be just as likely a culprit.
One familiar name absent from the field was season point standing leader, Trent Ringler. Although, he did race in the second split race (finishing sixth) and still holds a commanding 495 point advantage over second place, Adam Burley. With only five races remaining in the season, it appears – barring a catastrophe – Ringler has all but clinched the crown.
This was also the first B Series race broadcast with the new Dynamic Tracks feature, and with 11 PRO Licensed drivers in the field, it seems the NASCAR PEAK Antifreeze Series regulars are using every opportunity to further their knowledge and experience in preparation for their season-ending race at Homestead-Miami Speedway next week. Both Stergios and Blackford said their cars got tight the longer they went into a run. Will any of this knowledge carry over to Homestead? Tune-in next Tuesday, October 6th at 8:45 EST on www.iracing.com/live to find out.
As far as the B series goes, they've got two featured broadcast races left for the year. The virtual Camaros, Mustangs, and Camrys will next do battle on the 1.5-mile Kansas Speedway on October 13th at 9:00 EST on www.iracing.com/live.
---
You may also like...
---