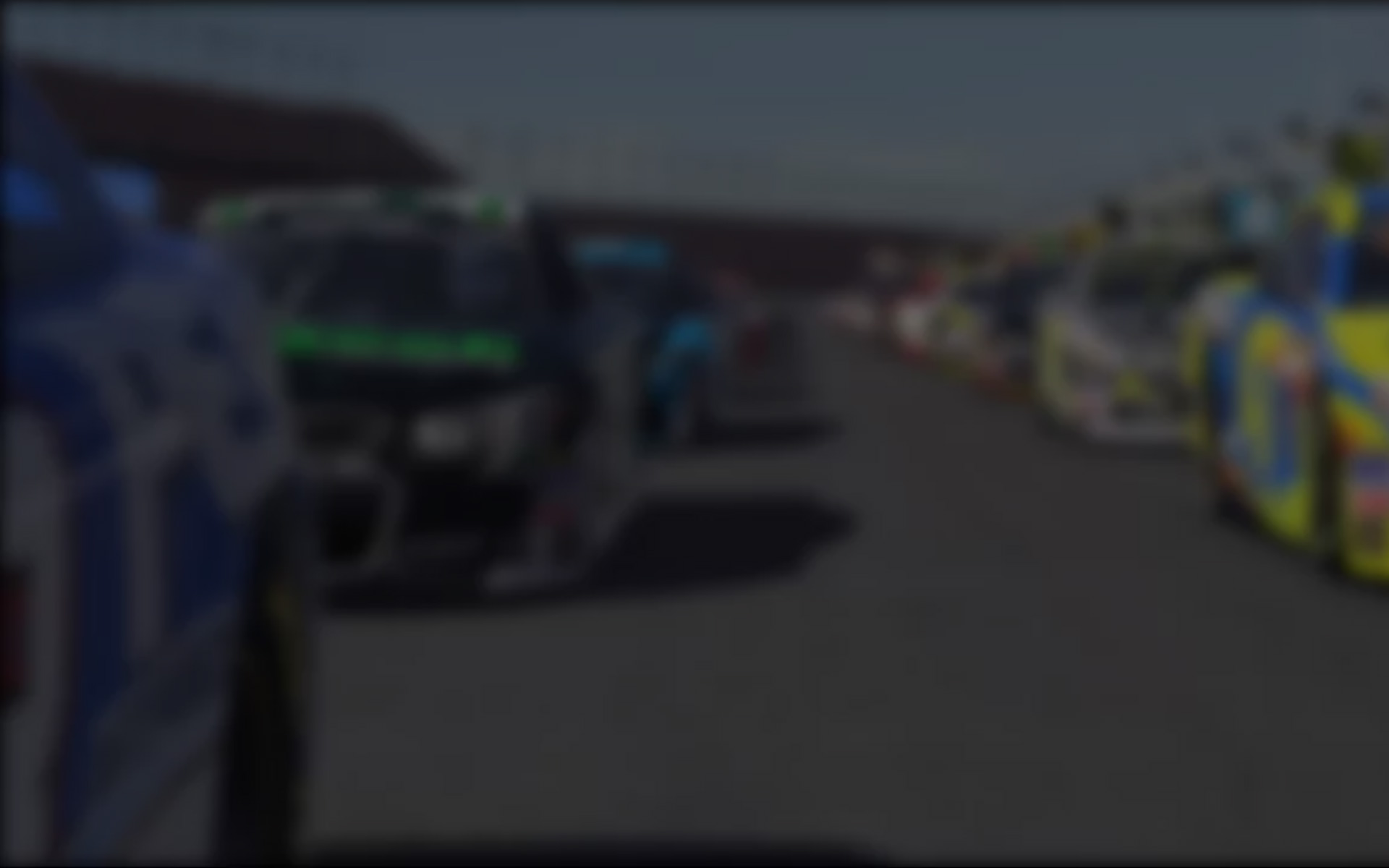 When you've reached the top of the heap in console driving games what comes next?  Increasingly, many top-tier driving game aficionados are turning to the super-high fidelity, internet-based simulation service from iRacing.com.
The cars and tracks on iRacing.com's simulation are so accurate that many real-world NASCAR, INDYCAR and GRAND-AM stars make regular use of the service to stay sharp between seasons or to brush up their knowledge of a track they haven't raced at recently.  Dale Earnhardt, Jr. is a strong iRacing booster and last month's Daytona 500 winner, Trevor Bayne got his first exposure to racing at Daytona through iRacing (http://www.youtube.com/watch?v=7RkoG1MKvfU&feature=related).  IndyCar stars Will Power and Justin Wilson drive regularly in an iRacing-based league with other members of the real-world IndyCar community.  They compete in iRacing.com events because both the technical and social infrastructure is designed to make it easy and enjoyable to participate.  Now, more and more console driving game fans are making the same discovery and adding iRacing.com to their list of games they regularly play.
"iRacing has raised the bar for racing games and simulations," said Scott Carter, a long-time gaming enthusiast who has enjoyed his experience with a number of driving titles.  Carter is also a real-world amateur racing driver, and he notes a number of differences between conventional driving games and iRacing.  "It brings your senses to a whole new level.  In other games the loss of traction is indicated by tires squealing.  In iRacing I can feel the tires lose adhesion and I also hear a deep rumbling, scrubbing sound."
Carter offered an interesting comparison of how tracks he's driven in the real world are represented in different games.  "In other racing games I was impressed when tracks were replicated turn for turn," he said.  "In iRacing I was floored!  I could feel the bumps and divots in the track.  Even the off-camber turns are taken into consideration, which is important because they tend to throw off the car's balance."
Commenting on the degree of accuracy provided by iRacing's survey-quality laser-scanning techniques, Carter referred to his real-world experiences at Summit Point, a road-racing circuit outside Washington, D.C.  "When I'm playing Forza, I can recognize the track," he said.  "In the real world at the track-out point in Turn Two, there's a divot at the edge of the road, and you feel it.  And driving (that piece of track on) iRacing, I felt it.  iRacing takes driving to the next level.  It just blows everything else out of the water!  It's like entering a new realm."
Tony Gardner, president of iRacing.com, said he wasn't surprised by Carter's comments and noted that over the past six months or so he's observed an increase in the proportion of new iRacing.com members who are also console gamers.  "Typically, they've raced with friends in Forza, Gran Turismo or one of the other games, who also race with us.  Their friends talk about how much they enjoy iRacing.  Word of mouth is really our most effective marketing."
Austin Cobb is a good example of that phenomenon.  He's a well-known member of the Forza and Gran Turismo communities.  A friend on the Forza forum, Ryan Terpstra, suggested he try iRacing.com.  Now Cobb's an enthusiastic iRacer.
"From what I've observed the most likely gamers to switch from console to iRacing are the ones like me, who just couldn't find the racing experience they were looking for," Cobb said.  "Gran Turismo and Forza have both served me well and both are great titles.  They got me into racing and taught me how to get fast."
But, Cobb continued, he found that what he really liked was competing with other drivers in identical cars so that driving skill was the key to winning.  He wanted to "take the exact car and race wheel-to-wheel to see who's the best – simple as that.  The problem with that on a console is it took running a league to get really good racing, which meant signing up and running at a specific time every week.  It didn't take long to burn out on being so structured and before long I found myself gaming much less and just not finding much enjoyment in racing."
That's when his Forza friend, Terpstra, "finally talked me into trying iRacing and I haven't looked back since.  The great online interface, great cars, perfectly modeled tracks and most importantly great racing are what keep me hooked on iRacing."
Gardner noted that iRacing's appeal goes beyond the car and track content.  "Along with iRacing being a state-of-the-art simulation in terms of the physics, realism and wide variety of cars and tracks, what appeals to our members – and not just console gamers – is the way the service is organized to make it really easy to find just the race you want.  With more than 1,500 races schedule each week for 30 different series, there's never a problem finding a good race.  And for folks who want to organize their own races and leagues, we make it easy to do that.  Plus, the social side of iRacing is huge.  At any given time there are thousands of people not only racing but interacting in our forums or with other members of their geographic clubs, or having fun in hosted races.  This is a big part of our service and we know that's important to gamers."
Cobb confirms that.  "I can practice whenever I want, qualify when I want and with very little planning find some great races.  For me, that's what makes iRacing great" he said.  "Instead of being on a console where a random public race means people ramming or cutting corners to take the checkered, I know when I join a race in iRacing I'm with people that understand racing cleanly."
Cobb is still racing with a lot of his Forza friends, but he's doing it at iRacing now.  "For me it was easy, I just want to race wheel-to-wheel with the best possible physics in a good, fun environment and that's what I've found at iRacing.  It seems there has been a mass exodus of like minded console racers coming with us to iRacing," he said.  "It's really been a snowball effect as more of us switch over and the word keeps getting out more and more."
Cobb's friend Terpstra says that some console gamers have concerns about whether or not their PCs will be able to support iRacing and whether they can drive in iRacing with a console controller rather than a wheel-and-pedal set.  Terpstra doesn't think either is a problem.  "For most the PC and wheel expense is the issue, not the cost of iRacing itself.  They don't think their PC can handle it – which it probably can – and they already own the game pad, and they can drive with it."
Terpstra suggests that a short-term, membership is a way that console gamers can try out iRacing with minimal risk.  "Getting their foot in the door is the key," he said, noting that "the trial gets them in."
iRacing's Gardner acknowledges the validity of Terpstra's point.  "That's why we have a one-month membership, so people can try it out," he said.  "We have a special on-month going on now for $5.00, but the longer subscription you purchase, the cheaper it is." https://www.iracing.com/promotions/pr/
iRacing Fast Facts – iRacing.com:
•    Launched in August 2008, iRacing.com is a fast-growing community where like-minded racing-game enthusiasts share their passion for racing.
•    Has partnerships with NASCAR, INDYCAR and GRAND-AM with races featuring the cars and tracks for each sanctioning body making up part of the more than 1,500 races that iRacing.com organizes each week.
•    Currently has more than 25,000 active members in 87 countries worldwide.
•    Has its own online racing school, developed by instructors from the Skip Barber Racing School, to help iRacing members develop their driving skills.
•    Includes the ability for drivers to customize their cars and record their races.
•    Has a unique license system which enables the drivers to compete against others of their own skill level.  Together with a comprehensive sporting code and incident point system, iRacing encourages participants to consistently race within the upper bound of their ability so they can increase their skills.
•    Presents live broadcasts of its professional series races, which can be viewed online: https://www.iracing.com/multimedia/live-broadcasts/
•    Develops its own TV programs which it distributes through YouTube.
•    Has its own news Web site, inRacingNews which focuses on sim racing.
•    Is endorsed (without compensation) by many real-world drivers who use the system to sharpen their skills.
---
You may also like...
---