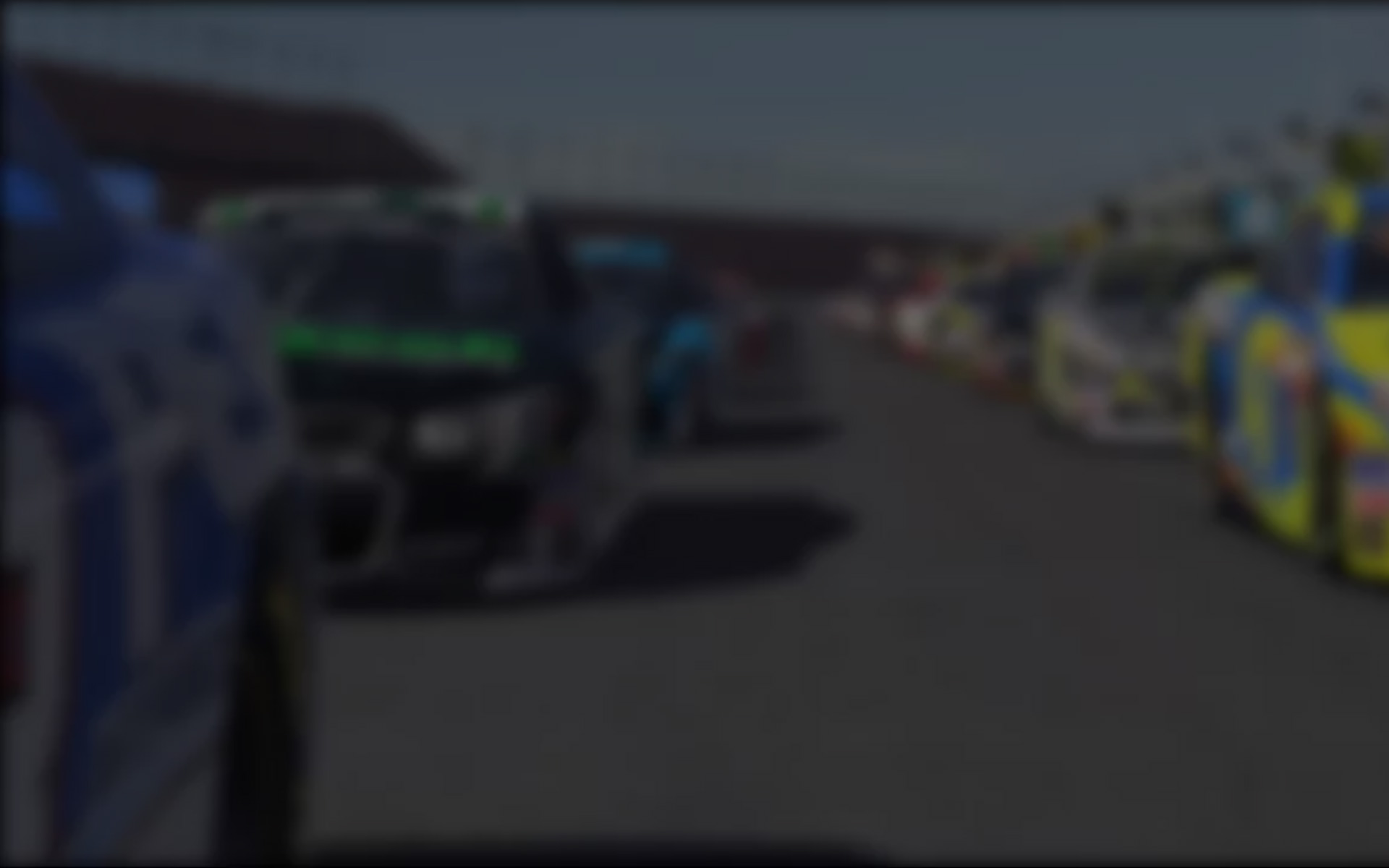 Brooklyn, Michigan was the site of racing for Week Seven on the Nascar iRacing.com Class B Series. Drivers looked to tackle the fast two mile oval in hopes of stopping Jared Crawrord's (Michigan) domination of the series. In all, 1069 drivers attempted at least one race while 305 put down at least one lap in qualifying.  Week Seven saw the highest participation since Week One at Talladega.
"Paul and I were battling hard early in that race." – Jared Crawford
Friday's Strength of Field, with an SoF of 5301, was the highest SoF of the season, trumping Week One which had an SoF of 5060. Friday's race had 27 drivers and paid 339 points to win. Crawford started from the pole and led the first handful of laps before being passed by NiSWC driver Paul Kusheba (Connecticut). Kusheba, Jason Karlavige (Pennsylvania) and Randy Hockaday (Carolina) would lead most of the laps during the middle part of the race before green flag pit stops shook up the running order. After green flag pit stops cycled through, Crawford would assume the lead while two contenders, Kusheba and Tyler D Hudson (Mid-South), blew up after running to much tape. Crawford wouldn't look back as he led the final 11 laps of the race in route to a 1.5 second victory over Chad J Laughton (Carolina). For second place, Laughton received 325 points. Karlavige finished third, after leading 13 laps, and received 312 points. "Mayday" Mitchell Hunt (Carolina) finished in the fourth position, almost two seconds behind Crawford, and netted 299 points. Brandon Buie (Atlantic) rounded out the Top Five. For his finish, Buie received 286 points. The race was slowed three times for 11 laps and saw seven lead changes among six drives. Brad Mahar (New England), who is second in points, finished the race in tenth and received 221 points.
"Paul and I were battling hard early in that race. Though I wasn't too happy with the amount of room I was left, he did what he had to do. Props to you sir, you had the car to beat" Said Crawford after the race. "I was hoping the race would come down to a long green run with a pit stop as I thought I could make good time getting on pit road. I did but lost any time gained sliding through my pit box. Took 2 tires and about 7 gallons of fuel. Should've taken more as I almost ran out. Sucks that Paul blew up and Tyler blew up."
The Top Five in the weekly standings for Week Seven was the same as the finishing order of the week's SoF race. Crawford sat atop the weekly standings after his SoF victory with 339 points. Crawford also ran a second race on the week in which he won. Laughton also ran two races with second in the SoF race being his best finish of the week. Laughton finished with 325 points. Karlavige also ran two races, finishing second and third. Karlavige finished the week with 312 points while Hunt finished fourth with 299 points after only attempting one race. Rounding out the Top Five was Buie, who finished fifth in the SoF race and netted 286 points.
Crawford continues to lead the season standings after adding 339 points to his total and bringing his total to 1647. Mahar continues to sit in the second position although he is falling further behind Crawford. Mahar netted 221 points at Michigan, bringing his total to 1481, 167 points out of the top spot. Laughton's total after Week Seven jumped to 1405, only 76 points out of second place. David Cater (Carolina) missed the SoF race at Michigan but was still able to net 236 points for the week, bringing his season total to 1389. EJ O'Rourke rounds out the Top Five in the standings. O'Rourke finished 11th in the SoF race and netted 208 points which brought his season total to 1357, only eight points ahead of sixth place.
Crawford once again was on top of the qualifying charts at Michigan with a 39.466 second lap. Hockaday finished the week in the second position with a 39.517 while Laughton was third with a 39.518. NiSWC driver Justin Thompson was fourth on the week with a 39.531 while Karlavige rounded out the Top Five with a 39.546 second lap.
After seven weeks of the season it is clear that if you plan on winning the champion, you are going to have to beat out Jared Crawford. Crawford has set the NiCBS series on fire this season after dominating almost every race he is in and taking the points lead with one less week counted. The NiCBS travels to Richmond International Speedway for Week Eight. Will anyone be able to outrun Crawford? Find out next week at InRacingNews!
---
You may also like...
---