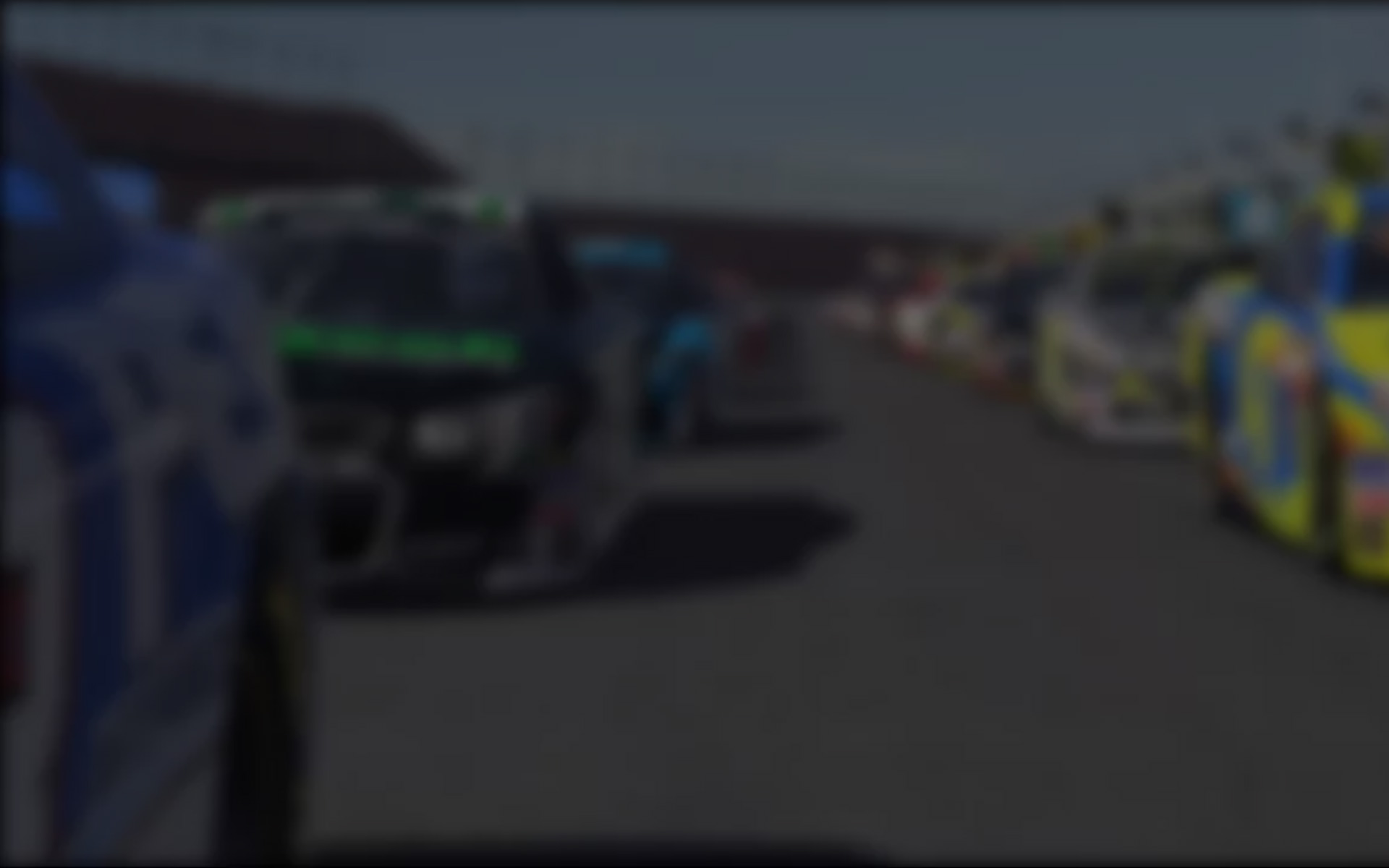 As the focus of the iRacing Pro Series Oval (iPSO) shifted to Atlanta Motor Speedway, Brad Davies scored his fourth win in as many weeks of competition to solidify his lead in the iPSO points standings over Josh Parker and Jesse Atchison.
Although Davies led 49 or 110 laps on Sunday, he had to work hard for the win, taking the lead from Zsolt Hamvas on Lap 94 and motoring to a 2.2s victory over Tyler Hudson with Florian Godard a mere .017s further back, while Humvas slipped to fourth at the checkered flag.
Parker scored the first of two iPSO wins this week on Thursday, grabbing the lead from pole sitter Jim Caudill, Jr. on Lap 36 and leading the way home.  Not that Parker could afford to take it easy, as Caudill was in his wake the whole distance and finished .192 behind with Connor Mackenzie right there as well, less than half a second behind Parker, with Alexander Horn coming from fourteenth on the grid to a fourth place finish.
Parker had a far easier time of it on Saturday evening when, after an early race dice with Ray Alfalla, he led Jacob Adler home by 11 seconds with Jordan Hightower another six seconds back ahead of Brian Nevil and Jim Christopherson.  Alfalla fell all the way down to tenth at mid-race before battling back to finish seventh, just behind Theo Olson.  Alfalla would rebound on Sunday with a thrilling win over Josh Berry and Greger Huttu.  Alfalla led 78 of 110 laps but swapped the lead with Berry and Huttu before coming home a scant .087s ahead of Berry with Huttu third from Justin Trombley, who charged from fifteenth on the grid.
Atchison's first iPSO win was a memorable one, as he came from fifth place with six laps remaining to pass Brad Davies on the final tour to secure the win by 1.2 seconds.  Jayson Anderson and Daniel Willis also moved up on that final lap, with Davies holding on to fourth – just – by .007s over Kyle Hadcock with Jim Moore in fifth.
Martin Thiemt was another to add his name to the victors' rolls when he bested Richard Webster and Justin Garrett at Atlanta Motor Speedway on Saturday.  Thiemt started from pole and swapped the lead with Garrett and Webster, among others, before the point for keeps on Lap 87 and pulling to a 2.1 second victory.
Thomas Hazard also joined the iPSO winners, but not before a torrid battle with the likes of Richard Towler, Brian Schoenburg, Nicholas Morse and Atchison.  Hazard started seventh but slipped to eighth in the early going as Towler and Atchison led.  But Hazard gradually worked his way to the front, taking the lead for the first time on Lap 40, losing it and then passing Atchison for good on Lap 92 and coming home .214s ahead of Towler.  Schoenburg, Nicholas Morse and Atchison completed the top five.
Morse is still seeking his first iPSO win, but holds down eighth in the points thanks to five top five finishes in four starts.  Still, he'll have to start notching some wins if he hopes to keep up with Parker, Atchison, Alfalla, Olson, Hudson and Schoenburg in their chase of Davies for the iPSO crown.
---
You may also like...
---