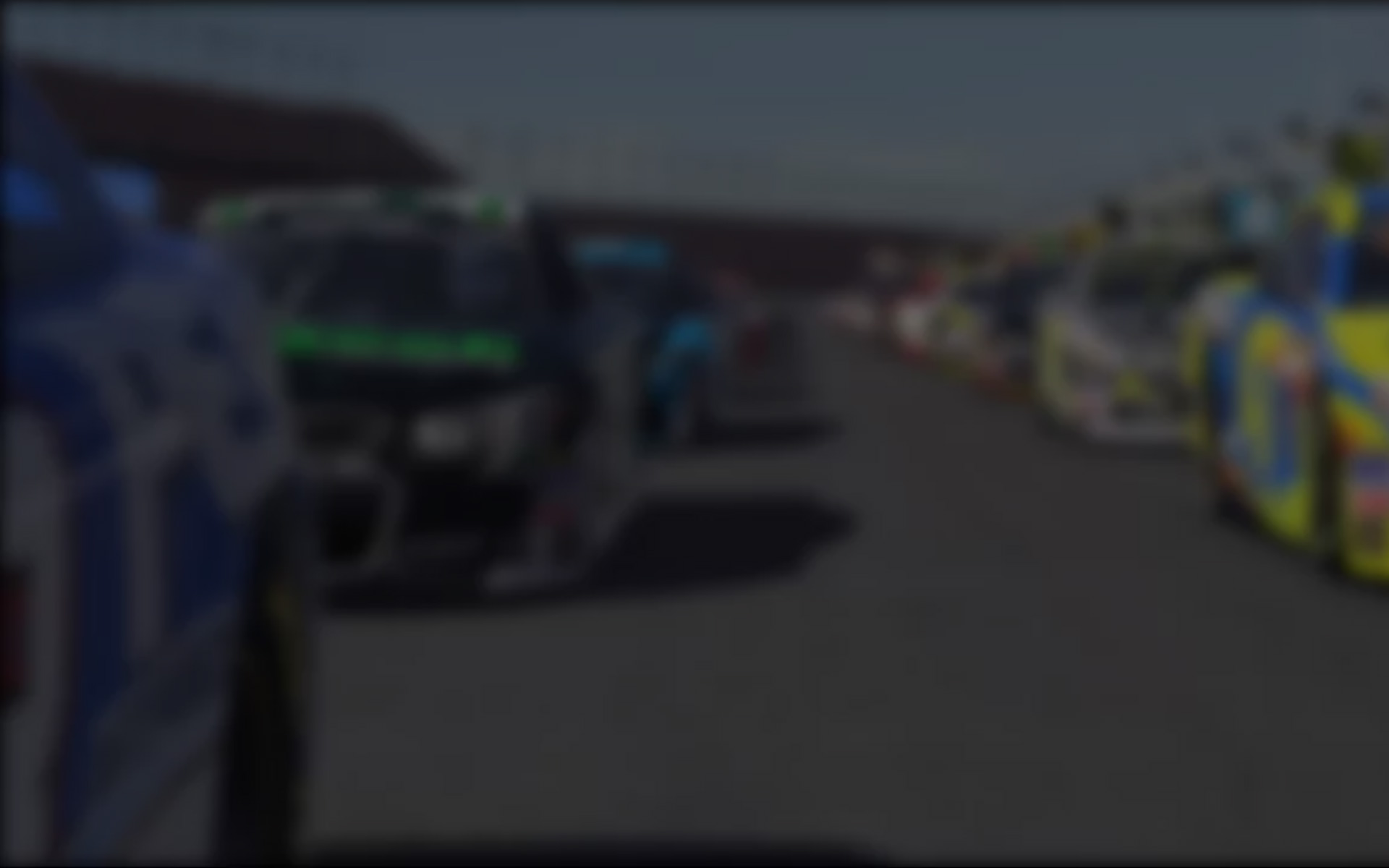 Brad Davies completely dominated Week Two of the NASCAR iRacing.com Series World Championship at Las Vegas Motor Speedway, leading 106 of 133 laps en route to the online racing victory. Davies put a bad run in the season opener at Daytona in the rear view mirror by starting on pole and never being challenged on the track, leaving the competition searching for answers. Josh Parker backed-up a strong Daytona run with a second place finish, followed by Derek Wood, Josh Berry and John Gorlinsky. Daytona winner Ray Alfalla finished seventh while defending series champion Richard Towler had trouble and wound up thirty-seventh.
During the week of practice it quickly became apparent that track position and qualifying would be critical.  Cars running in clean air consistently recorded the best lap times while dirty air turned even the fastest car into a handful.  Once again, the difference between pole and missing the race was extremely small (.35s to be exact) and much like Daytona, there were surprises on the DNQ list. Byron Daley, the 2010 NASCAR iRacing.com Pro Series Rookie of the Year missed his second straight race to start the season. Also missing the cut was last year's winner at Vegas, Sandeep Banerjee.
As the green flew to start the race, many drivers were concerned about early caution flags due to the track's lack of grip. Instead, just the opposite happened as the race went green for the first 53 circuits and included a round of green flag pit stops for most of the leaders. A few cars, including Towler, stayed out for a longer first stint. Things did not work out for Towler though, as he spun off of Turn Four, trapping many cars a lap down.
About half the field took the wave around to get back on the lead lap, but these drivers had ten lap older tires than the rest of the pack and needed another yellow flag to get back on sequence. They got their wish when Towler had trouble again off of Turn Four on Lap 65, this time hitting the wall hard and ending his day with severe rear end damage.
The rest of the race consisted of short runs broken-up by cautions, including one caused by a big wreck on the front straightaway when Jeremy Allen slid into Thomas Hazard exiting Turn Four and hooked head-on into the wall on Lap 95. All in all, six cars were involved in the pile up.
The real racing started after Nolan Scott brought out the yellow on Lap 116.  The whole field pitted with Hazard and Sheehan jumping to the first two spots after taking just two tires. Their advantage lead would not last long however, as Davies and Parker quickly regained the top spots once the green flag waved on Lap 122.  Hazard and Sheehan continued slipping down the order until Sheehan wrecked coming-off Turn Four on Lap 132, bringing out a race-ending yellow and relegating him to a thirty-first place finish.
The win boosted Davies to eighth in the point standings. Always a gentleman, Davies thanked his fellow competitors for a good show.  "I want to thank the drivers for being able to run as clean as they did," he said. "There were a few hiccups mid race but all in all I think it was a great showing. I mean 40 drivers with long runs and green flag stops" That's pretty cool."
"40 drivers with long runs and green flag stops?  That's pretty cool." – Brad Davies
Runner up Parker had a shot to pass Davies late in the going when the two were passing Hazard, but his car just did not have enough speed in the dirty air.
"On the restart with 13 to go I knew four tires was the way to go, but I was not surprised that one or two drivers took two tires," said Parker.  "Hazard got a great start and I was able to get around Steve (Sheehan) right away, and then challenge Thomas and Brad for the win. Unfortunately, when we got around Hazard the aero was too strong to do anything with Brad."
After two races, Alfalla keeps the points lead with 84 while Parker sits a single point back in second. The rest of the top five includes Thomas Lewandowski (75 points), Hazard (74), and John Gorlinsky (73). With the new point system awarding consistency more than ever, these five already have a head start on a run for the title if they can keep their noses clean in the weeks to come.
Next up on the NASCAR iRacing.com Series World Championship schedule is the half mile bullring, Bristol Motor Speedway in two weeks' time.  Bristol's tight racing quarters, coupled with a 40 car field, could be a recipe for action when tempers flare, which could lead to an unpredictable finish. Short track racing is a discipline where the cool, calm and collected driving prevails . . . making Davies a perfect candidate to go back-to-back. It would be no surprise to see the Whisky River Chevy back in victory lane again.
And you can see all the action from Bristol on March 15 at 9 pm ET (02:00 GMT March 16) at https://www.iracing.com/multimedia/live-broadcasts/
---
You may also like...
---