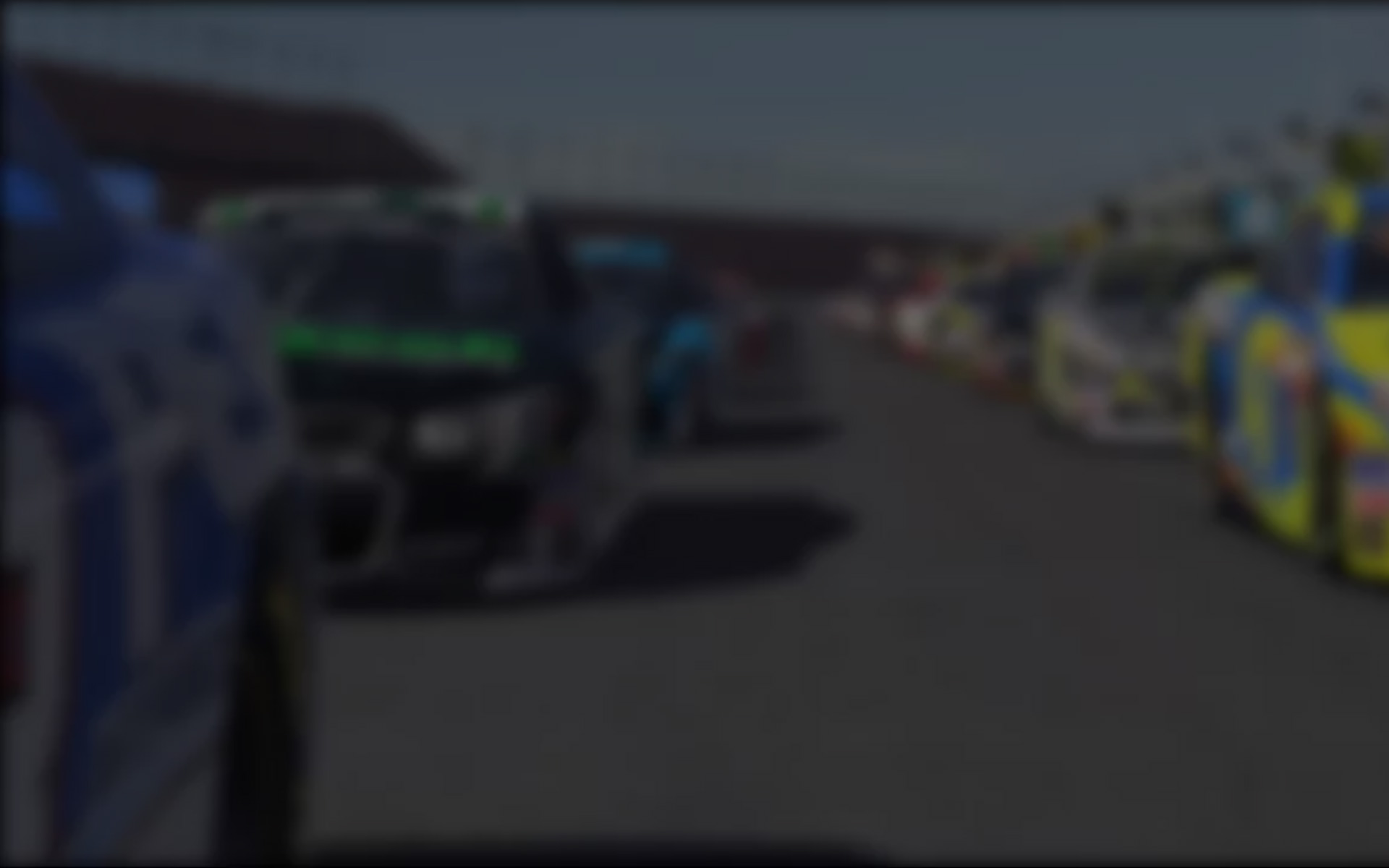 Last weekend saw the 2012 World Tour of iRacing kicked-off with the Roar before the 2.4 and the 2.4 Hours of Daytona – a fitting debut for the newly-rescanned Daytona International Speedway.  The road racing doubleheader was a hit, to say the least, with nearly 1,900 sim racers taking to the 12 turn, 3.56 mile r-oval in their Pontiac Solstices, Mazda MX-5s, VW Jetta TDis, Mustang FR500s and Riley Mk XXs.  The Pontiacs, Mazdas and VWs frolicked in the virtual daylight of Friday's Roar before the 2.4, while Saturday saw the Mustangs and Rileys take to track under the lights of the all new night-time version of the track for the grand-daddy of the World Tour of iRacing, the iRacing.com 2.4 Hours of Daytona.
With races Friday afternoon and evening, the Roar before the 2.4 saw 787 starters across the board (161 Pontiacs, 163 VWs and 463 Mazdas) in 22 splits.   Less than 24 hours later, the iRacing.com 2.4 Hours of Daytona took the green flag with no fewer than 875 Rileys going at it and more than 200 Mustangs joining in the fun.
Speaking of fun, some iRacers just couldn't get enough of Daytona.  Timothy Stall, for example, raced in both iterations of the Roar before the 2.4, taking a win and a second in the Mazda MX5 class, before driving his Mustang to a third place in the 2.4 Hours.  Darin Gangi, Giovanni Mungin and Maximilian Vietmeier did Stall one better, in that they won a race in both the Roar and the 2.4.  Gangi "roared" to a win in the VW Jetta TDi, and came back to win again in the 2.4 in his Daytona Prototype.  Mungin won in Solstice and DP, while Vietmeier was victorious in VW as well as Mustang, and more than a dozen other iRacers made the podium on multiple occasions.
As for the particulars, Solstice winners included Eric Foss, Miko Paavilainen, Chris Hughson, Duncan Coppedge, Joni Hagner, Jonathan Auger, Anti J Saarinen, Ryan Packard, Chris Hannigan, Andrew Massey, Thomas Christ, Bryan Horowitz, Christian Pedersen, Mungin, Mike Koch, Adam Facciponti, Gabriel Olochwoszcz, Norbert Lakomecz, Michael Spieles, Ian Boyd, Thomas Chappell and Steve Eszenyi.
The Mazda throng was paced by Henning Cordes, Ernest Deakyne, David Presle, David Massieux, Chad Peterson, Arnaud Lacombe, Dustin Lengert, Joao Rodriguez, Timothy Stoll, Michael Morrison2, Miika Virkki, Christopher Shella, Brian Harford, Brian Sponseller, Carson Downs, Jake Forster, Alex Scribner, Ryan Ingle, Caleb Hindes, Adam Strawmyer, Robert Padavich and Sebastian Taylor.
And on the VW side, Gangi, Nick Johnston, Kevin Parrish, Jonathan Cyr, Vietmeier, Dustin McGrew, Adam Bluhm, Grant Bray, Florian Bonjour, Simon Trendell, Phil Schroeder, Joe Hubbard, Marco Arcidiancono, Ben Maehrlein, Tom Czarny, Chip Disharoon, Travis Kerslake, Mark Robertson, David York, Dan Bullis, Bradley Hieb and Matthew Davis visited the Winners Circle.
Solstice runners-up included Facciponti, Jady Baumgardner, Blake Townend, Kevin Browne, Lance Gomez Jr, Alexander Fornieles, Nick Frangoulis, Timo Verhoest, JP Smith, Jeff Ramsdell, Jeffrey Detrick, Greg Berkowitz, Adam Massey, Daniel Dunham, Shawn Murphy,, Sam Winemiller, Cody Dusty, Joshua Scott, Seth Eggert, Doug Caddick, Mike A Taylor and Robert Reynolds.
Wheeling their MX5s into second place in class were Dylan Sharman, Bradley Walker, Benjamin Harste, Ricardo Machuca, Michael Melvin, Stoll, Ryan Reynolds, Mathieu Branchereau, Stephen Spillers, Maxime Paquette, Jens Weimer, Christopher Shella, Kevin Bobbitt, Jonathan Goring, Justin Thompson, Allen Krier, Ron Thomas, Steven Clagg (in both the afternoon and evening races), Chad Coleman, Tim King, Chris Overland and Joshua Gayman.
A crowded second step of the VW podium was occupied by Scott Michaels, Mike Nachtigal, James Yates, Scott Kennedy, Aaron Likens, Brendan Kaczmarek, Matthew Davis, Jonathan Butel, Sascha Moenig, Eric Paradis, Injo Jeon, Zachary Morris, Jesus Blanco Barreiro, Duncan Reed2, Shawn Cole, Curtis James, Jason Gallagher, Shawn Troester, Bart Randolph, Dylan Roberts, George Harrell and Chuck Johnson.
Third places in Solstice went to Browne, Chris Keogh, Eric Busillo, Steve Rousseau, Loren Bateman, Juan Rodriguez, Petri Pyöriä, Sebastian Molinari, Armando Vargas, Mike Budzein, Mark Massar, Kurt Bagnell, Jack Turner, Kyle Robinson, Vince Marsh, Steve Hawkins, John-Paul Fauvarque, Eckhart von Glan, Matthias Willhardt, David Meetze, Travin Morgan and Pete Zehler.
Their counterparts in Mazda included Marius Golombeck, Stefan Overgaard, Darren Seal, Parker Kligerman, Brett Stephens, Ryan Reynolds, Eke Dávid, Chris E Pence, Jeffrey Lapalme, Brad Patton, Bryan Barns, Frederic Cantigneau, Leigh Higgins, Connor Babel, James Wheeler, Chad Coleman (who picked-up a second place in the other MX5 race), Eric Leichtle, Shaun Schernitzki, Murray Simister, Matt DeReus, Ted Hough and Neil Fasekas.
And (virtual) VW bronze medals go to Trey Cauley, James Yates, Matt Ferris, Andreas Wagner, Vincent Wood, Richard Crozier, Dennis Melchert, Roberto Hernandez Gotor, Carl Fredrik Hersoug, Roger Billings, Salvatore Rossi, Vedran Broz, Jay Bonvouloir, Bryan Goddard, Aaron Babcock, Javier Tincani, Chas Lawrence, Fabio Andreaza, Ronny Granzow, Brandon Wright, Kevin Martin and Jerry Buracki.
Less than 24 hours later, the Rileys and Mustangs took to the spotlight, literally, as they were christening the new night version of the track.  Some 875 sim racers wheeled-out their Daytona Prototypes, with more than 200 pony cars joining the fun.  DP winners included Gangi, András Király, Shaun Stroud, Ronald Gross, Shaun Cole, Sebastian Lohse, Brad Wright, Jacob Nielsen, Raymond Mooney, Joe Yenchick, Sergei Soldatov, Mungin, Wim Stockmans, Jack Breuker, Richard Dean, Giorgio Ponti, Chris Seymour, Lance Williams, Chris Hall, Joe Letteriello, Jeremy Bourbeau, Allen Kareth, Kyle Williamson, Dennis Ellis, Ian Plasch and Patrick O'Brien.
Mustang winners included Michaels, Vietmeier, David Jaques, Nenad Matijevic, Jordan Westfall, Landon Harrison, Byron Daley, Alexandre Fornieles, Don Davis, Tony Luckoski, Troy Anderson, Kyle Germanton, Ricky Dalton, Cory McLemore, David A Wilson Jr, Anthony Muniz, Ty McWhirter, Joseph Perry, Sean Rafferty, George Mastrokostas and Marty Vrana.
Riley runners-up included Dave Gelink, Jonathan Pierson, Alexandre Gravouille, Mike Kelley, Ronnie Akesson, Roberto Zini, Kyle McCartney2, Mario Geseirich, Heitor Luiz, Donald Sklenka, Bruce Perry, Ben Williamson, Michael Wenning, Chad Coleman, Brian Harford, Steven Dager Jr, Joe Jacalone, Lorenzo Teobaldi, Matt Berndt, Nick Terebuch, Tyler Hill, Eric Laval, Jeffrey Schloss, Mark A Reed, Roger Sievert and Bruno J St-Pierre.
Mounting the second step of the Mustang podium were Billings, Cordes, Hannigan and Zehler along with Eric Smith, Fabian Jastremski, Petr Lisa, Tony Johns, Dennis Melchert, Steve Claeys, Brandon Pantas, Martin Wilson, Simon van Duijune, Gabriel A Bechtold, Bruce Lawson, Jason Poisson, John Andrade III, Thomas Kraft, Stacy Hunter, David Houser and Marc Meyers.
Third place in DP went to Goddard, Evan Maillard, Mads Buhr, John Mallia, Naoya Nagai, Tony Repussard, Sergey Bazhenov, Bedros Magardichian, Patrick Mercier, Patrick Spence, Joe Hubbard, Derek Roeleveld, David ter Stal, Timothy Johnston, Ken Mckenzie, Michael Koroleff, Eric Miller, Clayton Ramstead, Jyrypekka Lehtinen, Bruce Clay, Jim Wallen, Curtis James, Derek Schmitt, William Kabela, Brian Bennett2 and Hunter Lynn.
And making the final step of the pony car podium were Dusty, Ferris, Gomez, Stoll, Eric Smith, Jay Osborne, Mikey Grems, Luca Pirovano,  Chad Simpson, Teruaki Kato, Lee Tomlinson, Justin M Wilson, Mattew Reinoehl, Andrew Kirschenman, Chris Cable, Josh R Keith, Derek Voecks, Ted Hough, Joshua Scott, Paul Bowers and Ed Cohee.
---
You may also like...
---