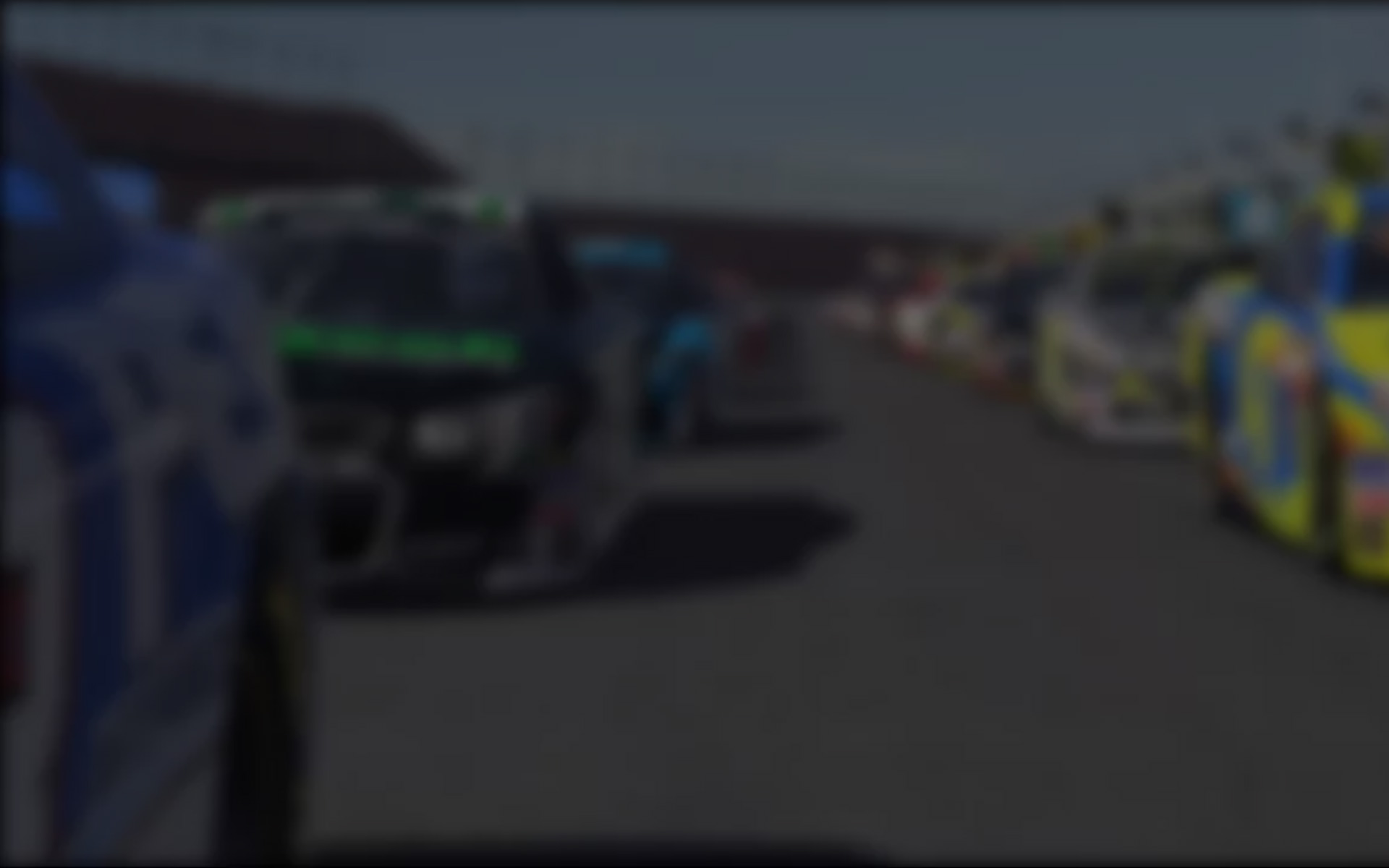 In a scintillating sixth round of the iRacing.com Road Pro Series, David Decorps edged-out the competition to claim his first win of the season at Road America in the Williams-Toyota FW31. The 47 lap online race around the 4.04 mile circuit proved to be a chess match of strategies, with the 28 car field employing varying fuel tactics.
After posting a pole-winning time of 1:34.174, Mogar DG Filho led the field to the first corner. Although the Brazilian maintained his position at the front, fellow front-row starter Richie Stanaway dropped positions like a stone. Winner of the two most recent iRPS events, Stanaway struggled to get away from the line and dropped to seventh by the time he'd completed the first few turns of the race.
It was now up to Emil Spindel to head the chase to catch the leader, and the Swede was soon traveling in Filho's wake as the pair broke away from the rest of the field. Over the ensuing laps, Filho and Spindel carved-out an advantage of four-seconds over Enzo Bonito and Decorps, who occupied third and fourth respectively.
Lap 18 saw Filho and Spindel yield their positions to head to pit-lane for their first scheduled service to take on fuel and fresh tyres. This proved be decisive for the remainder of the race, as the early race leaders exited the pits in sequence behind the likes of PJ Stergios who was playing out a single stop strategy.
"After the first round of pits, I came just behind some slower cars, and had to do some laps behind PJ Stergios, that was on a one stop strategy," Filho wrote this week. "He was lighter on fuel since he was getting close to his pit window, (which is ) what allowed him to be fast on re-accelerations, and I couldn't get any advantage from draft or fresher tyres to try an overtake. I had to be about one-second per lap slower than my normal pace."
"I came just behind some slower cars . . . and I couldn't get any advantage from draft or fresher tyres to try an overtake." — Mogar DG Filho
Whilst Filho and Spindel found themselves stuck in traffic, Decorps who was playing out single pit-stop master plan was able to attack the virtual Road America with a clear track ahead of him. In tow was a recovering Stanaway, who'd clawed his way towards the front following his below-par start and was now within a second of Decorps. Heading to pit-lane on Lap 24, Decorps and Stanaway handed the lead spots back to Filho and Spindel, who had finally regained some clean air when the entire field had completed at least their first service.
It was Lap 32 when Filho's Radicals Racing entry dived down pit-lane for a second time, with a three-second advantage over Spindel, and a further 29 second margin over Decorps and Stanaway. But with service adding an additional 45 seconds to his lap, Filho rejoined behind Decorps and Stanaway, who did not have to make a second stop. Compounding Filho's demotion, CST Ajira's Spindel put in a series of hot-laps, before heading to the pits a handful of circuits later to leap-frog the Brazilian into third as he exited the pits.
"I thought Hmm…so these guys won't stop again. I did not anticipate that." — Emil Spindel
"I passed Mogar in the second pit-stop but unfortunately since the pace of Mogar in the first and second stint was so slow the one-stoppers was in front," Spindel explained post race. "At first I was expecting these guys to pit soon, so sort of relaxed thinking I had this win.  But with 11 to 10 laps to go I thought Hmm…so these guys won't stop again. I did not anticipate that."
With older tyres, Decorps and Stanaway were soon caught, and with nine-laps remaining, the quartet were line astern, with just two-seconds between them. Despite the momentum of Spindel and Filho, the early race leaders just couldn't find a way past the Orion and Redline cars ahead, as the Frenchman and the Kiwi used all their guile to retain the respective front two positions.
"The final 11 laps were difficult with the two stoppers, Spindel & DG Filho coming-up on fresh rubber while Decorps and I struggled with tyre degradation." Stanaway said. "I just had to focus on hitting my marks and keeping up the rhythm which enabled me to hold out the second position."
Coming home to a near blanket-finish, Decorps claimed his first 2012 iRacing Road Pro Series victory, just 1.4 seconds ahead of Stanaway, Spindel and Filho – who yet again came so close to sealing his first Championship win, only to be pipped at the last.
"I kept confident as I knew it was so hard to follow in my draft." Decorps enthused. "Then again I started to doubt seeing the two stoppers closing on Richie, and thought they could pass him and get me as I was struggling more with wheel spin. But no! I just made it! Sure the second stint was like an eternity…. But in the end I'm so happy with the result!"
"Sure the second stint was like an eternity…. But in the end I'm so happy with the result!" — Davy Decorps
Another sim-racer who found himself caught in a tangle of pit-strategies was Bonito. The Italian had doggedly kept the early leaders in his sights after moving up to third position at the start.  But like Filho and Spindel, he found himself baulked by the slower one-stoppers after his first visit to the pits. However, the fifth place finish for the iNex Racing team member (his third top five of the season) will likely prove to be  a valuable contribution to his hopes of reaching the 2013 iRacing.com Grand Prix Series World Championship.
Although Simon Cattell headed to Road America lacking confidence, ironically the Englishman sealed his best finish of the season so far with a sixth place. By racing within his limits and sticking to single-stop tactics, the ineX online-racer sealed 28 valuable points at the chequered flag.
"Twenty minutes before the start I considered not participating – I didn't expect to get near even the top 10 and would probably cause a crash en route," Cattell shared on the iRacing forums. "Start of the stint was tough with fuel on-board, but the balance shifted dramatically towards the end, which could enable me to run lap times to justify the sixth position. But there were too many mistakes along the way and another fuel error again."
Bouncing his way up and down the order, Yudai Narumi found a return to form at Road America to secure seventh position at the end of the 47 lap race. The Japan-based pilot had started in sixth, but by the time different strategies came to fruition, Narumi was eighth. A late flourish of fast laps in the closing stages, put the ineX racer onto the tail of Stergios, who he dispatched with just three-laps remaining. For Stergios, his eighth place finish was a display of tenacity. As the American watched those around him dive into the pits during the early stages, Stergios remained out to execute a plan that saw him only take service once during the race – he even managed to keep the early favourites at bay at one point – quite an achievement considering his seventeenth place starting spot.
Rounding out the top-ten, Vasiliy Zaitsev grabbed ninth position ahead of Jesper Pedersen, with both the Russian and Dane earning their placings after visiting pit-lane twice in their races.
With six rounds of the iRacing Road Pro Series now complete, Team Redline's Stanaway now tops the standings on 204 points. Following his début win at Road America, Frenchman Davy Decorps moves into second position on 200 points, with Filho and Bonito a further four and five marks back respectively.
The iRPS now takes a short break for the festive season, before returning to action at Watkins Glen in two-weeks time. Will Stanaway be able to continue his run of form and remain at the top of the leader-board?  Or will Decorps, Filho, Bonito or Spindel step up to the plate to head the chase for the Pro Championship title? Tune in to GlacierTV.com and read all about it here at inRacingNews.com to find out.
---
You may also like...
---