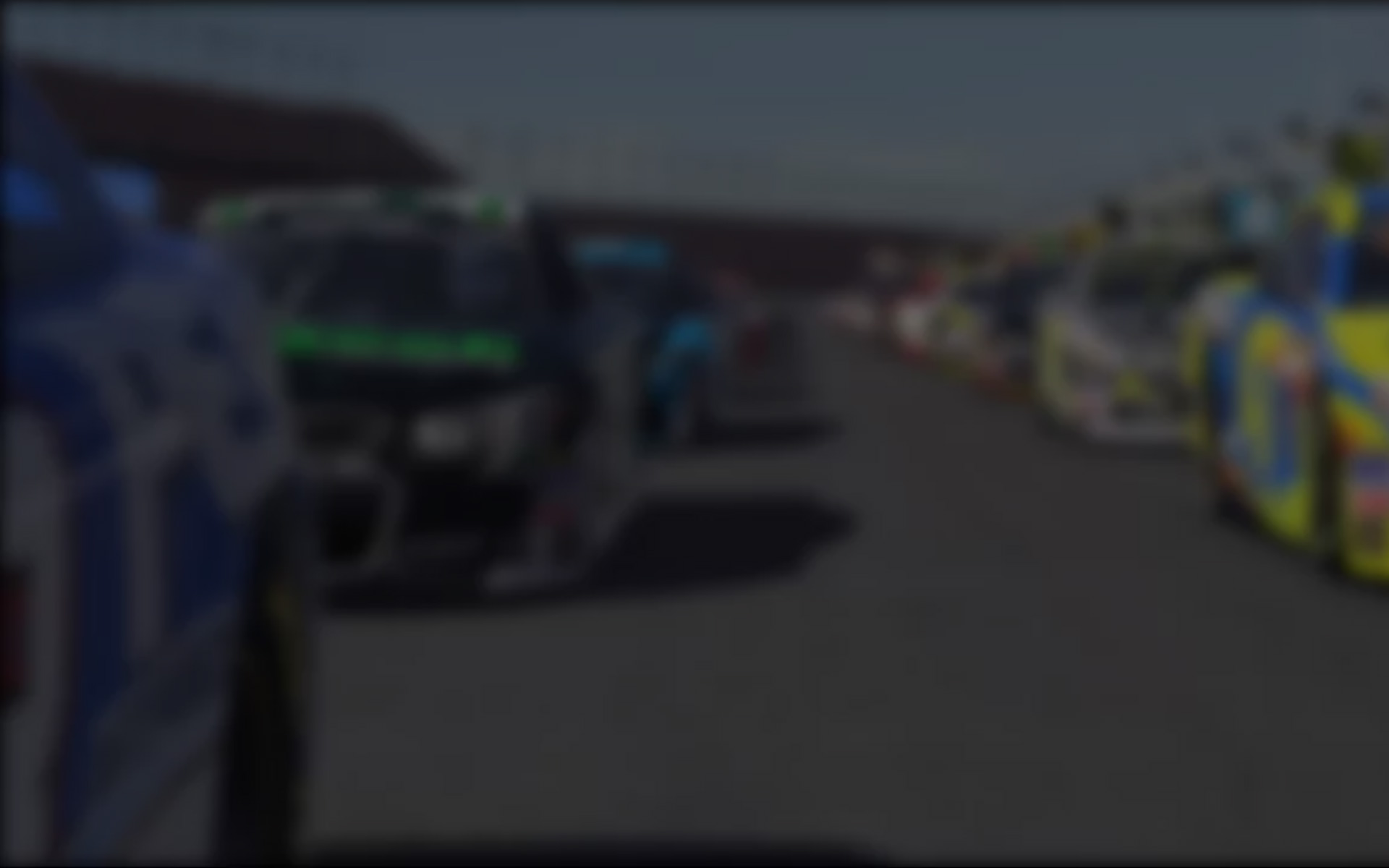 In its 65 years of operation, the Darlington Raceway has earned its reputation as "the track too tough to tame".  The iRacing version of Darlington is no different, so when the ITSR Power Series competitors arrived at the sun-drenched circuit last Sunday, they faced same challenges that NASCAR drivers have endured for decades.
Following the lead of NASCAR teams that will run historic paint schemes in the upcoming Southern 500, many Power Series drivers donned classic schemes for their own Throwback Sunday race.  That gave the grid a hint of nostalgia, with designs ranging from Buddy Baker's Crisco scheme on Matt Murphy's Chevy to Alan Kulwicki's Hooters design on Steve Haring's Ford to Tim Johnston's Stroker Ace-inspired Toyota.
In qualifying, it was "Chad power" showing the way, with Chad Dalton putting his Chad Little throwback car on the pole with a lap of 27.2s.  Just behind was Matt Delk in his 2003 Mark Martin scheme, followed by Johnston, Scott Simley, and Dean Moll.
However, for the second straight race, Dalton suffered early problems culminating in a black flag penalty that put him a lap down.  Fortunately for Dalton, two cautions in the first 20 laps let him get back on the lead lap and begin a charge through the field.
At the front, Johnston led the first 17 laps before series rookie Delk took over, leading all but one of the next 69 laps.  He was passed on Lap 86 by Dalton, who found his way to the front during a long green-flag run in the middle of the race.
Behind the leaders, an exciting battle raged between Simley, Murphy, Terry McCuin, Jeff Davis, Corey Davis, and Marcus Napier.  That pack of drivers fought two- and three-wide within Darlington's tight confines before a round of green-flag pit stops helped settle things down.
The run of green-flag racing ended when a caution flew on Lap 113.  Dalton continued to lead Delk and Johnston as two more cautions – part of a race total of eight – slowed the field.  Under the race's final yellow flag, Delk took just two tires to re-gain the lead and set up a showdown for the win in the final 11 laps.
On the restart, Dalton missed a shift, which allowed Johnston to move into second and have a run at Delk for the lead.  They raced side-by-side and nearly touched in turns 1 and 2, but Delk held the position and Johnston slipped back into third place behind Dalton.
As the laps wound down, Dalton continued to chase Delk, but despite his older left-side tires, the rookie up front stayed cool and clean under pressure.  On the last lap, Dalton drove deep into Turn 2 but found the wall on exit, allowing Delk to open a .7s lead and score his first career Power Series victory.
Behind Delk and Dalton, Johnston held off Corey Davis for third place, and McCuin finished fifth despite extensive front-end damage.  Attrition was a big factor as only eight cars – rounded out by Brian Motisko, Haring, and Simley – completed all 147 laps.
Delk's win elevated him to third in points despite missing a race earlier in the season.  Atop the standings, Johnston continues to lead Dalton by a narrow margin of seven points.  With three regular-season drop weeks yet to be factored in, the championship battle remains close as the series heads from one tough circuit to another.
In the next race — the second and final road course event of the season — the Power Series drivers will tackle the Daytona road course.  The track presents challenges like slowing from over 200 mph to just 60 mph for Turn 1, plus negotiating the tricky infield hairpins and the backstretch bus stop.  With the added factor of drafting on the high banks, a night at Daytona could be a bigger wildcard than a day in Darlington.
---
You may also like...
---