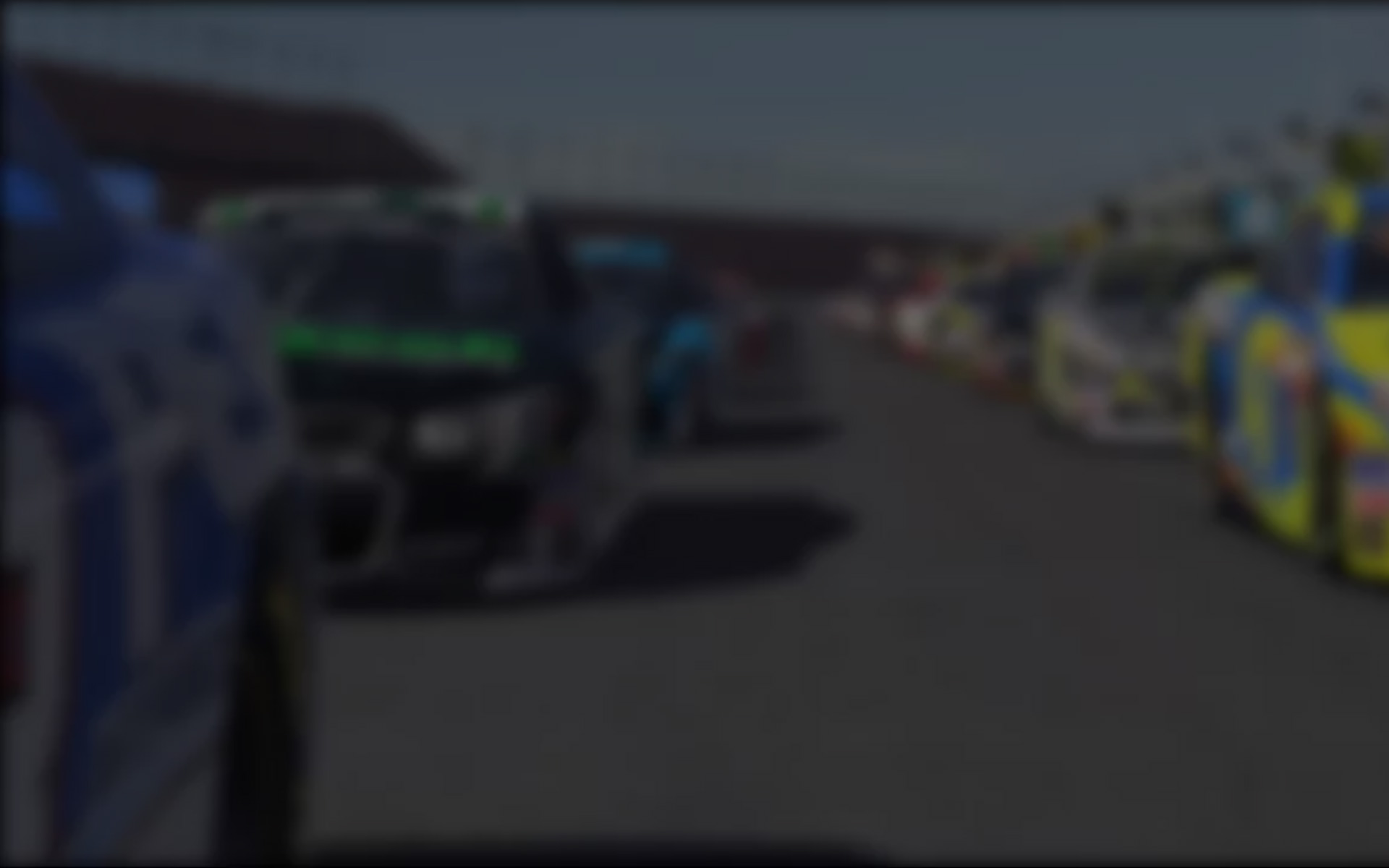 KENT, UNITED KINGDOM – It's crunch time. With only three events in to go in the season, competitors of the Red Sox Racing League are running out of opportunities to earn points towards class championships at season's end. Adding to the pressure, Round 10, the Dingle Dell 30 at Brands Hatch, not only takes place at the treacherous Brands Hatch Grand Prix circuit, but also plays host to the third and final round of the ITT Engineered For Life Sprint Challenge, meaning a few extra eyes will be watching to see who takes home some in-season bragging rights. At only nine turns and 2.3 miles per lap, the circuit is deceptively simple according to Caribbean Food Delights BMW Z4 GT3 driver James Prostell Jr. "On paper, the track design is incredibly simple, but if you were to crumple that paper and try to straighten it back out, you'd get an idea of what the elevation changes do to this circuit," recalled Prostell. "Suddenly what was a run-of-the-mill 90-degree right is anything but, as the road falls away from you, or a turn becomes blind since you're cresting a hill at the wrong moment, you're off-camber here and there – just the whole thing is a test of balancing the car in odd situations."
Up to the task early on was Sam Dobie. Knocking almost four tenths of a second off of his best practice time, Dobie's #27 Liqui-Moly RUF Rt-12 Track snagged the Wil-Trans Pole Position Award with a time of 1:23.484, a time just over half a second better than outside polesitter Dave Hoffman in a RUF of his own. Just behind him, Brian Irby posted the best BMW Z4 GT3 time to start third, followed by Reed Rundell in his Harley-Davidson sponsored RUF to start fourth. Next up, the BMWs of Terry Daul, Les Turner, John Koscielniak, and Kevin Kyle line up before the fastest McLaren MP4-12C GT3 driver, Joseph Jordan enters the fray. 16 teams were entered for the session, but one was conspicuously absent from both practice and qualifying sessions today, the #16 of James Prostell Jr. "At 6'2″ I don't have the smallest of frames, so before heading overseas I was excited to get fitted for a new seat" the driver explained. "Just my luck, the car gets shipped, spare parts and tools make the trip, and what gets left behind? The seat! Thankfully a local race shop was able to get what we needed, but not without losing a ton of track time." As a result, he'll start from pitlane, behind the entire field.
From the drop the the green flag, Sam Dobie continued to exhibit the same speed that earned him the pole position for the race. Slowly but surely, Dobie found himself inching away from second-placed Dave Hoffman, building a lead as high as 2.7 seconds within 10 laps. The rest of the frontrunners seemed to fall in line, with the top four reaching the halfway mark in the order they started, followed by Les Turner working his way by Terry Daul to fight his way into the top five. Dobie, Irby, anjd Rundell pit on lap 12, jumbling the order and handing laps led to John Koscielniak and Kevin Kyle before they'd hit pitlane themselves
Already languishing in the 16th and final position, a bad race nearly ended up worse for Prostell Jr. "I'm not one to give up easily, but at the same time, you've gotta be smart sometimes and realize when its best to just live to fight another day. We're already behind on practice time, start a good 10 seconds down to the field from the word go, and then push hard enough to almost throw the car into the wall? Thank goodness we didn't hit anything, and don't have to do any major repairs before Donington next week." Prostell would continue to finish seventh in class, 16th overall, one lap down.
Two laps later, after the pitcycle jumbled the front end of the field, Brian Irby found himself leading the race over Sam Dobie thanks to some fancy pitwork that pushed the #11 BMW back on track in a hurry. Laps 14 and 15 belonged to Irby, with a hard-charging Dobie only three tenths of a second behind, but halfway through the 16th tour a surprising error pitched Irby into the wall. A swift recovery mitigated the time lost on track, but any shot at the overall win or podium was lost in an instant. Adding insult to injury, Les Turner found a way by three laps later to take top BMW honors as Irby struggled with suspension issues that cropped up from the incident. Irby would finish second in class, fifth overall.
With the threat of Irby gone, many saw a win for Dobie, who led the first eleven laps of the race, as a forgone conclusion. Not so fast – Reed Rundell was on a charge, shrinking what was a two-second gap to just over half a second late in the race. Close enough to start picking up the draft from Dobie's car, Rundell continued to inch closer, but before he could mount a true challenge, the checkered flag fell, signalling the end of the race. "Man, no offense to the guys at ITT – they help us a ton to put on a great show, but I really wish this wasn't a 30-minute race," Rundell joked after the race. "Another fifteen minutes out there and we might be talking about a different outcome, but then again, just about every racer says that. Congrats to Sam, he was the class of the field today!" A banner day for Dobie was also one for the RUF marque, as the brand captured the overall podium. Les Turner captures the BMW victory over an ailing Brian Irby, while Joseph Jordan takes top McLaren honors. In the process, the first set of champions have been crowned – the prestigious ITT Engineered For Life Sprint Challenge champions are: McLaren MP4-12C GT3 – Dennis Griffen; BMW Z4 GT3 – Brian Irby; and RUF Rt-12 Track Sam Dobie. ITT Industries congratulates these teams and thanks all the drivers, teams, and supporters for another exciting season!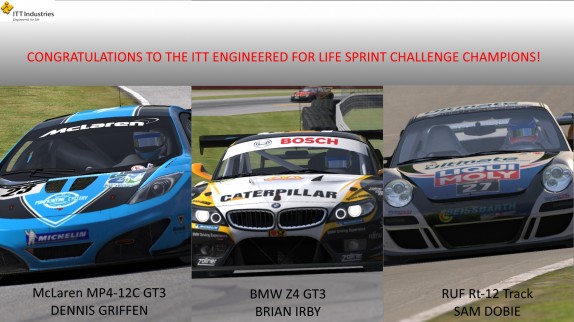 Class Results
RUF Rt-12 Track
1. Sam Dobie
2. Reed Rundell
3. Dave Hoffman
4. Dean Moll
5. Ed Sutcliff
6. Andrew Feldman
BMW Z4 GT3
1. Les Turner
2. Brian Irby
3. Terry Daul
4. John Koscielniak
5. Kevin Kyle
6. William Kabela
7. James Prostell Jr.
McLaren MP4-12C GT3
1. Joseph Jordan
2. Dennis Griffen
3. Divina Galica
Next up, Round 11 of the Red Sox Racing League's 2014 Season 3 GT Battle  sees the teams take on the second half of a two-race European stint as they take part in the Castle Donington 45 at Donington Park.
---
You may also like...
---