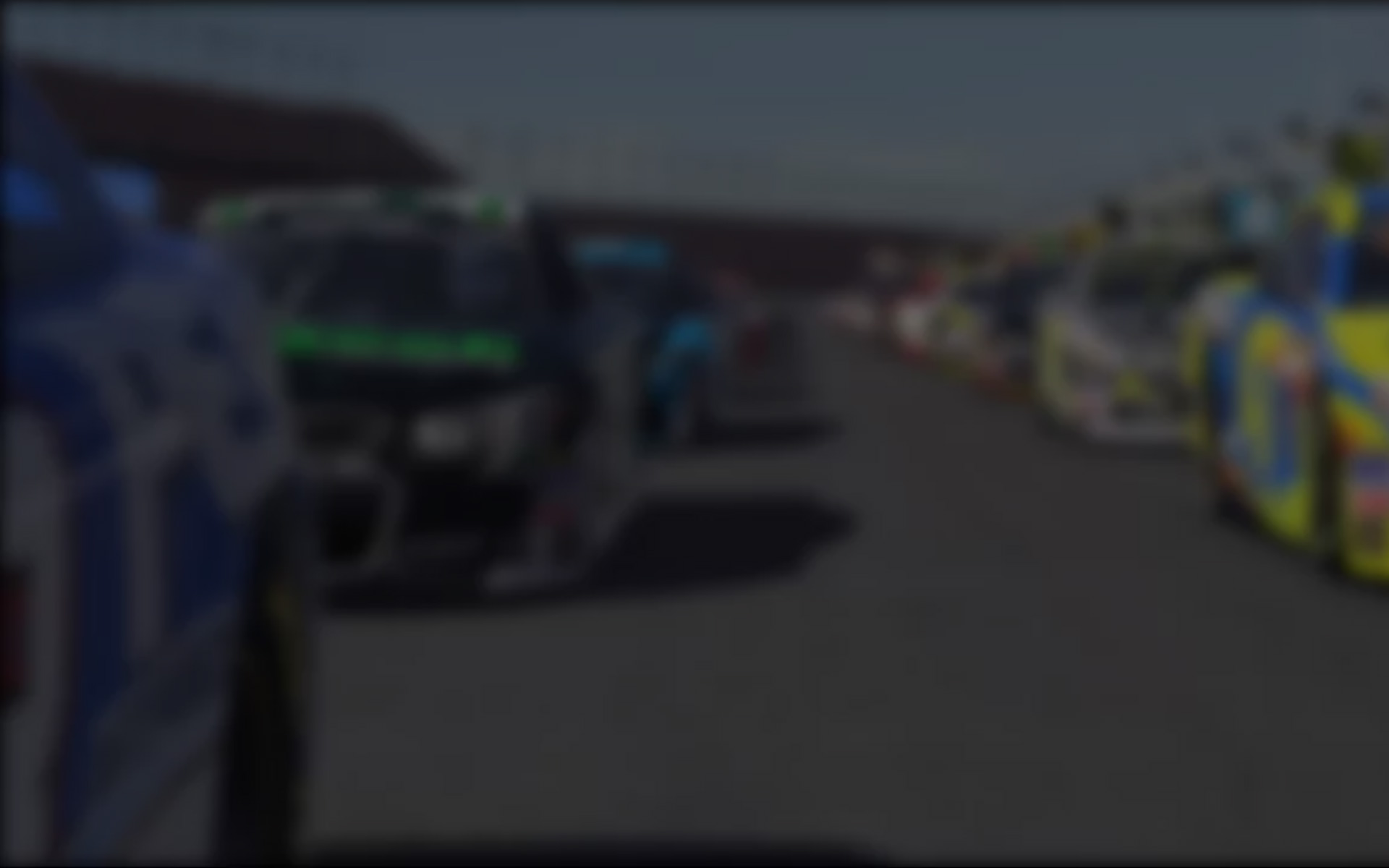 Round 8 of the iRacing.com V8 Supercar Series headed into the UK to tackle Oulton Park.  With the series about to head into the final four weeks and drop weeks coming into play, the championship has opened-up.  Madison Down may have taken victory in five of seven online races to date but consistency has thrust Justin Ruggier into the series at this point.
Qualifying at the challenging Cheshire circuit again saw Down atop the charts with a best lap of 1:31.255, with the championship leader alongside him on the front row.  Josh Muggleton and John Emerson would start just behind on the second row ahead of Shaun Kelly and Vail Riches, with Richie Stanaway and Adrian Stratford a tenth of a second back in seventh and eighth as Matthew Hill and Jon Latham rounded-out the top 10.
When the lights went green Down got a strong jump off the line with Ruggier settling into second place ahead of Muggleton, who managed to keep Emerson at bay. Coming into Turn Three everyone looked to settle into single file but Latham missed his braking marker and clouted the back of Hill. As Hill struggled to retain control, more contact from Latham propelled Hill off track and down the running order to last.
Nor was that the last incident on the opening lap, as a big accident unfolded when Tony Autridge ran wide on the exit of Turn Six.  When a following Robert Hartley went to move down to the inside of the wayward Autridge, he found – too late – that Simon Black had the nose of his car just inside him.  The resulting contact sent Hartley into the inside wall, prompting all manner of evasive action by the following cars.  Unluckily, Chris Stone got clipped in the mayhem and Dave Oliver was left with nowhere to go but into the Power Bond  Hartley's Power Bond Ford Falcon.
Matters settled down for the following laps, before Kelly spun as the result of contact with Emerson and, subsequently, pitted on Lap Nine.  Mitchell Abrahall was another to make an early call in the pits but, coming into Turn 12, he blew his engine ending his night. Ruggier and Muggleton both pitted at the end of lap 13 with Leigh Ellis and Latham also coming in as well.
Down reacted straight away and came into pit lane on the following lap with Emerson and Riches following suit.  When the pit stops were completed Kelly had jumped Riches, Ellis and Latham and now set his sights on Emerson. Lap 14 saw Latham out brake himself into the chicane on the back straight and hit Ellis, sending him around.   The resulting karma was not long in manifesting itself as the following lap saw Latham ran wide through Turn Four and slide into the wall.  Lap 15 also saw a repentant Emerson let Kelly past, atoing for their the earlier contact. A full seven laps later, Stanaway was the last driver to come into the lane and with good lap times, even better in and out laps and a great pit stop, he came out in front of Riches and Emerson.
There was no jumping Down — let alone catching him — as he motored to his sixth wins from eight races, leaving Ruggier no choice but to settle for second place ahead of an returning-to-form Muggleton on the third step of the podium.  Kelly had a strong run after the early contact to finish in fourth while Stanaway advanced a couple of positions to finish inside the top five. Riches and Ellis had a race-long battle for P6 that was, ultimately, resolved in Riches' favour. Tobias Czerny capped another solid performance in eighth place aheada of Marlon McMullen, while Troy Cox held-off Matthew Nethercote to finish inside the top 10.
Top Five Drivers – Championship Points – Overall
1. Justin Ruggier –1988
2. Josh Muggleton – 1816
3. Madison Down – 1760
4. Leigh Ellis –1519
5. Leigh Day – 1490
Split Two Winner: Dale Neish
Split Three Winner: Sanjin Delalic
Split Four Winner: Wayne Jaffer
Broadcast done by the crew at www.v8sonline.com.au
---
You may also like...
---