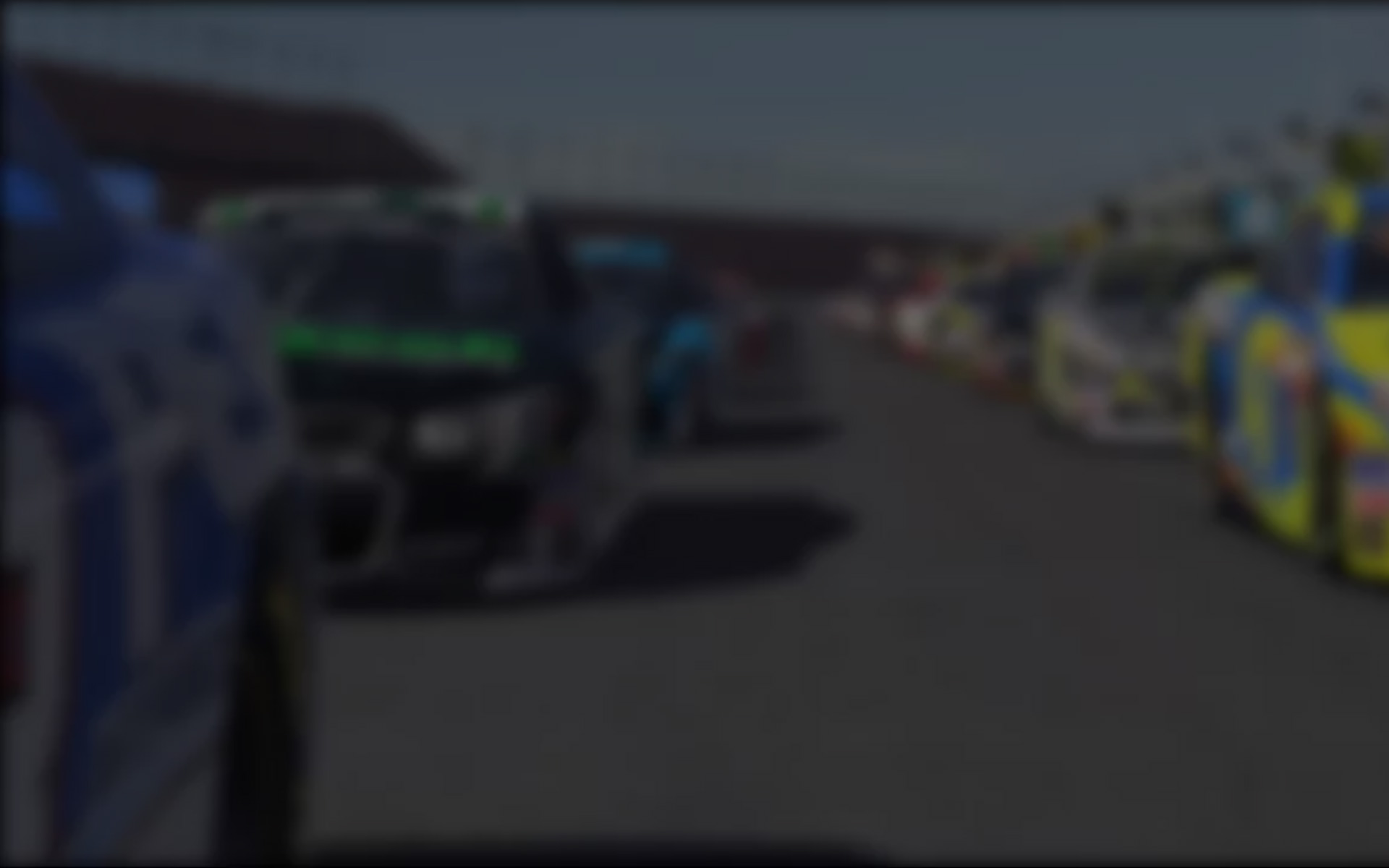 Round 10 of the iRacing.com V8 Supercar Series headed to Barber Motorsports Park.  The last time the series was here was back in 2010 when the iRacing.com Pro Series visited the circuit, so this was a first time at Barber for most of the sim-racers.
Qualifying was lead by Madison Down with a blistering time of a 1:24.450 with John Emerson moving up a couple rows in the final session with a 1:24.607. Josh Muggleton and Justin Ruggier would start from the second row with Rens Broekman making a return in fifth place.  Alongside Broekman on the third row would be Vail Riches with Shaun Kelly and Jon Latham starting on the fourth row ahead of Leigh Day and Leigh Ellis.
When the lights went green it was Muggleton getting the best jump out of the top runners to slot-in behind team mate Down.  Battling Down into the first turn, Emerson was forced to take a wide exit out of Turn One which, in turn, allowed Muggleton to brake late into Turn Two and go around the outside of Emerson for second.
Meanwhile, a good battle was forming between Broekman and Riches. On Lap Four, a lock-up by Riches coming into the hairpin forced him take to the inside to avoid contact.  He managed to just pull it up with slight contact with the front of Broekman's car to gain the position, but Riches gave it back when he ran a little wide through the downhill esses.
Up front it was Down pulling away from Muggleton while Emerson and Ruggier battling away for the final spot on the podium.  Fifth placed Broekman was still under heavy attack with a train of following cars now forming behind him.  Into the hairpin on Lap 13 Riches locked-up the rears (again) and spun.  Luckily no one collected him and he was able to get away with no damage to his Ford Falcon, albeit having lost a couple of spots to Kelly and Latham who set-off in pursuit of Broekman.
Lap 17 saw Ruggier finally make a move on Emerson to take over third spot.  With Emerson protecting the inside line into the hairpin, Ruggier went the long way round, got good traction out of the corner, held his nose on the inside and then braked later into the downhill chicane to consolidate the position.  A big moment for Broekman on Lap 19 exiting Turn 8 saw him leave an opening for Kelly; all Kelly needed to move ahead of Broekman into the top five.
Three rounds later, the lapped Christian Thilo-Zuch let Kelly through coming into the fast chicane only to step back on the gas and then slowed down and all but stop on the racing line, forcing Broekman onto the grass in avoidance.  The incident cost Broekman another spot — to Latham.  Then things really went downhill.  Riches massively out braked himself into Turn One, hitting and spinning-out Broekman, resulting in Broekman's retirement.
Back up front it was the Madison Down Show once again, as he completed a dominating performance and moved closer his seventh iRacing.com V8 Supercar title. Muggleton was able to keep Ruggier at bay to claim the second spot with Emerson and Kelly fourth and fifth ahead of Latham after a strong run to P6. Riches managed to hold off  Ellis to grab seventh with Day and Tobias Czerny rounding out the top 10.
Top Five Drivers – Championship Points – Overall
1. Madison Down – 2122
2. Justin Ruggier – 2024
3. Josh Muggleton – 1923
4. John Emerson – 1679
5. Leigh Ellis – 1601
Split Two Winner: Tom Erik Voll
Split Three Winner: Sanjin Delalic
Split Four Winner: Colin Boyd
Broadcast done by the crew at www.v8sonline.com.au
---
You may also like...
---