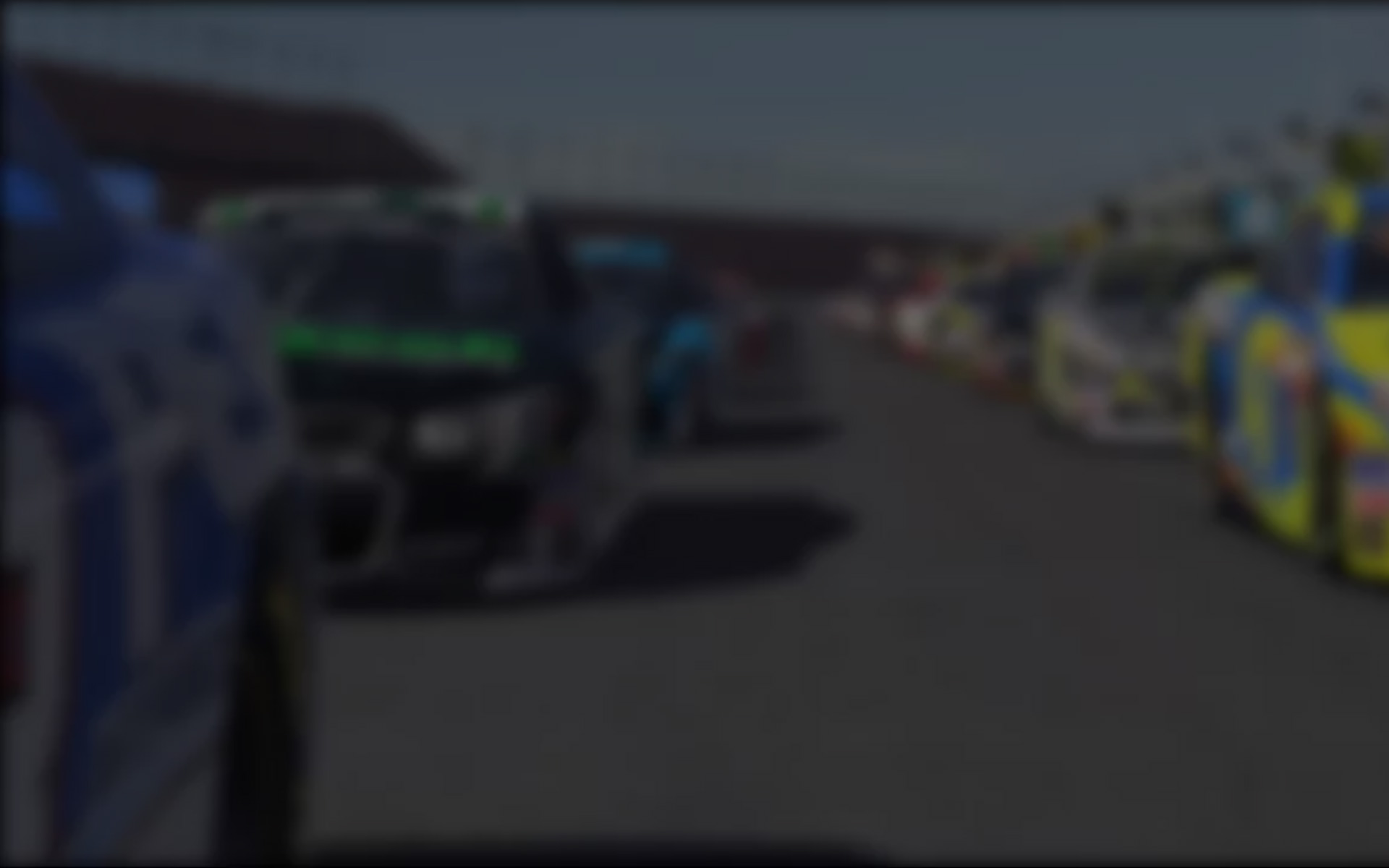 The final round for the 2012 Season 3 iRacing.com V8 Supercar Championship presented by Bigpond found the drivers heading back to the UK to tackle a challenging track that has hosted the finale for the past few seasons: Brands Hatch. The championship picture saw Madison Down increase his lead to 22 points when he won the first race of the night, while Justin Ruggier took to qualifying to improve his time.
In qualifying it was Down taking pole position with a 1:26.688 while Ruggier would start from second with a 1:26.807. The second row of the grid was made up by Tatts.com driver (and Down's teammate) Mitchell McLeod and DCM driver Richard Hamstead, who announced earlier in the week he would be leaving DCM and for a new team in Season 4. Joshua Muggleton and Zandvoort winner Rens Broekman claimed the the third row of the grid ahead of Scott T McLaughlin and Vail Riches, while Shaun Kelly and Petteri Kotovaara rounded-out the top ten on Row Five.
The battle for the championship was still very much alive in the final race of the season with Ruggier needing to take victory and hope a little misfortune visited Down.   When the lights went green it was Down getting the jump and Ruggier bogging down, to be overtaken by McLeod and Hamstead. Just when Madison began to breathe a sigh of relief at the sight of a couple of cars between himself and Ruggier, McLeod and Hamstead made contact, allowing Ruggier to reclaim second place and try and chase down Down.
Just as everyone appeared to be settling-in to their early positions, McLeod blocked McLaughlin onto the grass.  McLaughlin retaliated against McLeod with a bump and run as, not for the last time, the twosome livened-up the action in this race.
Broekman's bid for a double came acropper when he got sideways and lost seven spots trying to avoid McLeod.  Heading into Turn Five, the Zandvoort winner gave Samuel Collins a little tab to his right rear sending him sideways, but Collins was able to save it in front of a group of six drivers.  At the end of the second lap, Riches would cop a hit from behind and take to the grass to save it, losing four spots in the process. And on Lap 10  Petteri Kotovaara's race came to an abrupt end when the motor let go whilst downshifting for Turn Five, making the Finn the first retirement of the race.
Four laps later came a big impact when Mitchell Abrahall lost control of his Lazy Man Racing entry exiting Turn Three, with the resulting impact with the inside wall necessitating a stop for repairs and, ultimately, the loss of four laps.  A season's worth of engine stress showed when another V8 let go on Lap 17 as Kelly downshifted a little too quickly into Clearways, but he swiftly pulled into pit lane and retirement. One lap later and another of the Lazy Man Racing Falcons, this one driven by Brad Ryan, clouted the wall after losing control in similar fashion to teammate Abrahall on the exit of Turn Three.
After staying within a couple of seconds of Down for the first half of the race, Ruggier gradually slipped back to first three, then four seconds before a mistake on Lap 20 allowed Hamstead to move into second place with just five laps remaining.
Although Ruggier's bobble more or less sealed Down's win and the title, the action was by no means over.  On the last lap, McLaughlin downshifted a little too quickly and over-revved his Ford but, unlike the other drivers who'd buzzed their engines, he was able to continue on to finish the race.  Coming into Turn Eight, however, McLeod gave McLaughlin a little payback for their earlier disagreement and sent his sparring partner into the dirt.
But putting the argey-bargey aside, today was the battle for the championship and it was Madison Down taking the race and the title. The only driver to win more than one V8 Supercar crown, Down now has five championships to his credit. In his final race for DCM, Hamstead came home in second place while Ruggier was left to finish in third place and wonder what he could have done better throughout the season to beat Down.  That said, no doubt he will be back stronger then ever to try and make it to the top step in Season 4!
Muggleton brought his TT-R Falcon home in fourth place and for the second time in two seasons finished third in the overall championship.  McLeod came home an eventful fifth while John Emerson finished  ahead of TTL team mate Vail Riches to make it a TTL 6 – 7.  Broekman recovered to take eighth place ahead of McLaughlin's smoking Ford while Collins would round-out the top ten finishers.
Top Five Drivers – Championship Points – Overall
1.    Madison Down – 2110
2.    Justin V Ruggier – 2077
3.    Joshua Muggleton – 1895
4.    Richard Hamstead – 1853
5.    Mitchell McLeod – 1849
Split Two Winner: Jon Latham
Split Three Winner: Timothy Hancock
Split Three Winner: Paul De Maria
You can watch all the action on www.v8sonline.com; also this Sunday and Monday nights you can catch all of the Direct Clutch Services "Race of Champions" live on www.v8sonline.com.
---
You may also like...
---