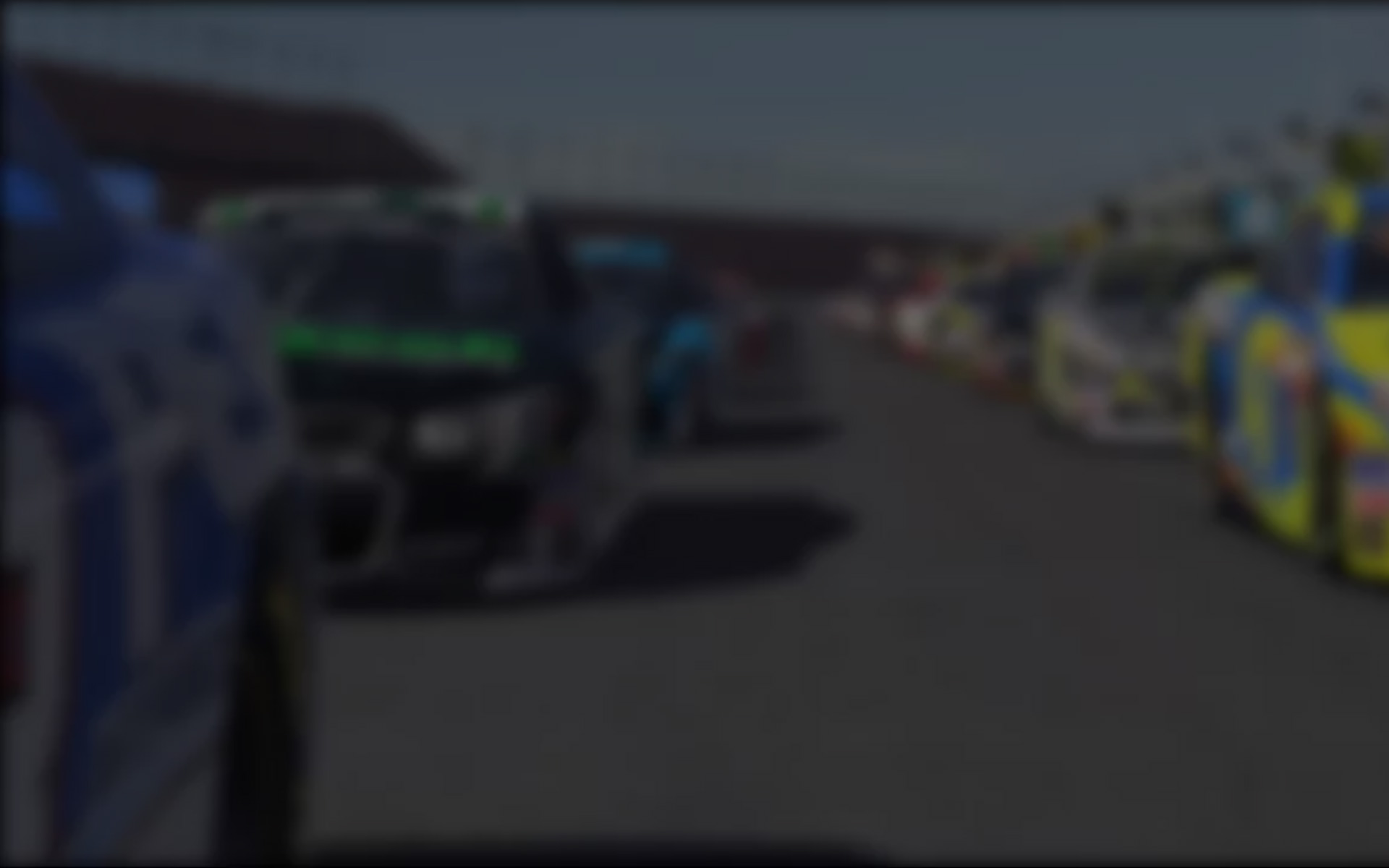 In a series that has recently been dominated by NASCAR iRacing.com Series World Championship (NiSWC) drivers, Bobby Driscoll took one for the "A-Team" in Week Five. The Texas sim racer captured the overall win for the week in the popular NASCAR iRacing.com Class C Series (NiCCS) after finishing second in a 4399 sof event, which snapped a two race streak where the "black stripes" dominated the series. Though they weren't at the top at the Chicagoland Speedway, the NiSWC drivers along with newly- minted Pros weren't far behind!
Driscoll earned 260 points for his runner up finish to DJ Lyon in the top rated race on Tuesday. Lyon would go on to compete in ten more races on the week, adding two extra wins and completing the week fourth in points with 247 markers. Behind the Carolina driver in the top split were Driscoll, Paul Kusheba, Brandon Buie and Dylan Duval. Kusheba led 67 of the 90 laps while eventual winner Lyon led seven. Seven drivers swapped the lead nine times in a race slowed twice by caution for eight laps. Lyon recorded the fastest lap of the race with a 31.271 second tour around Chicagoland Speedway.
Second overall for the week was Joshua Laughton. A competitor in the NiSWC, Laughton had an opportunity to chip away at the Class C point lead built-up by fellow black stripe driver Tyler Hudson – and he did just that. Laughton gained seventeen points on Hudson in Week Five by earning 257 markers with a second place finish to Brandon Williamson on Thursday. The race tilted the scales at 4361 sof and saw Williamson lead twenty-one circuits en route to his victory. Laughton was second with Justin Thomas, Phil Brown and Chris Overland not too far behind.
Like Lyon, Williamson made multiple starts at Chicagoland which hurt his point performance. "B-Dub" came home third for the week though after starting eight races and winning in five. His impressive numbers came with one more as he garnered 249 points for his effort in the Hot Lap Radio Team truck.
Coming home in fifth is the driver simply known as D Neill. Neill, who holds a Class D license won a 3847 sof race to grab his 240 points for the week. Ray Zercut was second with Brandon Six, Cyril Nousbaum and Carson Downs rounding-out the top five. The race featured five cautions and saw four leaders swap the lead six times with Neill leading the most circuits with forty-eight.
Brazil's Pedro Carvalho made the most starts over the seven day period with thirty-four while Hunter Davis, Michael Atkins Jr and Ian White won the most races with eight a piece. Harold James of Division Four completed the most laps (2640) while Atkins Jr led the most at 1133 – the only driver to top 1000 laps led for the week! Shane Miller was the top qualifier with a lap of 31.261 seconds. Kevin King was three thousandths behind in second with David Preston, Nousbaum and Brandon Barke completing the top five. Andrew Berger took top honors in the Time Trial competition as he led David Geske, Dan Mastin, Tyler Dalton and Thomas D Smith in Week Five.
When it comes to the points, Laughton has cut Hudson's lead to forty-five points with seven weeks still to count in 2011 Season Two. Jared Crawford sits a distant third (228 points behind) with Jody Green and NASCAR Nationwide Series Rookie of the Year candidate Timmy Hill just six and fifteen points, respectively, back of Crawford for a top three spot. Double digit point leads can also be found with point leaders in Division Two (Jim Johnston), Six (Patrick Davis), Seven (Steven Mcgarrity), Eight (Willy Auer) and Ten (Kevin Sockow).
Division Three sees William Lark lead Steven Lutz by only three points heading into Week Six. Buddy Higgins only has one point more in his margin over Shelvin Johnson in Division Four with Benjamin Fuller and Steve Wanderlich not far behind. The fifth NiCCS skill-matched division has Edward Smith2 with only a handful of points between he and second place Brandon Kettelle. Colt Christian has the same five point advantage on Christopher Hoyle in Division Nine after five weeks of competition.
Next week the stars of the NASCAR iRacing Class C Series head to the Texas Motor Speedway. They saw everything is bigger in Texas but will that include Hudson's point lead after leaving the race which will signal the end of the first half of this season? Will the black stripes reign supreme again over the 2000 drivers expected to compete over the seven days? Stop in here next week to find out!
Until then, keep the hammer down and we'll see you at the track!
---
You may also like...
---