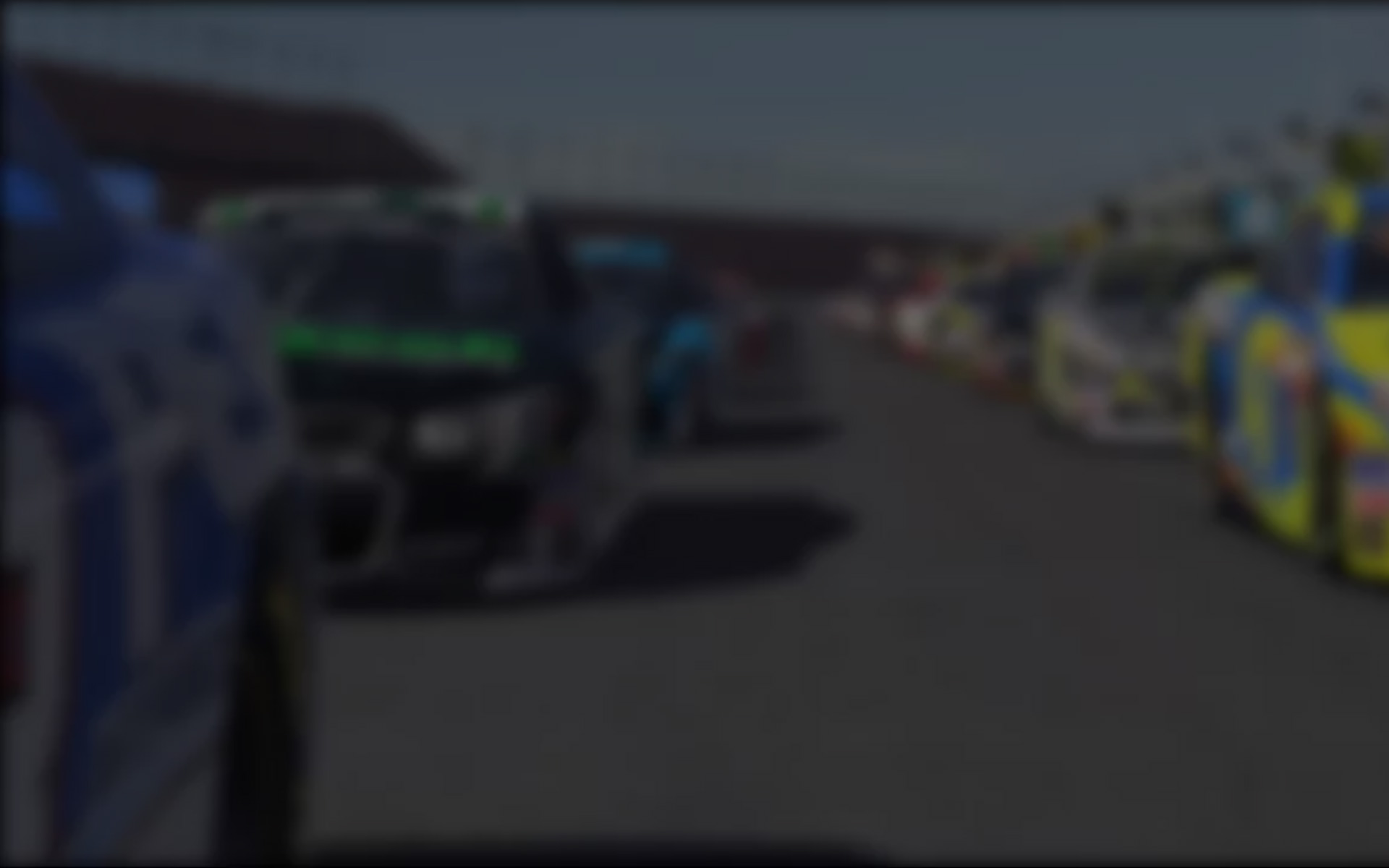 July 27th, 2016 by Jason Lofing (French translation by Renaud LACROIX follows)
Dylan Duval (The TEAM) scored his first career victory in the NASCAR PEAK Antifreeze Series by turning a pit mistake into the race lead and holding-off PJ Stergios (ineX Racing) and Ray Alfalla (Slip Angle Motorsports) on two late-race restarts to win at the Indianapolis Motor Speedway.
Duval had run in the top ten for much of the event before a strange turn of events saw him capture the lead with nine laps remaining. As the laps ticked down, Duval had miscalculated the amount of fuel needed to finish the race and had to pit under green with 15 laps to go. After the stop Duval was thirty-third in the running order with seemingly no chance at earning a solid finish.
However, the caution flew two laps later with Duval still on the lead lap. Nearly every lead lap car pitted for tires, leaving Duval to restart in second position, with fresh tires, alongside Trey Eidson's (Aftermath Motorsports) damaged car. On the ensuing restart Duval quickly overhauled Eidson, who dropped back quickly before being involved in a crash off Turn Two. The caution was a blessing for Duval, who was trying to hold-off the two most dominant drivers in the field – Stergios and Alfalla, but four more potential green flag laps still stood between him and the checkered flag.
When the green flew again Duval jumped out front after a great restart but Stergios quickly erased the small margin and was hot on the leader's tail as they headed down the backstretch. Although he was close, Stergios was not quite in position to challenge for the lead and elected to ride in line as Duval passed under the start-finish line marking three laps to go. As he did on the prior lap, Stergios got a run off Turn Two and this time Duval blocked the bottom line. Instead of forcing the issue, Stergios took the high side, attempting to set up a pass off Turn Four. Unfortunately, he never had the opportunity as a crash back in the field triggered another caution, ending the race with Duval the improbable victor.
Stergios was credited with second while Alfalla was third after leading a race-high 56 of 100 laps. Justin Bolton came home fourth and Mitchell Hunt (High Performance Motorsports) rounded out the top five.
As has been the case for much of the season, Stergios and Alfalla had the cars to beat, leading a combined 79 laps. Stergios had the first crack at the lead after Kenny Humpe's connection trouble allowed Stergios to inherit the pole. It was Alfalla, though, who had the most speed on the long runs, but eight cautions broke up the race into relatively short sprints.
Even with the race not playing out to his strength, Alfalla held the lead after passing Stergios with 17 laps to go and looked poised to take his second win of the season before Duval's strategy was made possible by a timely yellow.
With Stergios (454) finishing just ahead of Alfalla (467) and Alfalla earning the bonus point for most laps led, the championship picture remains unchanged at a 13-point margin after Indy. Jake Stergios is third, 98 points back of the lead and nine in front of Chris Overland. Humpe (350) fell to fifth after a fortieth place result due to a crash after his connection issues put him back in the sim racing traffic while Duval's win propelled him to sixth in the standings with 347 points.
Only five races remain in the 2016 NASCAR PEAK Antifreeze Series, all on unique tracks. Next up is the lone road course date on the calendar: Watkins Glen International. The 2.45-mile road course features high speeds, tight racing, and a chance for some unexpected faces to shine at the front of the field.
Alfalla, Humpe, and the Stergios brothers have been strong on road courses in the past but look for sim racers such as Michael Conti and Nick Ottinger to be contenders as well.
Can Alfalla keep his points lead after an unpredictable race or will PJ Stergios use his extensive road racing experience to close the gap? Catch all the action on iRacingLive in two weeks' time to find out!
Hold-up de Duval au Brickyard
traduit par Renaud LACROIX
Dylan Duval (The TEAM) a remporté sa première victoire en carrière en NASCAR PEAK Antifreeze Series grâce à une erreur dans les stands qui lui a finalement donné la tête de la course. Il a ensuite contenu PJ Stergios (ineX Racing) et Ray Alfalla (Slip Angle Motorsports) sur les deux derniers restarts en fin de course pour s'imposer sur l'Indianapolis Motor Speedway.
Duval s'était maintenu dans le top 10 durant la majorité de l'épreuve jusqu'à ce qu'un étrange retournement de situation ne le propulse en tête, à neuf tours de la fin. Alors que le drapeau à damier approchait, Duval avait mal calculé la quantité de carburant nécessaire pour rallier l'arrivée et devait ravitailler à quinze tours du but. Après l'arrêt, Duval repartait 33è, avec apparemment aucune chance de décrocher un bon résultat.
Cependant, le drapeau jaune sortait deux tours plus tard, tandis que Duval était toujours dans le tour du leader. Presque tout le monde s'arrêtait pour changer de pneus, ramenant Duval en deuxième position, avec des pneus frais, derrière la voiture endommagée de Trey Eidson (Aftermath Motorsports). Au restart, Duval se débarrassait facilement d'Eidson qui dégringolait au classement avant d'être impliqué dans un accident au virage 2. La neutralisation qui suivait était une bénédiction pour Duval qui essayait de contenir deux des pilotes les plus rapides dans le peloton, Stergios et Alfalla, mais quatre tours sous drapeau vert restaient potentiellement à courir avant le drapeau à damier.
A l'abaissée du drapeau vert, Duval réalisait un superbe restart, mais Stergios réduisait très vite l'écart et se collait à son pare-chocs dans la ligne droite arrière. Bien qu'il soit proche, Stergios n'était pas en position de porter une attaque et choisissait de rester dans le sillage de Duval qui passait sur la ligne, avec encore trois tours à parcourir. Comme dans le tour précédent, Stergios voyait une opportunité à la sortie du virage 2 et, cette fois, Duval bloquait l'intérieur. Plutôt que de forcer le passage, Stergios prenait la trajectoire haute pour tenter un dépassement dans le virage 4. Malheureusement, il n'en avait pas le temps car un accident à l'arrière du peloton provoquait un nouveau drapeau jaune, mettant fin à la course et faisant de Duval le vainqueur inattendu.
Stergios se classait deuxième tandis qu'Alfalla était troisième après avoir mené 56 des 100 tours de course. Justin Bolton décrochait la quatrième place et Mitchell Hunt (High Performance Motorsports) complétait le top 5.
Comme ça a été le cas durant la majorité de la saison, Stergios et Alfalla avaient les voitures à battre, menant un total de 79 tours. Stergios se portait le premier en tête grâce aux problèmes de connexion de Kenny Humpe qui lui permettaient d'hériter de la pole. C'était pourtant Alfalla qui se montrait le plus rapide sur les longs relais, mais huit neutralisations transformaient la course en une série de sprints.
Bien que les évènements n'aient pas tourné en sa faveur, Alfalla tenait bon en tête après avoir passé Stergios à 17 tours de l'arrivée. Il semblait en mesure de remporter sa deuxième victoire de la saison jusqu'à ce que la stratégie de Duval soit aidée par un drapeau jaune providentiel.
Stergios (454) finissant juste devant Alfalla (467) et ce dernier marquant un point de bonus pour le plus grand nombre de tours menés, l'écart de 13 points au championnat entre les deux hommes reste inchangé. Jake Stergios est troisième, à 98 points de la première place et 9 points devant Chris Overland. Humpe (350) redescend 5è après que ses problèmes de connexions lui aient coûté un accident et une 40è place à l'arrivée. Grâce à sa victoire, Duval est propulsé à la 6è position du général avec 347 points.
Il ne reste que cinq courses dans la saison 2016 de NASCAR PEAK Antifreeze Series, toutes sur des circuits uniques au calendrier. La prochaine se déroulera sur le seul tracé routier de l'année : le Watkins Glen International. Ce circuit routier de 2,45 miles fait la part belle à la vitesse, aux courses serrées et offre une chance à certains pilotes inattendus de briller aux avant-postes.
Alfalla, Humpe et les frères Stergios ont été performants sur les circuits routiers par le passé, mais il ne faut pas oublier des pilotes tels que Michael Conti ou Nick Ottinger.
Alfalla peut-il conserver la tête du championnat après une course aussi imprévisible ? Ou PJ Stergios va-t-il user de son expérience sur les circuits routiers pour refaire son retard ? Pour le savoir, ne manquez rien de l'action sur iRacingLive, dans deux semaines.
---
You may also like...
---