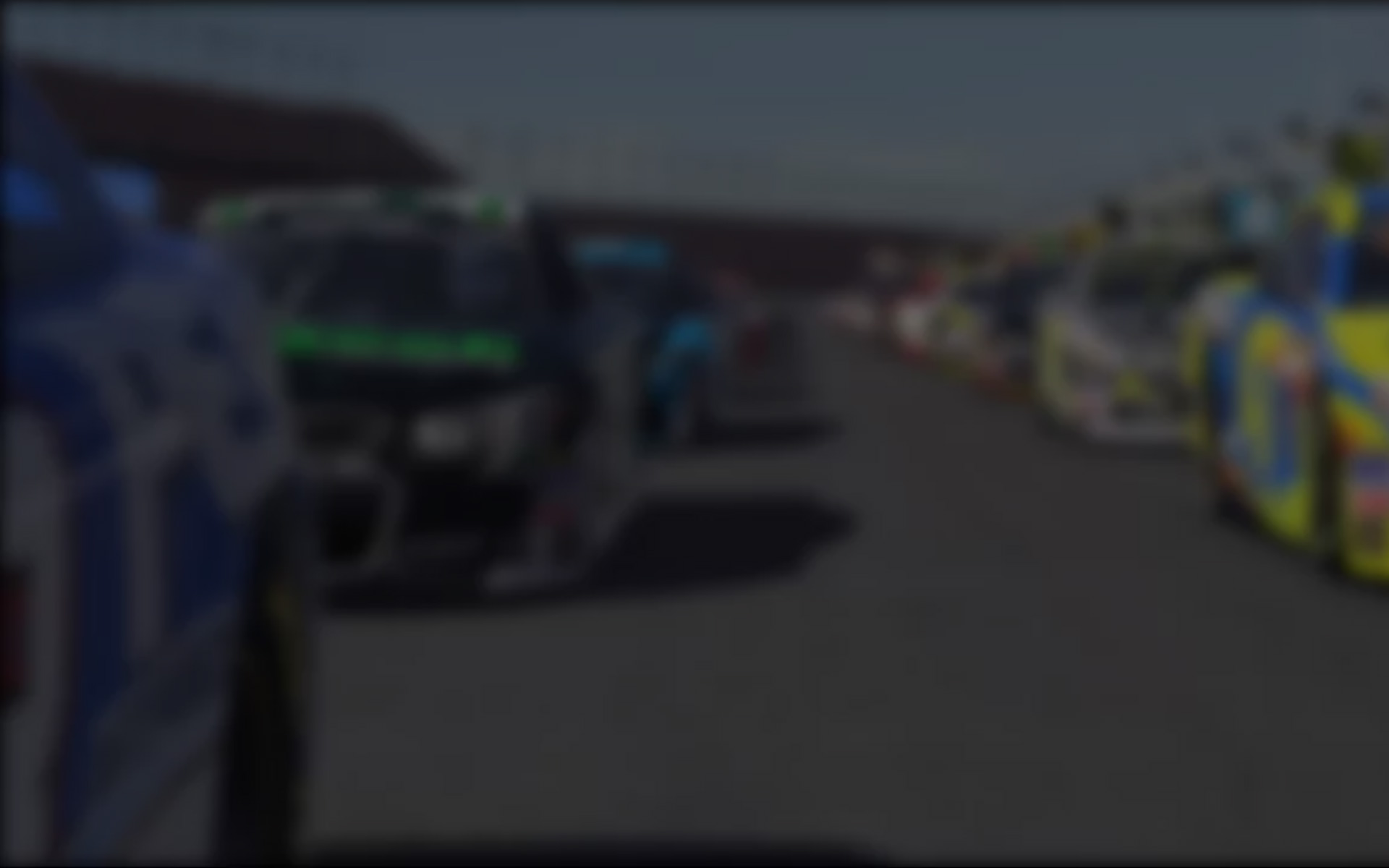 The ITSR Power Series kicked-off its tenth season last Sunday at Michigan International Speedway in a race that had two very different halves: the first slowed by six cautions, and the second with one of the long green-flag runs that are commonplace for the Gen6 series.
A strong field of 32 cars showed up for the 200-mile season opener.  The grid included two past champions, many recent championship challengers, several series stalwarts, and a number of new sim racers looking to make a splash in their debuts.
Series veteran Chad Dalton powered to the pole with a qualifying lap of 185.414 mph.  Dalton led from the drop of the green flag, but the field was slowed by several early cautions as the new and returning drivers got a feel for close-quarters online racing.
The most spectacular crash of the night came on Lap 23, when John Hensley and Larry Hale made contact, sending Hensley's RSO Services Toyota into the frontstretch fencing and sliding on its roof into the grass.
During a round of pit stops on Lap 33, Dalton lost the lead to John Higman Jr., who took just two tires and exited the pits in first place.  Higman held the lead through two more quick cautions, including one caused by three-wide racing gone awry between Corey Davis, Jeff S. Davis, and David Boden.
Under the race's final caution on Lap 54, more pit strategy calls shuffled up the running order.  Brad Collins stayed out and Turn 1 Heroes teammates Mike Kelley and Brian Motisko took just two tires, moving them to the front of the field ahead of Higman, Dalton, and the rest of the former leaders.
Fresh tires prevailed on the restart as Dalton moved back into the lead with Higman just behind.  Defending series champion Timothy Johnston restarted in fifth but fell back to seventh after contact with Motisko and rookie Matt Delk.  However, Johnston kept his Monster Energy Camry within striking distance as the laps clicked off.
A cycle of green-flag pit stops began when Higman and Kelley ducked in for two-tire changes with 26 laps to go.  The next lap, Dalton pitted from the lead for two tires while Johnston took four.  After rookie Adam Hallock pitted on Lap 83, the lead cycled back to Dalton, who led Scott Simley by just over a second.
Johnston was three seconds back in sixth place after the stops were completed, but his four fresh tires paid off as the laps wound down.  He first passed Kelley and Bobby Terrell, then moved past Higman and Simley to take second place with 13 laps to go.
For the next ten laps, Johnston stalked Dalton, taking two to three tenths out of his lead each lap.  With three laps to go, Johnston made a pass for the lead along the frontstretch, and edged ahead in the final laps to begin his title defense with a victory.
Dalton sputtered across the line three seconds after Johnston to finish second.  Matt Delk came home third in his series debut, followed by Robert Lynn and Scott Simley.
The series now heads into an "off" week for Fathers' Day weekend, and judging by the beat-up cars in the Michigan garage, it's a chance for teams to make much-needed repairs before the next race at Las Vegas Motor Speedway.  Robert Lynn won last season at the Diamond in the Desert, so he'll head back there with a chance to double-down on his top-five finish in the season opener.
If you'd like to roll the dice with the Power Series regulars in Vegas, ITSR is always recruiting clean, friendly drivers to join its fixed-setup series.  Along with the Power Series on Sunday nights, the league sanctions a Tuesday Truck Series and a Thursday B-Car Series.  For more information, visit i-t-s-racing.com and sign up.
---
You may also like...
---