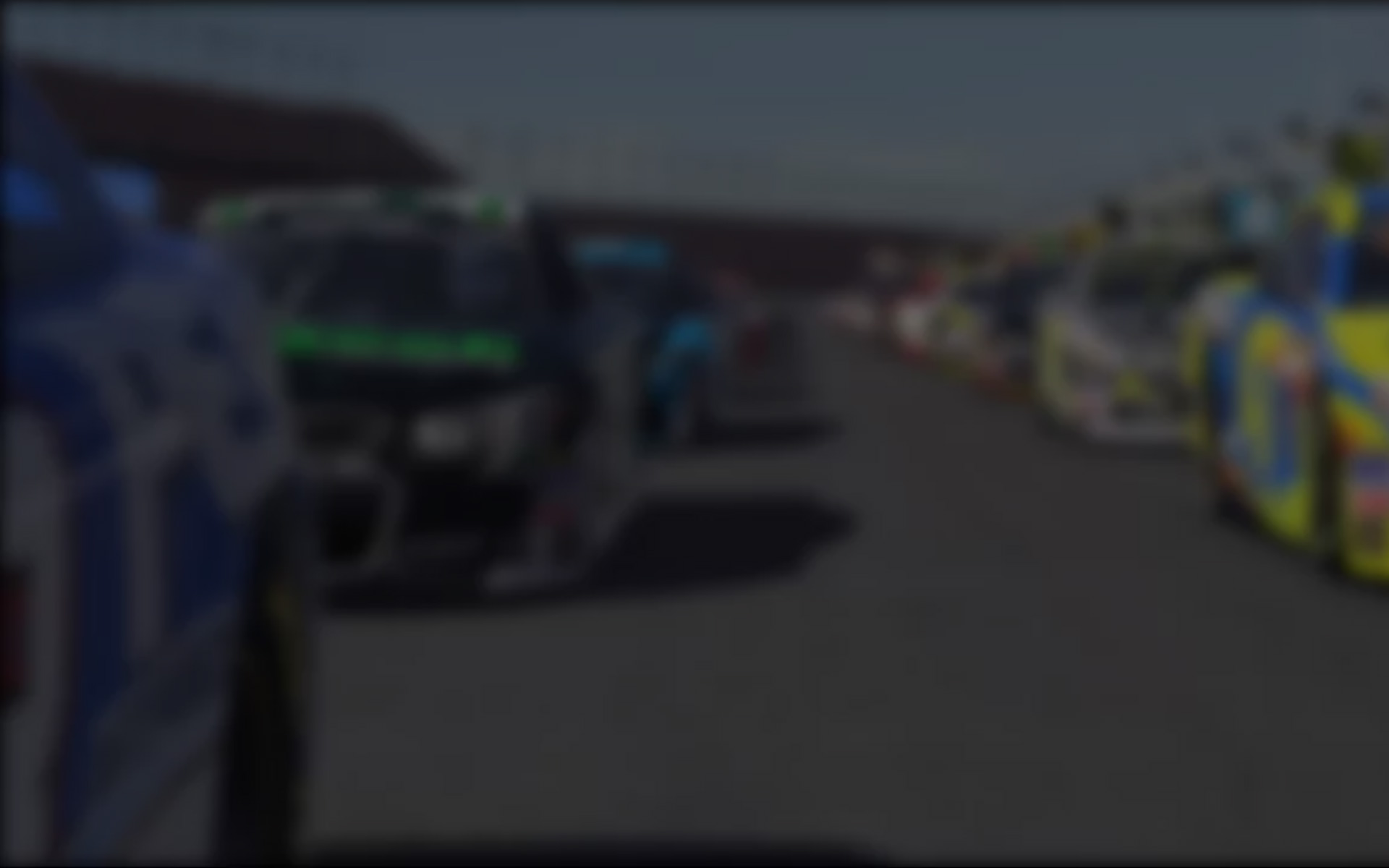 The most revered racing circuit in Australian motorsport, Mount Panorama is a mammoth of a track and one which is not easily tamed. It must be approached with respect as "The Mountain" has deemed some of the greatest V8 Supercar drivers (real and sim) unworthy and purged them from its presence. With the iRacing.com V8 Supercars Series making its stop at Bathurst for Week 10 of Season 3, the pressure was on as all drivers aimed to be the one to take the final official sim racing victory at Mount Panorama in the soon-to-be departing Ford Falcon.
As the drivers arrived at the virtual mountain, many great names were towards the top of the qualifying list but only one could start up front. With a time of 2:06.074, it was Team TTL's John Emerson who took the pole. Beside him was James McKnight of SDC Motorsports. Starting in third was Valvoline Racing/Gary Rogers Motorsports V8 Supercars driver, Scott McLaughlin, alongside Beau Cubis of Hi-Tec Sim-Racing. Rounding out the top-five starting grid was Martin Carroll of SDC Motorsports.
As the lights went off, the drivers got off to a clean start as they all piled into Hell Corner to start the first lap. Making it look easy, the 21 drivers had a relatively clean first lap . . . but then The Mountain woke up.
Coming out of Griffin's Bend on Lap Three, Kamikaze Racing Team driver, Michael Fulcher got sideways. As the rear end of his car snapped to the left, it contact with the Ian Ford's Demidov Motorsports Falcon. The contact sent Ford into the right side wall and caused considerable damage.
Although Fulcher was able to get away for the time being, Ford made a valiant attempt to get his car back to the pits and do the required repairs in order to get back in the race. He made it all the way to Conrod Straight before his engine gave out and he was forced to end his race prematurely and in last place. It was unfortunate event for both drivers as Fulcher also retired a few laps later.
With a top-five gird spot, Carroll was aiming for a clean start which would help him possibly grab a position or two. Although he achieved a good launch, Synergy Sim Racing driver, Dean O'Brien, got a better one. Off the line, O'Brien moved to the outside of Carroll at Hell Corner.  Exiting Hell, both drivers made a slight contact which sent O'Brien into the left side grass on Mountain Straight and caused Carroll to almost lose control. Although both drivers recovered, the incident enabled the front runners to gap the rest of the field as it compressed behind O'Brien and Carroll.
A few laps later, Carroll once again felt the wrath of The Mountain as he went into Griffin's Bend too deep. Missing the apex, Carroll rounded the corner too wide and found himself unable to slow down enough to avoid the wall as the left side of his Ford Falcon collided with the heavy barrier. Although his car was drivable, it was all Carroll could do to get back to the pits before retiring early.
Back up front, Emerson was making his getaway. Quickly putting space between himself and his closest challenger, McKnight, Emerson drove flawlessly through the twist and turns of this treacherous track. Aiding and abetting Emerson's escape was the battle between McKnight and McLaughlin.
McLaughlin was hot on the back bumper of McKnight for the first several laps. He made several attempts to get around his rival but to no avail. Finally, the two drivers swapped positions on Lap Six going into The Chase. Having disposed of McKnight, McLaughlin began his pursuit of Emerson who had a remarkable lead due to the battle which had ensued behind him.
Around Lap 15, many of the drivers began pitting for the fuel needed to finish out the online race. This caused Emerson to temporarily yield the lead to McLaughlin who led two laps before making his own pit stop.
Around that same time, Mitchell McLeod was having a problem of his own. Completing his pit stop, the 4 Motorsports driver made a critical error coming out of Hell Corner on Lap 18. Getting his right rear tire in the grass, McLeod lost control as his Falcon spun back onto the track. The momentum continued as his car plunged nose first into the left side wall on Mountain Straight. Although he was having a promising run which saw him get as high as eighth after starting in tenth, it was a reminder that even the slightest mistake can be costly at Bathurst.
Reclaiming the lead after the pit stop run, Emerson continued his runaway drive which eventually saw him take the win with an eight second margin over second. In fact, if there was ever a thing as a 'Supreme Victory' at Bathurst, it would look something like this:
-Win the race after starting on pole position
-Achieve the fastest lap time (2:07.029)
-Lead the most laps (all but two in Emerson's case)
-Not collect a single incident (Yes, that really happened…in a V8 Supercar…at Bathurst)
It was a monumental run which resulted in a much-deserved win for the veteran sim-racer as he claimed the virtual Peter Brock trophy. Mounting the second step of the podium was Cubis with McKnight on the final step. Tony Autridge ended an excellent run by finishing in fourth after starting in eighth. McLaughin had a bittersweet finish to his race as he was passed in the latter stages of the race by Autridge; nevertheless he managed to finish the virtual Great Race in fifth.
This Australian Strength of Field (SoF) race had a strength of 4230 and was split five times. The top-five finishers from the other splits are as follows:
Split 2/SoF 2662
1-      Michael Cracknell
2-      Todd Parked
3-      Sam Compton
4-      Greg Sharp
5-      Jason Brunton
Split 3/SoF 1956
1-      Glenn R Boyd
2-      Brenton O'Brien
3-      Michael Koroleff
4-      Scott Brown
5-      Nils Jordan
Split 4/SoF 1526
1-      Scott Tate
2-      Luke Betts
3-      Brendon King
4-      Liam Wild
5-      Michael Parigros
Split 5/SoF 859
1-      Jordan Andrews
2-      Robert Klanke
3-      Eamon Young
4-      Joseph Zubovic
5-      Andrew Cooper
With the final official running of Bathurst in the current V8 model, fans and drivers alike are looking forward to putting the incoming Holden VF Commodore V8 through its proper paces in the coming weeks and at its first running of Bathurst in the next (short) season. Right now, however, all eyes are fixed on Circuit Gilles-Villeneuve for Week 11 of Season 3. Otherwise known as Montreal, this circuit is a favorite among many V8 drivers for its long straights, its technical chicanes and all 2.71 miles of its Canadian glory. Composed of 13 varying turns, Montreal is well known for its famous "Wall of Champions" which can sometimes be very busy depending on how ambitious the drivers are feeling. Needless to say, Week 11 of Season 3 will be an exciting race that you won't want to miss!
On a personal note, it's a true pleasure to see real drivers such as McLaughlin participating in official iRacing sessions and do so competitively. It's a welcome reminder of how close these cars are to their real-life counterparts and also a tribute to the skill of our iRacing.com V8 Supercar drivers. Let's all make sure we wish Scotty the best of luck this weekend as he races the Volvo Polestar S60 at the Supercheap Auto Bathrust 1000.
---
You may also like...
---