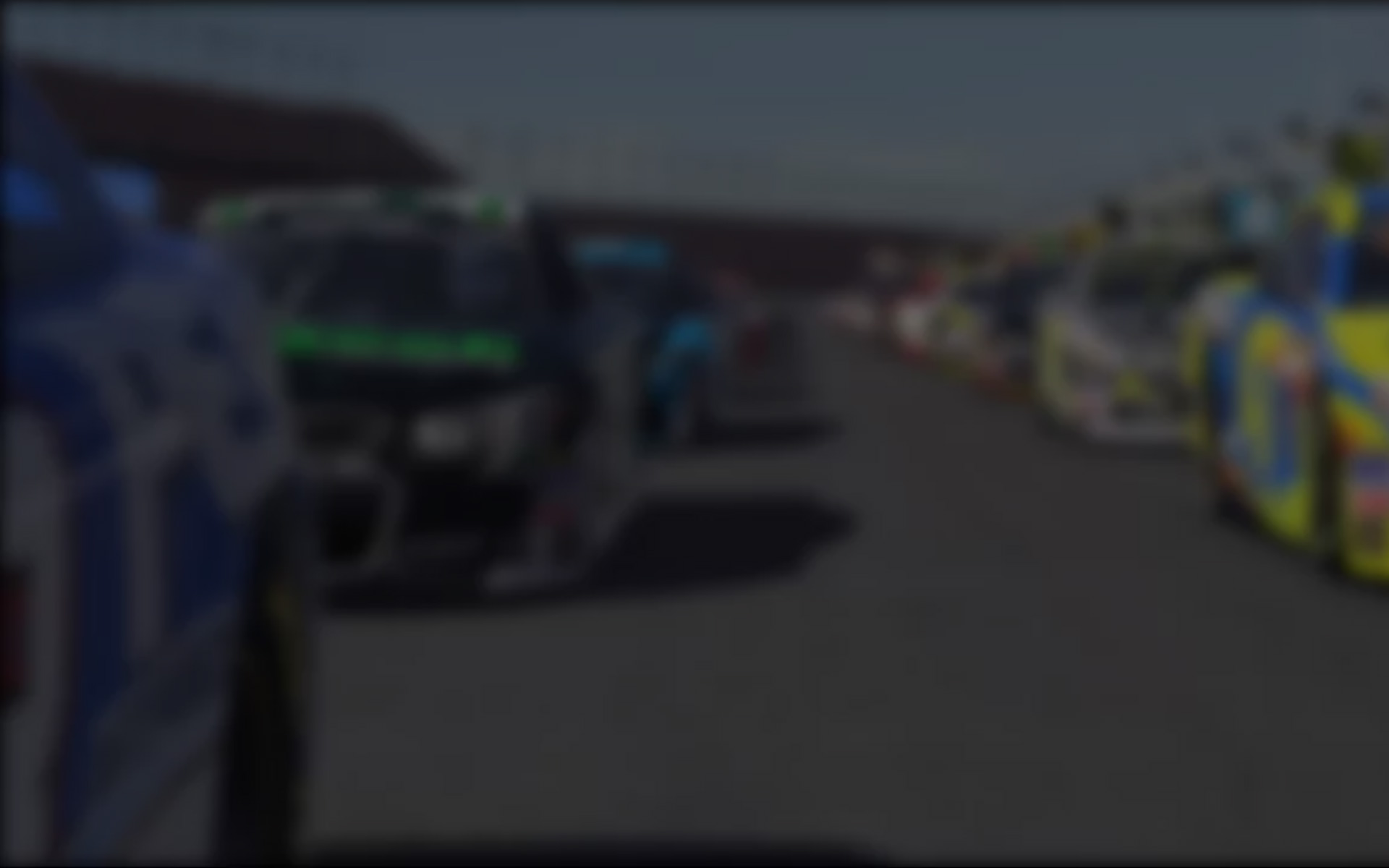 Tonight's the night: at the conclusion of their next race, the four drivers who will race for the 2019 eNASCAR PEAK Antifreeze iRacing Series championship at Homestead-Miami Speedway will officially be set. But with a brand new track in front of them, which four drivers lock themselves into those spots are anyone's guess.
The Charlotte Motor Speedway Roval makes its series debut in Tuesday's event, after debuting on the real-world Monster Energy NASCAR Cup Series schedule last year to great fanfare. This year's Roval layout has been tweaked slightly from last year's, with an adjustment to the backstretch chicane adding yet another wrinkle to one of the most popular events of the NASCAR season.
So far, none of the eight drivers who qualified for this year's playoffs have locked themselves into title contention at Homestead with a race victory. Burton Kligerman Esports' Ashton Crowder took the checkered flag in the playoff opener at Darlington Raceway, while Renegades' Corey Vincent scored his first win in three years at Indianapolis Motor Speedway when regular season champion Blake Reynolds of Team Dillon Esports ran out of gas coming to the finish line.
That leaves G2 Esports' Keegan Leahy, the incoming PEAK points leader, as the driver with the best shot at going to Homestead. Leahy holds an 11-point lead over second place Zack Novak of Roush Fenway Racing, but more importantly, he's nearly a full race (39 points) clear of fifth place Ryan Luza of Flipsid3 Tactics. That means that it'll take a highly unique set of finishes for Leahy to be the odd man out—and considering his excellent performance in recent events, that's not likely. The good news for eighth place Bobby Zalenski, meanwhile, is that he's a road course specialist with a win at Sonoma Raceway already this year; another victory clinches his spot in the final round.
The battle for a top-20 position and guaranteed berth in the 2020 season is also tightening up with just two races remaining. Independents Ryan Lowe and Dylan Duval are separated by a single point in 20th and 21st; meanwhile, the point span between 15th place Brad Davies and 25th place Michael Guariglia is just 35, an easily attainable margin with strong finishes in the final two races.
The eNASCAR PEAK Antifreeze iRacing Series round from the Charlotte Motor Speedway Roval will go live tonight at 9PM ET. Be sure to tune in to the iRacing eSports Network on Facebook, Twitch, and YouTube to watch all the action. The season finale from Homestead will air live on NBCSN's NASCAR America on Thursday, October 10 at 5PM ET, as drivers race for their share of a prize pool worth over $120,000.
Driver Profile: Ryan Luza
One of the eNASCAR PEAK Antifreeze iRacing Series' most well-known drivers, Ryan Luza was selected second overall in the inaugural Driver Draft this winter by Flipsid3 Tactics. The 22-year-old Texan burst onto the scene two years ago with five victories and the championship as a series rookie, and won four more races in an encore runner-up performance in 2018.
This year, Luza wasted no time acclimating to his new ride by scoring three of the first five wins of the season at Las Vegas, Texas, and Richmond. Coming into the penultimate round of the season, Luza sits fifth in the playoff standings, just 13 points behind the cutoff to advance to Homestead-Miami Speedway next month for a shot at his second championship in three years.
---
You may also like...
---