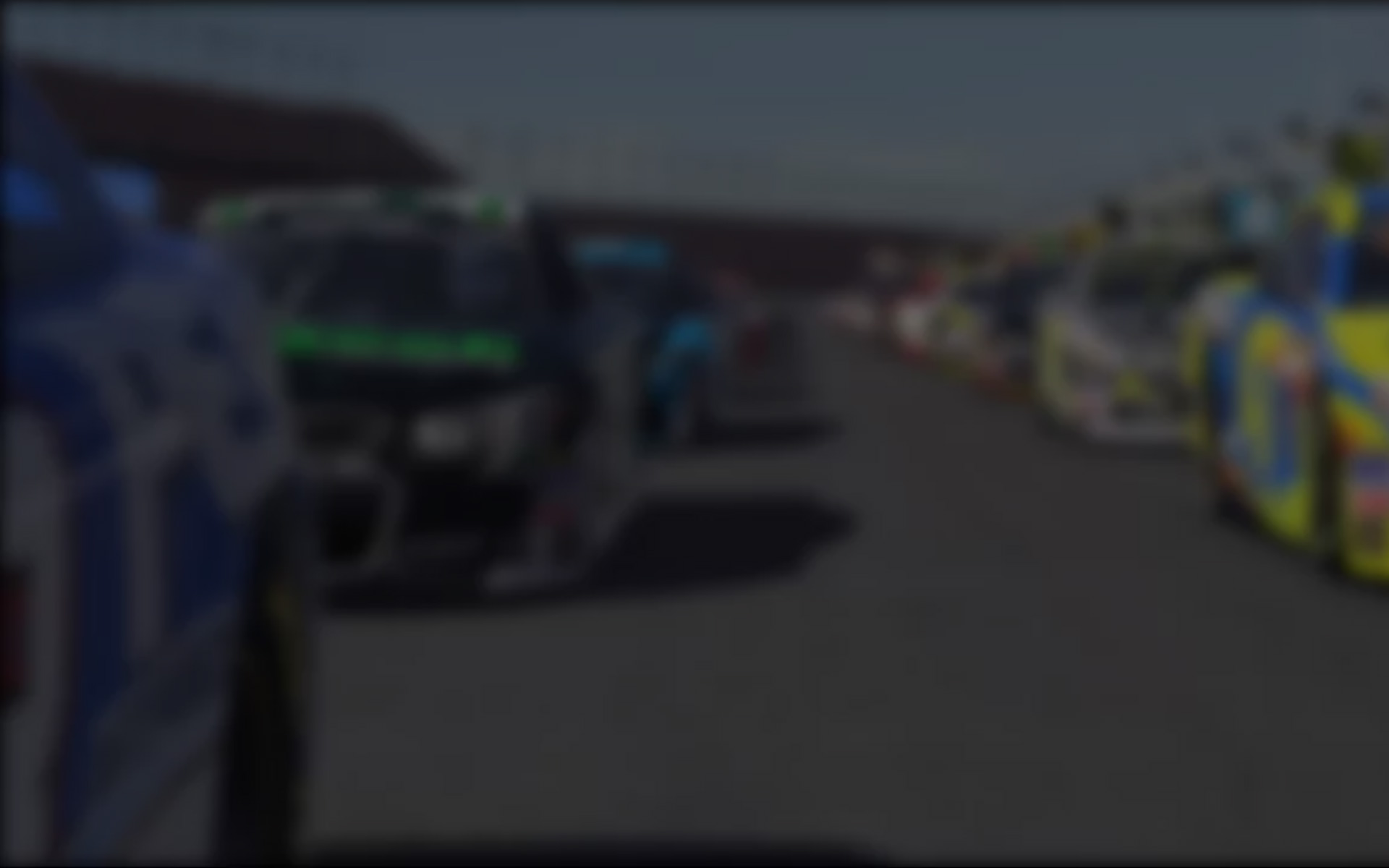 June 10th, 2016 by Renaud LACROIX
Unexpectedly, the European MX-5 Cup Finals at Mazda Raceway Laguna Seca didn't produce as many thrills as the some of the previous championship races. The high stakes at play forced the drivers to show patience in the opening laps . . . until a crash took three major sim racers out of contention and went a long way towards deciding the final result.  In the end, Kamil Franczak, Jérémy Bouteloup and Aday Coba Lopez stepped onto the podium and will be invited to the Friends of MX-5 Training/Evaluation event July 1-4 in Barcelona, where they will compete for the chance to drive a real race car in the MX-5 Global Cup Finale later this year.
Extending an impressive streak of pole positions during the regular season, Franczak lapped the virtual Mazda Raceway Laguna Seca almost three tenths of a second ahead of Bouteloup in qualifying.  It was no surprise to find two other contenders for the win on Row Two: Jesus Sicilia and Coba Lopez. Dawid Nowakowski and Giuseppe Curri qualified on the third row, while Evan Maillard rejoined the European MX-5 Cup just in time for the finale, posting the seventh best time, to line-up beside Pablo López on the grid.
As has been the case in recent events, the field of Global MX-5 cars raced cleanly through the first corners with Bouteloup showing his experience by tucking behind Franczak at the start rather than trying an unconsidered move. Sicilia and Coba Lopez were equally patient, which allowed the four leading sim racers to quickly pull away from a pack whose numbers were reduced when Piotr Smialek went hard into the wall after contact with Adria Perez Soler.
The waiting game benefited Franczak who opened a useful gap over Bouteloup for the lead. Coba Lopez completed the race's first decisive pass when he wrested third place from Sicilia in the Andretti hairpin, allowing Maillard and Curri to join the mix for a spot on the podium in the process. After a few minutes of observation behind Bouteloup, Coba Lopez tried his luck in a bid for second place. As the French sim racer held him at bay, Sicilia nearly took advantage of the situation by passing Coba Lopez, only to be himself threatened by Maillard.  After a few hectic corners of side-by-side sim racing, the status quo was restored with Bouteloup heading Coba Lopez, Sicilia and Maillard in the chase of the rapidly disappearing Franczak.
After a temporary truce, hostilities resumed in the second half of the race. Franczak's solo run for the lead meant just two qualifying spots for the trip to Barcelona were available. The turning point of the event occurred near the endd of lap . With time and laps running out, Sicilia sneaked to the outside of Coba Lopez, entering the Corkscrew. He was unable to complete the pass, but it opened the door for Maillard who ran side-by-side with Sicilia for the next two corners. The Spaniard managed to repel the attack in Turn 10, but he hadn't heard the last of Maillard. Despite a defensive move from Sicilia, the French sim racer forced his way to the inside under braking for the last corner. This late maneuver resulted in contact and sent both cars into the pit wall.  Following closely behind, Curri had nowhere to go and piled into the stricken MX-5s.
The crash broke the train of cars and left each of the three leaders running alone, focused on driving mistake-free laps rather than attacking the driver ahead or defending their position.  Meanwhile, having gained three positions at the expense of Sicilia, Maillard and Curri, López was doing everything he could to catch Coba Lopez in the hopes of securing the third and final ticket to Barcelona.
The order remained changed to the checkered flag as Franczak took the win, four seconds ahead of Bouteloup and five ahead of Coba Lopez with López coming home a disappointed fourth. The other top 10 finishers included Dave Gelink, Kristian Kwietniewski, Perez Soler, Nowakowski and Norbert Leitner.
"This was really tough," conceded a victorious Franczak. "I have been preparing for this race.  It's really difficult to be consistent, especially here at Mazda Raceway Laguna Seca.  I tried to focus on the race but after crossing the line, I was so excited! I'm so happy to go to Barcelona!"
Franczak will be joined in Barcelona by Bouteloup and Coba Lopez for the Friends of MX-5 Training/Evaluation. The three sim racers will undergo an intensive program featuring real world track time, including skills and technique training, as well as simulation racing at Mazda Space and the Parc Motor Circuit.  Mazda will then select one driver for the chance of a lifetime: the opportunity to drive a real race car in the MX-5 Global Cup Finale at Mazda Raceway Laguna Seca later this year.
Finale de l'European MX-5 Cup : victoire logique pour Franczak
par Renaud LACROIX
Paradoxalement, la finale de l'European MX-5 Cup n'a pas produit autant de suspense et de spectacle que les précédentes courses du championnat. La taille de l'enjeu a forcé les pilotes à faire preuve de patience dans les premiers tours… jusqu'à un accrochage qui a éliminé trois des plus gros prétendants et scellé le résultat. Kamil Franczak, Jérémy Bouteloup et Aday Coba Lopez formaient le podium et seront donc invités à Barcelone, du 1er au 4 juillet prochains, pour subir un entrainement en conditions réelles au Mazda Space et sur le Parc Motor Circuit.
Auteur d'une impressionnante série de pole positions durant la saison régulière, Franczak n'a pas changé ses habitudes sur le Mazda Raceway Laguna Seca en devançant Bouteloup de presque trois dixièmes sur la première ligne. Sans surprise non plus, on retrouvait deux autres prétendants à la victoire derrière eux : Jesus Sicilia et Coba-Lopez. Dawid Nowakowski et Giuseppe Curri se tenaient en embuscade sur la troisième ligne, tandis qu'Evan Maillard faisait son retour en European MX-5 Cup juste à temps pour la finale, 7è sur la grille aux côtés de Pablo López.
Franczak est déjà hors de portée, mais la bataille est loin d'être finie derrière lui entre Bouteloup, Coba Lopez, Maillard, Sicilia et Curri.
Une nouvelle fois, les dix-neuf Global MX-5 au départ passaient les premiers virages sans incident et Bouteloup se montrait sage en se rabattant vite derrière Franczak, sans tenter de manœuvre inconsidérée. Sicilia et Coba Lopez se montraient tout aussi patients, ce qui permettait aux quatre hommes de rapidement se détacher du reste du peloton. Piotr Smialek était le premier pilote éliminé après un contact avec Adria Perez Soler qui l'envoyait dans le mur.
Le jeu d'attente faisait les affaires de Franczak qui distançait peu à peu Bouteloup en tête. Coba Lopez jouait alors le premier coup en passant Sicilia pour la troisième place dans l'épingle Andretti. Le duel profitait à Maillard et Curri qui revenait dans les roues de ce groupe de chasse.
Après quelques minutes passées à observer Bouteloup, Coba Lopez portait une attaque en vain et Sicilia tentait d'en profiter pour passer. Repoussé à son tour, Sicilia subissait la même punition de la part de Maillard… qui n'avait pas plus de succès.
Les positions restaient donc figées et un deuxième round d'observation commençait. L'échappée de Franczak signifiait qu'il ne restait plus que deux positions qualificatives à disputer à la régulière. Il fallait attendre les dix dernières minutes pour assister au véritable tournant de la course. Sicilia portait une attaque extrêmement risquée sur Coba-Lopez à l'extérieur, en entrant dans le Corkscrew, et ouvrait ainsi la porte à Maillard qui se portait à sa hauteur pendant les deux virages suivants. Le pilote espagnol le repoussait dans le virage 10, mais Maillard n'avait pas dit son dernier mot. Malgré un mouvement de défense de Sicilia qui bloquait la trajectoire intérieure dans le dernier virage, le Français forçait le passage et harponnait son adversaire. Les deux hommes partaient en travers dans le mur des stands, piégeant Curri qui ne pouvait éviter le contact.
Ce carambolage cassait le train et créait des écarts qui allaient permettre aux leaders de se concentrer sur leurs trajectoires au lieu de défendre leur position. Bouteloup et Coba Lopez avait enfin de l'air pour respirer, avec une confortable avance sur López qui, malgré trois places gagnées d'un coup, restait éliminé du Final Shootout à Barcelone.
Le classement n'évoluait plus jusqu'à l'arrivée et Franczak s'imposait avec quatre secondes d'avance sur Bouteloup et cinq sur Coba Lopez. Le reste du top 10 se composait de López, Dave Gelink, Kristian Kwietniewski, Perez Soler, Nowakowski et Norbert Leitner.
« C'était vraiment dur » commentait Franczak après la course. « Je me suis préparé pour cette course, c'est vraiment difficile d'être constant, particulièrement ici à Mazda Raceway Laguna Seca. J'ai essayé de me concentrer sur la course, mais après avoir franchi la ligne, j'étais tellement excité ! Je suis si heureux d'aller à Barcelone ! »
Franczak, Bouteloup et Coba Lopez seront donc invités à Barcelone pour l'European MX-5 Cup Final Shootout où ils seront départagés par Mazda Europe au cours d'épreuves de simulation et un entrainement en conditions réelles sur le Parc Motor Circuit. Le grand vainqueur gagnera le droit de participer à la finale de la MX-5 Global Cup à Laguna Seca.
---
You may also like...
---