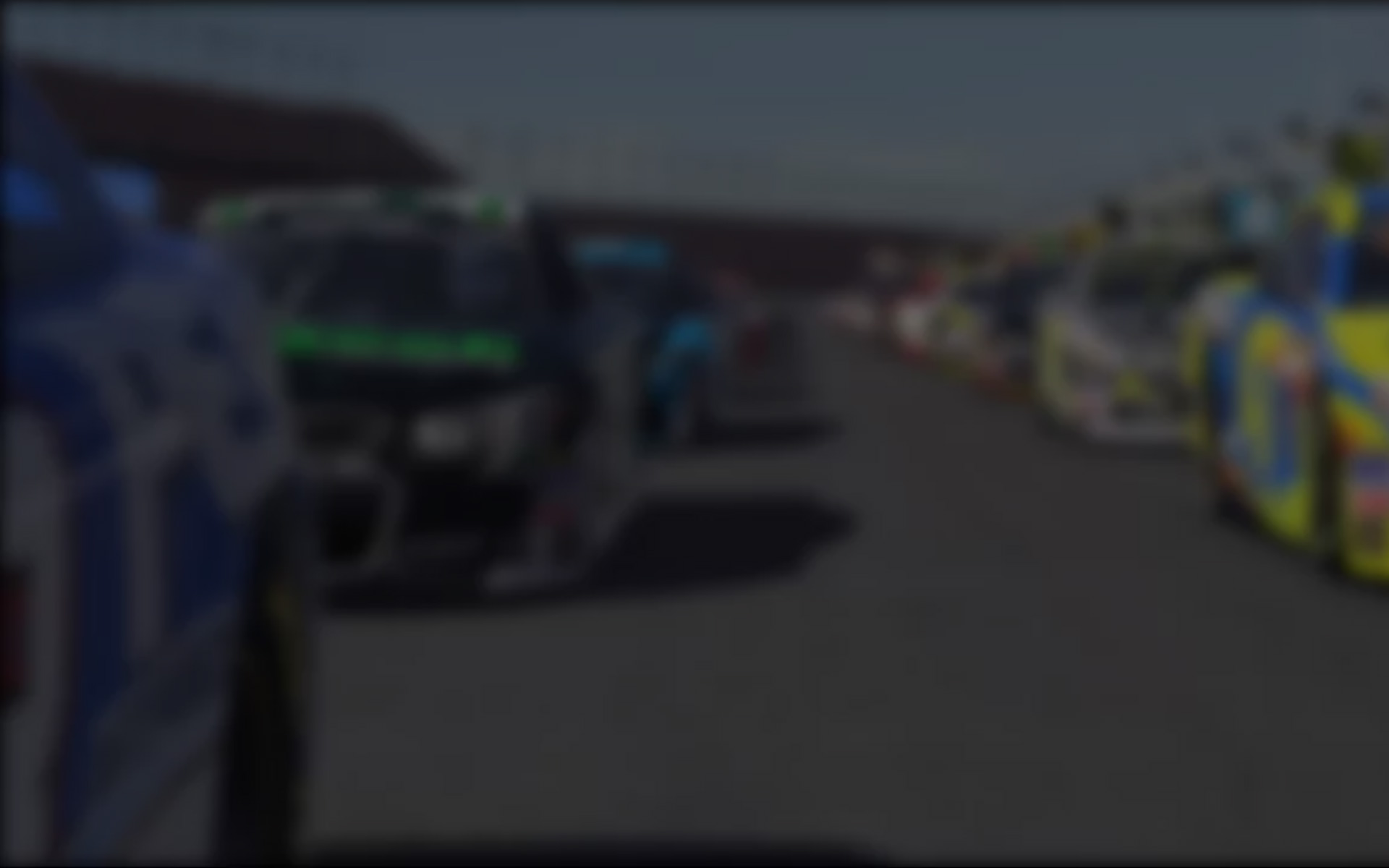 Bristol, Tennessee was a welcome site to the drivers participating in the NASCAR iRacing.com Class B Series Open as Week 4 of the first season of 2015 was back on familiar ground after a dead week overseas at Twin Ring Motegi.
After just two official races the week before in the Land of the Rising Sun, it was back to business as usual on Bristol Motor Speedway's .533 mile high banked oval.  Although not hugely participated in as drivers guarded their safety ratings, 16 races went official in Week 4 with 135 drivers taking part in the mayhem that is known as Bristol week.
Shannon Segler came to the virtual Thunder Valley with a slim one point lead over BRB Motorsports teammate, Randall Faulks, with another team member, Jeff Baki Jr., just lurking 10 points back.
As it has become customary, the 9:00pm EST race on opening night turned out to be the feature race with all title hopefuls in attendance.  The strength of field was pushed up to a 4008 with several high iRating drivers making a brief appearance in the series.  A total of 24 cars took the green flag for the 110-lap event.
The two time defending champion of the series, Lowline Racing's Trent Ringler started from his usual pole position spot with Faulks flanked to his outside.
Ringler led the first nine laps before finding trouble which handed the lead over to another of his Lowline Racing teammates, Brian Ammerman.  Ammerman went on to lead the next 45 laps before finding trouble of his own to give-up the lead to Faulks.  After pit stops, Jake Hayes briefly took over the lead before Faulks commandeered the lead for good on Lap 59 and going to lead a total of 54 laps en route to win a race that ended on the final of six caution periods.
"Getting a huge win like this and taking the points lead says a lot about our team." – Randall Faulks
"I knew heading into Bristol we would have a good car," said Statesville, NC's Randall Faulks.  "This has become one of my favorite places to race.  Getting a huge win like this and taking the points lead says a lot about our team and where we want to take this.  I had to bash it up a little bit, but we overcame all that and got the win."
With the win, Faulks struck pay dirt and pulled down 255 championship points while also setting the fastest lap of the race at 15.827 seconds.  Baki Jr. took home a nice haul of points for his second place showing with 243 while Lowline Racing's John Mycka came home third for 232 points, vaulting him back into the Division 2 Championship picture.  Tristan Combs, also with Lowline, grabbed fourth with 221 points while BRB's Jason Lupo scored 210 points with his fifth place finish allowing him to take over the points lead in the second division.
None of the other 15 races during the week came close to the SOF of Monday night's barn burner, so the top five from the feature race were also the top five for the week.  Of the five, only Faulks ran more than one race at Bristol.
James Wenzel led the week with the most starts (eight) while turning 867 dizzying laps.  Adam Burley, Brian Lovingood, and Tony Monge were the only drivers to win more than one race for the week with Lovingood leading the most laps at 291.  Monge ran 220 incident-free laps for the week earning the Safe Driver Award.
His Bristol week performance allowed Faulks to regain the championship lead with a third of the season in the books.  Faulks' 836 points leads second-placed Baki Jr. by 21 points with Segler droppeing from the lead to third place and now trailing Faulks by 109 points.  Lovingood holds down fourth 143 back while Combs moves into the top five trailing by 200.
Division winners for the Week 4 at Bristol were:  1 – Randall Faulks 255 (Carolina).  2 – John Mycka 232 (Virginias).  3 – Shawn Alred 135 (Mid-South).  4 – Jason Metcalfe 100 (Canada).  5 – Ron Merrill 104 (Plains).  6 – Brian Bennett 86 (Carolina).  7 – Christopher Hunter 75 (Mid-South).  8 – Gerard Jolie 52 (Canada).  9 – Joey Wiles 27 (Ohio).  10 – Ryan Broderick 8 (Pennsylvania).
Division leaders following Bristol are:  1 – Randall Faulks 836 (Carolina).  2 – Jason Lupo 616 (Mid-South).  3 – Robert Dillow 435 (Virginias).  4 – David Spencer 402 (California).  5 – Eric Welch 242 (New England).  6 – Mason Keller 147 (Indiana).  7 – Christopher Hunter 203 (Mid-South).  8 – Philip De Nardo 178 (Pennsylvania).  9 – Jimmy Bridgland 75 (Pennsylvania).  10 – Jonathan Morrison2 49 (Texas).
Week 5 keeps the theme of the first half of the schedule as the series stays on smaller tracks.  Iowa Speedway will play host to the NASCAR iRacing Class B Series Open championship on its .875-mile oval.  Much like Bristol, passing is traditionally tough at Iowa so the drivers fighting for championship spots will have to fight for every spot to stay in contention as the sim racing season nears the half-way point.
---
You may also like...
---