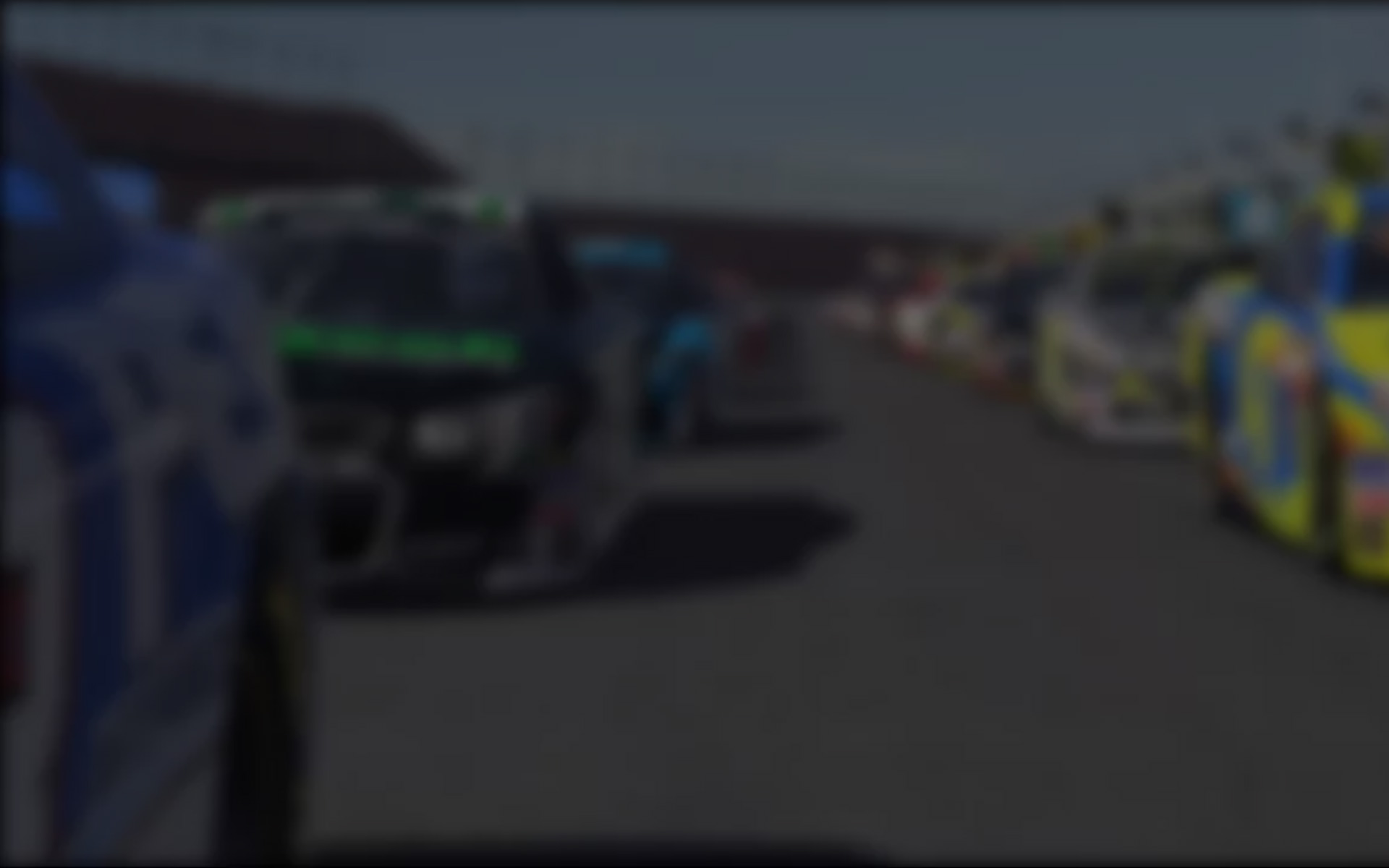 Although Filsell made off with the final with of Season 4, Cubis also had reason to celebrate.
It's no wonder why drivers are often in awe of the great Mount Panorama Circuit. While it seems that every inch of the 6.2 km track can both excite and intimidate, it  also has a unique talent to lash out with such brutality that one's race can be over in an instant.
Such was the case during the Season 4 finale of the 2014 V8 Supercars Series. The final Holden-only event went out with a bang as many top-drivers both started and ended their race on the first several laps of the 33-lap online event.
Taking the final official pole-position in 2014 was ANZ Motorsports' Jarrad Filsell, with an unprecedented time of 2:02.380. Starting beside Filsell and hoping to seal-off what's been a strong season with a win at The Mountain was Evolution Racing Australia (ERA) driver and Season 3 defending champion, Beau Cubis. Comprising the second row of the starting grid were Cubis' teammate, Ian Ford and 4 Motorsport driver, Mitchell McLeod, as Sam Sutton rounded out the top-five.
The Mountain had other plans…
As the lights went green, 25 Holden VF Commodores raced towards Hell Corner and up Mountain Straight. However, one driver in particular didn't have the start he had planned.
For McLeod, getting off the line cleanly enough was about the only thing that went right for the former champion. Approaching Hell Corner, McLeod ran wide and momentarily went sideways as his car and grip briefly parted ways. This caused an even tighter compression of the field as several drivers made the pass on the slower 4 Motorsport driver. At one point while going up Mountain Straight, McLeod went three-wide with SDC Motorsports' Michael Cracknell and Jake Burton of KustomImage Motorsports as they passed on the outside.
McLeod's problem came to a boiling point approaching Griffin's Bend. As Synergy Sim-Racing driver Michael Schreyer made the pass on McLeod just before the right-hander, McLeod either didn't brake hard enough or did so too late as he drilled into the back of Schreyer.  The resulting carnage sent both drivers hard into the tire-wall and, ultimately, out of the race before completing a single lap.
Later on the same lap, Richard Aylward of Mad Cow Racing was given a nudge by ERA driver, Matthew Thomson, at Skyline. Attempting to make the pass on Aylward at one of the "dodgey-est" spots on the first lap of the race, Thomson sent Aylward into an irreversible spin.  Merely a passenger at that point, the Mad Cow driver smashed hard into the wall and Thomson before coming to a stop just before The Esses. Although Thompson was able to make a getaway and continue, Aylward was forced to retire from the online event prematurely.
Moving Up
With many competitors succumbing to their wounds over the course of the 33-lap event, several drivers were able to move up through the field with ease. Such was the case for some of the International drivers like Alfredo Boluda Serrano, who started the race in twenty-first and advanced to fourteenth despite being speared by Sam Sutton on Lap 22. Similarly, Mario Vlasic, who had started in twenty-third, went on to finish the race in twelfth.
"Local" drivers like Garry Dawkins, Greg Sharp and Michael Healey proved to be the big winners as they moved up a total of 26 positions between the three of them.
Just one mistake
Many are keenly aware that past success means nothing when driving on The Mountain and that one mistake is all it takes to end your race. As such, it was Season 4 champion-elect, Beau Cubis, who went into The Esses too fast and was unable to slow the heavy Holden in time. Taking a hard hit against the tire barrier, Cubis regained control for the time being but soon made more contact with the wall moments later. The second hit was the final nail in the coffin as Cubis sustained heavy damage as his Commodore spun and collided with another car. Unable to get it back to the pits, Cubis' hopes for a Bathurst victory to top his season off were dashed as he was forced to retire from the event.
Checkered flag
From the start of the race to the very end, Filsell was the image of domination. Leading 30 of the 33-laps, Filsell breezed home to win the final event of the year with over a 13-second margin. Coming in second position was Ford who also set the fastest lap of the race with a 2:02.891 while Sutton managed to take the final step of the podium. Starting from seventh position, Joshua Burdon of JFF Racing took home fourth while SDC Motorsports driver, Martin Carroll, rounded out the top-five after starting in tenth.
It proved to be a hard fought battle for those who participated as only 11 of the 25 cars completed the race on the lead-lap.
This Australian Strength of Field (SoF) race had a strength of 3792 and was split four times. The top-five finishers from the other splits were as follows:
| | | |
| --- | --- | --- |
| Split 2/SoF 2304 | Split 3/SoF 1631 | Split 4/SoF 1018 |
| 1-Brendon King | 1-Liam Wild | 1-Peter Goodwin |
| 2-Chris Coxhead | 2-Robby Thomae | 2-Robert Klanke |
| 3-Chris Dickinson | 3-Craig Jones | 3-Jordan Repetto |
| 4-Rhys Goldfinch | 4-Jason Cossey | 4-Haydn Felici |
| 5-Scott Connors | 5-Kade Bellaney | 5-Kade Reid |
The Champion
Despite his early exit from the final event at Bathurst, congratulations are in order for Cubis as he takes home the 2014 Season 4 iRacing.com V8 Supercars Series championship with 1133 points. After taking his second championship in a row, Cubis has a lot to look forward to next season as he looks to lead the ERA team towards yet another championship-winning year.
Taking the second step of the Season 4 championship podium is SDC Motorsports driver, Chad Chastain, with 1064 points. Although Chastain didn't compete in the final event, the American made quite an impression with his win at Phillip Island last week and also his consistent running throughout the season.
Taking the final step of the podium is Ford with 1053 points. A fellow ERA driver with Cubis, Ford has also run consistently and has been on nearly every podium this season.
Although it was only a six-week season, there were still many hard battles being fought all over the various divisions which make up the iRacing.com V8 Supercars Series.
Listed below are the top-three finishers from all of the divisions.
| | | | |
| --- | --- | --- | --- |
| Division 2 | Division 3 | Division 4 | Division 5 |
| 1-Michael Cracknell | 1-Matthew Thomson | 1-Adrian Hunter | 1-Brendon King |
| 2-Aaron Hamilton | 2-Philip Johansson | 2-Adam Crocker | 2-William Bailey |
| 3-Todd Parkes | 3-Matthew A Vince | 3-Geoff Belt | 3-Nicholas Parker |
| | | | | |
| --- | --- | --- | --- | --- |
| Division 6 | Division 7 | Division 8 | Division 9 | Division 10 |
| 1-Jeff Gauci | 1-Brock Glasgow | 1-Adam Hyland | 1-Peter Symons | 1-Lukasz Kurek |
| 2-Tony Clarke | 2-Bruce Kielly | 2-Dave Dudley | 2-Benjamin Syron | 2-Kevin Haase |
| 3-Clifford Chapman | 3-Jordan Andrews | 3-Chris Kelly | 3-Lyle Wright | 3-Leslie Jahn |
The battle begins
With Season 4 coming to a close, it is with full expectation that we now turn our eyes toward Season 1 of 2015. The new season brings with it the new Ford Falcon COTF which will do battle alongside its Holden counterpart for the first time in iRacing history. The iconic Ford vs. Holden battle has been waged for decades and now it continues on in the virtual world.
Week 7 gives us a sneak preview of what is to come as we see the new Ford going head to head with the Holden at Phillip Island. While both cars are identical in almost every way, some would argue that they're like fire and ice; one is red while the other is blue.
For many, that's enough to be complete opposites.
Thank you for keeping up with the iRacing.com V8 Supercars Series throughout 2014 on iRacingNews! Be sure to stick around as the sim racing excitement is only just beginning.
---
You may also like...
---