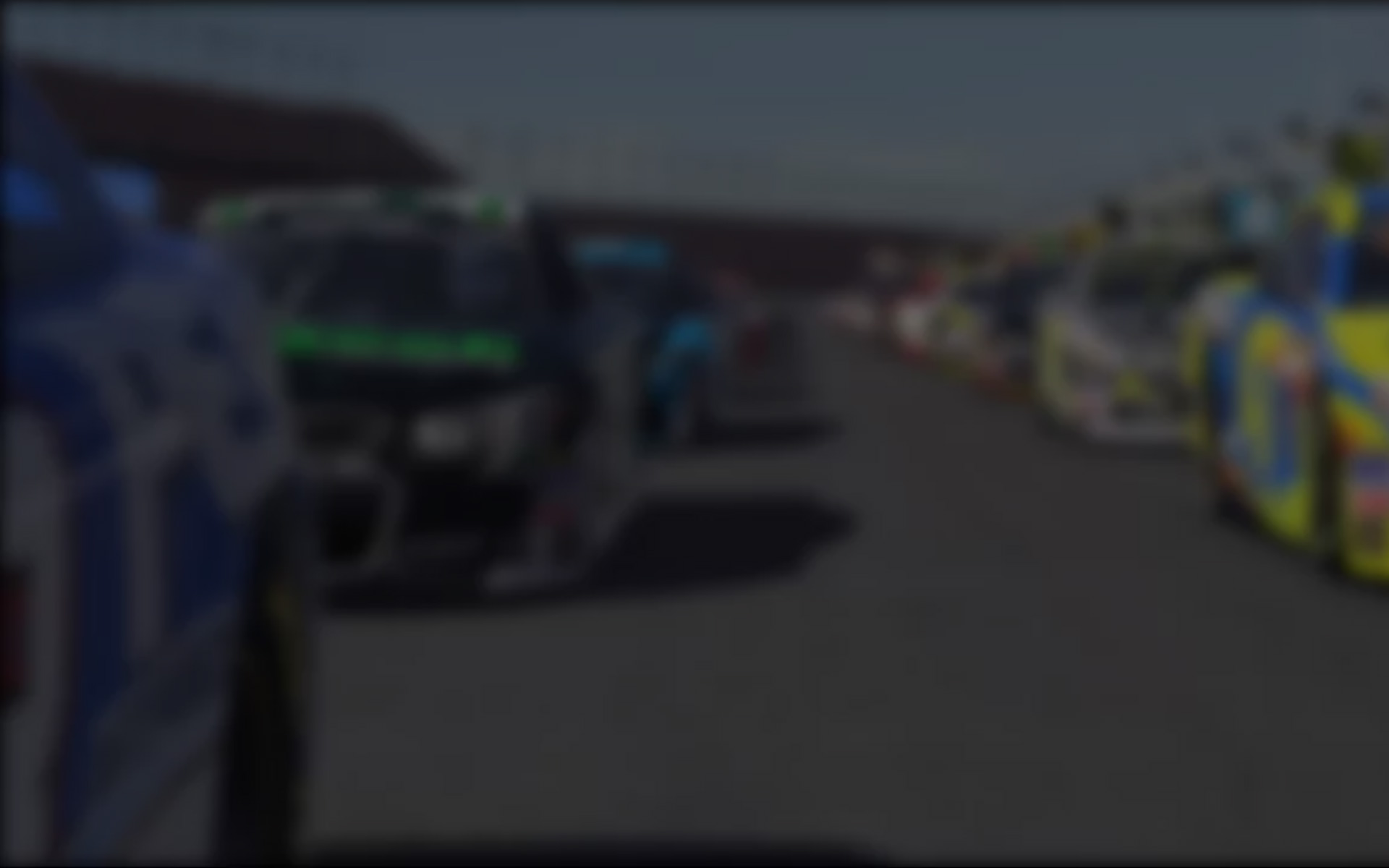 The 'Home of British Motor Racing' was the scene of the latest battle in the Classic Teams Championship. Silverstone's 'historic' layout, with its long straights and sweeping turns, is one of the few venues in iRacing of the same era as a ground effect Formula One. Over the four days of racing, 68 competitors had run and won 11 official races. And guess who was back in front?
QUALIFYING
Reigning champion Fritsche again blitzed the field in his Ferrari at Silverstone. His fastest lap of 1.24.055 may have left him just shy of being the only driver to break into the 1.23s, but also put him over half a second ahead of the field. Back in top form this week was Nixon (Lotus) second fastest on a 1.24.625 and just 4 one-thousands of a second ahead of current points leader Valantiejus (Ligier). 3 tenths further back in fourth and last car under the 1.25 barrier was Ruokola's Williams on a 1.24.944. Hulbert had once again put himself in contention, fifth on a 1.25.088 and narrowly ahead of a group of three lead by Jaques (Williams) in sixth and Herfjord (Ligier) seventh, and just three hundredths ahead of a stand-out performance from relative newcomer Moreira (Chevron) on a 1.25.219. Ninth was Schmidt 1.25.401 with the final spot in top ten taken by Schwecke for ATS on a 1.25.488. Fastest of the division runners was Div 3 Oeveraas (Fittipaldi), Div 4. Incledon (Fittipaldi), Div 5. Sagmeister (ATS), and Div 6+. Baley (Kauhsen).
RACE WEEK
Again qualifying could have led you to think the race was over, but once again it was just the beginning. Last week Audrius showed us he is more than capable of taking the fight to Fritsche and this week was no different. At the end of the week he had only dropped 10 points to the Flying Fritsche's Ferrari, another great showing from the valiant challenger.
Third just 9 points adrift was the ever consistent Ruokola's Williams. He just piles on the points every week, but he'll need to find a little magic if he's to mount a serious challenge in the weeks ahead. Just off the podium was Herfjord, playing the role of the perfect number two at Ligier and just ahead of his Williams nemesis Jaques also having a great run after another week off. With two of his drop rounds used up already Jaques will need to be on his game from here on in.
Sixth and once again fastest of the Aurora Series combatants was Hulbert's Chevron, but he was pushed all the way at Silverstone by Strang (Penthouse Rizla) who ended the round right behind him in equal seventh with Nixon (Lotus). Seventh proved to be the end result for Nixon in a week that promised a lot more if qualifying pace was any consideration. A fresh face that had ventured into the top ten for the first time belonged to Moreira (Chevron) another of the Aurora drivers who had done so well here in Round 4. Tenth was StAmans who is really having an outstanding run with series debutant Alfa Romeo. Other good results were posted by Samson Shadow team mates Konieczny and Menzies. Konieczny taking a great win and 96 points, Menzies a fine haul of 92 points. Season best results were scored by Strang (Penthouse Rizla) 128 points, Moric (Arrows) 115 points, Azevedo (Arrows) 92 points, Boscus (Alfa) 86 points, West (Lotus) 91 points, Hentschell (McLaren) 77 points, Ovaskainen (Wolf) 82 points, Winemiller (Ferrari) 59 points, and Pelzer (Williams) 39 points.
DRIVERS CHAMPIONSHIP
Valantiejus still sits atop the points table with Ruokola less than 50 points away in second. Third still belongs to Herfjord who's now pulling away from StAmans — now the leading Alfa in fourth just ahead of his team mate inGarese. With a strong performance at Silverstone, lavecchia moves up two places to lie sixth just 5 points ahead of Roberts' Interscope. Up four positions after Round 4 is Hulbert (Chevron) the leading Aurora driver in an impressive eighth. Nixon (Lotus) moves back into the top ten at ninth as Beyer (Tyrrell) rounds it off in tenth, one spot shy of last week.
Biggest movers were Fritsche and Jaques both moving up 23 positions. Also on the move were Moreira up 20 places. Smith (Madom) up 13 spots, Menzies up 9 spots, and West (Lotus), Incledon (Fittipaldi) and Ovaskainen (Wolf) all up 7 positions. Race winners at Silverstone were Konieczny, StAmans, Hulbert, Ruokola, Beyer and Roberts with one win a piece. Fritsche and Moric taking a pair of wins each.
CONSTRUCTORS CHAMPIONSHIP
Once again at Silverstone Ligier extended their lead in the Constructors Championship with the partnership of Valantiejus, Herfjord and Rossow proving to be the class of the field. Alfa Romeo again had a strong week and sit in a solid second on the table. Consolidating their third place was Renault, although they will soon be under threat from Williams if they continue to perform as they did at home this week, witness the 37 point haul moving them up four spots on the table into fourth. Interscope, only running two cars this week, moves down a spot and now lies equal fifth with Fittipaldi.  Arrows is steady in seventh whilst Lotus move up three spots to sit eighth. Penthouse Rizla lead the Aurora runners in ninth outright now ahead of Rebaque who drop four spots after a tough time at the airfield circuit.
AURORA SERIES.
Hulbert continues to perform well beyond the realms of an Aurora driver and sits in the top ten outright. Second and third are Strang and Arnall for Penthouse Rizla. It's a good fight between them for the lead role in the team. Patriksson and Brattemark (Ram Tit-Bits) are performing well but their team is hampered by the lack of third driver. They all need to watch their mirrors in the future though with Moreira the obvious Coming Man. Number threes to stand out this week included De Rooij again, a great performance from West for Lotus, Boscus for Alfa and Incledon for Fittipaldi. Ensign's Jeppeson was a little off at Silverstone but Nye had a storming run for Interscope.
DRIVER OF THE ROUND
Moreira/Chevron
A top ten start and finish in only his second official Lotus week. Impressive!
NEXT WEEK
A visit to the land of the rising sun and the newest venue on the schedule, Twin Ring Motegi. A brand new circuit will have everyone starting from a clean slate, which could create the opportunity for some of the newer drivers to really make their mark. Bring it on.
---
You may also like...
---