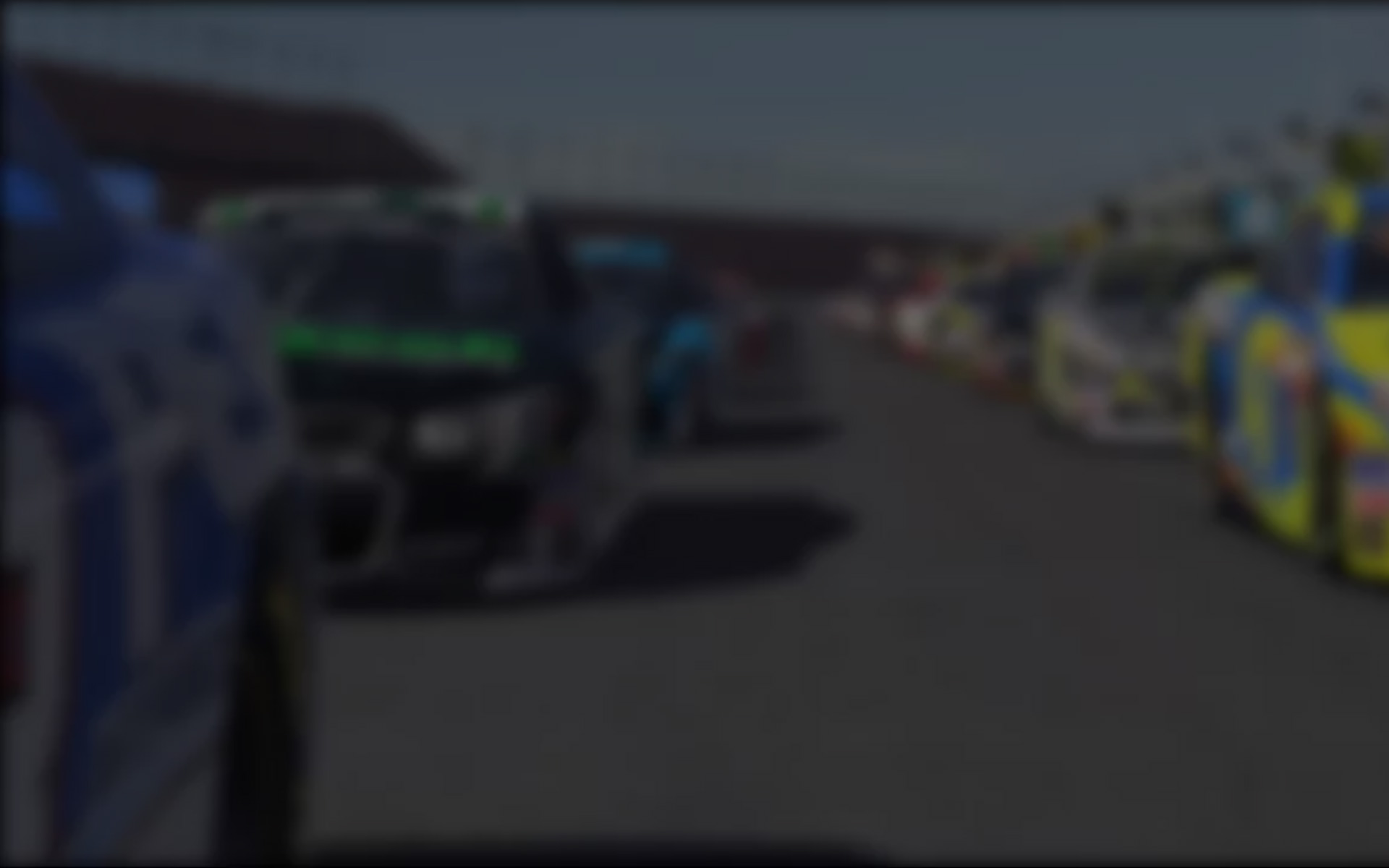 August 7th, 2019 by Jason Lofing
Renegades' Garrett Lowe won his first eNASCAR PEAK Antifreeze iRacing Series race at Michigan International Speedway on Tuesday night, pulling off a stunning upset after a late-race caution bunched up the field. In a three-wide battle to the checkered flag, Lowe held off Wood Brothers Racing's Chris Overland and Team Dillon Esports' Blake Reynolds to become the eighth different winner of the 2019 season and punch his ticket to this year's playoffs.
In a race where the second half was dominated by G2 Esports' Keegan Leahy, a yellow flag with seven laps to go set up a three-lap dash to the finish. Overland led the field to the green over Leahy, who had lost a bit of ground with a slow pit stop under the caution flag. When the race restarted, neither driver could get an edge as the pair raced side-by-side for the next two laps with Leahy just ahead as the field took the white flag.
Overland and Lowe the bottom groove into Turn 1 when Overland got loose and slid into Leahy and Richmond Raceway eSports' Jimmy Mullis. The contact sent Leahy into a spin in front of the field as Lowe, Overland, and Reynolds emerged from the scrum as the leaders. Lowe looked to hold off Reynolds down the backstretch with some aggressive blocking, but Reynolds got alongside him anyway, taking to the apron as the leaders approached Turn 3. However, once there, both overdrove the corner, exiting door to door as they headed for the checkered flag.
Overland, who somehow recovered from his slide in Turn 1, tried to seize one last opportunity, darting low then high as the trio crossed the line three abreast. Lowe held onto the top spot by just .033 seconds over Overland, while Reynolds had to settle for third, .038 adrift. Lowe's teammate Corey Vincent finished fourth, and Overland's teammate Ray Alfalla finally earned his first top five of the year after leading a race-high 35 of 100 laps in perhaps his strongest performance of 2019.
Leahy, who led 29 laps and completely dominated the second half of the race, finished way down in 34th after his incident on the last lap. In a race that most expected to look like Daytona or Talladega, Leahy's car was so much better than the field that on old tires he broke the draft and drove out to a near four-second lead before the final caution.
The first half of the race played out as expected, with several drivers leading laps and no one able to break away from the pack. Leahy started on pole, but was quickly passed by Alfalla and JRM's Brad Davies. Cautions slowed the pace on Laps 18, 30, and 40 as the short runs kept the pack tightly bunched. Alfalla looked poised to lead more than 35 laps, but he got loose and slipped out of the groove on Lap 47, losing several positions.
Despite a rather pedestrian eighth place finish, Flipsid3 Tactics' Ryan Luza still leads the championship standings with one race to go before the playoff reset. Luza, Lowe, and Reynolds have all mathematically clinched their playoff berths, while Bobby Zalenski, Leahy, and Michael Conti all look safely in after Michigan as all are 34 points or more above ninth. Mullis and Roush Fenway Racing's Zack Novak currently hold the final two spots, while JTG Daugherty Racing's Nick Ottinger is the only driver with a realistic shot to break into the top eight, six points back of Novak and 15 back of Mullis.
With Bristol Motor Speedway playing host to the regular season finale on August 20, no bubble drivers are truly safe until the checkered flag flies. Past races on Bristol's high banks have included a fair bit of carnage, something playoff hopefuls will look to avoid. Who will make the 2019 eNASCAR PEAK Antifreeze iRacing Series playoffs? Find out in two weeks on the iRacing eSports Network!
---
You may also like...
---