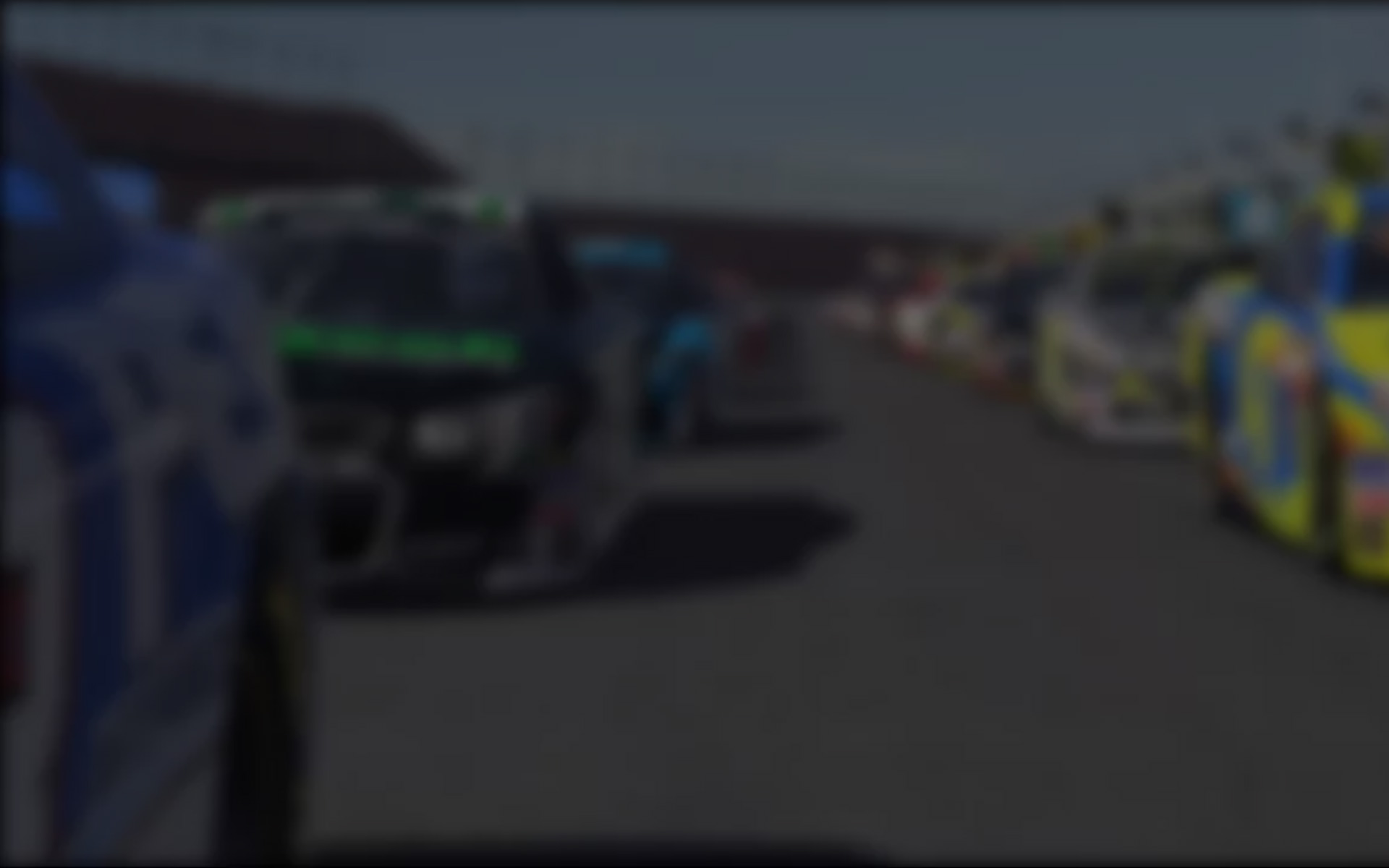 If you didn't recognize the name Adam Gilliland, you probably do now after watching the season opener of the 2013 NASCAR iRacing.com Series World Championship last Tuesday. In his first race of the season, he scored the biggest win in his sim-racing career in a close finish against NiPS runner-up Jared Crawford at Daytona International Speedway.
Looking back, in the first season of 2012 NASCAR iRacing.com Class A Series, Adam finished fourth in the overall points standings to secure his spot in the NASCAR iRacing.com Pro Series, where he finished sixth in the points standings. He scored one top five all season and that was a victory at Richmond, which propelled him to a sixth place finish in the points and a ticket to the NiSWC.
Since joining the service in the summer of 2009 Adam has scored 444 oval wins in over 2300 starts, and will look to score his 445th win in the NiSWC race at Las Vegas Motor Speedway tomorrow night. He is one of only a few oval drivers who can say he has won in the top series of iRacing and I got the chance to talk to him about his Daytona victory, his accomplishments on iRacing, and what he is looking forward to in the 2013 NiSWC season…
Q:     How long have you been sim-racing?
A:    I started sim racing back in 2009. Before that the only other form of racing simulation I had played was NASCAR 09 on Xbox 360.
Q:    How did you get started in iRacing?
A:    I was encouraged by two of my close friends who had made the transition from Xbox to iRacing: Tyler Laughlin and Ryan Hoepner. They showed me a few YouTube videos of the racing that took place and I was instantly hooked.
Q:    Which race car driver do you look up to the most?
A:    That's a toss-up. I would have to probably say I look up to Dale Earnhardt Jr the most. He has all the pressure on his shoulders each and every week to live up to his name, and still manages to keep a cool head even when things aren't going right. Along with the respect he has from most of the garage it's hard not to look up to him.
Q:    What type of hobbies do you do outside of iRacing?
A:    I mostly like to golf in my time away from iRacing, it's a good way to relax and have fun with friends.
Q:    What is your greatest accomplishment on iRacing?
A:    I would, without a doubt, have to say my greatest accomplishment in iRacing would now be the Daytona NiSWC win Tuesday. The way it played out with having no partner and having to hold off the likes of Jared Crawford, Brad Davies and Tyler Hudson it made it that much sweeter.
Q:    You are racing full time in the NiSWC this season, what are your overall goals for this year?
A:    I am very excited for my rookie campaign in the upcoming NiSWC season, I am first and foremost looking to gain even more respect from my fellow competitors. Aside from gaining more respect and moving into personal season goals, I'm not going to set the bar too extremely high for myself for my first season, but I'm hoping to knock off three or four top fives, and six or seven top 10s, along with a top 12 in points. I would call that a realistic goal and a successful rookie season.
Q:    What type of racing do you like to watch on TV?
A:    I like anything and everything NASCAR related. On occasion I will watch the Indy car races, along with F1 and the V8 Supercar series.
"Having to hold off the likes of Jared Crawford, Brad Davies and Tyler Hudson it made it that much sweeter."
Q:    How do you think your fellow iRacers see you?
A:    I can't really speak for my fellow iRacers. However I hope they see me as a strong competitor who you can come up behind and say "this guy is going to race me hard but he's going to race me clean".
Q:    Who is Adam Gilliland outside of iRacing?
A:    Outside of iRacing I'm a fun, goofy, civil person who likes to have a good time in whatever I participate in.
Q:    Could you tell us more about your team for the 2013 NiSWC season?
A:    I currently own/drive for Virtual Performance Racing. Backed by the likes of Alex Warren, Cody Byus, Matt Whitten, Casey Malone, and Derek Crone, I feel we can really make a name for ourselves this upcoming NiSWC season as a team. We as a team will be running the new Chevrolet SS Generation Six race car.
Q:    What is the thing you like the most about iRacing?
A:    The user friendly-ness. Whether you're a 46 year old adult in Los Angeles, California or a 15 year old kid in Eastern Europe, iRacing provides easy access and is suitable for almost all participants. That's what I like the most about iRacing.
Q:    Overall, how do you rate your success on iRacing?
A:    Overall I would rate my success on iRacing 7 out of 10. I've done a lot of great things especially in making the NiSWC but I still have a lot to accomplish to tip the scale to a nine or 10.
Q:    How well do you think you did in the NiSWC season opener and how does it fell to get your first win in the series?
A:    I think I did very well I had a great piece thanks to all the guys at Virtual Performance Racing especially Matt Whitten and John Ritchey. My partner and teammate ended-up getting wrecked late in the race, and I was worried that I wouldn't be able to hold-off a hard charging Jared Crawford and Tyler Hudson among a few big names up in the running order late in the going. I managed to hold them off and got my first win in the NiSWC, which was a huge deal and a big confidence booster even if it was Daytona.
Catch Adam and all the other stars of the NASCAR iRacing.com Series World Championship in action at Las Vegas Motor Speedway, Tuesday at 9 pm Eastern (01:00 GMT Wednesday) on iracing.com/live.
---
You may also like...
---