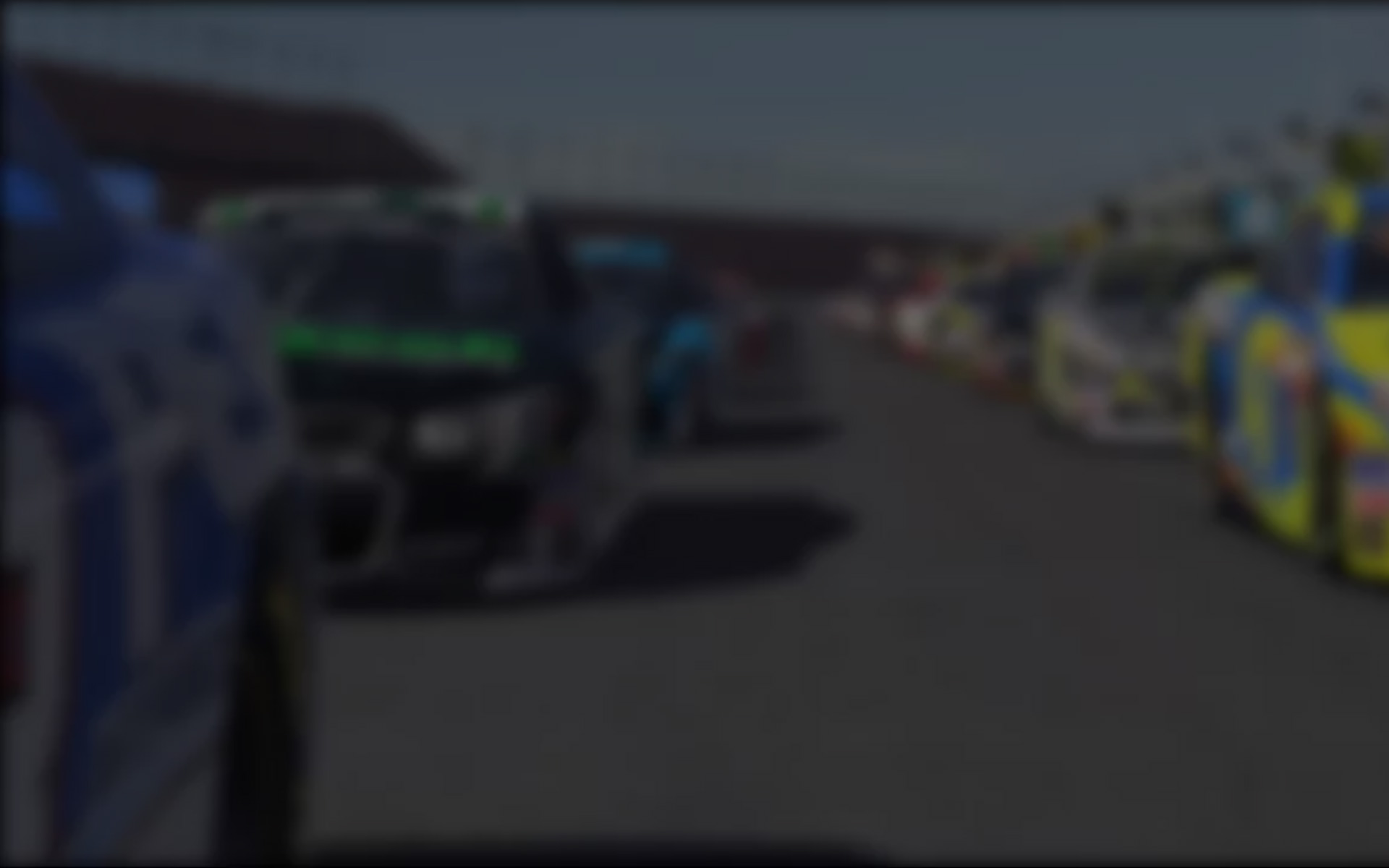 "I started Elwood Designs along with Elwood Motorsports, our family's go-kart team with me being the driver. Elwood Designs right now is more of a hobby for me, but I would like to make it my actual business one day… It all really started at an early age when I loved to draw race cars and the paint schemes on them with sketch paper. I never considered myself a good artist but there was something about designing race cars that really let my mind wander and show I can truly be creative. I've developed my own style and it's translated well with the things I've wanted to pursue. I really had my start designing race cars for my NR2k3 league (starting in 2009) and with the success I had with it… I decided to show off some work in the iRacing forums. I instantly realized that with the overwhelmingly positive feedback I was receiving from the community that I had something successful on my hands. I really couldn't ask for more with where my career is at right now."
That was Alan Elwood talking about his painting company on iRacing, Elwood Designs. The 21 year old who currently lives in Columbus, Ohio is an expert at painting cars, but he's also pretty good at racing them too. He has started 326 races on the oval side of iRacing and has won 67 times, and has finished in the top five over 50% of the time. With and oval iRating of over 4300, Alan is always one to watch on the track. I got the chance to talk to him about iRacing, his life outside of iRacing and what he expects moving forward in this week's edition of Get to know…
 1) How long have you been sim racing?
I've been sim racing since I was about 8 years old and got my hands on the original Nascar Racing game for pc. Ever since, I've been hooked and it's been something I've always enjoyed.
2) How did you get started in iRacing?
I had played NR2k3 since it had come out and it's what I give the credit to for getting me into online racing. After winning multiple league titles in the sim, I finally heard about iRacing.com in 2011 and was a bit skeptical to pay the money at the time, but after a couple buddies persuaded myself to give it a try, I was convinced it was the best route to take and have been racing on it ever since.
3) Which race car driver do you look up to the most?
I would honestly say that Kasey Kahne is a driver and individual I truly admire and have the upmost respect for. His quiet nature and success on the race track, along with being a successful business owner and giving back to the communities is the inspiration I use to get me through my racing career.
4) What type of hobbies do you do outside of iRacing?
I'm an avid sports fan and a very big Ohio State Buckeyes fan. I played basketball from 6th grade all the way through senior year of high school. Over the last few years I've developed a true passion for graphic design, which is where Elwood Designs comes in. Paint schemes, just like the aesthetics (uniforms, logos, etc.) of sports, have always been a big passion of mine.
5) What is your greatest accomplishment on iRacing?
My greatest accomplishment to this point on iRacing is winning the American Sim Racing Series truck season title and having multiple victories in the league. I felt a big step for me was racing in the Inside Sim Racing 200 at the Rock with the national series car and having a chance to win in the top split with the likes of Ray Alfalla and Tyler Hudson. I haven't had anything really major to this point, but I hope to accomplish much more with my time on iRacing.
6) What is one long term goal that you hope to still accomplish in iRacing?
I think the biggest goal I could have at this point is to one day be good enough to at least make it to the pro series, I think being in the Drivers World Championship is usually the ultimate goal for racers on the service, but I don't feel I'm there yet. I feel I can be competitive enough to make it to the pro level and hope to possibly have a chance at it by the end of the year.
7) What type of racing do you like to watch on TV?
NASCAR I think will always be my number one racing series to watch. I've always loved to watch the World of Outlaws as well as non-winged sprint cars when they have a chance to be on TV. I've grown to liking road racing more and more, with the V8 Supercars along with Formula One really catching my interest. Honestly, if it's racing and on TV, more than likely I'm watching.
8) How do you think your fellow iRacers see you?
I really feel like I've come to gain the respect of many members of the community, and I think a lot of that has to do with the design work I complete for people, along with trying my best to keep respect on the track as well. I'm pretty well known as being a clean racer, but racing hard and not trying to give an inch, while also being smart in different situations.
9) Who is Alan Elwood outside of iRacing?
I'm 21 years old and outside of iRacing, I'm a pretty tame guy, I really just enjoy doing graphic work, playing sports, and racing games are really the only video games I play anymore. I've got a great family who supports me. I race with my family, running the Elwood Motorsports go-kart full time in 2013 here in Ohio. I work at Giant Eagle supermarket doing everything from front-end coordinator, cashier, service desk and helping out in other departments when necessary. I hope to pursue my own business one day, and I'm a soon-to-be graduate of DeVry University with an associate's degree in Web Graphic Design.
10) If there was one thing you could change about iRacing, what would it be?
I think it would be the overall racing experience, which is super hard to control. I understand that everyone has their own levels of working their way through the ranks, and everyone learns at their own pace. I feel like the racing on the sim could be the best out there if everyone used their head in certain situations. Overall the community we have is a very strong one and I hope to see it continue long into the future!
11) What is one thing that you love the most about iRacing?
How can you not love the authenticity that is laser scanned tracks and cars? Knowing that you are virtually strapping into the real thing on your computer is such an astonishing thing to think about with where we are and technology becoming so advanced.
12) Overall, how do you rate your success on iRacing?
I think my success can be rated different with specific areas, but overall I think I've had a pretty successful run on the sim (probably a B grade so far). I wish I could race more than the given time I'm able, but factoring in work, the graphic side of things, and life outside iRacing, it can be challenging for me to get a race in. I think with school being over, I can get into the game more and focus on making myself better and getting my overall success up with where I want to be.
---
You may also like...
---