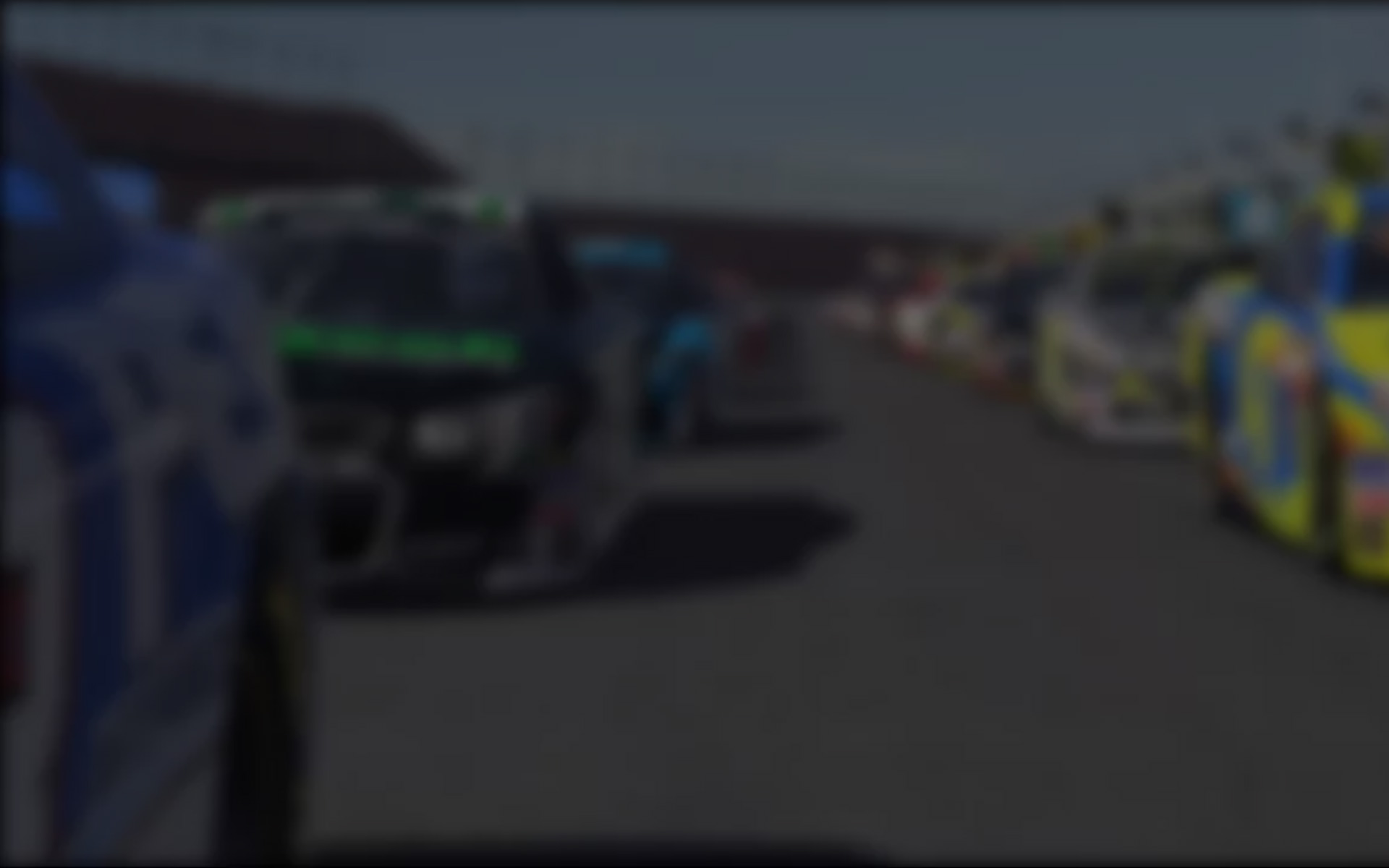 Versão em Português abaixo
Bruno do Carmo, a 23 years old young man, living in the city of Curitiba in Parana state – Brazil, has an interesting background as a racing driver and sim racer. Having won three times championships of rFactor leagues, Bruno came to iRacing in 2011 and didn't miss a beat: He won six more championships organized by leagues like "F1BC" and "iRacing Brasil," three of those titles in the latter. His last major achievement came in Season 1 of this year at iRacing Brasil, where he became the champion of "Masters of Track," racing with a RUF.
And things didn't end there. Bruno had some nice experiences in motorsports. One of them in a race car very similar to the Skip Barber F2000, known as Formula Alpie. Alpie is a racing school located in Interlagos, Brazil, where Bruno had the chance to test the vehicle.
Besides that, his brother – Fabio do Carmo – is also very talented racer. One of the four PRO licensed iRacers in Club Brasil and recently, Fabio made his debut at iRacing.com World Championship Grand Prix Series, racing in the same series with countrymen Mogar Filho and former champion Hugo Luis. So much talent in the "Do Carmo" family is certainly something to be noticed and this interview will try to find out what is their secret to going fast – at least from Bruno.
iRN: Bruno, tell us, how everything started for you in motorsports?
Bruno: My involvement with auto racing started very early, I've been always a fan from this sport. When I was born, my father already used to race go karts for the fun of it and my brother was dreaming about being a racing driver. I grew up watching Fabio's career from the pits. And that was becoming a passion.
iRN: Being your older brother, Fabio, a driver who had already raced in the very same go kart championships that talented racers like Felipe Massa and Augusto Farfus (in 1997) participated in, must have encouraged you very much to follow the same path. How's your relationship?
Bruno: Me and Fabio had always been very close. Since we were very little we used to play about anything race related. My brother was encouraged by our father, and I certainly was encouraged by Fabio, who's my great teacher. I learned everything that I know about motorsports and how to be fast thanks to him.
iRN: With this family tradition in racing, do you intend to try something like a real career?
Bruno: For sure. The will to became a race driver will always exist. Obviously I'm not aiming at F1 or Indy. My preference was always for touring cars. Even if I'm old for that, I can't allow me to not try. I just need to find the budget because iRacing gave me the basics.
iRN: About your virtual career here at iRacing: Any plans to go for the PRO License and make your way to the iWCGPS like your brother?
Bruno: In the future, yes. I had a previous experience in 2013 Season 4 with the Williams FW31 and had great results. Right now I just need the time to practice more and a better equipment, mainly pedals.
iRN: It's common to see you racing in GT championships at iRacing. Right now you are not just racing at iRacing Brasil league with the BMW Z4, but you are also on GT3 Challenge Series. Why do you have this preference?
Bruno: I think that (GT) racing is harder and more exciting, when compared to open wheels. I don't like the idea of having my car launched into the air by racing wheel against wheel. This does not happen in touring/GT, and drivers can be more confident in racing closely.
iRN: You and your brother have a sim racing team called "4Brothers." Tell us a little about this and how this has influenced your learning in simulators.
Bruno: The 4Brothers team started back in 2009, when me and Fabio where already racing online on rFactor.  We met the brothers Evandro and Renan Dantas. Together we created the team and participated in the first championships of rFactor, organized in Brazil. We learned a lot together, developing setups and trading knowledge. Today, 4Brothers counts 15 members, has won more than 27 team championships and we can achieve one more if we win at GT3 (iRacing Brasil league). We're going for the sixth year of friendship and union that we have with everybody on the team.
iRN: From the top of your 23 years of living, you look back and can see great achievements in the sport that you have such a passion for. How do you feel about this and what do hope for in the future?
Bruno: I had a very privileged "career" so far in sim racing. From all the championships that I've been participating, if I didn't win, I finished in second place. So I just have to be thankful to my teammates for all the support and specially Fabio do Carmo. I don't feel like this passion for sim racing is ever going away. I will always chase for highest level of simulation, because right now I can only race against the best of the world and have this incredible sensation of being in a racing car cockpit this way. Even if I manage to get a seat in a real race one day, iRacing will have been of great help.
Thank you Bruno, good luck on your actual GT3 season here at iRacing!
Versão em Português:
Aos 23 anos, Bruno do Carmo, morador de Curitiba – Paraná,  tem um interessante currículo como piloto virtual e real. Com três títulos de campeão em ligas de rfactor, Bruno chegou ao iRacing em 2011 e não fez diferente: Conquistou 6 campeonatos pelas ligas F1BC e iRacing Brasil, sendo 3 deles nesta última. Seu último título veio na temporada 1 deste ano pelo iRacing Brasil, onde foi campeão da Masters of Track, correndo com um RUF.
Mas não para por aí. Bruno já teve diversas experiências no automobilismo real. Uma delas em um carro parecido com o Skip Barber, conhecido como Fórmula Alpie. O carro-escola para pilotos de corrida Brasileiro é encontrado em Interlagos, onde Bruno teve a oportunidade de testar o veículo.
Além disso, seu irmão – Fabio do Carmo, também é um grande talento no automobilismo virtual e real. Ele é um dos 4 pilotos PRO de road no Clube Brasil e recentemente, Fabio estreou no iWCGPS, disputando na mesma categoria que Mogar Filho e Hugo Luis. Tanto talento na família "Do Carmo" é certamente algo a ser notado e esta entrevista vai tentar descobrir qual é o segredo – pelo menos o de Bruno – para ser tão rápido.
iRN: Bruno, é um grande prazer fazer essa seção de perguntas e respostas com você. Diga para nós, como tudo começou para você no automobilismo.
Bruno: Primeiramente muito obrigado pelo convite, o prazer é todo meu. Meu envolvimento com automobilismo começou desde muito cedo, sempre como fã do esporte. Quando nasci, meu pai já andava de kart por diversão e meu irmão já sonhava em ser piloto. Cresci acompanhando, de dentro dos boxes, a carreira do Fabio. E aquilo sem dúvida foi se tornando uma paixão.
iRN: Sendo seu irmão mais velho, Fabio, um piloto que chegou a disputar campeonatos de Kart com talentos como Felipe Massa e Augusto Farfus (em 1997), imagino que ele deva ter incentivado muito você a seguir o mesmo caminho. Como é essa relação de vocês?
Bruno: Eu e o Fabio sempre fomos muito próximos. Desde muito pequeno nós brincávamos juntos de tudo que envolvia corridas. Meu irmão foi incentivado pelo meu pai e eu com certeza fui incentivado pelo Fabio, que foi meu grande mestre. Aprendi tudo que sei sobre automobilismo e como ser rápido nas pistas, graças ao Fabio.
iRN: Com esse envolvimento familiar no automobilismo, você pretende tentar algo em uma carreira real?
Bruno: Com certeza. A vontade de ser piloto real sempre vai existir. Obviamente não para a F1 ou a Indy. Minha preferência sempre foi por carros de turismo. Mesmo que esteja velho pra isso, eu não posso deixar de tentar. Só falta conseguir o orçamento pois a base o iRacing me deu.
iRN: E a carreira virtual, aqui no iRacing: Há planos de tentar uma carteira PRO e disputar o iWCGPS também?
Bruno: Futuramente sim. Tive uma experiência na 4ª temporada de 2013 com a Williams FW31 e tive resultados ótimos. No momento apenas me falta tempo para treinar e um equipamento melhor, principalmente os pedais, que estão ruins.
iRN: É comum vê-lo disputar campeonatos de GT, no iRacing. Hoje você disputa não só pela liga iRacing Brasil (onde foi campeão na temporada 1 deste ano) com a BMW Z4, como também na série oficial GT3. No que se dá essa preferência?
Bruno: Eu acho as disputas mais duras e emocionantes, quando se comparado aos fórmulas. Não gosto da idéia do carro ser catapultado ao encostar roda com roda. Como no turismo/gt isso não acontece, os pilotos tem mais confiança em disputar e as disputas são mais arrojadas.
iRN: Você e seu irmão possuem uma equipe chamada "4Brothers". Fale um pouco sobre seu time e como isso influenciou no seu aprendizado nos simuladores.
Bruno: A 4Brothers começou em 2009, quando eu e o Fabio já disputávamos corridas online no simulador rFactor, nos encontramos com os irmãos Evandro e Renan Dantas. Juntos formamos a equipe e participamos dos primeiros campeonatos de rFactor organizados no Brasil. Aprendemos muito juntos, desenvolvendo o setup, trocando informações. Hoje a 4Brothers conta com 15 membros, já possui mais de 27 títulos de equipe, e possivelmente mais um se conquistarmos a GT3. Vamos para o sexto ano dessa amizade e união forte que temos com todos da equipe.
iRN: Do alto dos seus 23 anos, você olha pra trás e vê grandes conquistas no esporte que é sua paixão. Como você se sente e o que espera do futuro?
Bruno: Eu tive uma "carreira" muito privilegiada até agora dentro do automobilismo virtual. De todos os campeonatos que participei oficialmente, se eu não fui campeão, fui vice. Portanto eu só tenho a agradecer meus companheiros de equipe por todo o apoio e principalmente ao Fabio do Carmo. Não sinto que a paixão por simuladores vai sumir. Eu sempre vou buscar o maior nível de simulação, pois no momento é como eu posso disputar com os melhores do mundo e ter essa sensação incrível de estar num cockpit de um carro de corrida. Mesmo que eu consiga correr no automobilismo real algum dia, o iRacing servirá de um primordial treino.
Obrigado Bruno, boa sorte na sua atual temporada de GT3 aqui no iRacing!
---
You may also like...
---