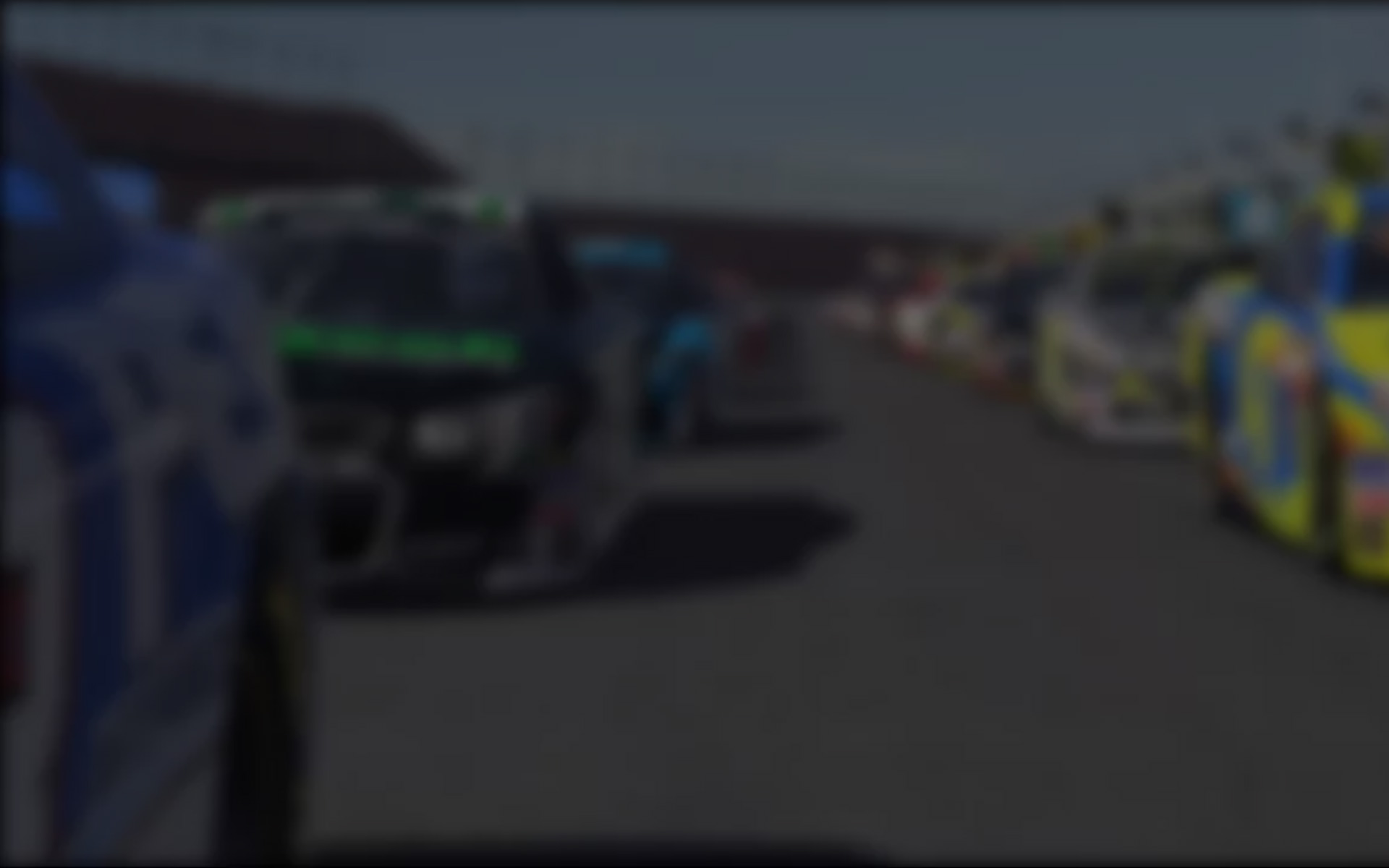 February 9th, 2016 by David Ifeguni
For some racing fans, being able to spend a day or a weekend at a race track is a luxury. For Wisconsin's Cody Thompson, it is just another Saturday. Thompson has been a staple at tracks across the Midwest since he was a young kid. Now, at the age of 24 years, he is a veteran iRacer, having been using the service since February, 2011, and a veteran racer, having raced street stocks at local tracks for multiple years. His experience definitely shows on iRacing, having won 134 races and 543 top five finishes in 812 oval starts along with one victory and six top five finishes in 21 road course starts. His first iRacing victory came on his second day on the service in a Legends Cup series race at South Boston Speedway. Not only is he a success on the virtual track, but he is doing wonderful things out in the real world. Learn more about Cody in this week's edition of Get to Know…

Q:     What attracted you to racing in the first place?
A:     I have been going to local short tracks since I was about 4 years old. It started out as cheering for my cousin and his friends, but it quickly blossomed into much more than that. As a kid, seeing all those cars door to door and bumper to bumper was absolutely captivating, and as I grew older I gained an appreciation for the more technical and intricate aspects, such as the nuances of car control.
Q:     When did you start sim racing and how?
A:     My first "true sim" was NASCAR Racing 2003 Season on the PC. I had been playing video games since the N64, with racing games being a large part of that, so when I saw that box in the store, I just had to have it. I still have my original copy along with many gigabytes of mods, tracks, and add-ons stored on my hard drive.
Q:     How invested, would you say, are you into your sim racing?
A:     I don't even want to think about the money I've spent over the years. Before I found iRacing, all I had ever used was cheap joysticks and wheels from Wal-Mart, and eventually an Xbox 360 controller for a number of years (that one controller has over 40,000 laps on it between NR2003 and iRacing and is what I used to gain my first 3000 iRating). Once the iRacing bug bit, however, my hardware escalated quickly. I know have a full 80/20 aluminum rig, with triple monitors and a DIY hydraulic pedal set, and I'm sure that won't be the end of hardware endeavors in the coming years.
Aside from the financial aspect, I do care quite a bit about this hobby of ours. It's really quite the unique experience we have to race with people from all over the world and all different walks of life, and that is something I don't think we appreciate enough.
"We race with people from all over the world and all different walks of life, and that is something I don't think we appreciate enough."
Q:     What is one of your resolutions for the New Year?
A:     My resolution as far as iRacing goes for 2016 is to race a lot more. I haven't been on nearly as much as I would have liked to for the last year or so, and I would like to change that. I have had to rely on the forums and painting cars through LOKOTOCO Designs for my iRacing fix for quite a while.
My other resolution for this year is to help get the word out about Mission 22. This organization is focused on the mental health and well-being of all of our veterans when they return from their tours of duty. It is the sad reality that 22 veterans commit suicide every day in this country due to PTSD, so Mission 22 is setting out to reduce those numbers. We need to raise awareness for this epidemic, and get these veterans the help they desperately need and deserve; they do a job that most of us would never be able to do, and we need to make sure they are taken care of for that bravery. Keep an eye open for their name and logo, it may just be finding its way into the NASCAR Peak Antifreeze Series this coming season.
Q:     What other hobbies do you do outside of sim racing?
A:     I love to cook. I had a mild obsession with my new smoker over the summer and was churning out all kinds of good food.
Another racing related hobby of mine is graphic design. It's mostly sim-related, but I have branched out for other things including logo design and wraps for a couple cars and R/C cars.

Q:     What work do you do in real life?
A:     I've done a little bit of everything, really. Most recently was cooking at a restaurant in the largest hotel in town. We ran a full-service restaurant, a tavern menu and a banquet operation simultaneously out of a single kitchen. I've also spent two years driving quad-axle dump trucks, and before that was my most memorable job. I worked at a machine shop that specialized in high-performance engines for various racing and street applications. Being able to rebuild a numbers-matching 440 6-pack and building a 383 stroker for Desmond Bishop (Green Bay Packers starting linebacker at the time) are things I'll most likely never get to do again in my life.
Q:     Funniest moment you have had on iRacing?
A:     The funniest and most fun moments I have ever had on iRacing were easily during Season 4 of 2013 when the late model was at Bristol. It was the first week I really started racing with my new teammates a lot, and I don't think I have ever laughed so much and had so much fun, while being so aggravated at the same time. Back then, the car was really sensitive to tire pressures, and Bristol essentially became a one-lane race track one the tires got hot. We had a killer setup after the first 10 laps, but there were people set up to be fast for the first 10. It turned into this week-long brawl among us and a few rivals to see who could win the most races. The racing was intense and a brutally rough version of bumper cars at times, but it was an absolute blast. That is also the week I picked up my nickname: "Thompson 2x" because in virtually every race I ran, I would hit the wall on corner exit at least once and get 2 incident points, yet it never really slowed my car down. I don't think anything will ever really compare to the fun we had that week, it was what racing is all about.
Q:     Most bizarre moment you have had on iRacing?
A:     The most bizarre thing I have ever seen on iRacing happened during the SARA Fall Brawl Pro Late Model race this past October. There was a very large purse up for grabs, so the racing was very intense as the laps wound down. On the final restart with only a few laps remaining, the top three cars tangled which resulted with the leading spinning into turn 1. He proceeded to wait for the field and went backwards down the front stretch and attempted to wreck the car in front. However, he missed badly and absolutely demolished over half the field. I have never seen chaos like that in a race, let alone in such a high-profile broadcast race.
"That is also the week I picked up my nickname: 'Thompson 2x' . . ."
Q:     If you were given the opportunity to race in real life, would you take it and why?
A:     Absolutely. I have actually owned a few cars and raced street stock for three years. I haven't been on a track since the fall of 2013, but should hopefully be making my return later this year.
Q:     What's the most memorable thing that happened to you last year?
A:     The most memorable day this year was probably Easter Sunday. The hotel I was working for at the time put on a brunch buffet for 600+ people. The kitchen was understaffed, and none of us had ever done that large of a group there before, let alone a buffet that size. It was complete and utter chaos for 2 days leading up to it, and Sunday was an absolute zoo with everybody running around like crazy. Somehow we managed to pull it off without a single complaint all day long.
Q:     What is one race you would like to see live at the track that you haven't yet?
A:     There are a few for me that are hard to choose from. The Snowball Derby, the Winchester 400, The World Championships at New Smyrna, the LMSC race at Martinsville, the list goes on.
Q:     What is your favorite moment on iRacing from this year?
A:     One of my favorite things that has happened over the past year or so has been the development of the Posse Setup Emporium. Participation had been declining in both the late model and super late model, so my team decided to do something about it, and with that, the Setup Emporium was born. We have "stickied" threads going in the forums for both cars in which we have posted a plethora of setups and setup advice to help veterans and newcomers alike get up to speed. So far it appears to be working as both have had participation bump up a noticeable amount.
Q:     Tell us a little about your family.
A:     I'd like to take this opportunity to talk about my teammates in The Posse. I cannot thank those guys enough for everything they done and everything we've gone through, individually and as a team over the last couple years. They are more my brothers than friends, through the good and bad, we are always there, ready to step into the fight for each other. I am quite proud of the fact that we have never had a single person ask to leave the team. While we are the most prolific short track team on the service, the foundation of the team isn't speed, its finding people that fit in as people. The speed comes naturally when everybody gels and works together.
---
You may also like...
---