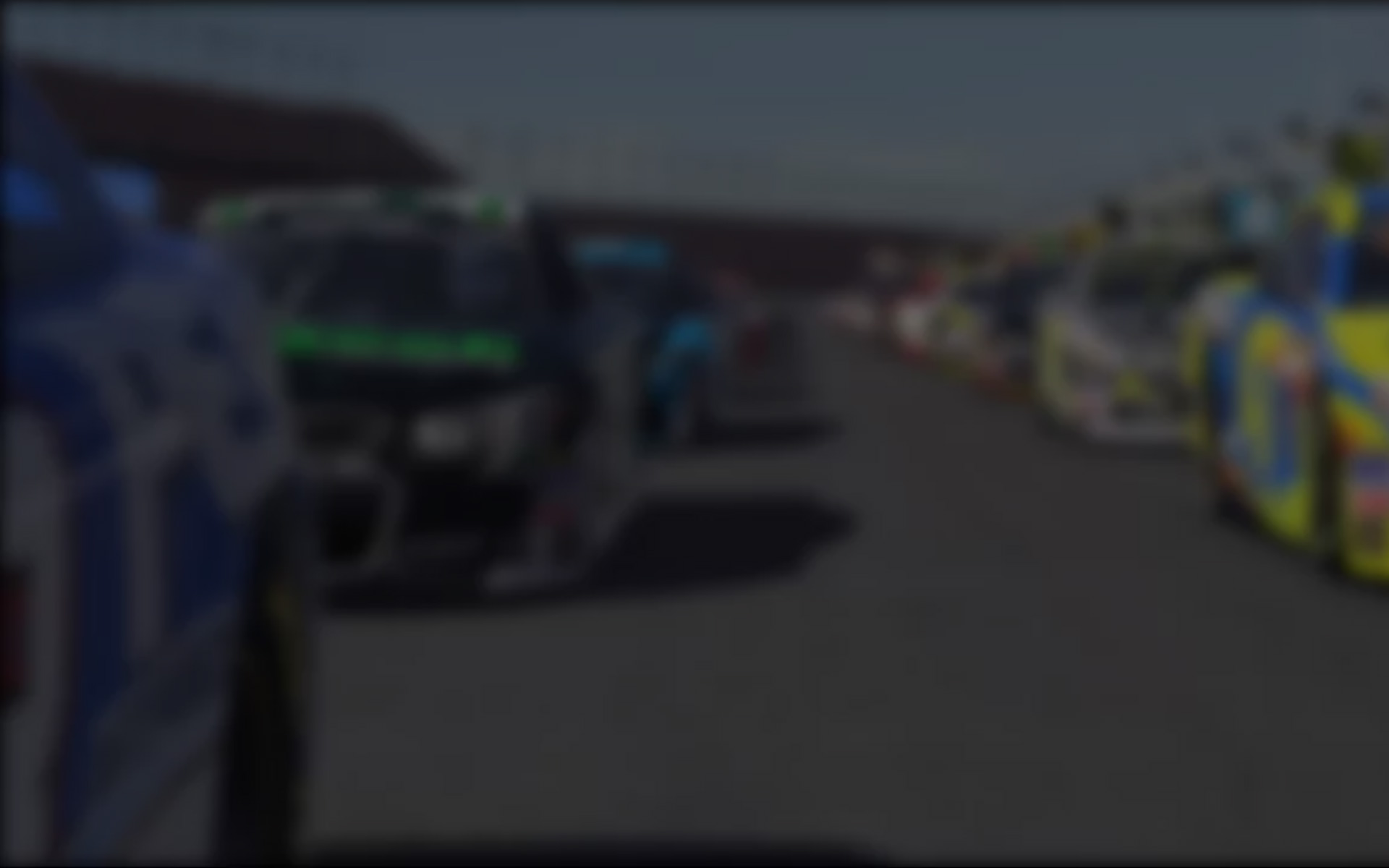 This week, I interviewed an iRacer who comes from north of the border.  Born and raised in Halifax, Nova Scotia, Canada, this iRacer has been a member for nearly two years but has already established himself as a front runner on the oval side of iRacing. He finished ninth in the overall NASCAR iRacing.com Class A series, earning a ticket to the 2012 NASCAR iRacing.com Pro Series which started one week ago. If none of those statistics give you an idea of the identity of the driver I interviewed for this week (besides the title) then here is one more fact: He is a HUGE Juan Pablo Montoya fan. The driver I interviewed is the one and only, Dylan Duval.
Dylan, who drives for Gale Force Racing in the Pro Series, has definitely proved that he can run up front with the likes of Jared Crawford, Chad J Laughton and Chris Overland. His first day on iRacing was December 25, 2010. His first win on iRacing was December 25, 2010 (what a coincidence – Ed) and since then he hasn't stopped winning. The high school senior has run in 672 oval races and has taken 120 checkered flags, started on the pole 133 times, and has finished in the top five over 50% of the time. Last Tuesday, he made his NiPS debut at the night race in Daytona and finished fifth.  Earlier last week, I got the chance to hear about his thoughts on iRacing, his success, and what he looks forward to…
Q:    How long have you been sim racing?
A:    I have been sim-racing since late December 2010. That is when I purchased iRacing. The only online racing that I had done before that was NASCAR 09. I raced that for about two years, I wouldn't consider that a sim though.
Q:    How did you get started in iRacing?
A:    I first got started in iRacing when a couple of friends I had made on NASCAR 09 convinced me that iRacing was worth getting and also that it was something that I could have a lot of fun with. I don't regret listening to them either, I have enjoyed my time on iRacing so far.
Q:    Which race car driver do you look up to the most?
A:    I look up to Juan Pablo Montoya the most. My reasoning for this is because I like his aggression and how we won't put up with other people ganging-up on him or pushing him around. He isn't afraid to speak his mind, and also his ability to be able to compete for race wins and championships in just about everything that he has driven. He hasn't proved that to everyone in NASCAR yet, but in the right situation I honestly think he can compete for wins and possibly even a championship if the situation is right.
Q:    What type of hobbies do you do outside of iRacing?
A:    The only other hobby I have is graphic design. I really enjoy putting my creativity out there for everyone to see. I find designing things whether it being a logo, paint scheme or something else . . . I find it really relaxing and I enjoy hearing people's feedback on what I have created. I plan to attend a school of graphic design after I graduate from high school at the end of this year. I hope to follow up with a career in this industry.
Q:    What is your greatest accomplishment on iRacing?
A:    It's honestly really hard to pick one. I can't decide between either of these. One of them would be qualifying for the 2012 NASCAR iRacing.com Pro Series in 2012 Season 1. This is especially satisfying because I had used up three of my four drop weeks in the first three weeks of the season. The other one would have to be, finishing fourth in the NASCAR iRacing.com Series World Championship race at Atlanta. It was my first week with a new team (Gale Force Racing), I had to overcome missing my pit stall early in the race and I was still able to put that behind me and bring it home in fourth. Both of these are what I would say to be my biggest accomplishments.
Q:    What is one long term goal that you hope to still accomplish in iRacing?
A:    My long-term goal in iRacing is to finish in the top 25 in the 2012 NASCAR iRacing.com Pro series and be able to run in DWC. If I can accomplish those goals I would really like to, at some point, win a race in DWC and finish in the top 10 in points.
Q:    What type of racing do you like to watch on TV?
A:    I watch all forms of racing on TV. I watch NASCAR the most though, it's always been my favorite form of racing and I really doubt that will ever change.
"People tend to focus on the negative times when it comes to racing and completely look past the positives."
Q:    How do you think your fellow iRacers see you?
A:    I think my fellow iRacers think I am a bit too aggressive. That is not exactly how I would like them to see me but unfortunately that's the way I think they see me. I'm not going to say that they are wrong all of the time because there are times where I have been too aggressive when I shouldn't have. On the other hand though I don't think people realize just how much of the time someone is being patient either; people tend to focus on the negative times when it comes to racing and completely look past the positives.
Q:    Who is Dylan Duval outside of iRacing?
A:    I am just a regular high-school student, who is looking to have a bright career and a good future. One thing some people probably don't know about me is that I am an avid Eminem fan. 95% of the music I listen to either has Eminem in it or has something to do with him.
Q:    If there was one thing you could change about iRacing, what would it be?
A:    Well, there are a couple features that I think would be awesome to have on iRacing. One of them being green-white-checkered finishes.  Also I think having a lucky dog system would be really good for the service. Another cool thing to have would be multi groove racing, it would make it a lot of fun for the drivers here on iRacing. I think it would make it more difficult and would separate talent levels quite a bit. One thing that I have been saying for a while though is that it would be cool to have the NASCAR Canadian Tire Series cars on iRacing. They are a blast to watch and look like they would be a lot of fun to drive.
Q:     What is one thing that you love the most about iRacing?
A:    The thing I love the most about iRacing is the level of competition. It's not like any other sim out there.  The only place you can constantly have this high level of competition is on iRacing. I also like how it makes competing in a competitive form of racing affordable, it's really good for someone like me who would love to be out racing a real car but cannot afford to do so.
Q:    Overall, how do you rate your success on iRacing?
A:    If I had to rate my success on iRacing on a scale between 1-10 I would say I would be at about 6.5 -7.0 To get myself up to around a 9-10 I would have to qualify into the 2013 NASCAR iRacing.com Series World Championship and compete for wins and a spot in the top 10 in points.
---
You may also like...
---