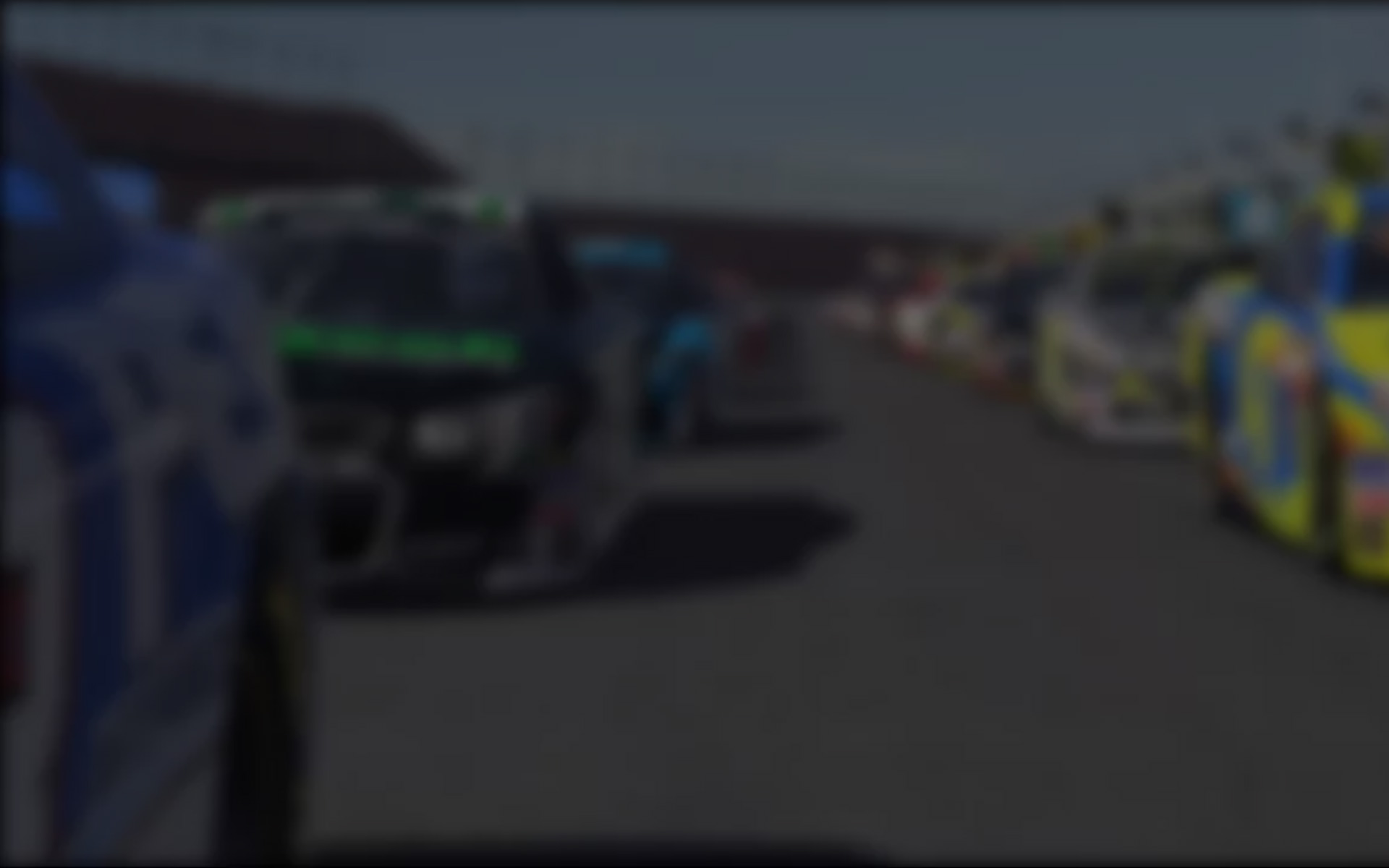 As most of you know, one of the newest road racing series on iRacing is the Cadillac Cup. Its debut season was the Season 2 of 2012. Nearly 4,000 iRacers raced in the first season of the Cadillac Cup and one driver prevailed as the inaugural champion. In the next season, about 3,000 iRacers entered in at least one Cadillac Cup race and after the final week of the season on the long course of Sonoma Raceway, the defending series champion took the title home again. With a third season of the Cadillac Cup nearin its end, the series' only champion is looking for his third consecutive title – and with it a third Cadillac Racing helmet autographed by team drivers Andy Pilgrim and Johnny O'Connell. This driver's name is Dylan Sharman.
Although Dylan is mostly known for his road racing skills, having won championships in multiple road cars on iRacing, he is also an accomplished oval racer. The 20 year old Australian has started 516 oval races and has visited victory lane in 155 of those starts, including top five finishes in over half of the races. On the road side he has won nearly half of the races he has entered with a winning percentage of 43.72% and a top five percentage of 76.48%. If that isn't impressive enough, last year, he started 156 road races and won all but 20 . . . and with the final season of 2012 coming to a close in a couple of weeks, there is no saying he can't still win more races. If you want to learn more about this talented iRacer – and regular contributor to inRacingNews on the Cadillac Cup and V8 Supercar Series Presented by Big Pond — continue to read this week's edition of Get to Know…
Q:    How long have you been sim-racing?
A:    Well my first racing experience was back on the PS1 with the Toca games and then followed that through to the PS2.  Once the PS3 came out I did a lot of NASCAR 09 and in 2010 I moved into what I would call my first sim racing simulation and that's iRacing.
Q:    How did you get started in iRacing?
A:    When I was playing NASCAR 09 a lot of the guys were talking in the forum about iRacing so I went and looked it up.  After a month or so of wondering if I should or shouldn't get it, they had a deal on with the Indy Car so I went ahead and got that deal and started playing iRacing.
Q:    Which race car driver do you look up to the most?
A:    It's hard to say which driver I most look up to because for me there, are a lot of different drivers. I love my dirt racing and I've always followed Brooke Tatnell. I have also been a big fan of Mark Skaife as well when he was racing in the V8 Supercar Series. Their determination to win has been the big thing.
Q:    What type of hobbies do you do outside of iRacing?
A:    I play a lot of tennis on the weekends in Adelaide and have done so for quite a few years now.
Q:    What is your greatest accomplishment on iRacing?
A:    My greatest accomplishment on iRacing would have to be the two SK Modified titles and two Cadillac Cup titles I have won. Also the Targa Virginia 3 hour which was difficult as I didn't actually sleep before it and the race started at 4:30am and finished at 7:30am.
"iRacing allows us to get our racing fix whenever we want…"
A:    What is one long term goal that you hope to still accomplish in iRacing?
Q:    At the moment I don't really have any goals within iRacing, I'm just starting to race the McLaren and would love to win a big split but otherwise there isn't anything at the moment that I'm really striving to achieve. I would like to win a big endurance event when iRacing does bring 24hr and 12hr races.
Q:    What type of racing do you like to watch on TV?
A:    I watch everything and anything on TV, whether it's endurance racing, NASCAR, dirt track racing or touring car racing ill watch it. Have never really gotten into drag racing but I still don't mind watching it if it's on.
Q:    How do you think your fellow iRacers see you?
A:    That's really difficult to say, I guess you'd want them to feel safe when racing against and that I'm not going to just run them off the road for a position.
Q:    Who is Dylan Sharman outside of iRacing?
A:    I have just turned 20.  I am from the Barossa Valley in South Australia and am in my second year at Tafe SA Studying Furniture Design and Technology. Still live at home with the family and I have one brother and my mum and dad. I love my motorsport and a lot of other sports, I drive a Toyota Sportivo.
Q:    If there was one thing you could change about iRacing, what would it be?
A:    I wouldn't really change anything but add dirt racing and endurance racing to iRacing with driver swaps and day to night transitions, I would love to race in a Spa 24hr or even the 24hr of Le Mans if iRacing did get it.
Q:    What is one thing that you love the most about iRacing?
A:    The one thing I love about iRacing is the fact that the tracks we run on in iRacing are the actual tracks in real life as the tracks are laser scanned to perfection. Plus iRacing allows us to get our racing fix whenever we want as the main reason I sim-race is because I don't have the funds to support real racing.
Q:    Overall, how do you rate your success on iRacing?
A:    My success in iRacing has been good, I'm still improving with each and every race I do and I hope that I have a lot more success in the future within the iRacing service.
---
You may also like...
---