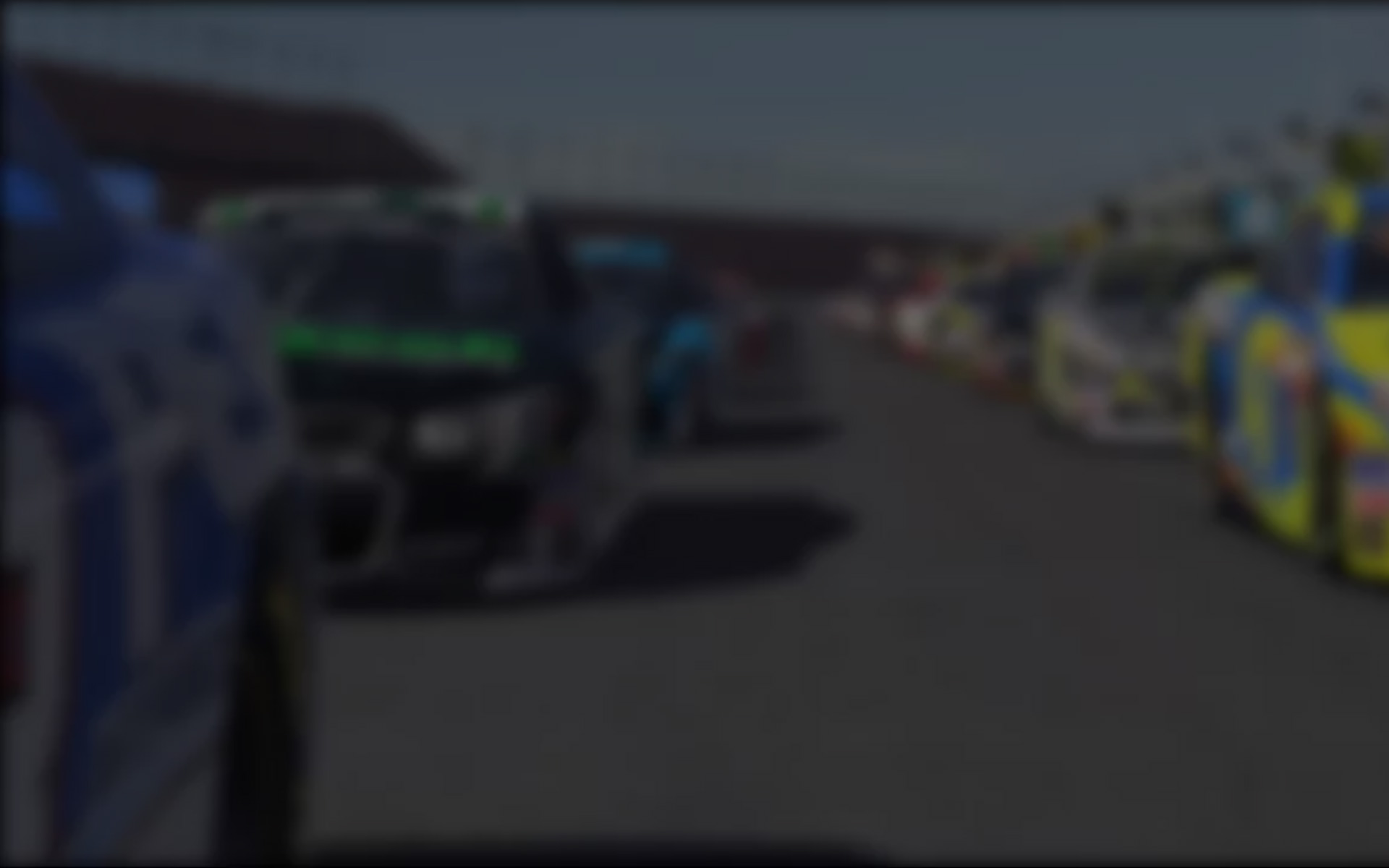 In 2010 on December 26th, New York native Eric Nordhoff earned a late, but very good, Christmas present: his first career win in iRacing. That win, coming in the Legends car at Lanier National Speedway, set up a successful iRacing sim racing career.
Originally from Buffalo, NY, Nordoff currently lives in Ashland, KY where he is a production planner for Contech Engineered Solutions and, together with his wife of Debra, has two step children and four grand children.  The 41 year old Nordoff has been a regular on iRacing since November 30th four years ago. In that time frame he has amassed 11 career oval wins and 108 top five finishes in 383 starts, including three Sprint Car Division championships. Nine months after his first day on iRacing, Nordhoff scored a hard earned victory in what was then known as the NVIDIA Cup at Lime Rock Park. Since that win on October 15th, 2011, Eric has visited virtual victory lane on a road course another 15 times, and has scored 51 top fives in 116.
It's been a long but fun four years for iRacer Eric Nordhoff, and I got the chance to talk to him about his iRacing experience and life outside of sim racing in this week's edition of Get to Know…
Q:  How long have you been sim racing?
A:  If you count playing Pole Position at the arcade then it was around '84! I began my proper online sim career with NR2003 in the fall of 2003.
Q:  How did you get started in iRacing?
A:  The NR2003 league that I was racing with began to see our participation dwindle with more and more drivers migrating to the iRacing platform. As a league we made the switch to iRacing and I have been here ever since.
Q:  Which race car driver in any racing series do you like the most?
A:  Alan Kulwicki will always be my favorite driver, no question.
"We race hard, we make mistakes but those mistakes are owned and usually forgiven . . ."
Q:  What type of hobbies do you do outside of iRacing?
A:  In the last year I have started running. I try to run a 5K three or four times a week and walk at least an hour or so the other days. There are rumors of an R/C being built close to me so I would like to get back into that it is comes to pass. Outside of that watching racing of all types, hockey and football would classify as my hobbies.
Q:  What is your most memorable experience on iRacing?
A:  Winning my first Sprint Car race.
Q:  What car and track combination on iRacing would you like to drive in real life?
A:  Lotus '79 at Spa.
Q:  What type of racing do you like to watch on TV?
A:  I'm a racing junkie; I will watch anything at all. I grew up watching Dirt Modifieds at my local tracks but these days I seldom miss anything NASCAR-, IndyCar-, F1-related.
Q:  If you could drive in your favorite series, what team would you want to drive for and why?
A:  Ferrari. Because it's Ferrari LOL… Seriously the history and heritage of this team to me is second to none.
"I'd like to think that by being asked to do this interview I am doing something right!"
Q:  What is your favorite racing series on iRacing and why?
A:  Sprint Car. I enjoy the camaraderie that exists in this series. We race hard, we make mistakes but those mistakes are owned and usually forgiven as we all know the challenge this car presents. Also I'm a little lazy when it comes to practicing but in a Sprint Car I can log hundreds of laps at a track and never get bored while say, for example a Truck at Michigan, will have my mind wandering in about three laps.
Q:  If there was one thing you could change about iRacing, what would it be?
A:  I'm not sure I would change anything. There are things I would like to see added and I feel some will be added over time but I'm very happy with the service.
Q:   What is one thing that you love the most about iRacing?
A:  I actually have two things. First is the cost.  Some complain that it is too expensive but after having spent time in other racing forms over the years this is an absolute bargain. Second is the availability to race or test and any hour of the day or night. There is always something you can get involved with here if you choose to.
Q:  Overall, how do you rate your success on iRacing?
A:  I am happy with my iRacing career. I have been fortunate enough to win some races against drivers that I respect very much. I think I am a clean driver with a good reputation and I'd like to think that by being asked to do this interview I am doing something right!
---
You may also like...
---